Top Fuel racer TJ Zizzo has been chasing a dream that started in the fall of 2003 at the Route 66 Raceway in Joliet. The Chicago native will soon bring the Rust-Oleum Rocket Top Fuel dragster team to the Gerber Collision and Glass NHRA Nationals, May 19-21. Here, he hopes to secure a status he has come so very close to in recent years.
Zizzo attempted to make his first professional Top Fuel start at the Fall NHRA national event at Route 66 Raceway, but he did not qualify. Undeterred, Zizzo entered the Chicago spring and now defunct fall national event 16 times. This weekend, he looks to build off the success he experienced in his most recent races at the track located 25 minutes from downtown Chicago.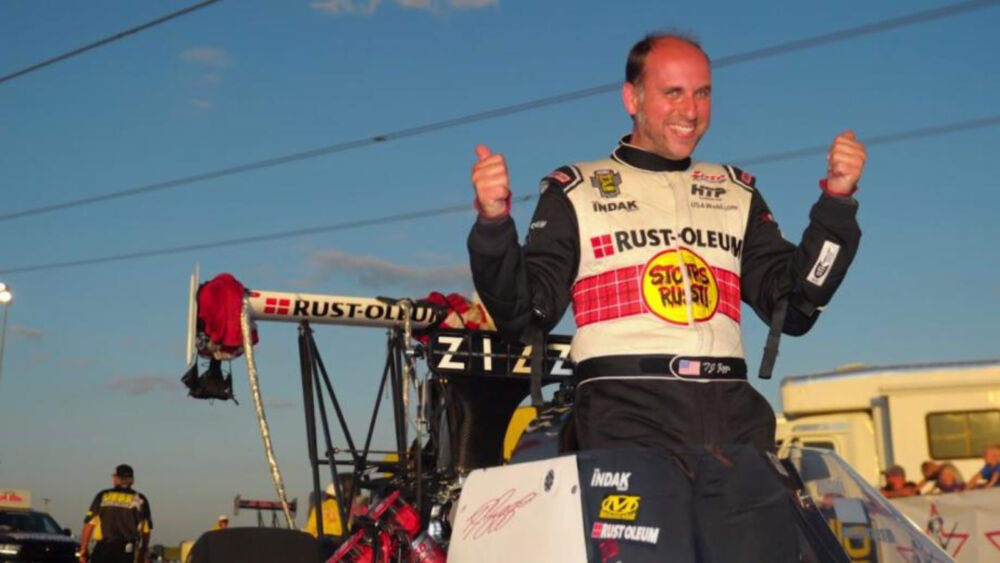 "I can still remember that first event in 2003. I was happy to be there for sure, but I also wanted to do my best and try to qualify," said Zizzo, who raced to one final round in 2020. "That wasn't in the cards for us that weekend, but we never gave up. Every time we went to the track, we wanted to do our best, represent our sponsors well and try to put ourselves in position to win. It has been a long and strange road to get us here. I have a lot of people to thank but really our team is about family. I have to thank my dad first, and then all my family and team for letting me chase this dream."
Zizzo's best qualifying effort came in 2018 when he raced to the No. 5 spot only to be upset in the first round by Scott Palmer. In 2017, Zizzo qualified No. 8 and took out Pat Dakin and Brittany Force in the first two rounds only to be ousted by eventual winner Steve Torrence in the semifinals. That finish would stand as Zizzo's best effort, but not the most memorable race.
As the No. 16 qualifier in 2012, Zizzo upset No. 1 qualifier and fellow Chicagoan Tony Schumacher in the first round before losing to Hillary Will in the quarterfinals. The first round race was an epic effort for Zizzo who was first off the starting line against the sure-fire Hall of Famer Schumacher, .092 to .120, and he never trailed in the drag race. Prior to that race Zizzo was 0-5 versus the world champion. As Schumacher crossed the finish line, his engine let go in a huge fireball. Zizzo's winning time of 3.872 seconds was his quickest run of the weekend.
"I think that win over Tony in 2012 was huge for our team," said Zizzo. "He was a world champion. It was a Chicago guy versus Chicago guy race. We were David to his Goliath and on that day, David got the win light. As the No. 16 qualifier, I was so proud of our team for not giving up and just throwing everything we had at the No. 1 qualifier. Just a huge win."
Zizzo recorded a No. 9 qualifying effort in his last appearance at Route 66 Raceway and on race day, he upset Leah Pruett in the first round. In the quarterfinals, he lost to eventual event runner-up Mike Salinas. Zizzo has raced at Rt. 66 Raceway more than any other facility on the NHRA Camping World Drag Racing Series tour. A close second is World Wide Technology Raceway outside of St. Louis.
"We love racing in Chicago," said Zizzo. "It is our hometown track. Our sponsor Rust-Oleum is right up the road, so we get great support from them. I have family and friends from all over Chicago come to the races. The guys from the body shop come out. It will be an amazing weekend, and we want to put on a good show. I am so glad we are back here racing."
In addition to the return to the track, Zizzo will bring back his traditional Saturday morning pancake breakfast for the fans and his fellow competitors. The fan-favorite event is a way for Zizzo and his team to say thank you for the support and have some fun engaging with his ever growing fanbase. The pancake breakfast will once again be held at the Rust-Oleum pit area on Saturday morning with an exact start time to be announced later.
Zizzo plans on racing five NHRA national events this season including his kick-off race in Chicago. He has a new race car thanks to his friend and Hall of Fame team owner, Don Schumacher. Rahn Tobler, crew chief legend, will lead tuning help alongside his amazing team. Crew chief Mike Kern, who's prepared for this weekend for over two years, will also lend his talent and expertise to the weekend's events.
"I have to thank Don Schumacher for helping me get a racecar that is on par with the competition," said Zizzo. "We never really had that for nearly two decades. We always had good equipment, but it wasn't the best equipment. We had to beat teams with smarts and a little bit of luck. Now we have smarts and lots of horsepower. We might still need some luck, but we are able to make our own luck now. I don't know that I have ever been more excited to get to the racetrack. We had a really good test session and this Rust-Oleum Rocket will be ready to go on Friday night," said Zizzo.
Qualifying for the Gerber Collision and Glass Route 66 NHRA Nationals will begin on Friday, May 19 with one session of the four professional categories. On Saturday, fans will be treated to two more qualifying sessions. The quickest 16 race cars, dragsters and motorcycles will race for the famed Wally trophy beginning at 11 a.m. on Sunday. The race will be broadcast nationally on FS1 Sunday evening.