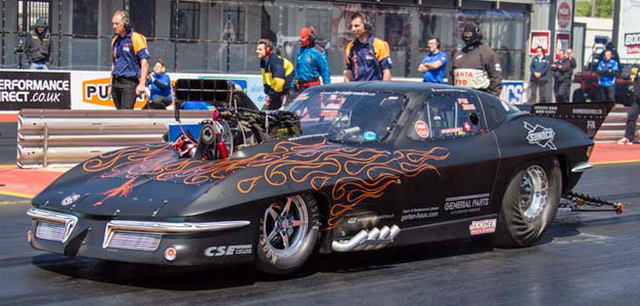 By Camp Stanley
By late May it was time to yet again fly across the Atlantic Ocean to race with my Swiss friend Marcus Hilt of Trouble Racing. Once more I would venture forth to Santa Pod Raceway situated in the land of the persistent large rain drops. And once again neither Santa Pod nor England disappointed us all.
Thursday's landing at Heathrow Airport in London was done in a light rainy mist which had become a bit more rain by the time my friend Andy had gotten us to the track. And of course this bit of rain became a lot of rain AND hail and more rain AND even more hail!
So of course Thursday's scheduled test session was turned into a non event. After a great meal created in the brand new Trouble Racing's portable kitchen it was off to bed to make up for the lost sleep from the flight over. With dreams of sunny days and a dry racing weekend in my mind I snuggled down under the twelve feet of Swiss blankets provided to ward off the COLD and away to the Land of Nod I went.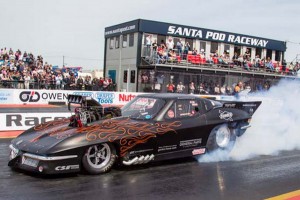 I awoke Friday morning to the sound of massive rain drops on the roof of the trailer boding ill for Friday's scheduled racing. But that other fickle lady, Mother Nature teased us all morning with sunny skies and a few cars down the track only to slap us yet again with a shower. Then a few more cars and then another shower till with a loud roar of laughter she inundated the facility with rain by the bucket loads for the balance of the day and for good measure added some snow mixed in just to make it interesting.
That wicked witch had no idea it was May's end and really did not care. So another good meal from the portable kitchen was devoured by one and all and an evening of fellowship was had by the mini Swiss army of people in attendance.
And then Mother Nature changed her mind yet again. She worked her good magic and gave us nothing but sunny days for the balance of the weekend. The winds were fairly stout and it was a bit chilly at times but the racing was good. We had discovered a broken ring in one cylinder after the last qualifier on Sunday along with a head gasket that was leaking. One was fixed and one had a bit of McGyver magic applied to it and after two days of qualifying it was into the eliminations rounds for the matte black Vette of Marcus Hilt.
We had a first round win when our opponent had an unfortunate mechanical failure but we also had a head gasket that needed more attention. And this time it really needed some massive McGyver TLC! But get that it did and we made the second round call with a few minutes to spare. But our weekend ended when Marcus had no chance of catching the other Swiss Vette in the opposite lane. But a good go at it he had.
Soon we shall achieve more than we are at this point in time but we are learning and growing together. And all of this from a team that only races together twice a year is quite the improvement. These gains are being noted and commented on by our fellow competitors which bodes well for the future. BUT the Hockenheim round in Germany is coming up in August and we shall see what that brings. We have high hopes for yet more achievements.
The only way to progress is upwards and that is the spiral we are ascending!
(Photos by NitroShutter.com; Click to enlarge)