Tim Wilkerson raced to victory at the NHRA Northwest Nationals on Sunday afternoon at Pacific Raceways in Kent, Wash., the sight of JCM Racing's first win as an organization. By clinching his second win of the season and 24th overall, Wilkerson successfully delivered the second Seattle trophy for the Maynard and Lehman families, who made their debut as NHRA team owners during the 2022 event. It was Wilkerson's fourth Wally trophy from Pacific Raceways, a track where he scored the hardware for three consecutive seasons spanning from 2009 through 2011, before experiencing a 12-year Seattle dry spell.

Aboard the SCAG Power Equipment/Levi, Ray & Shoup Ford Mustang, Wilkerson found his way back to the Seattle winner's circle by posting a 4.007 E.T. at 321.96 MPH to defeat J.R. Todd's 4.014-second final round effort.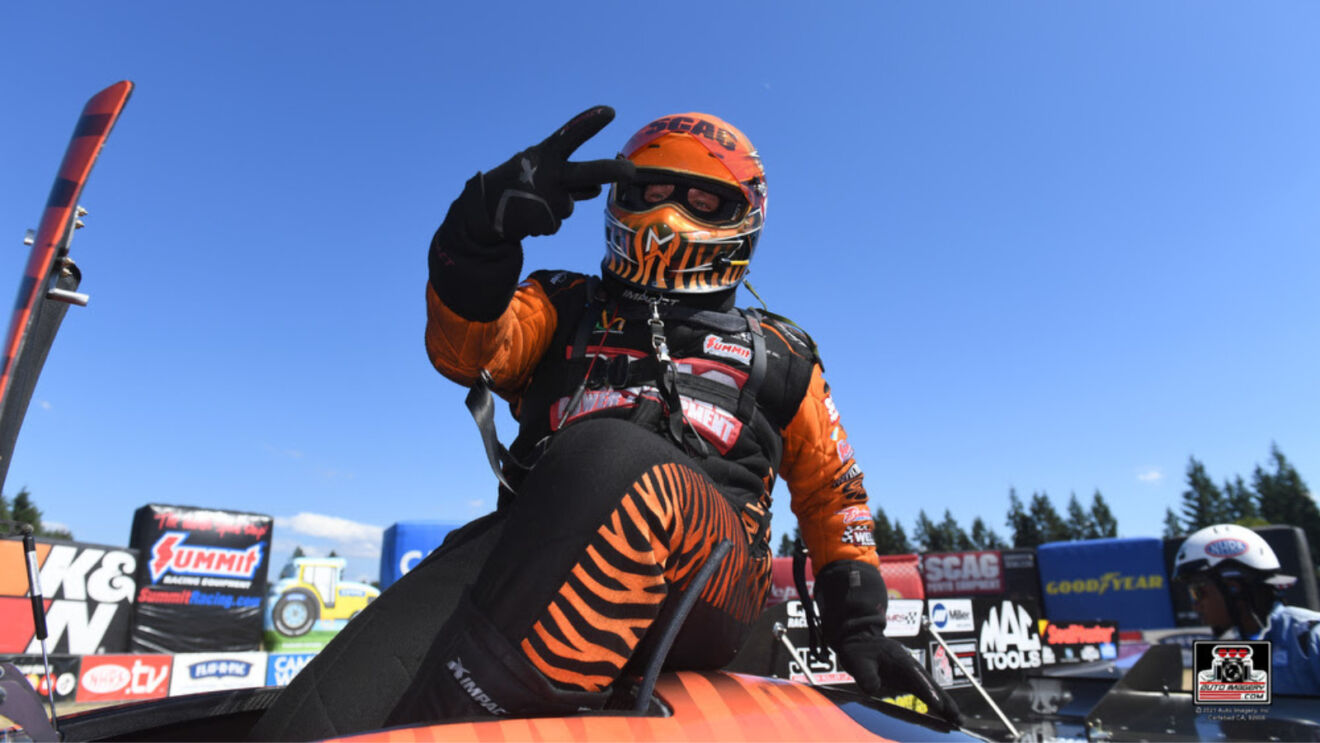 "What an exciting day," said Wilkerson following the win. "When the track is 130 degrees, it is carte blanche what you are going to get. Pretty lucky when we were racing Matt (Hagan), they had some problems. (Ron) Capps too. Blake (Alexander) gave me a really great run and so did J.R. I had her tucked in there pretty damn deep in the finals. That was a dang good run in that right lane. Really excited about this for my guys and SCAG. They had all kinds of dealers and distributors here this weekend and they were standing there on the starting line in the final, so we're glad we could put on a good show for them. Rottler, too. They were out here today. They're longtime supporters of mine and I have about a dozen of their machines in my shop.

"Tony won here last year, and we're so happy we could bring home another Seattle win for Joe Maynard and the JCM team," added Wilkerson, referring to Tony Schumacher's 86th Top Fuel win at last year's NHRA Northwest Nationals. "We came here with all the intentions of doing what we normally do; make good runs and hope for the best. I'm really proud of my guys and proud of my association with Joe and our team."

Wilkerson's drive to the winner's circle began with a solid qualifying performance which saw his SCAG/LRS machine post the third-quickest runs during two of the three qualifying sessions. He started race day from the No. 6 seed and battled through a gauntlet of heavy-hitters to claim JCM Racing's second Funny Car triumph, and first since the passing of Cathi Maynard last month.

"We just lost Cathi, and this was a very emotional time for us both, Joe and I. We were both crying up there at top end. I told him I had an angel riding with me all day. He was really impressed with how we did all day long. Very excited for the whole JCM group. We call it Maynard Wilkerson Racing, but I'm part of the JCM group, too, and we have a good relationship and I look forward to it continuing for a long, long time."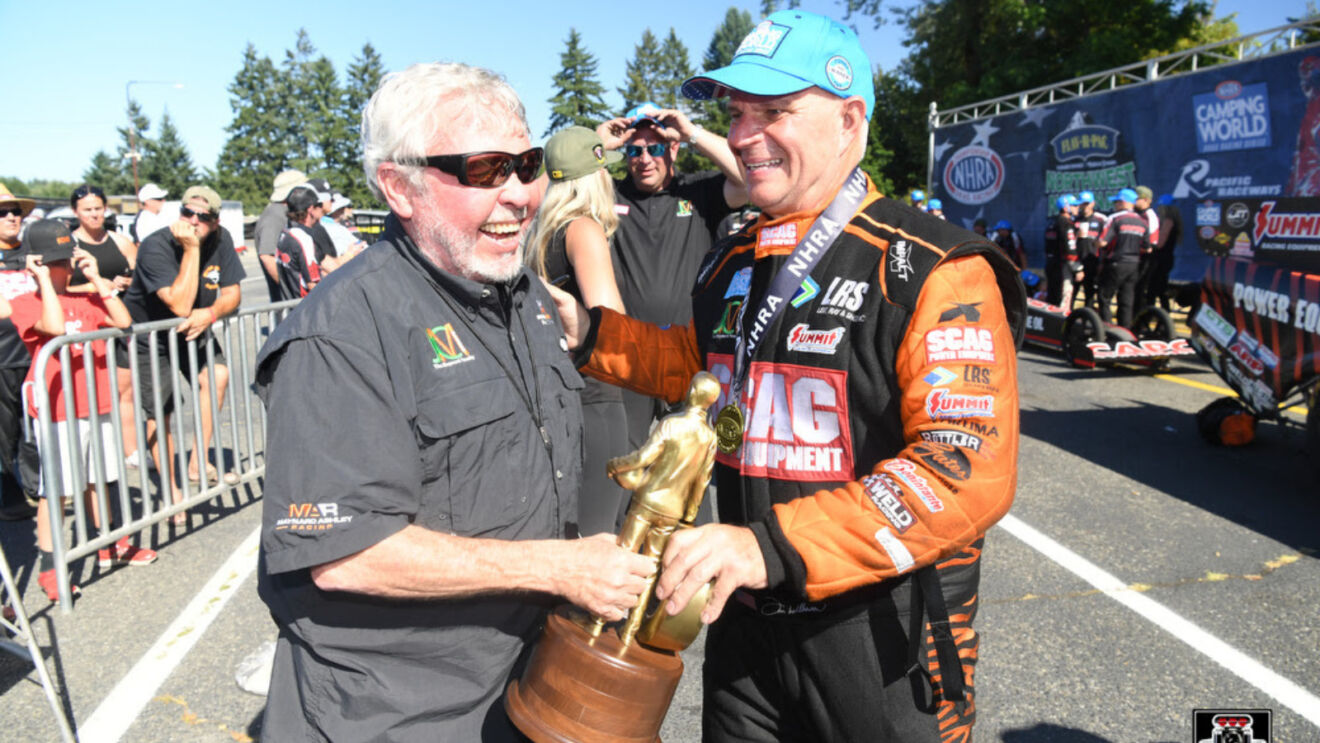 To capture the win, Wilkerson first took down the Funny Car point leader and last week's event champion, Matt Hagan. The driver/crew chief tuned his 11,000-horsepower SCAG machine to a stout 3.928 E.T. to outpace the three-time world champ's tire-smoking attempt. In the quarterfinals, Wilkerson faced Ron Capps, another three-time series champion. Against Capps, 'Wilk' drove his machine straight down the groove and into the semifinals, securing a spot in next week's Mission #2Fast2Tasty Challenge. His 4.006-second pass gave him the advantage of lane choice over his semifinal opponent, Blake Alexander, who raced to the win in Norwalk, Ohio two events prior. Alexander snagged the early lead but Wilkerson held on to chase down his competitor, pulling into the lead as they approached the finish line beams. In the final round, Wilkerson ripped off a .050 reaction time and recorded a 4.007 but the Funny Car veteran was quick to point out that he had likely deep-staged and his E.T. was probably closer to a 3.95.

"We changed a lot of things to come here and I'm pretty proud of my guys working with me. I ran them through the mill, and I changed a lot of stuff. They worked with me and decided not to persecute me for my dumb decisions, but it all worked out at the end of the day. The car got better and better as the weekend went on. In Q3, I tried to run hard but it bit me. I used that knowledge in the finals, and (assistant crew chief) Richard (Hartman) said, 'We're just going to try to go down the track again and see if they can beat us, right?' I said I'm telling you, we can run a 95, he said, 'Are you sure? 'I said yes, and I'm pretty sure that's what we did there. We'll go back and look at the numbers, but I'm confident that would've been a 3.95, which just goes to show you, our car is running great, and I feel really good about where this team is headed as we approach these last few races before we get into the Countdown."

Over the course of the weekend, the Maynard Wilkerson Racing team scored 116 points overall. They entered the NHRA Northwest Nationals ranked eighth in the NHRA Camping World Series Funny Car standings, but with the win, the SCAG/LRS team advanced to sixth (tied) on the leaderboard. The team will attempt to secure back-to-back victories when the NHRA tour heads south to Sonoma Raceway for the NHRA Sonoma Nationals, July 28 – 30.