Nelson and Marla Hoyos, owners of the Driven2Win Drag Racing School, announced Mar. 18, that they have signed a long-term lease agreement as the new track operators of Thunder Road Raceway Park in Gilliam, Louisiana.
The facility encompasses 180-plus acres and currently has an NHRA-sanctioned ¼-mile drag strip (4050 ft. from starting line to end of shut down area), Compulink timing system, a three-story race control tower with eight VIP/sponsor suites overlooking the starting line, lighting along the entire drag strip, grandstand seating for more than 7,500 race fans, a large commercial concession building and permanent bathroom facilities.
"We are both extremely excited to get started and can't thank David Strong and Hollis Witherington, the owners of Thunder Road Raceway property, enough for this extraordinary opportunity," Nelson Hoyos said. "We look forward to growing the various programs that NHRA offers, as this racing facility has seen thousands of competitors through its doors over the years hosting NHRA-sanctioned races."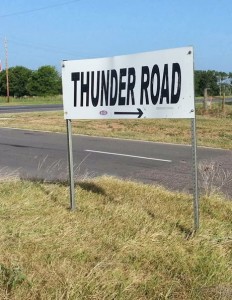 For 2014, NHRA has scheduled a Divisional Race (Div. 4) for Sept. 12-14 at the Thunder Road facility.  "We're going to provide our customers the opportunity to enjoy our new track on a regular basis with test-and-tunes, bracket racing and track rentals at a reasonable cost," Hoyos added.
Aside from the existing drag racing facility, the remainder of the property has enough land for the future addition of a kart racing track, road course and mug bog area.
Thunder Road Raceway Park also will become the new corporate headquarters for the Driven2Win Drag Racing School. The school will continue to have a presence at Palm Beach International Raceway in South Florida and will soon be announcing an expansion into other racing facilities in key markets nationwide.
"Our Driven2Win Drag Racing programs are designed to allow the novice driver/rider to experience the thrill of drag racing in a safe, fun and controlled environment and allow the experienced driver to fine tune their skills with more track time," Marla Hoyos said. The school also will create several youth initiatives to help address two of the biggest barriers in the sport of drag racing: driver responsibility and street racing.  "Our slogan of 'Keep it off the streets and take it to the track' hits the problem right where it starts–on the streets."
Professional driver and drag racing champion Nelson Hoyos will visit local high schools, community colleges, and vocational/technical schools with show cars, simulators, and promotional materials supporting local law enforcement agencies and promoting the Motorsports Park while educating young adults on the perils of street racing.
The Park will offer affordable track time to young adults to help eliminate illegal street racing. Members can enjoy their performance vehicles and motorcycles and practice their skills while spending time with like-minded individuals that share a passion for speed and adrenaline. Club members will also be offered in-depth comprehensive programs to help educate enthusiasts and competitors on the many facets of drag racing.
"We are thrilled to have the Thunder Road Raceway Park property become a catalyst for Caddo Parrish tourism and recreation while supporting statewide educational and economic development programs," Hoyos said.