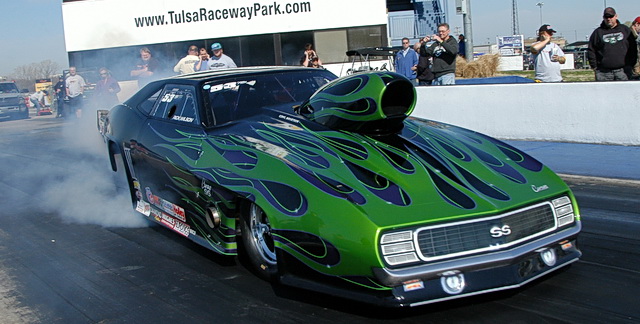 Osage Casino Tulsa Raceway Park's "Throw Down in T-Town" has grown by leaps and bounds in its first handful of years, and this weekend's event is expected to be the best one yet.
"We're really excited about this race," said track co-owner Keith Haney. "We've got a little bit of everything out here for the fans. We'll have a nitro-powered Harley-Davidson making some passes, we've got a PT Cruiser that does wheelstands all the way down the track, and a $50,000 total payout to all the class winners. It's going to be non-stop excitement."
When the Throw Down gets under way Friday night, Haney will do his best to win back some of that prize money when he and teammate Monroe Guest get behind the wheel of their Lucas Oil Chevy Camaro Pro Mods.
"We'll test Monroe's car pretty hard this week before qualifying starts on Friday night," Haney said. "We're not going to have to touch too much on my car because we think we've got it figured out after we ran 3.95s (seconds) pretty much every time we went down the track last time out.
"So for now we're going to focus on his black car to get it dialed in to where my red car is."
Haney said he's especially proud of the large number of contingency sponsors who have come aboard to help sweeten the pot for the racers taking part in the event.
"We've got great contingencies on top of the big payouts," Haney said. "It's attracting a lot of the big names in Pro Mod racing. This Throw Down has gotten to be very, very big."
A few of the contingency sponsors who have come aboard include Neal Chance Converters & Pro Torque Converters, Lethal Acceleration, Stroud Safety, Trick Titanium, Jerry Bickel Race Cars, Five Star Bodies, Reher-Morrison Racing Engines, Aeromotive and Mickey Thompson.
"It's going so well that we've had six different tracks call us to put on a Throw Down at their facilities," Haney said. "That's a big deal for everyone who helps make this event happen."
Gates at Osage Casino Tulsa Raceway Park open at 5 p.m. Friday and 9 a.m. Saturday with eliminations starting at 6 p.m. Saturday. Free tickets for the event can be picked up Tulsa-area QuikTrip stores.
(Photos by Ian Tocher; Click to enlarge)