Ohio's Thompson Raceway Park is proudly home to one of the best and most diverse heads-up programs around with its exciting Asphalt Wars Series, now in its 6th season. Launched in 2009, the Asphalt Wars program is comprised of eight-car fields of both open-bodied and doorslammers with as many as 16 to 24 cars showing up in each class with hopes of securing a spot into the Quick-8 style main event.
Perhaps the most diverse class is the open-bodied division, which allows any center-steered race car to compete, including front and rear engine dragsters, altereds and even funny cars. Performance restrictions are scarce, with screw blowers being the only power adder that is completely illegal. "We even allow front engine dragsters to burn nitro methane while competing in Asphalt Wars," says Jim Curtis, who has managed this fabled drag strip in northern Ohio for the last 27 years.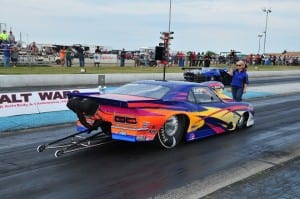 Curtis briefly allowed screw blowers in both open-bodied as well as door car competition several years ago, but the decision was reversed after it seemed to chase off competitors that ran roots blowers. "Asphalt Wars started as a local, family oriented kind of event and we didn't want to lose that original theme," explained Curtis. Many racers who compete in Top Sportsman and Top Dragster often find Asphalt Wars to be an affordable alternative to the grueling demands of a professional touring series, while still providing heads-up racing in front of a large crowd of cheering fans.
Asphalt Wars features a pair of qualifying rounds, with eliminations beginning around 5:00pm the same day. "One of the neat things about our deal is that it's a one-day event that's completed from start to finish in about 9 hours," says Curtis.
Occasionally though, Thompson does hold a double-header event on Saturday and Sunday, which features one complete race each day. It's become so popular that several area racers have built cars specifically for this series. Typically, Thompson holds five Asphalt Wars per season and boasts a respectable purse that even includes qualifying money. The one thing you won't usually see at this event, however, is a dominating racer who sweeps the competition month after month.
"We've had alternates squeeze into the program and end up winning the race," says Curtis. The scenario plays out differently at each event, but often times the slower Top Sportsman and Top Dragster guys who bracket race on a regular basis are usually the ones who can holeshot their faster opponents who race a lot less. In fact, at the most recent running of Asphalt Wars held August 8th, open-bodied competitor, Al Goodman, slipped into the program by way of the No. 9 alternate spot, then went all the way to the finals. Goodman even left on his opponent, Keith McLennan, but the power of McLennan's popular "Lake Erie Monster" rear engine dragster had the power to catch Goodman's altered and take the win in dramatic fashion.
Fans also enjoyed a nail-biting pedal fest in the finals of the door car division with first time winner, Matt Guenther, taking the win over No. 1 qualifier, Jimmy Pelcarsky. Pelcarsky's Firebird was first to leave the starting line, but couldn't get a hold of the race track as much as he needed, allowing Guenther to drive around him just before the eighth-mile mark and take the win. Both drivers recorded side-by-side four-second elapsed times, while feathering the throttle and exhibiting excellent driving skills.
"Anything can happen in Asphalt Wars and it's truly anybody's race to win," concluded Curtis.
This story originally appeared in Drag Illustrated Issue No. #103, the Interview Issue, in September of 2015.