Maddi Gordon completed her licensing runs on Monday during a test session following the Lucas Oil NHRA Nationals at Brainerd International Raceway, becoming the first 3rd generation Top Alcohol Funny Car driver in NHRA history. Her father, Doug Gordon, won the Lucas Oil NHRA Nationals in the Beta Motorcycles Morro Bay Cabinets TAFC the day before – his fifth National event win of the 2023 NHRA season.
The Gordon family started racing TAFC in 1986 when Mike, Maddi's grandfather, started running. Later, in 1994, Doug took over the driving duties while Mike focused on tuning the car. Now, they have two NHRA National Championships and one of the most consistent cars in the class.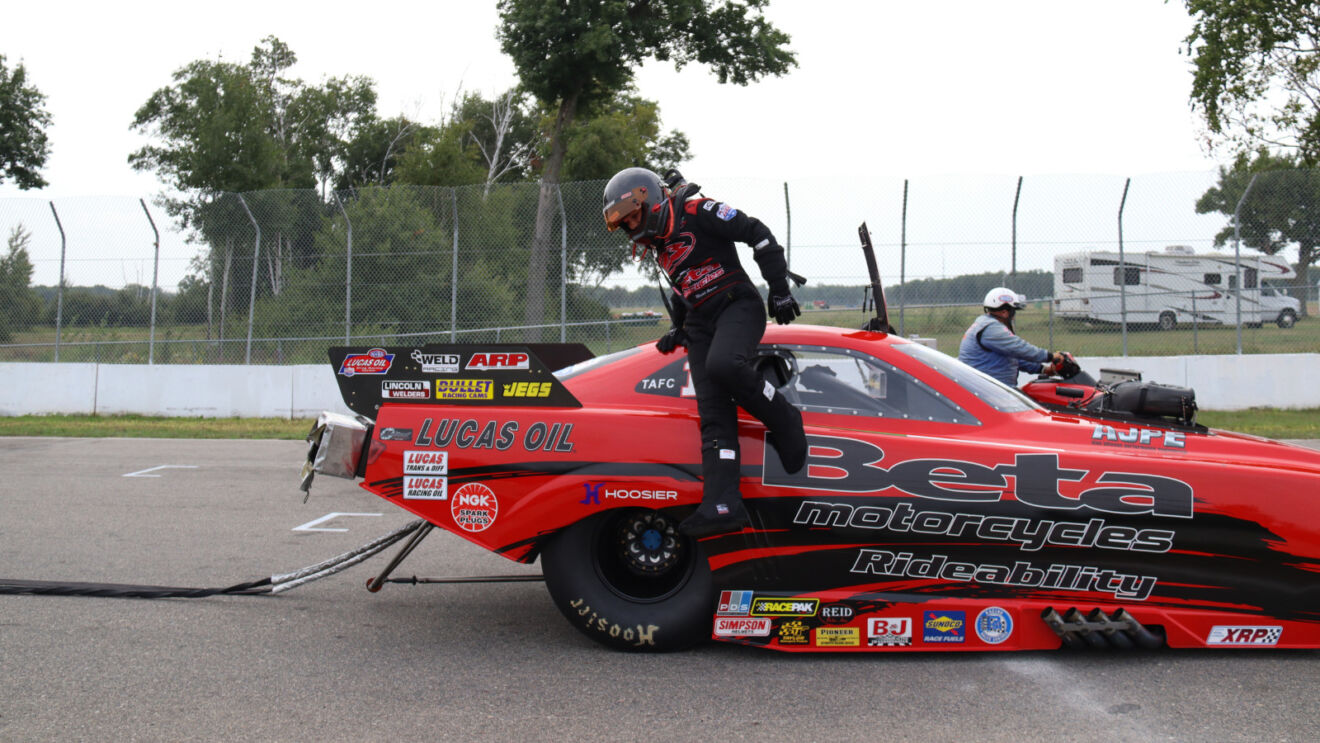 Maddi is the full-time clutch specialist on the car and has been dreaming of getting her license for years. Earlier this year, she made seven hits in Bakersfield, Calif., but the car never maintained traction past 200 feet. The Bakersfield session did allow Maddi time to practice the burnout and staging procedures, which seemed to come back naturally during Monday's test in Brainerd.
The qualifications to upgrade her Top Dragster competition license were one half-track run, and two full ¼ mile runs at 6.00 seconds or quicker and 205 mph or faster. Maddi's licensing runs in order – half-track: 5.664 at 215 mph, first full: 5.506 at 266 mph, second full: 5.533 at 265 mph. After the completion of her second full pass, she was officially a licensed TAFC driver. Maddi completed her paperwork and had a star-studded group of drivers that were in attendance to sign off on her runs, the qualification is two signatures per run from an individual that possesses a TAFC competition license or higher, as well as one signature from a track official for each run.
Three-time NHRA Funny Car Champion Ron Capps, another California Central Coast native and winner of the 2023 Lucas Oil NHRA Nationals in the Top Fuel Funny Car category, is a longtime friend of the Gordon family. Capps was able to watch and sign off on two of Maddi's runs.
Three-time NHRA Funny Car Champion Robert Hight was also participating in the Monday test session and was very impressed with Maddi's driving skills. "The car got out to the right off the launch, but you pulled it right back in. Others would try to overcorrect and come out the other side [of the groove], but you did a great job keeping it straight and hitting your shifts, very impressed, seriously," Hight complimented Maddi when she visited his race trailer to collect a license signature.
Kris Hool, a fellow TAFC driver with over 30 years of experience and a family friend, was working on Lance Van Hauen's car at the Lucas Oil NHRA Nationals. Instead of traveling home Sunday night, he stayed to watch Maddi make her licensing runs and was thrilled to sign off as well.
Brainerd International Raceway Drag Strip Operation Manager Phil Abramson was the track official who witnessed each of Maddi's eligible runs and signed her paperwork.
Doug was the final signee on Maddi's license. She said, "You're the one I really wanted to sign off," while he completed the licensed driver signature requirement. Doug is running for his third NHRA TAFC National Championship this season with the current points lead. The family plans to have Maddi as the full-time driver in 2024, and she proved to be up to the challenge.
Once officially licensed, Maddi and team decided there was enough time to make one more run. She made another strong pass straight down the track to a 5.497 at 264 mph, a pass that would have qualified number two over the weekend at the National event.
Maddi will return to the seat early next year for more testing before the first race of the 2024 season.