Drag Illustrated magazine is now accepting nominations for our 2017 '30 Under 30' list. Made up of drag racing's young ambassadors, the '30 Under 30' list will be the subject of Drag Illustrated's December issue, the Tomorrow Issue. The nomination period begins today and runs through Sept. 18.
"The '30 Under 30' list quickly became one of the most challenging, yet rewarding projects we work on every year," said Drag Illustrated Editor-in-Chief Wes Buck. "Thousands of parents, siblings, grandparents, teachers and supporters send in their nominations in hopes their favorite young drag racer will be recognized for their accomplishments. Young people have so many options when it comes to ways to spend their free time, and we want to reward those who choose to go to the drag strip."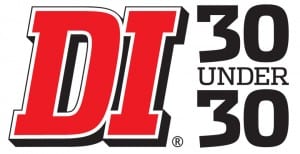 Last year's '30 Under 30' class was headlined by two-time NHRA Top Alcohol Funny Car world champion Jonnie Lindberg and included fellow Top Alcohol stars Megan Meyer, Shane Westerfield and Krista Baldwin; PDRA sportsman world champions Dan Ferguson and Justin Kirk; sportsman racing standouts Justin Lamb, Kevin Brannon, and Trevor Larson; tuners Jeff Pierce and Jason Hamstra; and crew members Christopher Menapace, Bronson Dunne and Caleb Cox. The honorees were recognized during a press conference at the Performance Racing Industry (PRI) trade show in Indianapolis; 24 of the 30 honorees and their families were in attendance.
"This deal has turned into something far more impactful than we could've imagined when we launched the inaugural '30 Under 30' list in 2015. People launch legit nomination campaigns when we release the nomination survey. Plus, the Drag Illustrated '30 Under 30' press conference has turned into a must-attend event during the PRI show. It's gratifying to see everyone get as excited about these young people participating in the sport as we do," Buck added.
The criteria for Drag Illustrated's third annual '30 Under 30' are straightforward. Nominees must be less than 30 years old as of Dec. 31, 2017. They may participate in any aspect of the sport as drivers, crew chiefs, crew members, sanctioning body or track officials, drag racing industry representatives – anyone directly related to the straight-line racing pursuit. Nominations will be accepted Aug. 23 through Sept. 18, 2017, via the link provided below.
"This list isn't a popularity contest or even a list of the 'winningest' or 'quickest and fastest' young people. This is about shining a light on the young men and women who are having a positive impact on drag racing now and will continue to make drag racing great. Whether they're driving, wrenching, or working behind the scenes to improve the sport, we want to recognize their efforts on the pages of Drag Illustrated," Buck said.
To nominate someone for Drag Illustrated's third annual '30 Under 30', please submit your nomination here: www.dragillustrated.com/nominate.