Eric Tenney was perfectly happy running his '69 Dodge Dart in footbrake events along the East Coast when one of his local tracks, Capitol Raceway, decided to combine their footbrake class with Top ET going into the 2017 season. The move, similar to the class structure changes recently implemented by the IHRA, could have thrown off some racers, but Tenney embraced the challenge of disrupting a discipline he'd developed over years in the driver's seat.
"Over the winter going into 2017 I decided to get a Powerglide and a transbrake and do some top bulb racing. I figured there was no better time to make the switch since I'd be running against dragsters and door cars with delay boxes," says Tenney, a 31-year-old former Jr. Dragster standout.
With a new transmission and converter from BTE installed in the Dart, Tenney found success nearly immediately in Top ET. He won several races and finished in the Top 5 at all the tracks he raced at for points before experiencing an incredible weekend at the IHRA Bracket Finals at Maryland International Raceway. He lost to a dragster in the final round of the Top ET gambler's race, then used a combination of luck and skill to pull off the all-important Bracket Finals Top ET championship.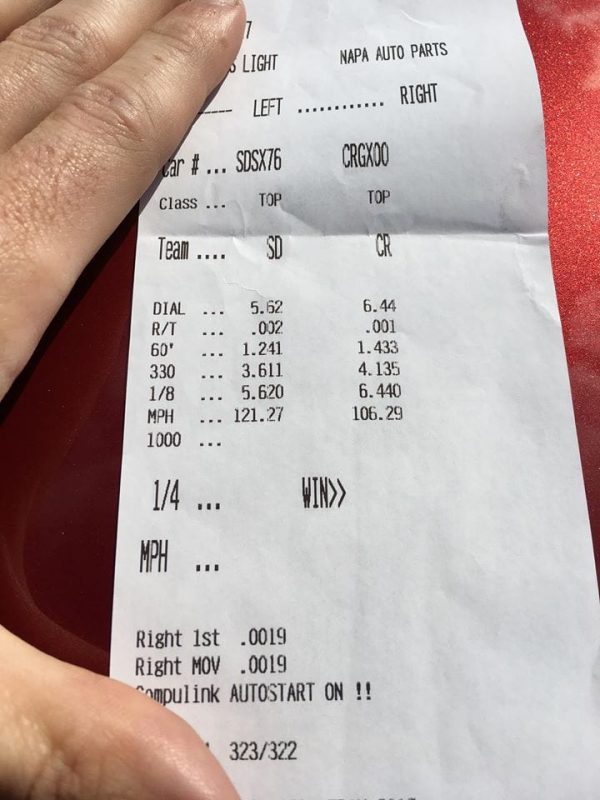 "Racing the last door car in the race in the fourth round, I was .001 on the tree, he was .002 on the tree," Tenney remembers. "He went dead-on with a zero and I went dead-on with a zero. My one-pack beat his two-pack. That was crazy. I was like, 'Well, there's my luck for the race.' I ended up going a few more rounds and got down to three cars. I had the bye. All my lights were good all weekend and the car was running the same number. I ended up winning the race with a .004 light and dead-on in the final. To win the Bracket Finals in Top ET my first year running with a box was pretty cool."
Looking ahead to this season, Tenney envisions a similar schedule of mixed events with the Dart and his second car, a '64 Plymouth Valiant. With a new sponsorship from BTE, coupled with continued support from his wife, Andrea, and his parents, David and Shiela, as well as sponsors like CAS Structural Engineering, CLK Kustoms, Maryland Performance Specialties, Shady Dell Speed Shop and Interstate Racing Fuels, Tenney is ready for a big year, both at the racetrack and at home.
"I have high expectations for this year," asserts Tenney, a senior software developer. "As soon as the rain goes away and the weather improves I'll start racing more. There's a lot of big-money bracket races out there now. I'm going to do a lot of those races, then I'll still try to chase the points series for IHRA at Capitol and NHRA at Cecil County.
"Plus, I got married over the summer last year and we have a baby on the way, due at the end of August, so this year's going to be pretty fun."