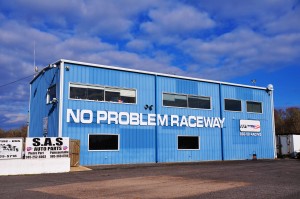 Long before Pat Joffrion had the idea 14 years ago of building a drag strip in Belle Rose, Louisiana, his prior claim to fame was helping people breathe a little easier with regard to "April 15" and all the anxiety that often surrounds that dreaded date.
In fact, it was through his accounting firm that Joffrion was tagged with a light-hearted nickname that would spill over into other business ventures for years to come. You see, every time Joffrion's tax customers would nervously call him, sometimes shaken with fear about the tax man and their subsequent taxation obligations, Joffrion would always reply "No Problem!" Pretty much every customer received the same two-word assurance that everything was going to be just fine come April 15th.
His cheery catch phrase became so popular that people actually started calling Joffrion himself "No Problem," and alas a new nickname was born. So, in early 2000 when Joffrion first began to entertain the idea of building a drag strip, his original plan was to simply construct a private test strip where he and his other gearhead friends could race their cars. It wasn't too long into the construction process, however, that Joffrion decided instead to build a full-scale, public drag strip … but then came one more thing to consider: what was he going to name it?
Well, it was a no-brainer to all who knew him and Joffrion was humorously persuaded to name his drag strip "No Problem Raceway." When I visited the track for the first time early this February, I could see right away that this idea of "problem-free" jubilation wasn't just a catchy name, but rather a code of conduct they staunchly live by.
"We don't like people with bad attitudes because all it takes is one person with a bad attitude to stir up a hornet's nest!" says Stevie Ray, who's managed No Problem Raceway practically since the day it opened. And just to gently lead patrons in the right direction from the very minute they arrive, you'll find a sign hanging on the front gate which list the track rules, and they are as follows: 1. Have Fun. 2. Make Friends. 3. Go Home Happy.
It's a rare occurrence at No Problem when any other outcome is experienced, and since the facility has expanded its attractions, the likelihood of making friends and having fun is all the more promising. In addition to the NHRA-sanctioned, quarter-mile drag strip, a road course track was constructed at the same time, with the addition of a mud track a few years later. And when I visited the facility early this season they had just broken ground on a brand-new sand drag strip. "It's gonna' be a full eighth mile, which is long for a sand strip and it's also gonna' have timing equipment and everything," beamed Stevie Ray.
For further entertainment the facility also has its own sports bar in the base of the tower. According to Stevie Ray, the Red Line is a place where people like to go tell "fish stories" since everyone owns a boat around these parts. In fact, some very famous waters are located within a matter a minutes from the track. If you've ever watched the hit television show Swamp People and heard Troy Landry frantically bellow out his famous phrase "Choot 'Em!" chances are you're seeing alligator hunting footage that was filmed in part from lakes and swamps that are as close as 10 minutes away from No Problem Raceway.
"Troy has been here to the track before and his two sons come quite often," says Stevie Ray. Other "Swamp People" who've been spotted at No Problem include RJ Molinere and his son, Jay Paul. But long before the local gator-hunting stars discovered their local drag strip, No Problem Raceway enjoyed wide-spread attention when film crews visited the track for various well-known productions. In fact, the road course scene in the 2005 release of The Dukes of Hazzard movie was filmed there, while Jay Leno hosted the Top 10 Fastest Street Cars show, which likewise was filmed on the No Problem road course. As for drag strip-related footage, Pinks and Arm Drop Live were both filmed here, as well as 10 episodes of Pass Time.
But as impressive as all these facts were to hear, my attention was quickly diverted when someone asked me if I had tried a "crab burger" from the concession stand. Whoa! Say what? You know how I feel about experiencing the local flavor of the neat places I visit, so when the conversation turned to exotic drag strip food I got weak in the knees. Never before had I seen "crab burger" listed on a concession stand menu, let alone "crawfish burger," "shrimp po' boy" or even "boudin balls," a delicious Cajun country meat-and-rice delicacy.
I only wish I could have stayed in Louisiana longer than just two days, but the road back home was soon calling. Now, if I might suggest a mess of "flame-roasted alligator on a stick" be added to the menu before my next visit, then that too would truly be No Problem!