He may come across as a fun-loving, loud-mouthed, smack-talking instigator, but the real Keith Berry is actually an intelligent and articulate businessman who has both his work life and WOOO! Nation racing operation meticulously planned out. In less than a decade, he's skyrocketed from "nobody" status to become one of the most talked about and controversial radial tire racers on the scene—as well as the reigning back-to-back NMCA Radial Wars champion.
Given that Berry's such a front-runner in the small-tire world, it can be a little difficult to believe that less than a decade ago he'd never even been to a drag strip.
"Prior to May of 2008, I probably couldn't even have told you who John Force was," Berry jokes of his serious lack of racing experience and knowledge. When the TV show Pinks All Out came to Atlanta Dragway that year, however, Berry's life changed forever. Living in Gainesville, Georgia, Berry resides less than 30 miles from the track. "I had to Google it to find out where it was," he confesses. "Pinks All Out was hot then, and my second wife told me that if I ever bought a Corvette, she'd divorce me. So, the next day, I flew to Texas and bought a Corvette! And a Porsche!" he laughs as he explains how he acquired his first race car, a beautiful, black C5 '02 Corvette Z06.
Upon returning home from Texas, Berry stored the new-to-him 'Vette in the workshop at his family-run business. One Saturday morning, his young machinist supervisor asked if he could drive the car. Berry obliged, with the simple request that he not wreck it. "Well, he got on it a little and shot the car sideways across three lanes of traffic into a big dirt wall," Berry recalls without a hint of anger in his voice. "I had to have it repaired, and while I was in there I figured I'd do a little something with it."
The modifications started out modestly enough, with just an upgrade cam and a set of heads. Curious to know how much power his new daily driver was putting down, Berry brought the car to Vengeance Racing in Cumming, Georgia, for some time on the dyno. "I was really dumb then—and I still am—but I thought it was going to have six- or eight-hundred horsepower!" Berry admits, poking fun at himself and his ignorance at the time. "It wound up only making 390 or something. I thought, 'Well, this is not cool at all.'"
Wanting to prove himself, Berry decided to go to Atlanta Dragway and race on the Pinks All Out show. Although that experience was his first time ever on a track, he wasn't completely helpless as his big brother Todd had spent many years racing with Pro Line Racing's Eric Dillard in ORSCA competition.
"I had to ask Todd how the tree worked, because I had no idea. After that first pass, though, I was hooked," Berry says. And though he had a lot of fun, he's also the first to call himself out on how poorly he did. "I have a picture of me on my very first pass ever, and I'm in the car with a white open-face helmet that I drew red Speed Racer pin stripes on. I thought it was cool, but it was horrible! I was such a tool," he admits, fondly recalling the event. "I sucked at it, but it was great!"
Like so many other would-be drag racers, Berry instantly craved more power. The decision was made to add a nitrous-oxide setup to his 427 LS motor and once he actually learned how to race, Berry began doing quite well for a rookie. In his early days, he set a number of records in ORSCA Modified Street and the LSX Shootout series for independent rear suspension-equipped Corvettes, including the elapsed time record for an IRS Corvette in the eighth at 5.31 seconds, as well as the quarter mile at 8.37 seconds.
In 2010, Berry found himself running against Adam Preston in NMCA's Real Street class. "I had no idea how to tune the car, but we wound up in the finals. He went somewhere around an 8.15, and the best I could run was an 8.20-something, so I tried to turn it up and burnt up the motor," Berry reveals. That episode also spelled the end of his nitrous days as Berry completely stripped down his car with the intention of building it back up in a new form. "Back then I thought I was a bad ass. I thought I was doing something," he says. "Now, I look back and think, eh, not so much."
With Todd Berry's involvement in the world of twin-turbo applications, it made perfect sense for Berry to follow in his brother's footsteps. "He was tied in heavily with Pro Line Racing, Eric Dillard, Steve Petty, and Joey Bell's Bell Chassisworks," Berry says. "He'd already made all those relationships, and I just came in as Todd's little brother and the guys took me in. I didn't have to struggle to figure out where to go and what to do." The conversion took more than a year and a half, but was well worth the wait.
Once the car was reassembled, Berry put together a top-notch team to match. "When I took my car to Bell Chassisworks to make it more of a race car back in the nitrous days, I needed somebody to help me tune. I was so lost. I literally knew nothing about cars and engines. Ryan (Rakestraw) started tuning for me at an ORSCA race in Alabama and we've been working together ever since," Berry reminisces. In addition to partnering with Bell and Rakestraw, he also receives help from Corey Lee and Steve "Johnny" Crisafulli, and though others help out when they can, Berry's core crew remains only four strong, himself included.
With a solid team behind him and a new turbo setup, Berry turned his focus back to racing, although he didn't expect to do much of anything at first. "I didn't think we'd have a platform that we'd be able to run against guys like Kevin Fiscus, Paul Major and David Wolfe. Those were the top dogs and we didn't feel like we had anything to compete with them," he says.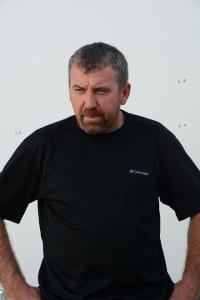 Berry's once daily-driven Corvette had become a full-fledged race car, featuring a Pro Line-built 454 LSX motor boosted by a set of twin Precision Pro Mod 88 CEA turbochargers, a state-of-the-art FuelTech FT500 EFI system, and a set of Mickey Thompson drag radials. And though Bell has since closed his chassis shop and moved to work at Pro Line in Ball Ground, Georgia, he continues to maintain the car for Berry and takes great pride in ensuring it performs to full potential.
After getting comfortable with the boosted configuration, Berry attended the No Mercy V drag radial event late in 2014 at South Georgia Motorsports Park and immediately set yet another world record. He put down what appeared to be a textbook-perfect pass, straight down the center of the groove, and crossed the traps in 4.09 seconds at 186.33 mph to make history as the first to the 4.0s over an eighth mile with a small block on radials.
Berry also won the inaugural NMCA Mickey Thompson Radial Wars championship that year and backed it up in 2015 with his second-straight NMCA championship in the class, his all-time favorite racing memory to date. Berry clinched his second Radial Wars title in August, after a fierce neck-and-neck battle with Frank Mewshaw in the semi-final round of the final event of the season at Summit Motorsports Park in Norwalk, Ohio.
"That's the way it should happen," he declares. "The top two in points racing side by side with everything on the line!"
In an extremely close race, Berry cut a .050-second light at the start to Mewshaw's .053 and when the two crossed the stripe at the big end, the scoreboards lit up to show Berry had taken the win with a 4.12 at 186.51 mph over Mewshaw's solid 4.14 at 188.31-mph effort. "I was sitting outside my car waiting for my crew to come up the return road. I could hear them yelling and talking, and as they crested the hill, it was just amazing," he recalls with a smile.
Winning never comes easy, though, and Berry remains grateful for the talented team that supports his racing efforts. He describes his primary role as knowing to "let go of the button at the right time," mash the gas, and keep the car out of the wall.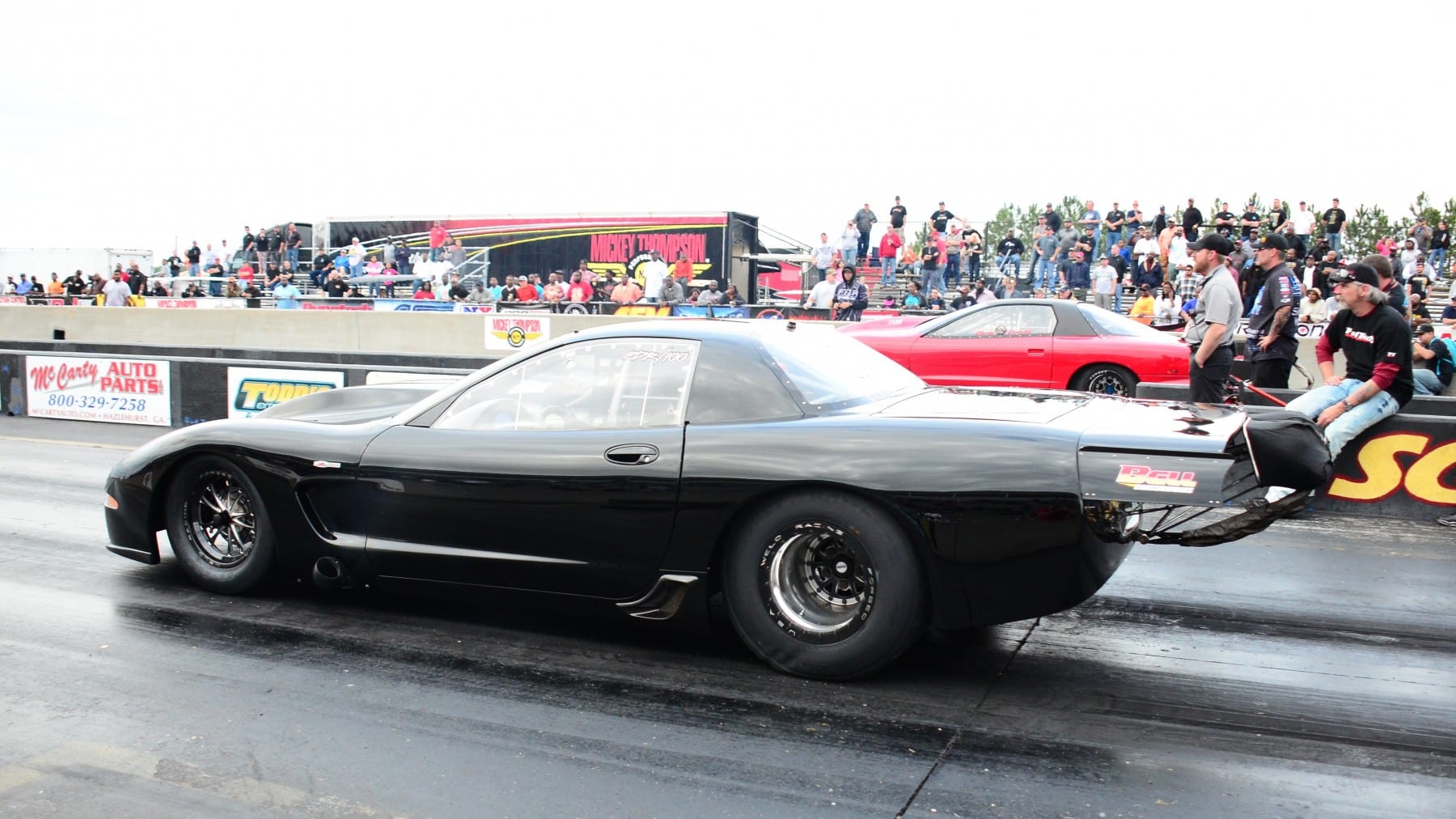 "Other than that, I'm responsible for fuel, and then I micromanage and second guess things," he jokes. "I go around asking if other people have done their things—even if I don't know how to do them. Like setting valve lash. I ask 'Have you done it? What did you set it to?' I don't know how to do it, but I know the number it needs to be!"
His success, coupled with his consistency and his ability to attract attention, has allowed Berry to go from nothingness to greatness in less than 10 years. The achievements he's amassed over such a short time, however, are even more impressive given the humble roots from which Berry came.
His father, Archie, was working as plumber's helper in 1976 when his boss had a heart attack and passed away. Coming from a very poor family, Archie had never learned to read or write and could only sign his name, but suddenly unemployed and with four young kids to feed, he went and took his master plumber's license test.
"It was different back then. They read him the questions, he told them the answers, and they wrote them down. He went on to start his own business, Berry Plumbing," Berry proudly recalls of his father's great American success story. Being that the Berry family's hometown of Gainesville, Georgia, also happens to be the poultry capital of the world, Berry Plumbing eventually moved in to the poultry industry. "We'd spend Thanksgiving and Christmas having dinner in the break room at different plants because my father was so committed to growing his business," Berry remembers.
After Archie passed away in 1995, Berry and his brothers refused to let the family business die with him and took it over themselves. The company was split into two separate entities, with Berry and eldest brother Todd taking over the poultry processing machinery and equipment side of Berry Plumbing & Equipment, while middle brother Steve took on the plumbing portion. "We're a small company with just over 20 employees, but we are a leader in the industry. I'm the Steve Petty of chicken feet!" laughs Berry, who does take his job quite seriously. "I thank the Lord and my parents for starting the business and paving the way to where we're at today."
Berry says he learned a lot from his father and his skills translated from success in business to success in growing his WOOOO! Nation racing operation. Berry's outgoing personality and infectious good humor have also served him well over the years and he's garnered quite a reputation as a big fish in the small radial tire racing pond.
Like Berry's racing career itself, the story behind the name of his ubiquitous "WOOOO! Nation" also started somewhat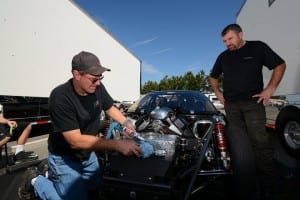 unexpectedly. Not long after Berry began racing, he and Rakestraw were watching HBO's series Eastbound & Down. "One of the characters played by Will Ferrell, Ashley Schaeffer, was a knock-off of [professional wrestler] Ric Flair and he'd say 'WOOOO!' all the time. Real soft, but repeatedly, and it was an acknowledgement of something he liked. When I went to my first PRI show, Ryan and I would say 'WOOOO!' every time we saw something we liked, and it just stuck," he shares. Eventually, Berry's "WOOOO!" took on a life of its own, fans and fellow racers caught on, and the silly inside joke grew into a fully-fledged and well-known team slogan. Given his roots in the poultry industry, Berry's car was even christened the "WOOOO! Chicken."
"WOOOO! Nation, what that meant to a lot of people, is that there's a party going on," Berry says. "But as more people got to know me and the brand, if you will, the opportunity started coming about for me to help people who had misfortunes. My wife told me, 'you don't realize what you have here with the fan base. Instead of using it to party, let's use it for something good,' and that drove a nail home big time, so I've tried to do more of that.
"I want the brand to be known as one hell of a successful racing team when it's all said and done, but more so I'd like people to look back and say 'Man, they made a difference!'" says Berry, who couples his party-boy character with maturity, respect and seriousness.
Still, Berry's completely embraced the WOOOO! attitude and his larger-than-life, go-big-or-go home persona isn't simply an act geared towards garnering additional fame and fortune, but rather the over-arching theme of who he is in his day-to-day life. "Everything I've ever done, I've wanted to be the best at. Whatever I do, I don't do it half-assed; I get that from my father," notes Berry, who at one time was ranked fifth in the world for semi-pro 3D archery. "I believe that if you're going to do something, do it one-hundred percent—otherwise, don't bother."
That "good enough isn't good enough" mentality has helped Berry rise through the ranks and find success in the incredibly competitive world of drag racing. "I demand success from myself," he states. "I don't have anything against the guys who come out to race and have fun and don't expect to win; I can respect that—we're all there to have fun—but it's also a competition, and I simply don't understand their mindset. We lose more than we win, but every time we pull through the gates we still want to win—and we expect to."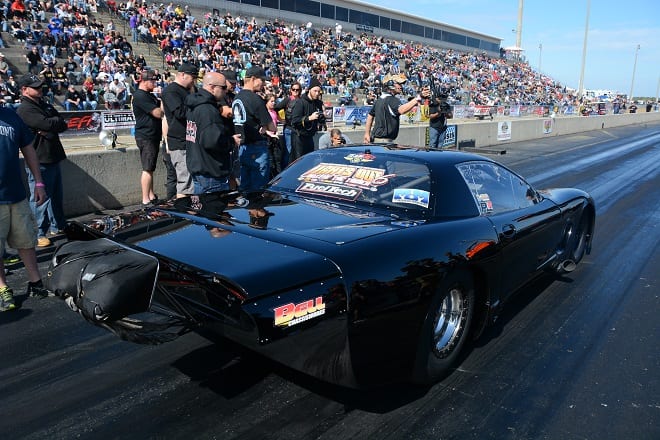 When he doesn't win, though, Berry and his team try to figure out what happened, why it happened, and how not to make it happen again. His dedication and commitment are on par with many of the world's other top competitors, whether in racing or any other sport. Going fast and winning races, however, are two different things, and Berry understands that concept. "We're still learning how to win, to be honest," he discloses. "We've had a lot of success and some championships, but our biggest hurdle is how to win more consistently."
Despite not necessarily being the quickest or winningest driver out there, Berry undoubtedly is one of the most often talked about. "DeWayne Mills wins more than I do, Stevie Jackson talks more shit than I do, but I get more coverage," he acknowledges. "I think I'm a lot like my daddy, and I miss him so much. He was so charismatic, and everyone loved to talk to him. He wasn't doing anything flashy, no one wanted to come watch him plumb, but he drew tons of people to him, and I think I got a little of that from him."
Perhaps it's his magnetic personality that draws people in, or a love of stirring up controversy, or even simply the fact that his life story is inspiring and motivational, but Keith Berry is living the dream, having a blast while doing so, and people want to be a part of it. Marketing, however, is not something Berry consciously considers at all times—though he concedes it's something he is always actively working on.
"I treat the race car the same way I treat business. I surround myself with people that know what they're doing, make sure they're happy, and give them what they need to be successful," he explains. In the meantime, while Berry's personal brand has grown significantly, he finds it's often a balancing act to manage his business interests with trying to win at the track. College students would do well to study Berry's success story and learn from his marketing and branding.
"With anything, whether it's your personal racing career or your business, or maybe you're starting a new cheese shop or selling soap, you've got to make your potential customers think that their lives are better with your product. If you're selling your racing program as championship level, you better win. No matter what it is you're selling or promoting, make sure you follow through with what you promise," he counsels aspiring business people or race team owners.
Simultaneously working toward those goals can be demanding, though. The drag strip is just an office away from home for Berry, and he clarifies that most people don't realize he's constantly on the job—even when racing. "I'm still on the phone with customers, doing emails, taking conference calls, talking to technicians," he stresses. "People make comments that it must be nice to go for a week of testing, but I'm working the whole time."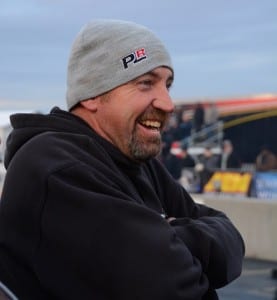 Until fairly recently, Berry was able to keep his personal and professional lives separate. However, thanks to publicity he's garnered in relation to his back-to-back NMCA Radial Wars championships, a relationship with the Street Outlaws crew, and his friendship with Philadelphia Eagles player Fletcher Cox, it's a task that's getting tougher by the day. "It's rare now that I go to one of my customers' plants and the conversation isn't about my racing. They ask if Street Outlaws is real, what those guys are like, if I really won a championship, and want to see videos of my car," he laughs. "I've become more visible and I think it helps my business. Maybe I've got a couple extra purchase orders because of it."
As Berry's name becomes more well-known, he inevitably accumulates more fans, but he also realizes there will be detractors along the way, too. Regardless, Berry tries to ignore any negativity directed his way.
"There are two types: haters that hate you simply because you're not their guy. Those are the easy ones to make non-haters, you just have to get the opportunity to talk to them and they'll realize they have no reason to hate—they still want their guy to win, though," he acknowledges.
"Then there are the genuine haters who hate someone who is successful because they're not. There's not much you can do for those people except maybe pray for them," he says, adding that neither type bothers him. "How do you make someone not jealous? I don't know. I'm not a psychiatrist. I just keep on doing what I'm doing. You're doing something right if they're talking about you, whether it's good or bad."
For his fans, Berry most enjoys letting young kids sit in his car. "It might be a once-in-a-lifetime chance for them, and I recognize that. I might have a problem or only have a few minutes to make it to the staging lanes, but we try to never turn people away," he shares. "I do it because I appreciate them, and I know I might not have this forever so I have to give back to those that helped get me here."
Berry's true motivation, however, isn't just the fans; it's watching his guys celebrate after he makes a great pass or scores a win. "There's nothing better than looking back at a video and seeing them cheering, screaming, high-fiving, and hugging on the starting line," Berry confirms with a smile in his voice. "The celebration that we had on the return road this year after winning the second NMCA championship, I don't know if we'll ever top that." And while it may not be evident to onlookers, Berry is most proud of "gifting the moment" to his crew, not of the actual win itself. "Most people think I'm a hard ass, but I'm really a big baby," he adds.
Unfortunately, there isn't a celebration after every run. This February, during the Lights Out VI event at SGMP, Berry was slightly trailing "Big Daddy" DeWayne Mills when Mills' twin-turbo '68 Camaro went into a massive wheel stand and took flight toward a devastating wreck. "I saw him come up in a slight wheelie, and then he was almost at a 45-degree angle, and then he disappeared as his car started to flip and I went by," Berry describes. "Being on the return road not knowing if one of my best friends was hurt, or was even still alive, is a feeling I don't ever want to experience again."
Fortunately, Mills escaped the accident without significant injury, but Berry admits the incident shook him up. "Once we got back to the pits, I gave him a hug, made sure he was okay, and then I went back to my RV, shut the door, and cried for a little bit."
Thankfully, Berry has suffered only one wreck himself, while testing at Maryland International Raceway for the 2012 Shakedown at E-Town race. "I was still trying to learn to drive the car," he says. "It went out about 30 or 40 feet, Top Fueled the tires, spun sideways, and I locked it up and banged the wall." Although it was disappointing to damage his Corvette right before the big Shakedown event, Berry adds he was fortunate after finalizing his on-track race car insurance mere minutes before the incident occurred. "How lucky can you get? I had only paid my first month's premium, and they had to write me a huge check. I felt horrible about it," he adds.
With the car eventually fixed, Berry continued to campaign it without further incident. Over the years, it's gone through a host of upgrades. "We took the program as far as we could with the LS package," says Berry, who recently purchased a complete dragster with full intent to tear it apart. "We used to have an extreme street engine, and now we're going to an extreme race engine." For 2016, Berry's car will be motivated by a 4.5-inch bore space Chevy outfitted with CFE SBX heads that Pro Line yanked from his sacrificial dragster. "It's one hell of a monster although it's still technically a Chevy small block," he says. "We're going to run it on alcohol and 98-millimeter twin turbos."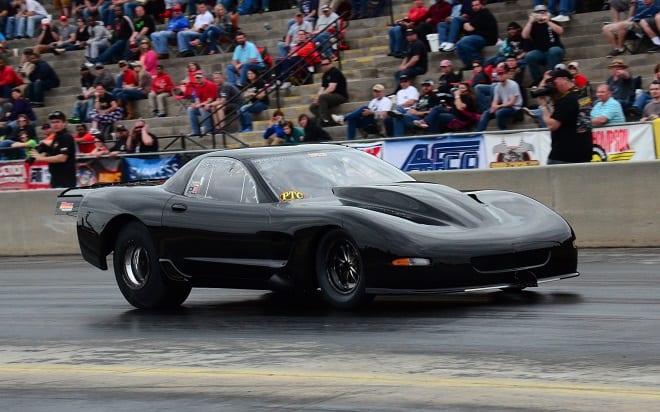 Once the Corvette is buttoned up yet again and ready to run with the new motor, Berry will head down to Bradenton for some testing, which he anticipates will be late in January or early February next year. If the timing doesn't work out as planned, though, Berry may even arrive early for Donald Long's Lights Out VII at SGMP and put the inaugural passes on it in February there.
Also for 2016, Berry confirms he'll attempt to claim his third-straight NMCA Radial Wars championship. "It's going to be a great year for NMCA and a lot of big-name people like Kyle Huettel, Daniel Pharris and Kevin Mullins have committed to the class. I think it will wind up being the standard in 315 radial racing," he says excitedly.
Looking further into the future, Berry takes a moment to contemplate another decade of racing under his belt. His prediction is rather unexpected, as instead of thinking first of wins or championships, he says he hopes to be "helping those who need it." Still, he admits to harboring big dreams for racing and wants to ensure his on-track legacy continues.
"If I stopped racing right now, 15 years from now, nobody would know who I was and WOOOO! Nation wouldn't be around. We're good now, but we need to get better at winning," he says. "I hope I can get good enough to where I can be legendary. I know that sounds greedy. The bottom line is that whether I am that good or not, in the future, I hope I'm still making a difference in this world."
Most of the time, what may be misconstrued as online smack-talking or cockiness is actually Berry's tongue-in-cheek humor or sarcasm. His WOOOO! Nation team's reputation for having fun and partying wasn't earned by accident, but there's a more serious, more thoughtful side to Berry that most don't realize is just beneath the wild and crazy surface. It's that unique duality that makes him such an interesting character, both on and off the track.
Photographs by Ian Tocher, Wes Buck and Mike Galemi
This story originally appeared as the cover story in Drag Illustrated Issue No. 105, the Champions Issue, in November of 2015.