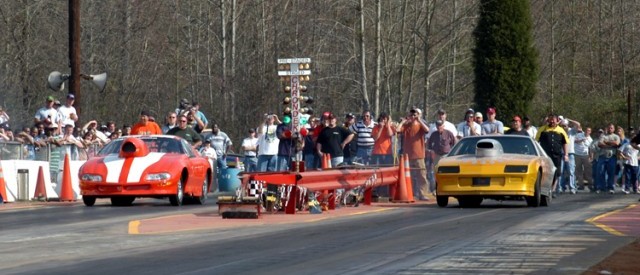 Staged in relative obscurity at marginal eighth-milers across the Carolinas, through Georgia, Alabama, and Tennessee, with the occasional trip down to Florida, Outlaw 10.5 (O/L 10.5) racing in the 1990s often resembled little more than a series of loosely organized grudge matches where side bets often exceeded advertised purses. Outlaw racing attracted individuals in the purest sense, racers who for money or travel reasons preferred not to join the major sanctioning bodies—or who simply didn't like to be told what they could or couldn't do to their cars.
But without an overseer, rules remained loose, safety was often an afterthought (if thought of at all), record runs remained open to debate, and there was no accurate way to establish who actually deserved to be called a champion. Plus, as the cars got faster, it cost more to field them, the teams grew more professional, and an entire cottage industry sprang up to serve the burgeoning O/L 10.5 scene.
The traditional Outlaw 10.5 car had to conform to five basic limitations: stock firewall, stock-style front suspension, mufflers, and all in a 3,000-pound package riding on 10.5-inch rear slicks (though the tread width of 10.5W tires actually measures about 11.25 inches). Any engine size and any power adder or combination of power adders was allowed, giving credence to the "outlaw" moniker, though nitro always remained a no-go for insurance and safety reasons. Additionally, sponsorship logos were limited to the car's windshield or hood scoop in order to preserve the "street car" appearance of the class.
Originally, Outlaw 10.5 racing was an offshoot of NMCA's Fastest Street Car Shootout, introduced in 1992 at Memphis Motorsports Park, and where the next year, the Super Street 10.5 class first made an impact. From Memphis, 10-wide racing migrated south, catching favor at tracks like Brainerd Optimist Dragway, a rustic eighth-miler nestled on the Georgia side of the Tennessee border.
"They started out there with small races, paying maybe three, four, five hundred dollars to win," says Steve Kirk Jr., who just this spring was honored at Brainerd Optimist by his O/L 10.5 peers as a pioneer of the class. "That was back when it was real 10-inch tire racing, the real outlaw stuff with the big cubic inches and two four-barrels. Basically, we just used a lot of old NMCA Super Street cars and put big motors in 'em."
Kirk, a former Pro Stock, Pro Street, and Pro Mod competitor, initially campaigned a 10-wide car in 1995 and was the first driver into the sevens over a quarter mile on 10.5-inch tires. In October 1999, he partnered with Quick Vandiver to promote and stage an unprecedented $10,000-to-win Outlaw 10.5 race on Macon (GA) National Dragway's eighth mile. Thirty-seven cars showed up, with Jim Huber earning that first big Outlaw 10.5 payday.
Kirk drove his own ride to the $10K win the next year, but says arguments about rules "got so finicky" by 2001 that the race was called off. "You start putting that kind of money in the picture and everyone starts fighting over rules."
That began to change in 2003 when Atlanta-based, part-time racer and promoter Johnny Fenn took note of the concern over O/L 10.5 rules—or more specifically, the lack of consistency.Regardless, other promoters and track operators kept the 10-wide fire stoked in the south with outlaw events at off-the-beaten-path venues like Headhunter Motor Club Dragway in Eatonton, Georgia; Phenix City Raceway in Phenix City, Alabama; and Shadyside Dragway in Shelby, North Carolina. Most races paid anywhere from $1,000 to $5,000 to win, making decent purses for local racers; however, the Outlaw 10.5 class appeared destined to remain an essentially underground phenomenon in relation to drag racing's main stage.
"I had started going to races around the South when it was always one of these throw-a-race-this-weekend kind of outlaw deals and there was no conformity to it; there was no set way of doing things," he says. "It was exciting and the fans loved it, but I just saw the bigger picture and thought it could be better and they could race at some nicer places."
So Fenn began by promoting a couple of $5,000-to-win events before approaching several track operators with the idea to host an $80,000 Outlaw race. "They thought I had lost my mind," he readily admits.
That's when Fenn went to meet with veteran promoter and then Huntsville (AL) Dragway owner George Howard, a man known to be willing to take a chance if it might mean making a big splash in the drag racing world.
"We sat down and I told him exactly what I wanted to do and why I thought it would work. And that's when we did [the fall race in 2003] and it was without a doubt, the best Outlaw race in history," Fenn declares. "Even after it got rained out and postponed, we had 64 Outlaw 10.5 cars, the fastest ones in the world. They came from everywhere: Texas, Canada, New York, Maryland, Florida, and of course from all the southern states, and they all came ready to race."
That led to Fenn and Vandiver creating the Outlaw Racing Street Car Association (ORSCA) for the 2004 season, when it held 10 points races and crowned Savannah, Georgia's Jack Barfield as its first 10-wide champion. Still, despite the obvious gains ORSCA realized, Fenn acknowledges some people criticized him for taking the "outlaw" out of Outlaw 10.5 racing. Perhaps surprisingly, he agrees to a certain extent.
"I miss the days when we all got together at the back of a pick-up truck and decided to go racing, but if we were ever going to bring this up to a level where it could survive and compete with other forms of racing, it had to become a little more standardized and brought up to a level where we could entertain sponsors," Fenn insists.
Before ORSCA consolidated the Outlaw 10.5 class, each track had rules for their own 10-wide racers, but none agreed with any of the others. For some, it's a scenario that's all too common these days, too.
"That's the reason that creating an organization was the proper thing to do," Fenn says. "Nobody's going to change a car to go from track to track to track."
Safety was another major consideration for the fledgling organization, he adds.
"We really keyed in on safety because we were running faster and faster at practically every race," Fenn recalls. "And with unlimited engines and unlimited power adders we had to step up the tech inspections. That's why I also sent tech men to NHRA to be certified so they could look at these cars and make sure they did conform to the rules. You have to step up on safety. If you don't, you're gonna' wish you had."
He also thinks it was important to establish a system that brought legitimacy to record-setting passes in the O/L 10.5 ranks.
"Basically, anything can happen in one run. I saw cars make runs that everyone just knew ain't right, so they wouldn't even claim it as a record, but if it was close enough [to be believable], then they claimed it," Fenn explains. "That's why when we started ORSCA we said you'd have to back up the records. If you could do it twice in a day, then we'd count it."
"It's not a cheap class," Kirk stresses. "In the late-'90s people were taking older back-halved cars and putting big cubic-inch motors in there and going out and running 4.90s, and at that time that was great. By 2004, 2005, it required state-of-the-art chassis and state-of-the-art tune-ups, and there were guys out there testing every day of the week to do it up right."As seems to be the natural progression of these situations, the faster and more professional a series becomes, the more expensive and demanding it is to remain competitive. By the mid-2000s a capable turn-key car cost upwards of $150,000, says chassis shop owner Kirk. A quarter-of-a-million price tag isn't unrealistic for the high rollers of the class today.
And five years ago, Howard, at Huntsville Dragway, cautioned that Fenn and other promoters had to be wary of over saturating the market—both from a spectator and racer perspective.
"Ten-wide racing probably is where Pro Modified was 15 years ago," Howard said in 2006. "It's new; it's exciting; it's wild, but it's not enough to work by itself. I'm a drag racer myself and I enjoy watching those cars, just like I enjoy Pro Modified, but they can't carry the show alone. Number one, the fans just get tired of seeing it, and number two, a lot of the guys can't afford to race that much."
In hindsight, Howard's words proved prophetic, as commitment to the class—and to ORSCA—began to wane within the next couple of years as the cars got faster, but the bank accounts grew smaller.
"It was the most expensive class to build a car for back in the day, mostly because of the stock frame rails and the stock-type suspension you had to run up front," explains Randy Conner, named ORSCA's 2004 Crew Chief of the Year after guiding Barfield to the series' inaugural Outlaw 10.5 championship in a nitrous-boosted '68 Camaro. "It wasn't like you could start with just a bunch of tubing and weld up a chassis and mount a body on it; you had to start with an actual car and the man hours it took to convert that street car into an Outlaw 10.5 race car was two, three times as many as it took to build a regular tube-chassis, Pro Mod-style car."
Outlaw 10.5 entries may burn alcohol or gasoline, but like all race cars they're really fueled by money, Barfield points out. He says the class reached its high point in the mid-2000s when the U.S. economy also was running strong on all cylinders. But when the economy started misfiring in 2008, money for typically self-funded O/L 10.5 teams became much harder to come by.
"That's exactly what happened to me," says Barfield, whose underground site preparation construction company in Pembroke, Georgia, had to downsize from employing more than 200 people to less than a dozen today. "When the economy took a big turn for the worse, I just couldn't afford to keep racing, certainly not at the level we had been, so I had to quit."
But Barfield claims anyone paying attention should have realized the good times wouldn't last forever.
"I mean, we were out there racing sometimes for $50,000 going to the winner when we used to race for $1,500 or $2,000 to win almost every weekend," he says. "But then tracks like Brainerd and Phenix City (AL) and Macon (GA) were putting on $5,000 or $10,000-to-win races every month, which became a very big deal to all of us. And then Shadyside (Dragway in North Carolina), they went to $20,000 to win and we won three of those in a row. I mean, if you were an Outlaw 10.5 racer you were on top of the world.
"Outlaw 10.5 was so hot when the economy was hot, too. In a way I think it was too hot and no one should've expected it to remain that way," Barfield contends. "But I think there will always be an Outlaw 10.5, especially down here in the south, and probably up north now, too, but I'm not so sure it'll ever get as big again as it was. But you know, all these classes seem to evolve and go through this kind of thing. I can remember a time when everybody was saying Pro Mod was a dying class and it would be going away forever, but look at it now."
His former crew chief and still close friend agrees, saying part of the challenge facing a resurgence of the class is that many of the heavy hitters, like Barfield, have moved on to other things and seem unlikely to return, or at least not at the scale they once enjoyed.
"They either quit because it got too expensive or moved up or down in class or whatever to keep racing. And there just aren't the events and the money out there to draw new guys into Outlaw 10.5; not right now anyway," Conner says. "But man, I wish Outlaw 10.5 would or could come back to what it used to be because it sure was a lot of fun. What it needs is somebody to get in there and figure out a rules package for the front ends and the bodies and the weights that everyone can agree to."
Coincidentally or not, Outlaw 10.5's tailing off also began shortly after the ADRL introduced the stripped-down Extreme 10.5 (XTF) class to its race-day mix. With no minimum weight and essentially unrestricted engine and power adder options, XTF cars immediately began running quicker and faster than their Outlaw 10.5 counterparts, which Conner suggests brought the cost of going fast down—initially, at least.
"When ADRL came on the scene, as long as you had 10.5s on the car with doors, mufflers, and they had some freaky headlight rule, you were good to go," he explains. "And with Outlaw 10.5 cars being so expensive to build and run, plus the turbos coming along and they were so much less expensive to run than nitrous motors. I mean, the turbo guys were making 70 passes on their spark plugs and we were going through about 70 of them every weekend, never mind the pistons and everything else. It all made Extreme 10.5 that much more attractive for guys to run fast there."
Indeed, following a pair of O/L 10.5 exhibitions made during its 2006 schedule (at South Georgia Motorsports Park and Rockingham Dragway), the first official eight-car XTF field opened the 2007 ADRL season at Houston Motorsports Park with ORSCA veterans Kirk and Marcus Birt, along with part-time entrant Bill Jewett among the qualifiers. The list of ORSCA defectors eventually grew to include the likes of Outlaw 10.5 stars Mike Hill and Joey Martin, too.
"I think Extreme 10.5 is a great thing, but it surely hurt Outlaw 10.5," Barfield says. "It started splitting up the cars and drivers, but racers always want to go as fast as they can and Outlaw 10.5 was always hampered by that 3,000-pound rule. But that can be seen as a good thing or a bad thing; it did help keep the cars stay more competitive (with each other) for what we were doing at the time, but it also held us back from what we could do, so that's where Extreme 10.5 came in. It filled a gap."
So, more than just drawing talent from the O/L 10.5 class, Extreme 10.5 redefined what it meant to go quick and fast on the relatively narrow 10.5W tires. Suddenly, Outlaw 10.5 passes that would've dropped jaws just a few months earlier became almost passé in comparison to the numbers put up by lightweight XTF cars, which tended to diminish both fan and media interest in the O/L 10.5 class.
There are significant exceptions, however, including the attention that "Turbo Tim" Lynch and crew chief Steve Petty continue to draw as they remain loyal to their Outlaw 10.5 roots, first with the famous twin-turbocharged Mustang in which Lynch recorded the first six-second quarter-mile ET in 2004, and to this day with a twin-turboed, late-model Corvette that holds the current records at 4.14 and just over 197 mph in the eighth and 6.26 at 232.51 mph in the quarter mile.
"There's definitely not the same amount of races we had a few years ago, but there's enough to keep us going and interested," Petty says of the current Outlaw 10.5 scene. "The car counts aren't always good, either, which is a problem that hopefully gets fixed somehow."
A group of concerned Outlaw 10.5 racers attempted to address exactly that problem last December with a loosely organized meeting on the floor of the Performance Racing Industry (PRI) trade show in Orlando. Chief among their concerns was the ongoing lack of continuity in rules for the class that makes competing at various events difficult, if not impossible.
"We are in real trouble down here," said Tony Johnson, a longtime Outlaw 10.5 competitor who campaigns a supercharged '69 Camaro out of Conyers, Georgia. "When you have no entry fee for the car and driver, no entry fee for the crew, and you can't get but six cars to show up for a race, that tells you how bad things are."
Northern O/L 10.5 racers seem to have it much better, largely because officials at Cecil County Dragway in Maryland took stock and established rules to provide weight breaks to the nitrous cars, more so than ORSCA ever allowed, and imposed weight limits for various combinations in their monthly Street Car Shootout series that returned at least a semblance of parity to the class.
But series administrator Dave O'Donnell says with the Cecil County program attracting only five or six Outlaw 10.5 cars as recently as three years ago, it was a matter of survival to set new parameters for the class.
"At the first race this year we had 21 Outlaw 10.5 entries and there's still quite a few new cars coming that just haven't made it out yet. We even have about five nitrous guys coming back to race with us," O'Donnell states proudly. "But we still have people saying that outlaw is 'outlaw' and it should be left wide open, and 10 years ago I probably would've agreed because pretty much everyone had a nitrous car. But then the blower and twin-turbo technology took off and all the nitrous guys were falling by the wayside so something had to be done."
The "Cecil Rules," as they've come to be known, are based on no full-tube chassis allowed and no less than 13 different minimum weights for various engine combinations based on such diverse factors as block size, cubic-inch displacement, bore spacing, and of course, the type, number and size of power adder employed. It's a complicated formula that O'Donnell freely admits, "kind of penalizes the big guys to bring them back to where everybody else is," but adds he always hopes to leave the rules as is throughout the season, though he remains willing to tweak them if the need arises, usually through adding weight.
"You've got to listen to the racer, but bottom line, you've got to do what's best for the series," O'Donnell insists. As proof he offers an example of the season opener at Cecil County last year, when Chuck Ulsch showed up with his screw-blown '68 Camaro two-tenths of a second quicker than his closest opponent.
"What am I supposed to do? Last year they came in with unlimited overdrive (on the blower pulley), so I cut them back to 88 (percent) and they didn't like it at all," O'Donnell realizes. "I even understand their argument that it's outlaw, but I can't have a guy that far out on the rest of the field because then they'll just stop showing up—that's what happened down south. I mean, I love Tim Lynch to death, but when you're a couple of tenths faster than everybody else, your competition just stops showing up."
Unlimited blower overdrive has been reinstated for 2011, O'Donnell says, but reducing it again remains on option since he clearly believes that parity, whether natural or artificially imposed, remains at the heart of a successful series and class.
Also contributing to the success of Outlaw 10.5 racing in the Northeast, though, is the verbatim adoption of the Cecil Rules by neighboring Atco Raceway in New Jersey for its own Outlaw 10.5 program, as well as by brothers Nate and Adam Pritchett for their Ultimate Outlaws Shootout Series that will visit four tracks in three states this year, including Cecil County Dragway in July.
"We have a good thing going up north, but if we're going to grow Outlaw 10.5 again we need the south to be successful, too," Nate Pritchett says. "What I got out of that meeting (at PRI) is that they don't have enough cars down there, or they don't have enough cars coming out, but I know of at least two more cars that'll show up. We'll travel if it means helping these southern promoters to jump-start things again.
"The rules thing? I don't care what the rule book looks like, racing's expensive and the cream rises to the top, that's just the way it is," he continues. "No matter what restrictions or limitations you put on individual cars, the same guys who work the hardest are going to have the most success. Taking away a little from guys like Ulsch or Lynch may slow them down temporarily, but it's not going to bring long-term parity."
Though the Ultimate Outlaws adhere to the Cecil Rules, Pritchett says he will not follow anyone's lead if changes are made to them as the season progresses.
"Personally, I hate it when rule changes come in the middle of a season," he says. "We set our rules in the winter of each year and you can be confident they'll stay the same at least until the next winter after the season is all over."
And while Pritchett understands the call from some racers to adopt a set of rules and lock them in for a period of three to five years, he cautions that may provide short-term relief at the expense of long-term consequences.
"The problem with that is what if we make a mistake? If we make a mistake now it's only going to affect people until next year; if we make a mistake that locks something in for five years, that's a long time to keep it unfair and that's why I prefer an annual review," he says.
"And we may be the guys who have to make the decisions, but we refer to the top turbo guys, the top nitrous guys, the top blower guys and we rely on them for input before making changes. Our strategy is basically to make rules based on the fastest guys in the class. We learn what each is capable of and take it from there."
The biggest challenge remains, however, to have the fortitude to make and enforce rules that could potentially alienate the stars of the sport in order to preserve a class or series as a whole. It's a lesson that ORSCA eventually learned with Outlaw 10.5, but ultimately failed, as the once-proud organization is all but a memory for racers and fans alike.
"It's not an easy thing to manage," says Conner, now a turbo tuner for the R2B2 NHRA Pro Mod team. "The turbo cars obviously got an upper hand in Outlaw 10.5 with the horsepower they make and a change to something different needed to happen to keep some parity between the nitrous cars and the turbo cars. Everybody could see that, but no one could agree on anything and nobody wanted to change it because it's Outlaw 10.5, so instead it just kind of dwindled away to where it is now.
"Personally, I think it's most important to keep the more stock-appearing bodies because most fans honestly don't look under the hood. They don't know or even care about the difference between a stock frame and a double-framerail tube chassis, but the double-framerail tube chassis is a lot cheaper to build, a lot easier to build and if you have problems you can just cut some of it off and put new stuff back on," he says. "We need to make things simpler for Outlaw 10.5 to survive."
Recognizing that most fans don't understand or care about the difference between a 5.0-inch bore-space engine and a 4.84-inch version suggests they also may not be concerned with the difference between a 4.50 elapsed time and a 4.20-second pass. It's actually hard to argue against saying Outlaw 10.5 was more competitive, exciting, entertaining and probably most important from the racer's standpoint—affordable—a half-decade or so ago when the cars were running just a tad slower.
Simplification first and consistency second, it seems clear that Outlaw 10.5 desperately needs some attention in order to remain relevant on the drag racing landscape. However, the insatiable desire of racers to go quicker and faster may be the biggest obstacle to it actually happening. Though it goes against the grain of most competitors, reining in the performance of these 10.5W-tired cars may be as important to the future of the class as maintaining or creating parity amongst the variety of engine combinations.
Establishing a performance ceiling might be going a little far, but for those interested in salvaging and restoring the class, controlling the Outlaw 10.5 racer's natural urge to crush opponents with dominating performance may have to take precedence over a never-ending search for parity.