He may be young, but 24-year-old Preston "Peeps" Pennington already has the skill and savvy of a racer twice his age. His humble personality and appreciative nature make him easy to like, but his driving skill makes him a target that other bracket racers are gunning for.
Hailing from the small town of Three Rivers, Texas, Pennington was born into racing and has loved the sport for as long as he can remember. His father, David, started racing in the late-'80s and was a big influence on Pennington's desire to go racing. "We didn't have a Junior Dragster growing up; Dad wouldn't buy us one and I still don't know why," laughs the young man. "Instead, I grew up racing dirt bikes, and my dad has always pushed me to be the best that I can be, not just in drag racing, but as a person, in school, in sports, in everything."
At just 15 years old, Pennington made his first pass in a real race car, a roadster his father had built in the mid-'90s, and promptly ran 7.90 in the eighth mile. A throttle stop limited how quick the teenager could go so he could get comfortable with the car. The very next day, however, the Pennington family cranked things up a bit and young Peeps clicked off a 5.80 pass.
Once he graduated at age 18 and no longer had to worry about missing high school classes, Pennington started thinking about developing his career as a big-money bracket racer. Still, though racing was his primary focus, Pennington also knew education was important so he attended the University of Texas in San Antonio and in 2013 earned a bachelor's degree in mechanical engineering. "I've raced full time since graduating, and put my engineering degree to work in making my race car as good as it can be," Pennington proudly proclaims.
His car, "the Peepshow," is a 2013 Miller Race Cars swing-arm dragster powered by a 615 ci motor from Huntsville Engine & Performance and has carried Pennington to a number of victories over the years. Pennington admits it was a bit of a struggle in the beginning, however. "We had a lot of success locally, but our first big-money race was in Belle Rose, Louisiana, for a $50,000 bracket race. To put it in simple terms, we got whooped on," he confesses.
The thrill of being a big fish in a big pond, however, kept him going. "When you think you're good locally and you run at the same track with the same guys every week, you're good, yeah, but it's a lot more of a challenge to be good on a national level running against guys you don't know where the stakes are a lot higher," the second-generation racer shares. Hungry for success on a larger scale, Pennington paid his dues. He raced at every event he could, and, eventually, his persistence began to pay off—literally.
"I've had a few weekends where I've done really well," Pennington understates of his successes. At Memphis International Raceway in April 2014 at the American Race Cars $25K Showdown, he took home a grand total of $35,000 after winning the $10,000 race on Thursday as well as the $25,000 race on Saturday.
That same year, he took home a $10,000 paycheck from the Friday shootout at the C.A.R.S Protection Plus Million Dollar Race. In Saturday's main event race, however, Pennington went out in the semi-finals. "That's probably the run I remember the most out of any event. We were both perfect on the tree, my opponent was dead on, and I was a hundredth over my dial in," Pennington recalls of how things went down at the biggest bracket race of the year. "It gives me something to work at. I still want to win that race."
With the wins and payouts piling up, Pennington's reputation as an expert driver grew. Early this year, while racing in the Spring Fling at Las Vegas, Nevada, he won two days in a row with 23 consecutive round wins. As a result, the race promoters put a bounty on him and offered up a free set of pistons for whoever could defeat the young man. "It was really cool to hear them announce that," Pennington says. He wound up winning the $5,000 warm-up race as well as the $10,000 main event race against Jeg Coughlin, Jr. "I've watched Jeg on TV for years. He's my favorite Pro Stock driver and to be able to race him in the finals at Vegas was really cool. He's one of the best there is and I respect him a lot."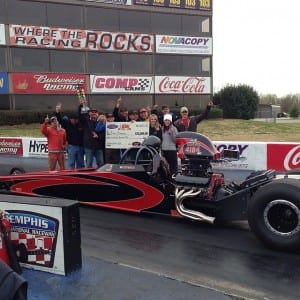 With his bank account bolstered, Pennington ordered up a new machine from Miller in which to run his races. The 2016 dragster is practically identical to his previous '13 version, but features updated technology and a full carbon-fiber body. Pennington and his brothers, Michael and Philip, did the final assembly and wiring of the car, while Drag Race Solutions supplied all the fittings and plumbing components. Another 615 cubic-inch motor from Todd Ewing at Huntsville provides the horsepower, the carburetor was built by Jim Parr, and the whole combination runs on methanol from VP Racing Fuels. K&R Performance Engineering electronics are used throughout, and a Racepak iQ3 display with a V300 data logger allows Pennington to keep an eye on the vitals. Ohlins shocks also are on board, along with Lamb Components brakes and Mark Williams Enterprises gun-drilled axles. Lastly, Tom Kundrick at Mickey Thompson supplied the tires that are found all the way around.
Although armed with a brand-new car, Pennington isn't naïve enough to think it will be his golden ticket to the winner's circle. Consistency is the key with bracket racing, and all the money in the world can't buy the skill to do the same thing over and over with no margin for error. "Nowadays, pretty much everybody has high quality, good equipment and anyone in the staging lanes can win," he says. "It's tough to make nine runs in a row that are flawless. Even when you make a really good run, you can still lose easily because there are so many people around who are also capable of winning."
Despite the stiff competition, Pennington plans to stick with big-money bracket racing. He loves the challenge of it, though he admits it's incredibly difficult to find sponsors at the sportsman level. "There's not enough exposure for bracket racers for a big sponsor to come on board," he bluntly states. So even though his roots are in bracket racing, Pennington is realizes he may have to make the jump to something else if he wants to move up the ranks. He's hoping to eventually run some NHRA Super Gas or Super Comp races and beyond that, maybe move into the pro ranks. "I think that's where preparation meets opportunity, but it has a lot more to do with opportunity. If that ever comes up, I'd certainly entertain the idea," he says.
To win one big-dollar bracket race is a big deal. To win more than one—and especially to win consistently—takes a very determined, focused and driven individual. Pennington meets all those criteria and it appears his success is only just beginning.