The NHRA Nevada Nationals proved to be an event that got people talking. However, the chatter isn't about which driver won the race, personal bests at The Strip at Las Vegas Motor Speedway or who's going to win the season-ending championships.
The talk is about the series of disqualified runs that took place during the span of the event and has created a cloud over the end of the 2023 season. What's more, the talk isn't only about the DQ'd passes but the lack of communication from the National Hot Rod Association.
The disqualifying of runs at the Nevada Nationals started on Friday after round two of qualifying. Four Pro Stock cars were disqualified due to a technical violation involving the bypassing of the Leahy safety device.
The disqualified runs were all from Elite Performance cars, including the no. 1 qualifier Erica Enders, Jeg Coughlin Jr., Aaron Stanfield, and Jerry Don Tucker. The issue stemmed from a check on a safety system, not a performance-related matter, and should have been addressed earlier in the race, according to team owner Richard Freeman.
The NHRA's decision to disqualify the cars was not seen as a targeted act but rather a situation that could have been avoided, saving the drivers from embarrassment.
If this was truly about the safety of the drivers, wouldn't the check have been performed beforehand?
Fast forward to Saturday after qualifying had been completed. Post-race inspections were done, ladders were set, yellow hats were handed out, interviews completed and press releases were distributed. However, two to three hours later, we are getting revised press releases sent to our inboxes, and Bob Tasca III, the no. 1 qualifier in Funny Car, has had his best run revoked due to a technical violation.
We assumed the issue was due to the ongoing rumors that some Funny Car headers did not comply with the rules. But it was just rumors – so naturally, we looked to the NHRA for information, and none was to be found. We were all going on word of mouth and the "revised" press release only stated that Robert Hight was now taking the no. 1 spot in Funny Car heading into Sunday.
Back to that word of mouth – we received news from one of the teams that with Tasca's disqualified run on Saturday, J.R. Todd and Jeff Diehl's runs were also thrown out. There was nothing that said why, and so we lumped them in with the assumption about using illegal headers.
Then, following this news, Tim Fabrisi, John Force co-crew chief, made a post on Facebook Saturday night of the NHRA Nevada Nationals, stating, "Hmm.. [three] DQs in Q4. Sounds like illegal headers. Let it be heard NHRA. Don't sugarcoat it."
Inquiring minds wanted to know, and with the lack of communication, Fabrisi offered to explain his reasoning behind the post.
"What made me want to post it is, it seems in the past that NHRA just covers up and doesn't shed a lot of light on what's actually happening to the fans themselves," said Fabrisi. "You know, three cars were disqualified, and I didn't hear about it until later that night, and it was word of mouth. There wasn't a memo put out on the teams app that we use. It was written in pen very small [in a revised post on the app] but it wasn't said exactly what it is."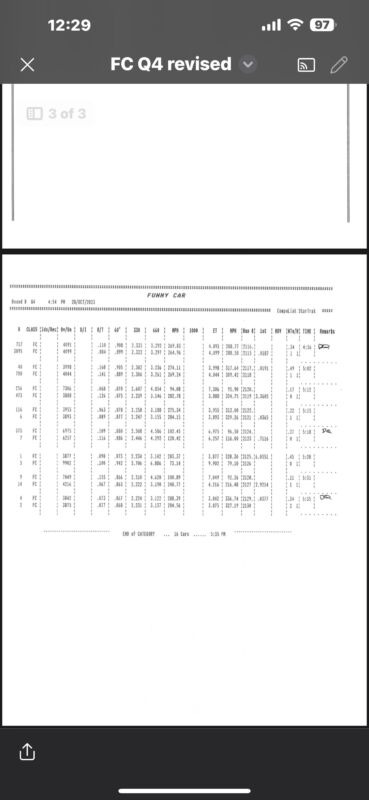 He personally felt that anytime John Force Racing was penalized or disqualified in the past, it was put on blast by other competing teams saying, "They're cheaters."
"I wasn't saying that, hey, they're specifically cheating, and I didn't say any names, but if NHRA's gonna cover it up, they need to make it fair," continued Fabrisi. "Even other racing teams came to me at the starting line the next day and said, 'You know, we're actually happy that you posted that, and there's a voice out there on our side because we're mad that NHRA doesn't wanna talk about it.'"
As the night and following day played out, Tasca's DQ revolved around the width of his headers, which were found to be slightly outside the specified bounds.
But how did we find this information out other than just assuming it was header-related? It was from Tasca himself when he addressed the situation during the drivers' introduction ceremony.
He expressed frustration, emphasizing that his team had previously ensured the correct header angles. He argued that header width doesn't provide a performance advantage and claimed that his car was initially declared legal before the decision was reversed.
"It's pretty crazy, actually," stated Tasca on Sunday morning. "[It was] about an eighth of an inch over [max overall width being exceeded] for me and J.R. They tapped [the headers] with their little hammer, and there's absolutely no performance advantage at all. They gave me the number one qualifier hat and said go do the media, and then come hours later, they changed their mind. They own the basketball court here and the basketball – we just play here."
Despite his disagreement with the ruling, Tasca stated that he was moving on and was going to focus on the upcoming race.
Once race day was underway, there was still no explanation for the thrown-out runs. After tracking down Diehl and chatting with him about his disallowed run, he explained that it had nothing to do with the headers. In fact, it was because one of his crew members taped some part of the parachutes, which kept them from being deployed post-run.
Diehl stated that he would like to move past this "dumb and embarrassing" incident and "forget" about it. Furthermore, he didn't fault the NHRA for doing its job, and he's happy they're putting safety first. His headers were cleared by tech, but couldn't help but think it's political.
Fabrisi shared the same sentiment that the NHRA needs to continue to focus on safety and, as a matter of fact, step up its tech inspections.
"Their tech department is good, and they're learning along the way, but they don't necessarily always take the input from me and my fellow crew chiefs," he said. "If we say something or we suggest something, they obviously always think we're trying to get an angle on that. Well, sometimes they don't understand what they're talking about, and being a guy who's been around the nitro cars for 15-plus years, I can understand how everything on this car works. When [the header situation] was brought up, I said check our car too – obviously don't exclude anybody. If you see something wrong, I want to know I'm doing wrong because I can get in trouble with sponsors. We don't want to be breaking the rules or cheating, right?"
As a matter of fact, Fabrisi raised another red flag that the header issue was brought to the NHRA tech department many months ago, and it was even backed up by other crew chiefs because they suspected it could be related to a performance advantage.
"We weren't the only team shouting that there's something wrong. There were multiple teams shouting at NHRA, they need to be checking this stuff because it's not right," continued Fabrisi. "We've seen it going to St. Louis. We're like, something's wrong. Brought it up, and I asked them, 'are you guys checking this stuff?' The guys told me at the top end that all the drivers jumped out and said, 'you need to be checking everybody's headers.'"
Three-time Funny Car world champion Ron Capps was deeply frustrated by the findings that were produced at the Nevada Nationals.
"As a team owner, I'm not quite as in tune with what's going on with everything as far as mechanical, the track, and things like that, but what shocked me was how long it had been since NHRA had checked all the specs on their rules on Funny Car headers," stated Capps. "We were pulled aside, we as everybody in Funny Car, in Dallas, which I thought was great when they did it because there was a lot of money for grabs on Friday night at the Stampede of Speed.
"What I didn't know was how long it had been since NHRA had checked Funny Cars in their 'chamber' or whatever you want to call it where you have to roll it through a chamber, and it'll tell them if the headers are too wide and then they have a tool to check the laid back angle to make sure everybody's in spec."
The shock regarding the lack of inspection was also shared with Capps' crew chief, Dean "Guido" Antonelli and team, and even Richard "Slugger" Labbe from Toyota Racing Development.
The exact date of when the Funny Car headers were last checked was unknown to Capps, but he did confirm that it was before the Countdown to the Championship.
"Which is alarming to me," said Capps. "With that being said, you know, our livelihoods – my livelihood is wrapped up in everything we do on the racetrack. I would think that NHRA would work as hard as I do at my job, at what I have to do to represent my sponsors and what we do on the racetrack. I would hope that with everything on the line that we have as racers, that I would hope that we wouldn't have to worry about anybody outside the guidelines."
In Dallas at the NHRA Texas FallNationals was when the tech department started checking Funny Car headers with the mandated "fixture," according to Fabrisi.
"We were literally the first car to be pulled and checked. I said, 'Absolutely. How many sets do you want me to bring? Let's check everything because if something's wrong, I want to know, and I'm gonna tear it apart right now.' It wasn't just us. There were many people that they were like, 'Okay, maybe we should start looking into this.'"
While we're on the topic of the FallNationals, there was another disqualification, but this time, it was from the entire event. During eliminations on Sunday, Clay Millican's Top Fuel dragster pulled a wheelie off the starting line, then slammed itself down on the track, causing it to lose the ballast. After the incident, the ballast was returned to Millican's pit, and nothing more was said or done.
Fast forward six days later, and there was a Statement of Action Against Participant listed on NHRARacer.com.
It reads, "The following action has been taken against Clay Millican for violating the rules pertaining to loose ballast during the NHRA FallNationals. Millican was disqualified from the event and fined $5,000.00. The fine will be dedicated to enhancing the capabilities of the Safety Safari. The fine is appealable."
Millican cannot comment on the matter since he is appealing the decision, but why wait six days to rule on the matter? If there's a reason, why not submit a simple press release? Or when the weight was returned to Millican's pit, why not tell the team that there could be some repercussions for the incident?
Now, back to Las Vegas.
Fabrisi was happy that something was finally being done by the tech department and continued on throughout the Nevada Nationals. However, he explained that though the NHRA is checking the headers, they're not doing anything to keep track of the parts that they've cleared. He proposed that there should be some sort of serial number put on each header, just like there's a way to keep track of chassis, bodies, etc.
It's safe to say that the frustration with the lack of communication and the delay of the tech department finally sitting up and taking notice is shared by others in the pits.
Capps recounted his experience at the Nevada Nationals when he saw the tech department pulling Funny Car teams over for inspection.
"I was in the tow vehicle," explained Capps. "I saw everybody get checked in Vegas. I saw some people pull over the side. I saw J.R.'s [Todd] car get pulled over. I know that Jon O [Jon Oberhoffer] and those guys did it right away – there was no balking. They went back, and they made the change of their headers. I'd already been back at a sponsor dinner in town when I heard everything that had happened [with the disqualifications]. Then, the next day, I heard a lot of people talking about how there was no performance advantage, which is complete BS.
"The rules are there for a reason. I'm not saying anybody did anything intentional, but when I heard that those things hadn't been checked in that long, it makes me very nervous about competing for championships with as much money as we have on the line and with everything we have going on," continued Capps. "I can only speak in the Funny Car division. Obviously, headers are a big deal because we're talking fractions of an inch could make a difference between half a tenth of an ET. It bothered me a lot. Guido, I know, works very hard on being as close as we can to pushing the limits and as close as we can without exceeding anything with NHRA."
Capps continued to question why hadn't the headers been checked more frequently, adding to his frustration.
"If we're short on staff for tech people, we need to make sure everything revolves around making sure that these cars are equal when they go to the starting line, and we're competing on equal ground because people's livelihoods are within a fraction of a second, which can be a win or loss and it could be whether or not somebody is successful," he stated.
One of the recurring themes is that all racers want an even playing field and for communication to be stepped up, not only to the teams but also to the public.
"It is frustrating because we're all trying to play by the same rules, and obviously championships are on the line, and you're pushing as hard as you can, and when you don't know if every car is equal and on top of that you don't hear anything from NHRA, it makes you wonder," said Capps.
"I'm part of PRO [Professional Racers Owners Organization], and I know that we, as PRO, addressed it with NHRA Sunday night, and it was definitely a hot topic and an issue that needed to be addressed. I hope things get better in that respect. I know just from sitting in a meeting with Richard Freeman that I don't know the details of what happened in Pro Stock, but tech inspections are so crucial that it can't be taken lightly, and if it's because we need to make sure there are more tech people or NHRA does, then that's got to be addressed."