It's a beautiful Friday afternoon. September 2002, the 13th of the month, and Steve Petty has slipped away from his job as a line mechanic at Marietta Dodge. David, a fellow mechanic at the dealership, also cuts out early and gets behind the wheel of his truck—a Dodge, of course—with a slick bass boat in tow. The two of them are headed to nearby Lake Allatoona for a quick late-afternoon fishing excursion.
Driving north through Woodstock, Georgia, not all that far from Petty's home, the two of them chat about the weather, the lake, fishing, work, what they have planned for the upcoming weekend; all the usual stuff guys talk about when they're about to go blow off a little steam. Traffic is steady but not too heavy; they've managed to hit the road before the weekend exodus of Metro Atlanta's massive workforce gets underway.
Woodstock is a sleepy bedroom community a good 45-minute drive north of the city, still clinging to its rural southern roots, but inevitably being encroached upon by suburban sprawl. Its quaint downtown represents a mishmash of trendy antique and curio shops butted up against long-standing businesses, with the trendiness quickly overtaking the traditional. Petty and his buddy are well on their way, though, comfortably cruising through an exurb landscape of fast-food restaurants, big-box stores, auto-parts outlets and bank branches.
The radio's on and a great evening on the lake beckons. David mostly sticks to the right-hand lane, making steady progress while a stream of slightly faster traffic passes to his left. A small car approaches from a side street and stops. No one would have expected, could have predicted, it would immediately pull forward again.
The impact pretty much destroyed the car. The truck's front end sustained some pretty severe damage and the back of its cab was caved in, too, after the boat shot forward with crushing momentum off its trailer. Like the proverbial fish out of water, it lay battered and broken in the middle of the road.
"We saw it coming. She just pulled out in front of us like we weren't even there," Petty says. "It was one of those deals where you close your eyes and when you open them up you don't really know what happened; the air bag's already going down."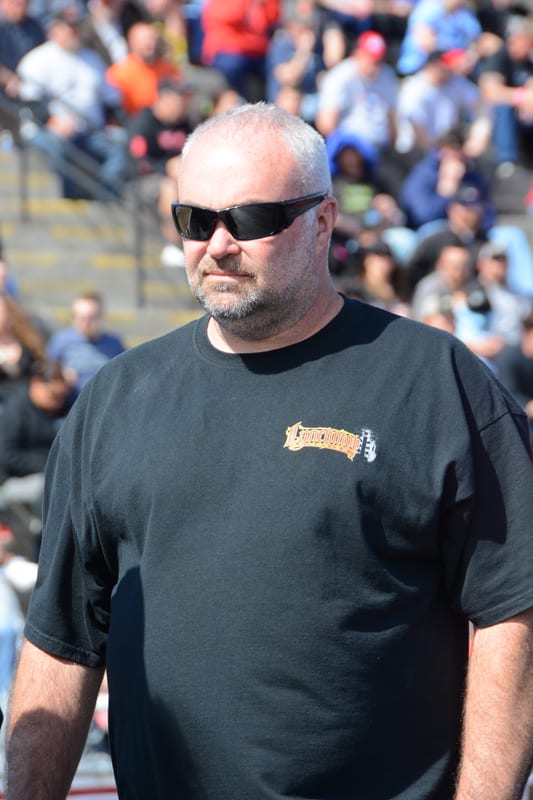 Miraculously, neither David nor the 15-year-old girl who took the car without permission from her parents' garage were seriously injured. Initially, Petty thought he'd escaped with only bumps and bruises, too, until he tried to push open the crumpled passenger door. Immediate, searing pain betrayed a badly broken left hip.
It took a month of hospitalization before he was even able to get out of bed and nearly half a year of painful, often frustrating rehab on walkers, then crutches, then a cane before Petty could gingerly walk unassisted again. He admits to harboring fears of never walking properly again, but after eight months of recovery he finally began feeling "almost normal."
Fortunately, Petty says he had good medical insurance through his job and continued to receive a check, though not nearly what he'd become accustomed to.
"The guys I worked with were really awesome; they had been saving the caps off stuff like fuel injector cleaner because these companies would come in and pay the mechanics a dollar a cap for whatever they saved. The whole shop had been saving these so we could all go on a company trip together. But they cashed them all in as soon as I got hurt and then they all came to the hospital to see me and gave me about six-thousand dollars. I can't say enough about what they did for me," he stresses.
His job was still waiting on him at the dealership, too. Petty had every intention of eventually returning, but while regaining his health, strength and mobility he decided to make a little money building engines and selling them from his garage at home. His favorite machinist, Doug Patton, was no longer available, though, the result of being moved to the parts counter at the shop he worked for, so Petty was forced to look elsewhere.
He settled on a small shop close to home, but soon realized prompt work and quick deliveries were not exactly hallmarks of the business.
"Parts I took there sat for a few weeks, actually a few months, and it pissed me off," he freely admits. "So I go up there and the owner comes out and he was like, 'Well, what do you think we should do about this?' So I told him the first thing he needed to do was hire some competent help and he immediately said, 'Well, how much would it cost to hire you?' So I threw a number out and he hired me, right there on the spot."
It was a life-changing moment for Petty, a fresh start, even if he didn't realize at the time he needed one.
Petty grew up the son of a mechanic, so it seemed only natural he would follow his dad into the trade. He's also always been interested in drag racing, even skipping school sometimes in his teenage years to attend NHRA events.
He describes one occasion in the mid-'80s when he and his best friend in high school—who actually is now his brother-in-law after marrying Petty's sister—were getting ready to bail and head south for the Gatornationals. However, just before their trek to Florida began, Petty says teachers convinced them to delay their departure in order to take a test for entry into the Plymouth Troubleshooting Contest, an annual competition sponsored by the car company to encourage high-school students to make auto mechanics their vocation.
"All the schools in our area came to our school to the gym to take this test and me and him ran in there. We just wanted to haul ass and go to the Gatornationals. We were 16 years old and ready to load the cooler full of beer and haul ass and skip," Petty recalls. "So we go in there as the two kids representing our school, sit through this test and we get up together. We both got this nasty look from our mechanics teacher because he knew we just blew through the test. But it turned out we placed number one and number two in the region."
After attending the Georgia statewide portion of the Plymouth contest, Petty says he immediately began receiving phone calls with job offers from car dealerships throughout the Atlanta area.
"I was all set to go to college out of high school, but I didn't really know what I wanted to do. But my dad was a mechanic, I was into hot rods already and when you're sitting there and you've got somebody calling you, offering $10, $12 an hour and you're 16 years old, well, that sounds like a lot of money—especially when you're making $3.65 an hour bagging groceries," he says. "So yeah, immediately after I graduated, I started working at a dealership as a mechanic."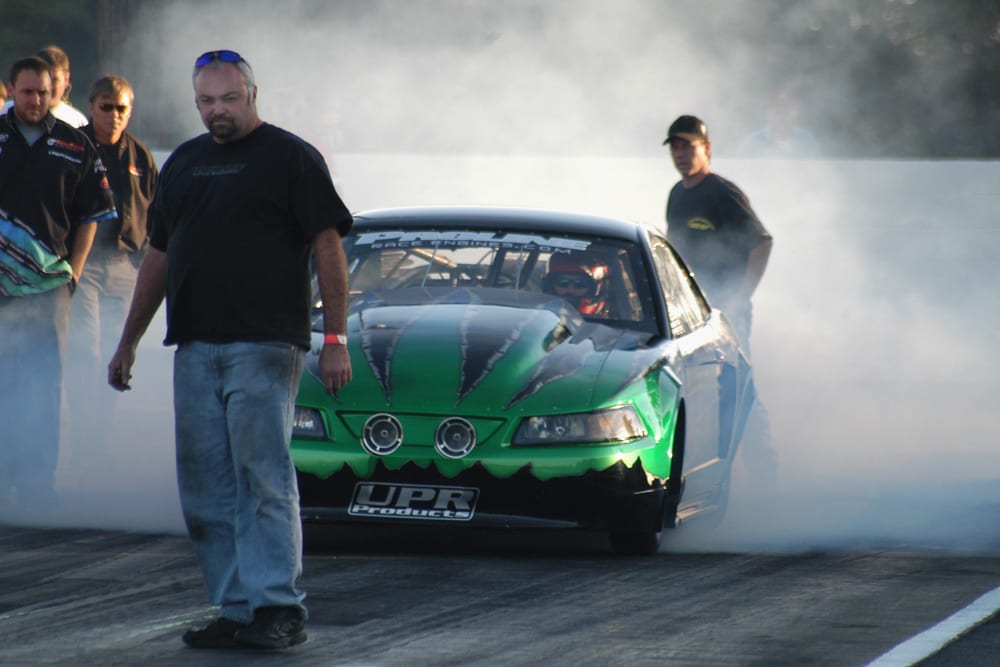 With his career path set, Petty also got involved about the same time in Atlanta's hot street car scene and by the early '90s had teamed up with another young street racer named Tim Lynch. Petty and Lynch made a formidable pair, racing nitrous-fed Mustangs first on the streets and later in turbocharged trim for the Fun Ford Weekend, NMRA and ORSCA series.
In between working at the Dodge dealership and racing on weekends with the "Lynch Mob," Petty sometimes visited a Ford dealer just down the street from his own workplace in order to run his race engines on the only nearby dyno. Not too much attention was paid to the burly visitor by the staff there, other than by a young, fresh-faced college kid who split his own time between school and working part time as a helper in the dealership's transmission shop. Eric Dillard remembers it well.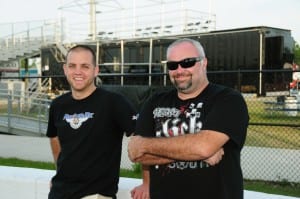 "Every time you heard the dyno even move, the guys I worked with would let me go up there and watch because that's what I loved; I really loved it. I knew Tim; I knew Steve; I'd see him at the drag strip, but it was never like a friendship. I just knew of him more than anything, so whenever Steve would come up I'd try to talk to him. I know I asked him a few times if they needed any help around the shop. And that went on for probably two or three months; at least; maybe longer," Dillard admits.
"I bugged him as much as I could and then one day he was driving to Charlotte to buy old NASCAR parts, because that's how we used to build our motors was to buy old, used Ford NASCAR parts, and he wanted somebody to go with him. He said why don't you ride with me, so I rode with him and I never went back to Ford. I went to work for him, just tearing down engines and doing whatever he needed."
Petty had also hired Patton as his lead machinist a few months earlier, then brought Lynch on board as an engine builder not long after to unwittingly assemble the basis for what would become Pro Line Racing (PLR). Still, despite managing to successfully initiate a turnaround for the machine shop, Petty came to realize by the mid-2000s that he's not a businessman at heart. Coincidentally, the machine shop's owner lost interest in the business about the same time and was ready to sell. Petty had reached another crossroad in his path.
"I didn't want to run a business; I didn't want to handle customers like that," he says. "That's where Doug and Dillard came in; they bought out the original guy and they own the machine shop. I'm the third, silent partner. I do all the motor combinations on paper; I do all the tuning, a lot of dyno work. Dillard actually deals with customers, does all the billing, that kind of thing and Doug is the head machinist.
"Even though I hired them and I was originally their manager or whatever, the roles all move around. Each person found out where their strong suit was and that's how Pro Line started and how it developed and everybody got in their respective positions to really make this thing go somewhere."
Patton cautions it wasn't quite that simple. While he readily agrees Petty had a knack for putting a good team together, he always faced an uphill battle to keep the business afloat. He says it was "upside down by a pretty good chunk of money" when Petty took over, even more so than anyone beyond the owner realized. But with some basic accounting software Dillard was able to better define the financial problems and determine it wasn't yet a lost cause. "We needed some money to keep it afloat for a little bit until we could straighten things out, but it would work," Patton says.
Dillard recognizes, too, the process marked a difficult time for Petty.
"It was an emotional time for Steve because what he was managing and what he was controlling kind of got taken away from him when the money ran dry," Dillard explains. "The guy that owned the whole business back then, he wasn't really managing the company, never even looked at it. Just when it was out of money one day, he was like, what the hell, and he wanted all of us to go in with him and we all told him no. And he got in an argument with Steve; kind of told Steve to get out and it was just us left.
"So it was a very hard time emotionally for us to make sure we mended with Steve. We had to tell him, 'Steve, we're going to run this, but we're not pushing you out.' It's just at the time Steve wanted nothing to do with it. Luckily, as soon as we got the original owner out, our relationship never really changed."
Petty continued to get machine work done by Patton at the shop, then took the parts home to his garage and built the engines he ended up tuning at the race track.
"We always found a way somehow to make sure everybody was being taken care of. We never turned our backs on Steve; we always just worked as a group—always," Dillard insists. "Even now we call Steve an owner because in our eyes, he is an owner. His name is not on the documents, but he gets compensated like an owner because we see Steve Petty as our brand. It's like having a Chick-fil-A; you've got to pay for the brand. We know that, so we've never lost sight of it.
"But that's not the only reason we work together," Dillard continues. "Steve is a great guy. He's a great guy to work with; he's good to us; we've been good to him and that's why it's all worked so well."
Still, Dillard suggests Petty sometimes lives his life like an emotional roller coaster. It's just important, he says, not to feel slighted when something goes wrong and Petty offers an immediate knee-jerk reaction.
"If you take it to heart you'll quit and walk away," Dillard says. "But I was really good at rolling with him and rolling with the punches because back in the early days when I actually still worked there, I was starting to manage things when he was still there. I was kind of trying to help him and he didn't want to, well, I was a 19, 20-year-old kid and I had things I felt like he needed to hear and I would really voice up to him and he'd want to knock me out. But I knew even from a young age that if I didn't do something about it, then none of us were going to have that opportunity, right? So, we got into a lot of throw downs—never fighting; he'd knock me out—but we got into big arguments and he'd have to walk away and come back 30 minutes later. Not that I was always right. It's just in managing the business I really had to push him.
"Even today, he still has that attitude and he shocks a lot of people and he can be very abrasive at first, but once anybody gets to know Steve, he's just a big teddy bear. It's just his initial punch is strong and you've got to know how to roll with him."
It's a trait not uncommon in racing, where conditions demand focus and purposefulness, particularly in the crew chief role. Dillard says he saw the same kind of aloofness contrast with affability when he spent some time with doorslammer legend and two-time defending NHRA Pro Mod World Champion Rickie Smith when they were racing in Qatar.
"When it was quiet time, Rickie was just like Steve. He'd be over there hanging out in our pit, a turbo pit, just laughing it up, all of us having a great time. But if you see him at the race track the next day and his headset is on, you could walk by and be like, 'Hey Ricky,' and he won't even look at you. Some people could take offense to it, but he's just like Steve. He's that focused on what he's doing," Dillard observes. "Him and Ricky are like twins. They really are."
That single-minded determination has paid off for Petty, though, even before Pro Line was formed. He always has remained busy—and successful—at the race track. After debuting a new turbocharged Cobra GT before his accident in 2002, Petty and Lynch combined to win their first championships in 2003 with both the Fun Ford Series and World Ford Challenge and followed up in 2004 with the Outlaw 10.5 event title at the prestigious Real World Street Nationals in Orlando. Later that same year, Lynch piloted his Petty-tuned ride to the first six-second, quarter-mile pass on 10.5W tires (6.966 at 207.43) at the famed Shakedown at E-town up in Englishtown, New Jersey.
The litany of successes continued for Petty and Lynch in '05 as they earned a second-straight Orlando 10-wide win and lowered their E.T. record at Englishtown. The next season opened with a U.S. Street Nationals win at Bradenton, Florida, a runner-up finish and another new record at E-town, and the first win by a turbo car in ORSCA 10-wide competition. Dillard also scored his first ORSCA Limited Street win in 2006 and finished second in points with Petty calling the shots.
By 2007 PLR was established as an up-and-coming race engine supplier, especially in the fast doorslammer arena, with Petty as its public face.
"I'll be honest; the guys in the shop do most of the hands-on engine stuff now. Ninety percent of my time is spent on the phone with customers or on the dyno with a lot of street cars as well as race cars. It's just that I'm at the track and people see my face and think it's all Petty, Petty, Petty, but it's Pro Line that builds these motors," Petty stressed at the time. He also said there was always a lot of pressure for him and Lynch to do well, explaining that didn't necessarily mean winning—though it was always the goal.
"To be honest, we get more business off setting records," Petty said. "If we can do both, well, that's even better. We've been called headhunters because we do go out there and try to run the big numbers, but in all honesty that makes the business prosper more. If people see Tim going fast and setting records on a regular basis they say, 'That's what I want;' they don't care if we won or lost the race.
"This is our hobby and we love it," he continued, "but it's come to the point where our car—and Dillard's—really does support the business in a lot of ways."
Petty and Lynch represented well in '07, as Lynch returned as the Fun Ford Super Street Outlaw champion and finally put the Mustang into the Shakedown winner's circle after once more lowering the national Outlaw 10.5 record with the first run in the 6.50s. Petty with Dillard did their part, too, raising the national Limited Street speed record twice while winning again in ORSCA and finishing second in points.
The wins and records continued to come the next year with Lynch securing the U.S. Street Nationals title for the second time and again lowering his national 10-wide record with the first run in the 6.40s at E-town. It was more of the same in 2009, with Dillard winning three events on his way to the ORSCA Limited Street championship and Lynch making his annual contribution to the record books in New Jersey. With a new twin-turbo'd, late-model Corvette for Lynch, Petty and his PLR stable mate closed out the decade with an Outlaw 10.5 win at the YellowBullet.com Nationals in Maryland and bypassed the 6.30s altogether with a record-setting 6.26-seconds pass at more than 232 mph in Englishtown that year.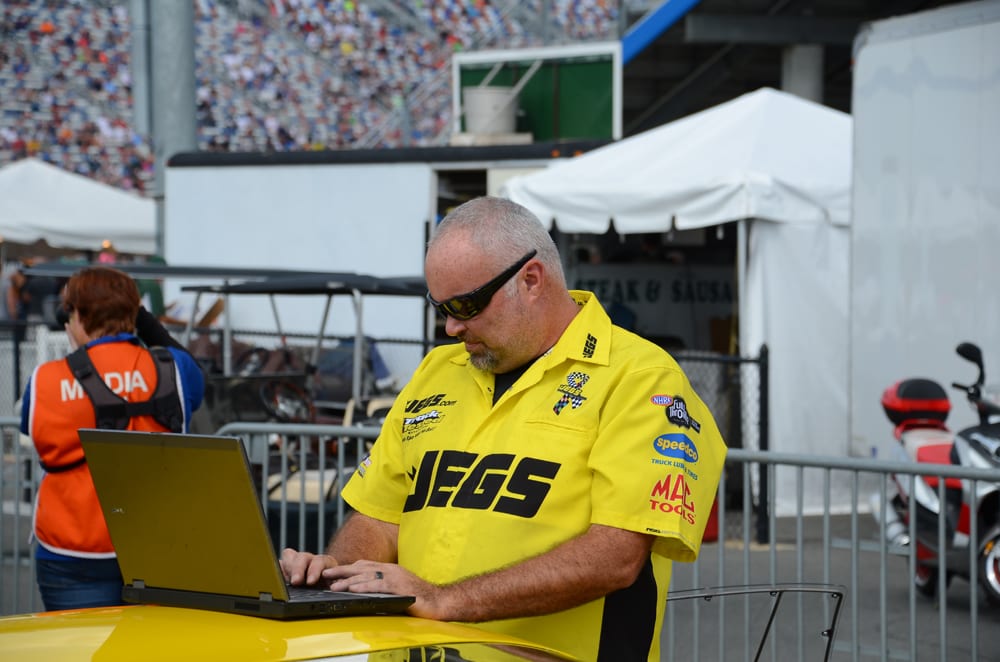 For 2011, Petty had a new gig with Atlanta-based R2B2 Racing, tuning Melanie Troxel in the NHRA Pro Mod series. Despite serving in a part-time consulting role with the JEG'S Pro Mod team in 2007, he admits to feeling a little overwhelmed with his first experience as a crew chief on the NHRA national-event stage.
"I'm not going to lie; when I went to my first NHRA race in Gainesville with the R2B2 guys, it was intimidating. You're on the starting line for the first time and God knows how many fans are there, and you're there kicking the track and standing next to guys that are legends like Jimmy Rector and Jay Payne, guys like that; it's pretty intimidating," Petty reveals. "But three races in and you're having conversations and find out those guys are pretty cool. And by the end of the year you even start being buddies with some of them."
The crowning glory of that year, though, came at the Big Go, the U.S. Nationals in Indianapolis, as Dillard made his NHRA debut in a brand-new R2B2 entry with Petty calling the tune-up alongside crew chief Justin Belfance. The weekend culminated with the quickest and fastest pass of the weekend at 5.830 seconds and 253.99 mph, in a final-round victory for Petty and Dillard over past class champion Mike Castellana and legendary crew chief Shannon Jenkins.
"That one will always rank right up there for me. How could it not?" Dillard said at the time. "But I owe it all to Steve. He's the one that made it happen."
Petty is obviously proud of all the race wins, records and championships he and Lynch and Dillard were able to bring to the table, but he's also pleased to know they helped usher in a new way of racing, a higher level of professionalism in the Outlaw 10.5 and now drag radial worlds.
"Think about it from this aspect," he begins. "We used to test a lot and I think me and Tim got a lot of that started in the 10.5 stuff. And there was one year we won, I believe, 15 out of 18 races we went to. Just people feared that car pulling into the race track. But when you can go rent a really nice facility, a national-event facility, for two grand for a day, you can get four or five of your buddies to bring their cars and you go out there and it's really $200 or $300 apiece and you can make all the passes you want. If you really want to get to the next level, two- to three-hundred bucks is a small price to pay, and it's just what you have to do.
"As far as in the heads-up stuff, I like to think we helped usher that in. Me and Tim used to do a lot and we would try and rally other guys together that we raced, even raced competitively against and say, 'Hey, we have a test session, you want to get in on it so we could try and put together six, eight, 10 guys to be able to afford that 2,000-dollar race track for the day?' It worked for all of us."
Petty's performance at the helm for R2B2 in 2011 recaptured the attention of the JEG's team and since 2012 he's been crew chief for Troy Coughlin, guiding him to the NHRA Pro Mod world championship that year, followed by close runner-up finishes to Rickie Smith in each of the last two seasons. That kind of performance garnered Petty one of the greatest honors of his career last fall at the Pro Mod series annual awards banquet, where he was named 2014 Crew Chief of the Year. Petty insists he had no idea it was coming. He barely remembers the walk to the podium and receiving the award that now occupies a prominent spot on the fireplace mantel in his dining room.
"That's one of those deals that feels like you've been accepted by your peers or whatever. For all the hard work you've done, it feels like people are actually looking at you, going, 'Wow, he's doing a good job,'" Petty says, his humility obviously sincere. "And what's even more awesome to me is I know the votes were by the racers and crew chiefs, and that makes me look at these guys and smile and be like, 'Man, I actually got their respect.' That's the best part."
Dillard and Patton both say they couldn't be happier with the attention and accolades their friend and colleague has received lately and they feel honored to have played any role in his success.
"It's really cool to see somebody who's just like us, just a basic normal person that's worked really hard for a long time and yeah, he's smart but he also works really hard, so it's cool to see one of your friends have that kind of success," Patton says. "And it makes it even better if you helped a little bit along the way."
Dillard agrees, saying it feels like a group effort whenever anyone at PLR excels and gets recognized for their efforts. "It almost makes you want to tear up because you know how hard we've all worked to get to that point," he says. He's also thrilled to see Petty in such a comfortable role with JEG's and his driver there.
"He's not just Troy's tuner; they are real buddies. Troy calls him every day. And Steve; it's not because Steve is trying to sell himself. Steve's just Steve and they love his personality and being around him. So the opportunity that he got with Troy is really a lifetime goal," Dillard says. "Not only does he have the job of a lifetime and the opportunity of a lifetime to work with Troy and do what he's doing, Troy is just as pleasurable to be around and they're like family. So, it's like every day he walks into the race track with Troy, he literally has that edge of worrying about Troy off. They're just buddies and doing it together and going for the best."
No question, Petty has earned the respect and admiration of practically everyone in the pits he calls home. From grudge racers at the smallest eighth mile strip to the JEG'S team on the NHRA's biggest stages everyone knows who Steve Petty is and what he's capable of with a couple of turbochargers, a laptop computer and a little track time to work out his plan. And through it all, Petty continues as the lead tuner for Pro Line, attending races and test sessions for almost any turbocharged class on the planet. He's likely to attend up to 80 events a year, keeping him on the road two-thirds of his days, with tuning by telephone a common occurrence, too.
"You do have to realize, and I've said this a lot of times before, anybody from Troy Coughlin to Rob Valden, Keith Berry, 90 percent of these peoples' cars I work on, they're doctors, carpenters, lawyers, whatever. They come from all walks of life. This is not what they do for a living, but it is their golf game. And if they want to do well at their golf game, they go and hire the local pro to help them tweak their swing. That's where I come in." Petty says.
"I just kind of bounce car to car, offering advice, looking over tune-ups, making small changes; nothing radical. I don't go out there slinging parts out of the car, saying this is wrong, that's wrong. I just try and take what you have there and get the most out of what you have. But like I say, the biggest thing is most of these guys, this is their hobby. So, they don't have the experience or the know-how to take this piece of equipment and get it to that next level. That's where I come in," he repeats.
Petty also cites having good people on his crew as another crucial key to success. "They have to carry out what you want them to carry out and you have to be able to get them to do it the way you want it done," he says. "There are guys I know that are great car tuners, but they might struggle with the driver or the crew and you've got to have those key people around."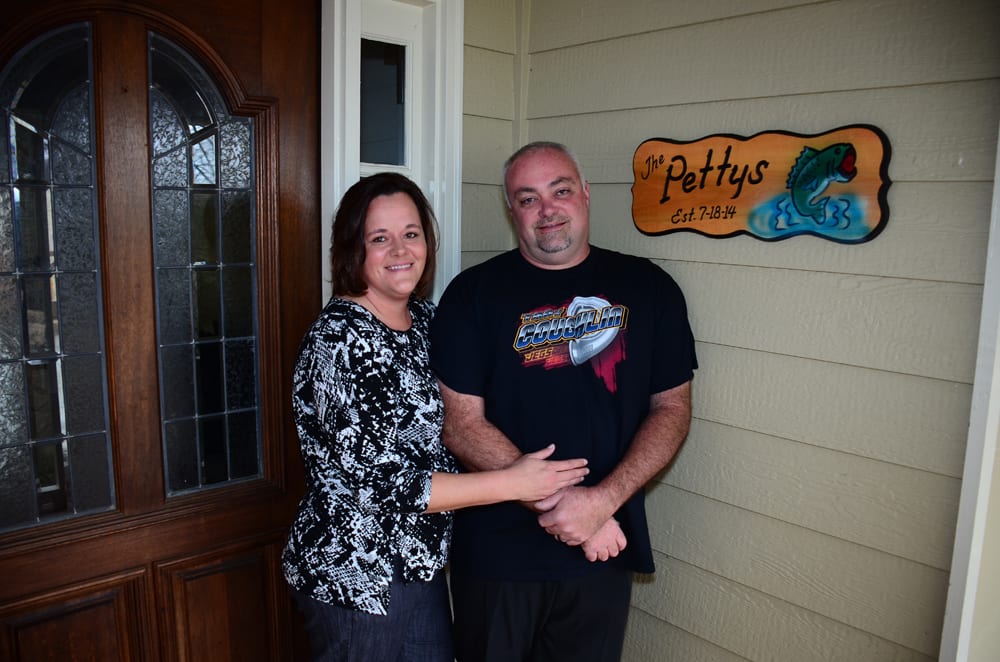 He definitely likes things done his way when he's on the job, but Petty recognizes he's had to make some changes on the home front since getting married last July. He also moved into a new house last fall that overlooks a stocked 26-acre lake with new wife, Erica, who got to know him even before he knew she existed. Together they explain a mutual friend thought they'd make a good couple after Erica told her how much she'd like to meet a guy who would take her fishing. That set off an alarm in the friend so two years ago while Petty was racing in Qatar, Erica was at home in Georgia watching him online and through videos of past events. "She was creeping on me while I was off racing," he jokes.
When he returned they went on an arranged date early in 2013 and have been together since. "Many people have said he's calmed down, that I've calmed him down, but he's the same man that I met, so I don't know," Erica says.
"I got pretty lucky," Petty realizes. "I really haven't had to change any. She likes fishing; she likes the outdoor stuff with me; she understands the racing and that's how I make my living. Really, there haven't been any changes."
He stops, thinks about it, then adds, "That's not true. Being on the road all the time, this life is tough. You have no social life. You have no family time. And I guess that's probably one change I have made is trying to spend more time at home. It used to be I didn't care if I came or went. Now I do look forward to coming home when I didn't before. It's definitely nice.
"I still handle my customers and get to go to the races, but during the week when I'm home I try and spend a little more time with Erica and family. But really, that's about it."
Petty then concedes he's also had to tone down some of the desire to have things done his way. "I kind of get used to, I don't know if it's so much really giving orders or whatever, but kind of directing," he says. "If you've got people working with you and you kind of give them all direction and tell them this is that way and that's this way and I want to do it this way, it's hard not to bring that home."
"I just tell him we're not a race team," Erica offers.
Steve Petty knows he's in a good place these days. But it's taken a lot of hard work and some fortunate circumstances to get there. From being cajoled into an engine diagnostics contest as a youngster, to surviving a devastating road accident, to taking over a floundering business and hiring the right people to save it, to hooking up with one of the best, most professional race teams in the world, to having a wife actually find him, things are working out quite nicely.
"I could still be working at a dealership, pulling a transmission or something out of a dirty, nasty, rusty pick-up," he says. "Instead I get to work with some very cool people, race some really great cars and I hardly ever have to get my hands dirty anymore. I agree; life is good."