In less than a month, the Texas Motorplex will host a charity golf tournament and its inaugural American Jr. Dragster Challenge presented by CAPCO Contractors, with both events to benefit the Children's Medical Center Foundation in Dallas.
The golf tournament will be held Tuesday, Aug. 7, at the Old Brick Yard Golf Course in Ferris, Tx., with racing beginning two days later at the famous drag strip in nearby Ennis, about an hour's drive south of Dallas. Qualifying and eliminations for The American Jr. Dragster Challenge are scheduled for Aug. 10-11, with drivers aged 6-17 vying for trophies and nearly $16,000 in cash prizes.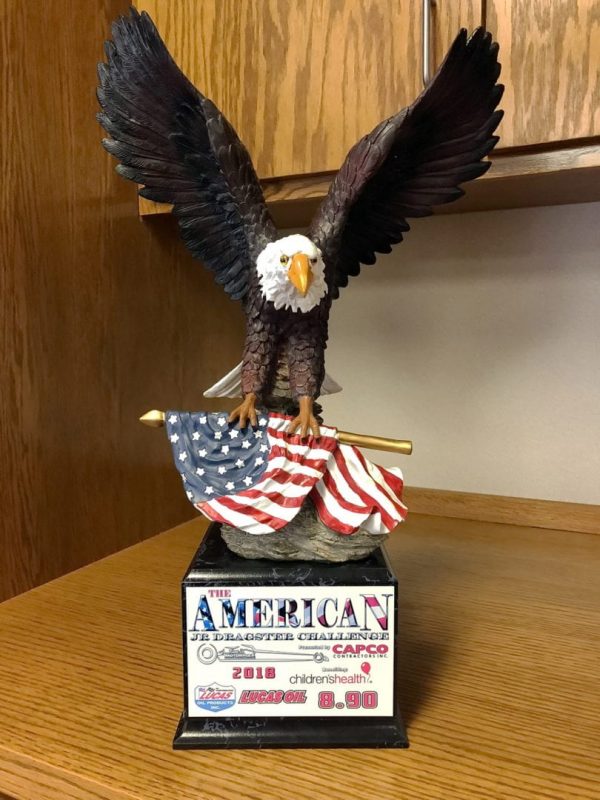 "Ever since I came here I've wanted to do something kinda' cool and big for our kids that race but also tied into charity, so we got involved with Children's HealthSM, which is the big children's hospital here," Texas Motorplex General Manager Andy Carter explained. "They do such important work up there and mean so much to the community, not just in Dallas but for all over Texas, so we just want to help raise some money and awareness for them."
A test-n-tune session for all classes, including full-size cars, will keep the track busy Wednesday, Aug. 8, while several local Jr. Dragster teams will make the trek up to Children's Health, where their race cars will be on display and drivers will visit with patients and staff at the hospital. Later that day the teams will pack up and head over to the huge Summit Racing Equipment outlet that opened last fall in Arlington.
"We really want to show the people at Children's Health and at Summit the dedication and professionalism of our young racers, as well as show off the engineering and preparation that goes into their Jr. Dragster cars," Carter said. "I think it's important, too, for the Jr. Dragster kids to see what they're contributing to by participating in this event. It should be a good learning experience for everyone involved."
Racing will start on Thursday at the Motorplex with a pair of Warm-up Gamblers races for kids aged 6-9 and 10 years or older. Each Gamblers race will pay back 80 percent of entry fees collected, while the test-n-tune also will continue throughout the day.
The American Jr. Dragster Challenge on Friday and Saturday will consist of three Jr. Dragster classes based on driver age and elapsed time over an eighth-mile course, including the Summit 7.90 class for racers 13 years and older, the Lucas Oil 8.90 index class for drivers 10-12, and the TexasTruckDeals.com combined 11.90/13.90 class for racers aged 6-9 years.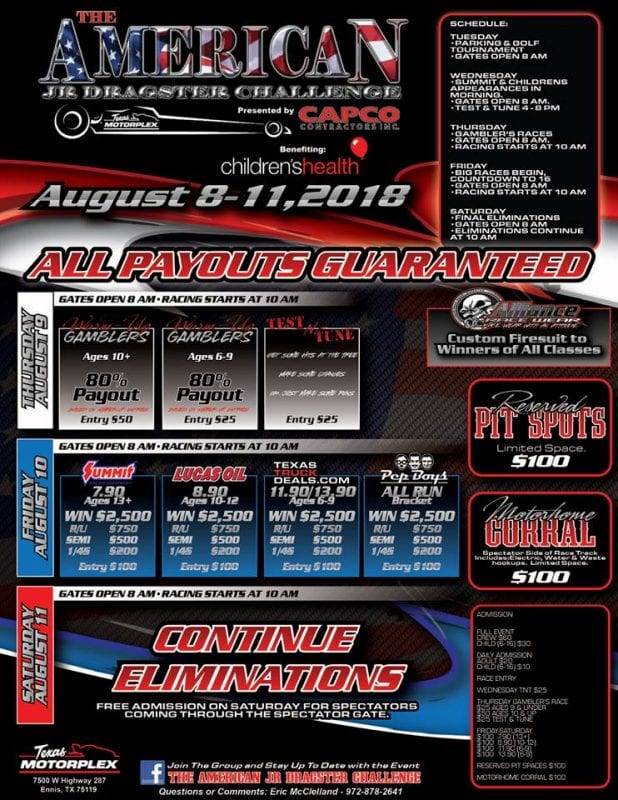 Pep Boys also will present an all-run bracket class, which requires each driver to predict his or her elapsed time and then run as close as possible to it without going under. It creates a true test of tuning and driving finesse that rewards consistency and allows the youngest or slowest entry to go up against the oldest or fastest racer with an equal chance for success. Plus, with each class paying a guaranteed $2,500 to the winner, "any one of these kids could walk out of this thing with five thousand bucks in their pocket," Carter pointed out.
He also emphasized the Motorplex is offering free admission to fans throughout Saturday, which in addition to The American Jr. Dragster Challenge will feature autograph sessions with NHRA Top Fuel stars Steve and Billy Torrence of event sponsor CAPCO Contractors.
Among other attractions, the event also will showcase monster trucks, Top Dragster and Top Sportsman shootouts, a Camaro vs. Mustang factory showdown, and eight of the country's fastest Nissan GTRs in a heads-up drag race presented by Jotech Motorsports in Garland.
"We're trying to get as many people as we can here, so we're encouraging parents, grandparents, everyone to bring their kids and friends out to watch the Juniors and everything else," Carter said. "We really want to have some fans in the stands when Little Johnny or Janey receives a 25-hundred-dollar check and a big American Challenge Eagle trophy instead of just having Mom and Dad there.
"And there will be plenty of opportunities to donate and help out Children's Health, which is the bottom line of course for the entire weekend of golf and racing," he added.
For more information on entering the golf tournament or becoming an event or hole sponsor, please visit www.TexasMotorplex.com or call Terry Smith at 972-804-9505. More information about The American Jr. Dragster Challenge also can be found online or by calling 972-878-2641 to speak with Eric McClelland.