When veteran doorslammer racer Terry "Legbone" Leggett debuted a brand-new, Jerry Bickel-built '71 Pro Extreme Mustang at the PDRA season opener this March in Texas, people took notice. Not only was it a unique addition to the 3.5-second, 215-mph class; it was fast, too, qualifying fourth and running its first .50 in a quarter-final finish.
"I just like to be different," Leggett explained. "I like to have something different from the rest of the crowd and it's definitely that; ain't anybody got one." The car also holds special meaning to the North Carolina-based logging company owner.
"The first car I ever had was one just like it, a '71 Mustang, red and black. It looked identical, other than it wasn't fast," he added in his distinct southern drawl. "I always thought they made really good race cars and judging by how good this one has done, I'd say that was right."
Leggett has been a fixture in Pro Mod racing since the early days when it was spawned from Top Sportsman more than 20 years ago. He's one of the few original forces behind the class that's still competing and challenging the young blood of the sport.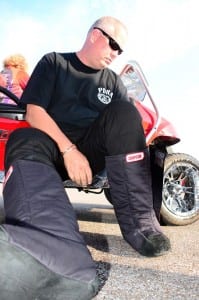 "As soon as I got out of high school, and got married, I just started messing with cars. It wasn't many years after that I got my first bracket car," he recalled. "The old '56 model Thunderbird was really what you might call the first 'real' race car I ever had, a tube chassis type. It's cool looking back and finding pictures of that old car now. It was fast at the time. We ran against Tommy Mauney, Ed Hoover, Scotty Cannon. A lot of times we'd run two and three races a weekend. One Friday night, one Saturday and one Sunday; if we were lucky.
"I never really expected Pro Mod to be where it's at now," continued Leggett, who years ago also had a brief stint in Pro Stock. "It's just like everything else, though. You buy a car off the showroom floor and they're a whole lot faster than the old muscle cars were in their day. Everything evolves into getting faster, quicker and more efficient."
Long gone are Leggett's days of running three races in one weekend. Now, he has a hard time pulling away from work enough to follow the nine-event PDRA schedule. And while his successful logging business has provided the financial fuel for his racing operation, it's also been his reason for pulling away from time to time.
"Seems like it's a little harder than it used to be, work wise. I need to be on the job more than ever seems like. So chasing races all over the country gets to be pretty hard. Time away from work can be a big issue," Leggett said. "I've taken two and three years off at a time if business wasn't really good or I just felt like I needed a break, but I always come back to it."
In the second PDRA race of the year at Rockingham (NC) this April, Leggett again qualified fourth and again bowed out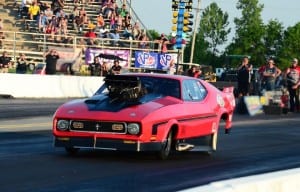 in round two, but stepped things up a little the next month with a second-place start at Shreveport, Louisiana, though his finish once more came in the second round. It was more of the same late in May at St. Louis, where Leggett qualified third and again exited from round two, and again at Martin, Michigan, in June when he qualified sixth and lost in the quarters. A career-best 3.53 at just over 215 mph qualified Leggett second, mid-July at Budds Creek, Maryland, but his second-round curse followed him there, too.
Everything changed on a hot, humid weekend at Memphis in late-August, however, as Leggett earned his first number-one start in the all-eighth-mile PDRA, then made it all the way to the final round of the 2nd annual PDRA Memphis Drags, where he lost an extremely close, side-by-side race against points leader Jason Scruggs.
"The car is just really, really good. The car is one of the biggest reasons we've done well this year. Several people asked me the last race or two where we picked up or what we found. Really we've been fast ever since we've had this car," Leggett stressed.
"A lot of our losses can be contributed to my fault. If I could have done a little bit better job of driving I think we could have been a lot more rounds than we've been. Our worst qualifying position all year was sixth and we've run in the .50s every race this year. It's really been good. We just haven't made a lot of rounds until Memphis."
Although obviously disappointed with the final-round outcome, Leggett insisted "it was a very, very good weekend. We had a really good time, which is more important than anything, but doing good makes you have more fun. It goes hand in hand, I guess."
Once more, Leggett stressed how well his new car was performing, giving thanks to longtime sponsor Flying A Motorsports and extra credit to engine builder Charlie Buck, as well as his team members.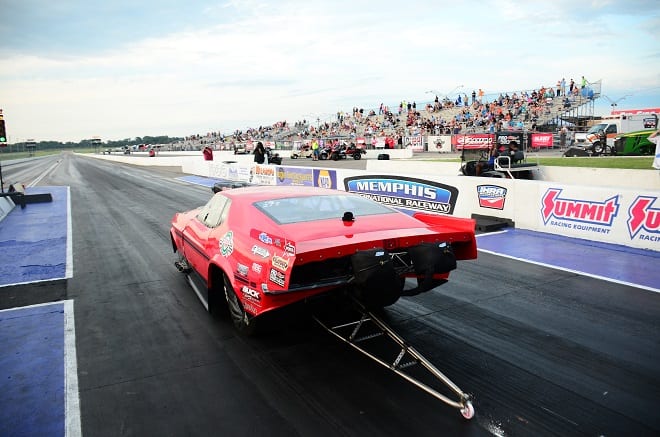 "Terry Coyle does an astounding job tuning the car. Even more than being a really awesome tuner, him and his fiancée, Kim, are just great people and I love to be around them," Leggett said. "Todd Magee is a young gentleman that's helped me now, I don't even know how many years, a long time. Jeff Smith has helped me race off and on for 30 years. We've got some good people with us. Family members, too. My wife goes; she loves to cook. I think she would rather stay home and cook, but when she goes with us she cooks and does her thing, and we all appreciate that."
Most recently, Leggett qualified eighth for Dragstock XII when the PDRA returned early in September to Rockingham, where he lost in the opening round for the first time this season. Regardless, his performance at the Memphis Drags proved beyond any doubt he and his team are capable of competing with the frontrunners in the world's quickest and fastest eighth-mile doorslammer class and made him feel like there's some unfinished business to take care of now.
"We're really, really going to try to focus on getting a win. We've still got one more chance to get a win this season," Leggett said, referring to the PDRA season ender late in October at Richmond, Virginia. "Me personally, I've never won one of these type races, a big race. I've done it a lot of years and never had a big win. It sure looks like it would be possible, so we're going to try to make it happen."