T&D Machine Products, makers of some of the finest rocker arms available, recently announced the development of a shaft-mount roller rocker set with a unique one-piece bolt-on stand for the Profiler 12° cylinder head.
Instead of individual pieces or a bolt-together system to hold rocker stands, T&D's unique stand is CNC-machined and is designed so that both intake and exhaust rockers bolt solidly to this steel backbone.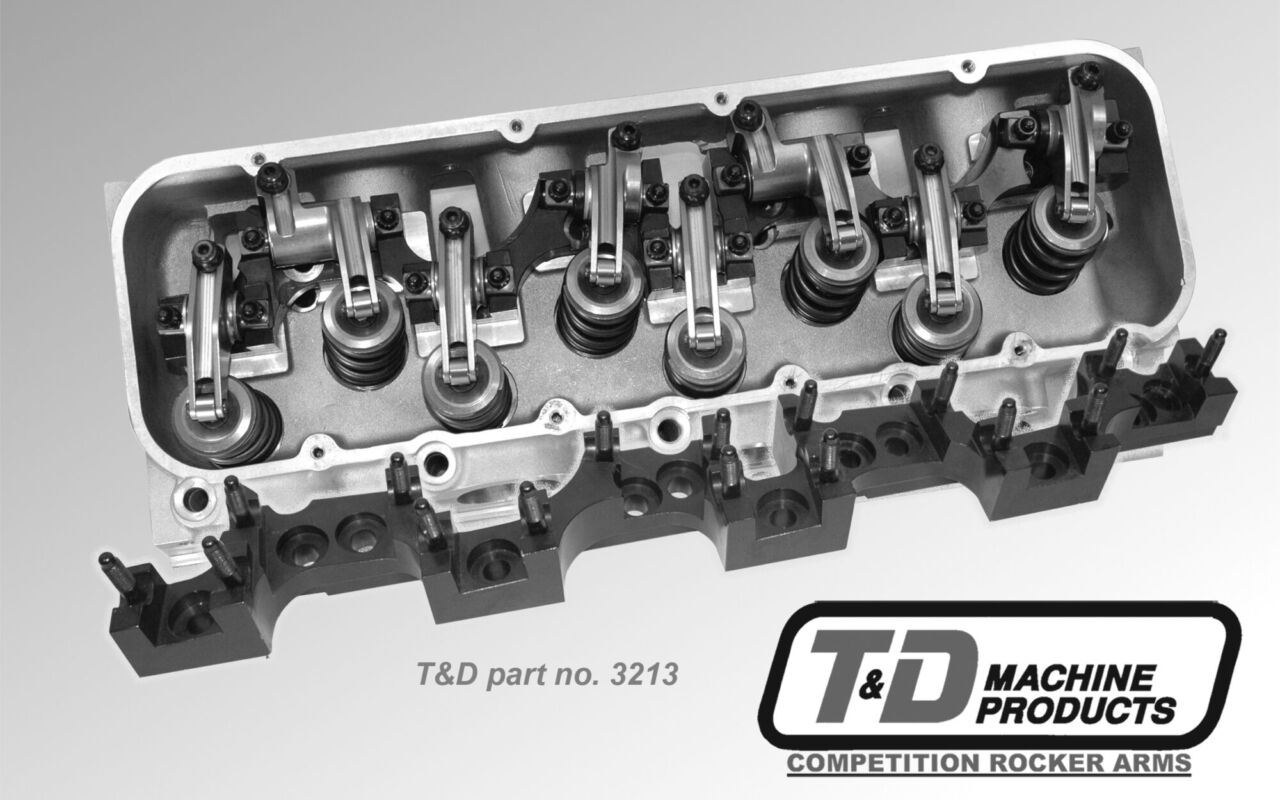 Although available for other dimensions, this rocker system is designed around these specifics: 6.800″ intake valves, 6.700″ exhaust valves, and 1.000″ to 1.050″ valve lift. Machine work is required.
Like every other T&D rocker system, part no. 3213 for the Profiler 12° head features higher grade components, internal oiling to the bearings, larger shafts and bearings, and larger adjusters and jam nuts.
T&D Machine Products, co-founded by Larry Tores, epitomizes the racer's spirit of innovation and performance. Starting his journey as a draftsman who later transitioned into aerospace, Larry began making race car parts in his backyard garage in 1975. His unique shaft rocker arm system ignited T&D's success in the 1980s and caught the attention of GM's Buick Division, leading to a major impact on NHRA drag racing, the Indy 500, and NASCAR.
From initially creating parts that were privately labeled for other manufacturers to accumulating significant wins and records on the track, Tores's passion for racing fueled the company's growth. In 1992, the burgeoning demand led to relocating from Culver City, California, to Carson City, Nevada. Further growth saw a 75% building expansion in 1999 and continued investment in state-of-the-art CNC machining centers.
Now manufacturing rocker arm systems for over 400 cylinder heads, T&D boasts a reputation for quality, performance, and reliability. With more than 50 employees, T&D is committed to in-house manufacturing with rigorous standards, including top-tier design and engineering staff. Their success story is a testament to innovation born from the racetrack and a steadfast dedication to excellence in performance technology.
Available from quality engine builders, direct by contacting T&D Machine Products (775) 884-2292, 4859 Convair Drive, Carson City, NV 89706, or www.tdmach.com.