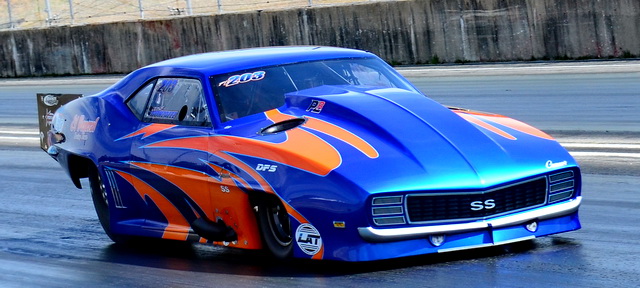 Saturday night's final round of qualifying for the Professional Drag Racers Association (PDRA) Spring Open at Rockingham Dragway was one for the ages. The Spring Open also represents the first-ever event for the PDRA, the nation's new, leading all-eighth-mile drag racing organization.
Shortly after Georgia racer Eric Dillard (above) drove a twin-turbocharged '69 Camaro to the first turbo pass in the 3.50s with a 3.590-seconds effort at a NAS Racing Pro Extreme record 219.97 mph, Frankie Taylor of Dickinson, TX, stunned the huge crowd on hand with a worldwide unprecedented 3.485 at 216.97 mph. Running alongside Taylor was Bubba Stanton of Potts Camp, Mississippi, who slipped to second place after posting 3.514 and 218.94, representing the second-quickest pass ever and making it the quickest and fastest side-by-side pairing in eighth-mile doorslammer racing history.
Making his presence felt in the Switzer Dynamics Pro Nitrous class was North Carolina's own Jason Harris, who qualified on top with a 3.801-seconds run at 200.05 mph in his '68 Firebird, marking the first time a nitrous car with an automatic transmission broke the 200-mph barrier in a standing eighth mile. Also earning number-one starts for Sunday's racing were John Montecalvo in Aruba.com Extreme Pro Stock, Todd Tutterow in the all-new Precision Turbo/Proline Race Engines Pro Boost class and Paul Gast in Pro Extreme Motorcycle.
Finally, after three rounds of qualifying on Saturday for all PDRA classes, both Ronnie Davis and Jody Stroud held on to their leads from Friday night's session in Top Sportsman and Top Dragster, respectfully, while Alexis Schultz earned the lead in Pro Jr. Dragster and Allie Wiesner solidified her top position to start eliminations in Top Jr. Dragster.
PRO EXTREME
Taylor, who briefly held the top spot in Friday's lone qualifying round with a 3.599 pass before being dropped to second by Todd Martin with a 3.567, opted out of the first two qualifying opportunities on Saturday in order to save parts and with his brother and crew chief, Paul Taylor, concentrate on revamping their tune-up.
"We had to step it up tonight just to keep up with (Jason) Scruggs and Stanton and all those guys. Not too shabby, we were first to the .50s with the PDRA and now we're first to the .40s," Taylor quipped. "This is a tune-up we had used overseas in Qatar and with similar conditions here today we just thought it would work pretty good."
Remarkably, the record run by Taylor's Larry Jeffers-built 2005 Corvette came on a pair of previously owned Hoosier slicks, too.
"Mike Recchia told me yesterday that he had a pair with only four runs on them, but they had been sitting all winter so he didn't want to use them," Taylor explained. "I said, 'Heck, I'll take 'em! Mine have been sitting all winter on the car, too, but they have over 40 runs on 'em!"
Following Taylor on the qualifying list was Stanton, Martin, Mick Snyder, and Scruggs. Proline Race Engines co-owner Dillard was sixth thanks to his nearly 220-mph speed which trumped the 211.56 by Tommy D'Aprile, who ran an identical 3.590 elapsed time.
"Yeah, it would've been nice to get the 220, but there's still time for that," said Steve Petty, crew chief for Dillard and car owner Jose Gonzalez. "The good thing is the graph shows there's still more there to be had."
PRO NITROUS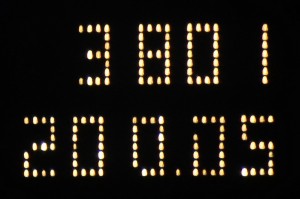 Harris gave credit to his own crew chief, Robert Hayes, as well as Neal Chance Torque Converters for helping him earn a little notoriety so early in PDRA Pro Nitrous history. His only regret was not breaking into the 4.70s zone to accompany his 200-mph moment.
"That would've been the icing on the cake," Harris said. "But this is a brand-new Pat Musi motor and it's doing great, so we're still really happy right now. It's good to qualify number one; I think we're in good shape for tomorrow."
Musi's daughter, Lizzy, a Top Sportsman star last year, made the most of her Pro Nitrous debut, qualifying second with a career-best 3.816-seconds pass at 198.64 mph in the same 2006 Dodge Stratus her famous father once raced.
"I can't thank my family, team owner Frank Brandao and my sponsors Lucas Oil and Edelbrock enough," Musi declared. "And I am so thankful of my crew who have worked their butts off. The PDRA has been amazing, too; great crowd and racer satisfaction. It's exciting!"
PDRA co-founder Tommy Franklin was third in his brand-new Jerry Bickel-built, Musi-motivated '69 Camaro, followed by Tim Savell and Chris Rini. John Camp in yet another Musi-powered entry rounded out the all-three-second field with a 3.921 at 194.38 in 16th place.
EXTREME PRO STOCK
Montecalvo, from Center Moriches, NY, was second behind Cary Goforth after Friday night, but took over the Extreme Pro Stock qualifying lead in the first of Saturday's three sessions, then improved to 4.027 at 180.81 in his 2012 Camaro with his fourth and final effort. Fellow New Yorker John Pluchino placed second at 4.049 and 178.73, with Goforth third after he was unable to better the 4.068 at 177.93 from the previous evening.
"Our team did a great job to hold on to the number-one spot, but it looks like much cooler weather is on the way for Sunday, so that's probably going to make for an interesting day," Montecalvo said. "I'm even more excited, though, to see this place was packed all day long and everyone I've talked to today, racers and fans, seems really positive and happy, and that's what we need right now, I think, for this series to do well."
PRO BOOST
Tutterow, from Yadkinville, NC, also jumped up to take over the Pro Boost lead in Saturday's opening round with his supercharged '67 Mustang, then solidified his position with a solid 3.813 at 194.69 in the last session. Malmo, Sweden's Adam Flamholc improved his ET in each of the four rounds to eventually qualify his slick '69 Dodge Daytona second with a 3.909 at 194.38, with Delaware racer Gerry Capano just three thousandths back at 3.912 and 190.67 mph in his '63 Corvette.
Troy Coughlin, who led after the opening round, did not make any more qualifying passes so his 3.925 at 198.88 fell to fourth, though he was not expected to compete in eliminations.
Unfortunately, Saturday night's Pro Boost session also saw Western Canada's Jim Bell take a high-speed, top-end tumble that left him feeling battered and bruised. Immediately upon completing a low-four-second pass in the left lane at about 183 mph, Bell's twin-turboed 2013 Mustang drifted over close to the guardwall near the eighth-mile finish line, then washed out and made a hard right turn to impact the right guardwall nearly head on before flipping onto its roof and sliding to a stop beyond the quarter-mile mark.
"I was talking to Jim and he was speaking okay, he could breathe okay, but he was complaining of pain in the center of his chest, probably from the seatbelts, so just as a precaution the ambulance took him to a local hospital," said Dillard, a teammate to Bell through sharing Proline Racing horsepower under the hood. "I think he's going to be okay, but the car is probably pretty messed up. That was a hard hit he took."
PRO EXTREME MOTORCYCLE
In Pro Extreme Motorcycle, veteran Grand Island, NY, rider Paul Gast led through all four qualifying sessions with his 4.036 at 176.79 from the second round holding up to a late challenge by EricMcKinney, who placed second with a 4.067 at 177.88 in his final attempt. McKinney's teammate Ashley Owens was third and Jay Fisher filled out the top half of the eight-bike field.
TOP SPORTSMAN/TOP DRAGSTER
A 4.032 at 182.92 for Ronnie Davis and his nitrous-boosted '63 Corvette in the opening round of Top Sportsman qualifying proved to be untouchable, as it held up through all four sessions. Canadian Barry Daniluk came closest to unseating the Suwanee, GA-based golf cart dealer, as Daniluk ran 4.052 at 178.19 with his '68 Camaro in the final go-round on Saturday night.
There also was a special IGetFixed.com Ultra 4 Shootout among the top four qualifiers after two rounds were in the books, with Davis initially defeating Boyd Beyer to meet John Lassiter and his '06 GTO in the $500-to-win final. Lassiter, who previously beat Daniluk, got away first then ran 4.143 at 174.55 to win, while Davis shut off early with tire shake.
A similar Ultrasonic-sponsored Ultra 4 Shootout for Top Dragster top qualifiers saw Andrew Johnson take the prize home to Cynthiana, KY, after his Procharger-equipped, four-link dragster got him past number-one starter Jody Stroud and then second-place qualifier Eddie Careccia for the win.
Top Dragster qualifying also was marred by a crash for Labadie, MO's Dan Phelps, who lost control of his 2013 Racetech dragster near the finish line. It was the second serious accident for Phelps in less than a year, who also crashed early last summer at St. Louis. Fortunately, he was again uninjured, but his car sustained significant damage, primarily from the footbox forward.
Sportsman elimination rounds for the inaugural PDRA Spring Open were scheduled to begin at 10 a.m. Sunday (Apr. 6), at Rockingham Dragway.
(Photos by Ian Tocher)