Former minor league baseball player Jay Cox (pictured above) earned his second consecutive event win in Pro Nitrous at this weekend's 3rd annual Professional Drag Racers Association (PDRA) Summer Drags at US 131 Motorsports Park. The three other professional class winners, Frankie Taylor, John Strickland, and Meshal Alsaber, were victorious for the first time on the PDRA tour.
Midwest favorites scored the victories in the sportsman classes, with Mick Snyder winning Top Sportsman and Craig Sullivan claiming the Top Dragster win. Michiganders Libby Ledford and Alex Kish picked up the wins in Pro Junior Dragster and Top Junior Dragster, respectively.
The Extreme Pro Stock class rejoined the series regulars for their second race of 2016, with New York's John Pluchino coming out on top. Outlaw 10.5 driver Frank Pompilio drove his turbocharged entry to the win in the class' 2016 PDRA debut.
PRO EXTREME
The NAS Racing Pro Extreme final round featured two of the strongest competitors in the all-eighth-mile series' quickest and fastest class. Number one qualifier Brandon Snider seemed to have the advantage heading into the final round, but Frankie "Mad Man" Taylor stepped up on the starting line to beat Snider's 3.54 elapsed time with a 3.57. The margin of victory was .0000, or less than one inch.
"That was crazy, huh? Frankie stole it. I put it in deep and just happened to let go of the button at the right time. My brother (Paul Taylor) put a good tune-up in the thing to where it would go down the track," noted Taylor, who qualified third with a 3.58 at 209.79 mph.
Taylor's Corvette started eliminations with a safe 3.65 first-round win over Monte Grace, then dipped back into the fifties to beat logger Terry Leggett. A weekend-best 3.57 earned him a semifinal win over PX points leader Jason Scruggs, who beat Taylor in the final round at the PDRA Texas Nationals last month. The final round against Snider was easily the best race of the weekend, if not one of the best races in the three-year history of the PDRA.
"It was pretty exciting. I didn't see his car. Usually I can see when we're side-by-side. I was hoping maybe he hit the tires or something. I saw his scoreboard come up with a 3.54 and I looked up to see what mine ran. It went 3.57 and I was like, how come my win light is on? I said he must have redlighted or something, but they told me I won on a holeshot. I was pretty excited," Taylor exclaimed.
The patriarch of one of the great racing families in the PDRA, Taylor thanked his brother and tuner Paul, wife Cindy, daughter Emily, crew member Jeremy, and son Scottie, who was actually the first Taylor to win a PDRA race.
"I've won in the ADRL, I've won in the XDRL, I've won across the pond over in Qatar, but this is my first win with the PDRA. My boy, Scottie, has two of them (in Junior Dragster). I finally got one."
PRO NITROUS
The final round in Switzer Dynamics Pro Nitrous presented by MoTeC was like a repeat of the final round from the Dallas race in May when Jay Cox defeated Stevie "Fast" Jackson. This time, Jackson gave away the race on the starting line when he left too soon. Cox was ready for a race, though, as he laid down a 3.75 at 199.29.
"I like racing Stevie. He's a great guy. I really get pumped up when I'm running against him. I like all of his guys that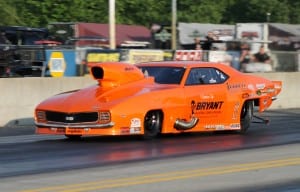 work with him. I enjoy it. It's just a good old country boy hoedown when me and him get up there. You never know what's going to happen."
While no one knew what was going to happen, it was safe to assume the pair of orange 1969 Camaros would put on a close race. After all, Cox drove his Charlie Buck Racing Engines-powered Bryant Industrial Crane & Rigging entry to prior round wins over Pro Nitrous hitters Jason Harris, Tommy Franklin, and Lizzy Musi before facing Jackson.
"Man, it's huge." Cox said of his second consecutive victory. "We fought this thing all year last year. Before you can win, you've gotta' learn how not to lose. That's the biggest thing. We learned a lot in Dallas. In Dallas we hurt this motor and I should've lost. I really didn't deserve to win. Tonight, that's probably the biggest thing I was proud of. We stayed with our game plan, kept the motor happy, and didn't hurt nothing."
PRO BOOST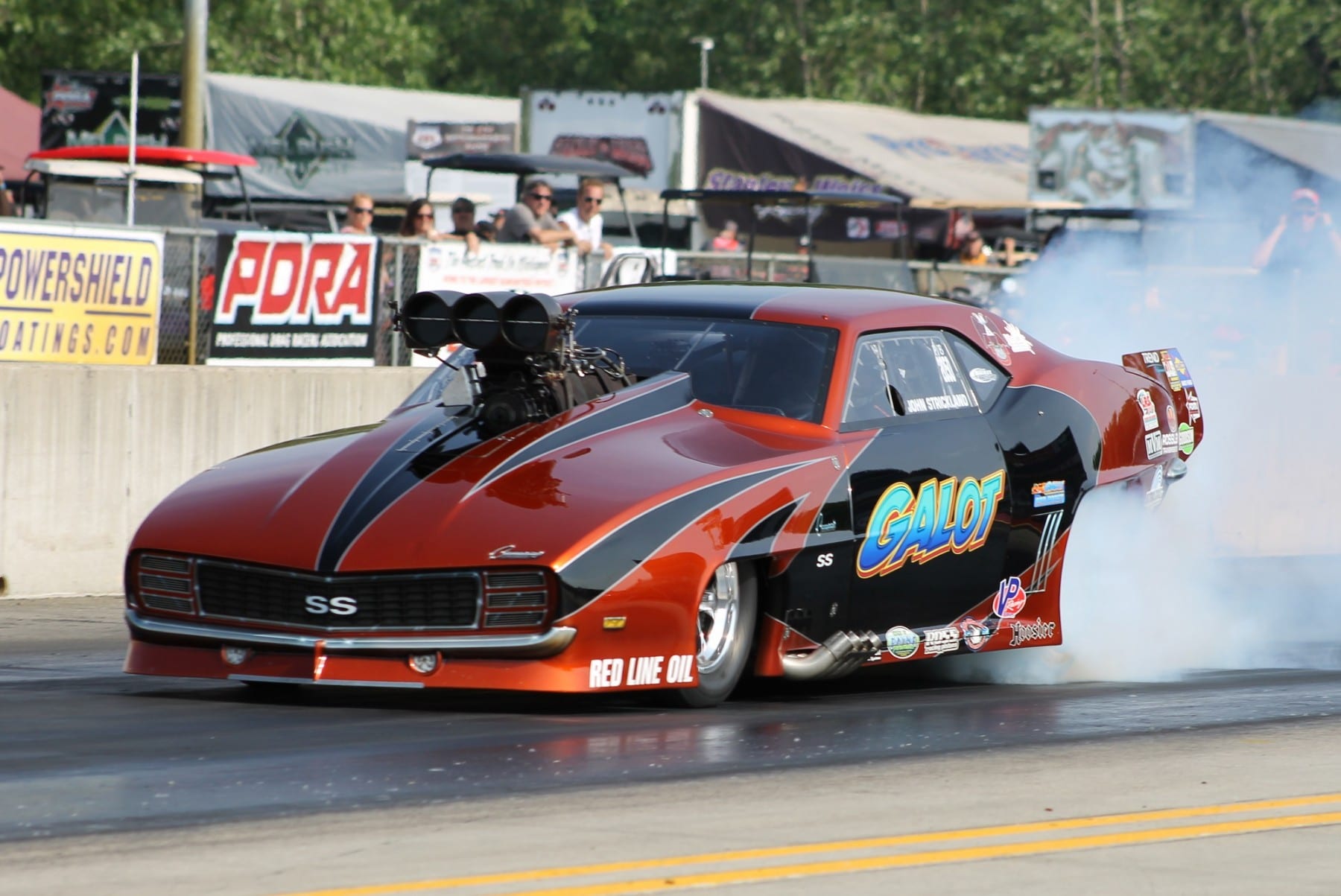 North Carolina-based GALOT Motorsports experienced two "firsts" this weekend, as John Strickland scored his first-ever GALOT Motorsports Park Pro Boost win. However, that meant teammate Kevin Rivenbark didn't win for the first time this year.
Rivenbark and Strickland were on opposite sides of the eliminations ladder, setting up the possibility of a third all-GALOT final, but Rivenbark's 2015 Corvette slowed in the second round to Gary White. Strickland went on to exact revenge on White in the final round, though a dead battery prevented White's EKanoo Racing Toyota GT86 from making a run. The GALOT 1969 Camaro ran a 3.82 at 196.76 on a single run.
"We had confidence that we were going to get around Gary, but anything could happen. We really hated that he didn't get to run. We would've loved for them to be able to make a pass, but we'll take the win however we can get it. We're tickled to have it," beamed Strickland. This was the first-ever drag racing win in general for Strickland, who also competes on the national tractor pulling scene for GALOT team owners Earl and Peggy Wells.
PRO EXTREME MOTORCYCLE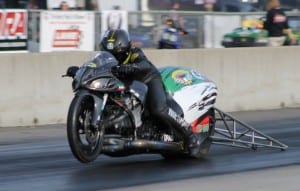 Drag 965 Pro Extreme Motorcycle winner Meshal Alsaber didn't have the quickest bike until he truly needed it, unleashing a 4.08 on number one qualifier Eric McKinney in the final round. In contrast, McKinney slowed to his slowest run of eliminations, a 4.10.
The win was especially rewarding for Alsaber after traveling here from his native Kuwait, where the Q80 Racing team is also based.
"Everybody is going fast here," Alsaber said of the PXM competition. "I came here to make something with these guys. I came here with Brad McCoy. He came to the Middle East and tuned my bike and now we're here. We're here to represent Kuwait and the Q80 Racing Team."
TOP SPORTSMAN
Past Pro Extreme world champion Mick Snyder is settling into his new home in Ronnie Davis Top Sportsman presented by MagnaFuel, as evidenced by his second win in the class. The former alcohol Funny Car driver ran 3.99 on a 3.96 dial-in to beat Cheyenne Stanley in the final round after scoring the low qualifier bonus earlier in the day.
"That doesn't happen very often. Especially in bracket racing, anybody can win any race. There's no performance advantage really. I tell you what, this EFI deal and the Lencodrive and the combination that we have right now, it's just consistent and it's good. We're starting to learn enough now that we know what changes it makes when the air changes. We can chase it better than we used to," Snyder claimed, referring to his roots-blown, ComSYNC EFI-equipped PowerSource Transportation 1963 Corvette that he previously ran in PX trim.
Snyder's first Top Sportsman win came at the Memphis race last year, so he was glad to earn his second win closer to the team's Demotte, Indiana base.
"This is the closest PDRA race to our house, so we have family and friends here and all the kids got to come. It's one of those deals where you get to the final and you just hope you can finish it off. That one round is so important."
TOP DRAGSTER
Though he was victorious in Lucas Oil Top Dragster competition, Craig Sullivan probably grabbed more attention when his Richard Petty-themed 1969 Dodge Daytona suffered an explosion on the burnout during the first round of Pro Boost.
"We've never run Pro Boost before. We've got EFI on a blown Hemi and there's no owner's manual. Nobody can tell you how to do it, where to do it. I leaned it down three percent and it popped the burst panels and destroyed the front clip. We just pushed it away, stuck it in the trailer and concentrated on Top Dragster."
Along with crew chief Chad Crawford, Sullivan marched through the Top Dragster field with a nitrous-assisted entry, eventually running 3.947 on a 3.94 dial-in in the final round. Opponent Chaz Silence broke out, going 3.948 on a 3.96 dial.
Sullivan dedicated his win to former PDRA announcer Brian Olson, who passed away unexpectedly shortly after last year's Summer Drags.
"Brian Olson was watching over us. This was the last event that Brian had announced. Brian was one of my best friends, so he was riding along with me the whole time."
EXTREME PRO STOCK
PDRA Spring Nationals runner-up John Pluchino didn't need to wait long to get a second chance at a 2016 win. The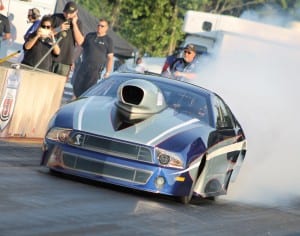 longtime mountain-motor Pro Stock racer qualified number one with a 4.10 at 174.83, giving him the first-round bye run. He got lucky when Richard Penland red-lit away a 4.12 compared to Pluchino's 4.15 in the semifinals. The New York team stepped up to a 4.11 in the final against Brian Gahm's 4.12.
"We're really glad to be back with the PDRA. We always loved it here. The first race we lost in the final. We were determined this race to finish it up. We got lucky. Brian is a tough competitor. We beat him by one thou in the final. It was really good. It was a hot day. The track was sticky, it was tricky, but we made the right calls and we got the win," Pluchino admitted.
Outlaw 10.5
Canadian Frank Pompilio swept the DiSomma Racing Engines Outlaw 10.5 competition as the class made its first of two appearances on the PDRA tour. Pompilio drove his steel-bodied, twin-turbocharged 1967 Mustang to a 4.12 at 195.74 to qualify number one. A stout 4.05 at 196.76 in the final round was more than enough to beat doorslammer transmission specialist Mark Micke.
"It was a great weekend. I'm just happy to be here. PDRA puts on a great event. We look forward to coming back at MIR [Maryland International Raceway, July 14-16]. The whole team worked hard and we got a little lucky with a few rounds, but the car performed every round and we put up a number. We're really happy about that," Pompilio said, thanking supporters Pro Line Racing and Malfire Mechanical.
PRO JUNIOR DRAGSTER/TOP JUNIOR DRAGSTER
It was a battle of the track owners' children in the Talbert Pro Junior Dragster final round. Libby Ledford won when Samuel Peterson left fourteen thousandths too soon. Peterson's father, Jason, owns and manages US 131 Motorsports Park, while the Ledford family owns Mid Michigan Motorplex in Stanton. The MegaCorp Top Junior Dragster winner was also decided via red light, as second-generation driver Maximus Butcher gave the win to Alex Kish.
The PDRA Bracket Bash title went to Bill Swain as he ran seven thousandths of a second slower than his 4.78 dial-in. His opponent, Tim Antinora, encountered traction problems and couldn't come close to Swain's performance.
The PDRA will return to action July 14-16, for the PDRA North-South Shootout at Maryland International Raceway.