After being introduced to race cars and racing as a baby — yes, a baby — in 1969 through his father's supercharged Hemi-powered 1933 Willys, Paul Noakes developed an attraction to all things fast.
His family knew that and understood that, so they weren't surprised when he asked at the age of eighteen in 1988 if he could use his dad's 1972 Challenger-bodied Funny Car to run a series of 7.50 passes to earn a competition license.
He continued to race in that car at various tracks near his home in Ontario, before purchasing a Probe-bodied Funny Car five years later to race in the United Drag Racers Association.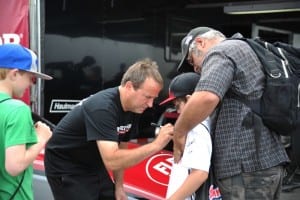 "We were fairly successful in the Probe, winning many United Drag Racers Association races and match races, and we were doing well at IHRA races while running a limited schedule with the series," said Noakes. "Along the way, Summit Motorsports Park has always been a favorite track to race at, and we all know (Summit Motorsports Park president) Bill Bader, Jr. is the best announcer in the world. My being Canadian and driving a Ford made it easier for him to pick on me when he was announcing. He would say to the fans 'You don't want a Canadian to take home the money, do you?' and 'You don't want a Ford-bodied car to win, do you?,' and it would always get the fans riled up."
Noakes was relishing racing both cars, but in 1994, a fire that started in the engine bay of the Probe-bodied Funny Car during a race put it out of commission for three weeks. When he was done rebuilding it, he took it — along with the Challenger-bodied Funny Car — to a race in St. Thomas Raceway in Ontario, but ran into trouble again when the chute didn't deploy on the Challenger-bodied Funny Car at 187 mph, and he had nowhere to go but into a group of trees. Miraculously, he walked away from the Challenger-bodied Funny Car with no injuries, but in-stead of calling it a day, he climbed back into the Probe-bodied Funny Car.
"My family was telling me not to get back into a race car at the same race, but I really wanted to and I really had to, because I didn't want to think about what had just happened and I feel that this is what I was put on this Earth to do," said Noakes. "It was all worthwhile when I got my career best of a 6.26 at 218 in the Probe an hour later."
He went on to win the United Drag Racers Association championship in the Probe-bodied Funny Car in 1995, and then built a 1998 Mustang-bodied Funny Car in 1999, gave it a supercharged 526 Hemi, and raced it to high five-second times in IHRA Alcohol Funny Car competition, as well as at some match races. He went on to visit the winner's circle several times and earn several top-five points finishes.
In 2007, he accepted an invitation to pilot Terry McMillen's Amalie Instigator Funny Car in IH-RA Alcohol Funny Car competition as McMillen had made the move to Top Fuel, and he fin-ished second in points, but got back into his own 1998 Mustang-bodied Funny Car the following season, and raced it until 2014, when he debuted his current 2009 Mustang-bodied Funny Car in NHRA Division 3 Lucas Oil Drag Racing Series Top Alcohol Funny Car.
The stunner features a McKinney chassis, and is powered by a screw-supercharged Brad Ander-son Enterprises Hemi. A Lenco three-speed transmission does its part below the surface to put the power to the pavement, and Noakes has been as quick and fast as 5.51 and 267 mph in the car, and has been to the winner's circle twice.
"We're a underbudgeted team, so we're very fortunate to have a fairly competitive car," said Noakes, who lives in London, Ontario, with his wife, Gina, and eleven year old daughter, Brook-lyn, whose junior dragster features the same color scheme as her dad's Mustang-bodied Funny Car. "I want to do well in competition for myself, for my team and for my sponsors. I don't want to be mediocre, and I don't want to be middle of the road. I want to be on top, and I want a championship."
Noakes, a Transportation Technology teacher at Saunders Secondary School in London, Ontario, earned a World Alcohol Racers championship in 2005 and was named Canadian Professional Driver of the Year by DragRaceCanada.com in 2011. He relies on crew chief Les Mellows for tuning, and is supported in his race efforts by sponsors Meritor, Fleet Brake, Karl's Truck Service and NGK Spark Plugs.
Catch him in action at the 10th Annual Cavalcade of Stars presented by Budweiser, where spec-tacular sportsman is in
the spotlight, May 20-22, 2016, at Summit Motorsports Park, 1300 State Route 18 in Norwalk, Ohio. The event which boasts the largest attendance year after year on the NHRA Lucas Oil Drag Racing Series North Central Division tour also will feature Scotty Heat and his 50 Cal jet engine-powered dragster; Sarah Edwards, the new pilot of the Queen of Dia-monds II jet engine-powered dragster, and her Hanna Motorsports teammates, Rich Hanna and Ken Hall and their jet engine-powered Funny Cars. A colossal and colorful display of fireworks will put an exclamation mark on all of the action on Friday and Saturday evenings.
Tickets are $9.99 for one day, free for children 6 and younger. Summit Club reserved seats are $19.99 for one day, $10 for children. Parking is free. For information, please call 419-668-5555 or visit www.SummitMotorsportsPark.com.