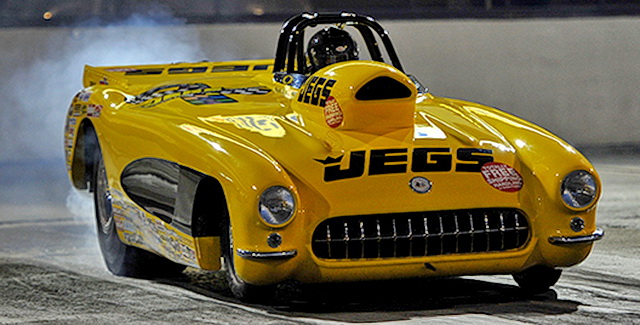 JEGS.com driver T.J. Coughlin became the latest family member to win an NHRA championship by wrapping up the Division 3 Super Gas championship Oct. 13, with a runner-up finish in his Corvette roadster at Silver Dollar Raceway in Reynolds, GA.
Coughlin, the son of 2012 NHRA Pro Mod champ Troy Coughlin, is the first of the third generation of the Coughlin family to win a drag racing championship. He follows in the footsteps of grandfather Jeg Coughlin Sr., uncles John Coughlin, Mike Coughlin and Jeg Coughlin Jr., and, of course, his dad.
"It's pretty neat; I've always wanted to win the division since I was a little boy," Coughlin said. "I remember being five years old at the Division 3 banquet in Indianapolis at the Sheraton. It was 1995, and I remember watching Uncle John win Super Gas and noticing how cool the 'Double-Decker Wallys' were. I've always wanted one of those since 1995."
Now, Coughlin will get one of his own as North Central Division champion.
Coughlin raced to the final round in Super Gas at Reynolds before falling to Jason Lynch, while he dropped a second-round matchup in Super Comp. The loss to Lynch ended his long-shot chances at the Lucas Oil Drag Racing Series national championship. Had he won that round, Coughlin would have remained in contention for the national title, but he'll still end up in the top five once the season is complete.
"We're third in the world right now, and we'll end up anywhere from third to fifth, depending on how the others finish out," Coughlin said.
Coughlin knew the pressure was on him in the final round, but he still had a .017-second reaction time and made a pass of 9.946 seconds at 161.57 mph. That wasn't quite enough to beat Lynch's pass of 9.944 seconds at 161.63 mph, however.
"I just raced my race, one round at a time," Coughlin said. "I figured, 'Okay, I'm set up to be .007 on the tree, and if I hit it I'll be anywhere from .007 to .010.' I missed it a little bit in the final, but I still just raced my race. I took some deep breaths and enjoyed it."
The same could be said for his season.
"I came in with high expectations," Coughlin said. "To place like this, it's kinda' hard to put into words right now. It's nice, but it would've been nice to win, too. I'll definitely chalk it up to a great experience, because it was. It'll just make me work a little bit harder next year."