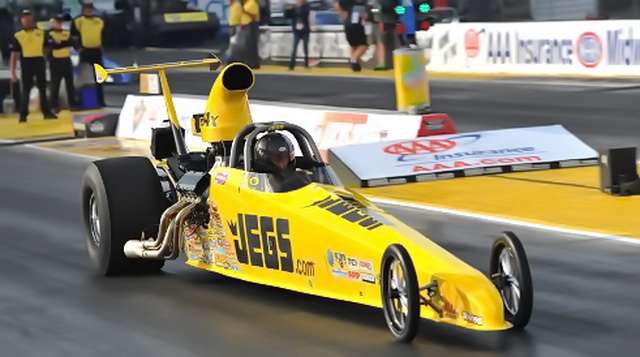 Coming off a wildly successful 2013 season, JEGS.com driver Troy Coughlin Jr. hopes to continue building on his budding drag racing career in 2014.
Coughlin won the Division 3 Super Gas championship to become the first of the third generation of the Coughlin family to win a drag racing title. The young man from Columbus, Ohio, is trying to follow in the footsteps of famous grandfather Jeg Coughlin Sr.; championship-winning uncles John, Mike, and Jeg Jr.; and, of course, his dad, Troy Coughlin, a multi-time champion in his own right.
Brimming with confidence, T.J., as his friends and family know him, is eager to return to the racetrack to start the 2014 season. His first race will be the JEGS NHRA Cajun SPORTSnationals on March 21-23 at No Problem Raceway Park in Belle Rose, La.
Coughlin will race two cars, in Super Gas and Super Comp, alongside his uncle, Mike, who runs in the Top Sportsman class.
"Belle Rose is a great race to start the year," Coughlin said. "The weather is always good and the track is nice. It's fun to see all of our friends from down south as well.
"We'll go down there and do the best we can, and hopefully we can have a good showing. We'll all be knocking the rust off, but it will be fun to get back behind the wheel."
T.J. has spent his off-season working in tech sales at the family business, JEGS High Performance. Plus, he has done his best to stay sharp by using a life-size practice Christmas tree at his home.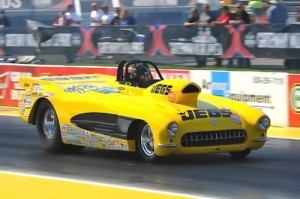 "Winter is always a good time to spend with family and friends," Coughlin said. "It's a good time to just relax and spend time together. We go to a lot of Ohio State basketball games, and that's always a blast.
"But you can't forget about racing, so I try to stay mentally prepared. The practice tree is a great tool, and I make a million passes in my mind. We also have time to go over the race cars from front to back and make sure everything is perfect. The off-season actually goes by very fast."
The team plans to visit No Problem Raceway Park before the SPORTSnationals for testing.
(Photos courtesy JEGS; Click to enlarge)