Championship contender Tommy Franklin fired off a near-record 3.614-second, 206.42 MPH pass Saturday night at the PDRA Pro Line Racing Brian Olson Memorial World Finals presented by ProCharger to qualify No. 1 in Switzer Dynamics Pro Nitrous. Franklin will start Sunday eliminations as the points leader chasing his third world championship.
No. 1 qualifier awards in the series' additional professional classes went to Todd Moyer in WS Construction Pro Boost presented by P2 Contracting & Ty-Drive, Steven Boone in Liberty's Gears Extreme Pro Stock presented by AED Competition, Daryl Stewart in M&M Transmission Pro 632, Chris Garner-Jones in Drag 965 Pro Nitrous Motorcycle, Jerry Morgano in Menscer Motorsports Pro Street presented by Afco Racing, and Derek Mota in Afco Racing Super Street presented by Menscer Motorsports.
After one session on Friday and another on Saturday, the No. 1 qualifiers in the sportsman classes are Buddy Perkinson in MagnaFuel Elite Top Sportsman presented by PAR Racing Engines, Robert Pickens in Laris Motorsports Insurance Elite Top Dragster, Barry Daniluk in MagnaFuel Top Sportsman 48 presented by Corbin's RV, and Bruce Mullins in Laris Motorsports Insurance Top Dragster 48.
In the Jr. Dragster classes, Ava Meloni and Wyatt Stanley secured the No. 1 qualifier awards. Meloni ran a 7.906 in her TT Motorsports '19 Mike Bos dragster to take the top spot in Coolshirt Systems Pro Jr. Dragster presented by PRP, which qualifies using a 7.90 index. Stanley and Jason Geryes both cut .009 reaction times in Classic Graphix Top Jr. Dragster presented by PRP, but Stanley did it first to qualify No. 1 in the class that qualifies on reaction times.
PRO NITROUS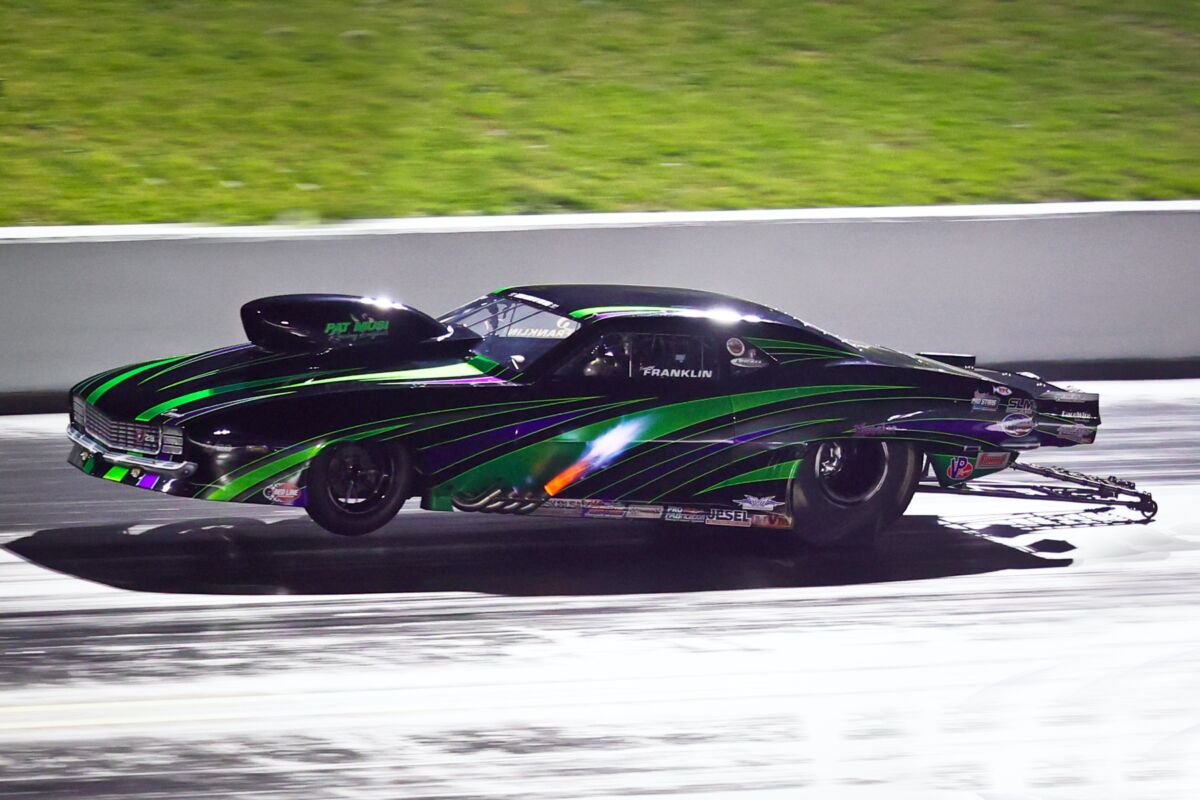 For the third consecutive race, two-time Pro Nitrous world champion Tommy Franklin shot to the top of the qualifying order in his Musi-powered "Jungle Rat" '69 Camaro. The points leader cracked off a 3.614 at 206.42 in the third and final qualifying session, missing four-time and reigning world champion Jim Halsey's four-year-old E.T. record by one thousandth of a second. Now, Franklin will start race day on the opposite side of the ladder from Halsey, who sits just under three rounds behind Franklin.
"The goal is to turn on win lights, but we're not being conservative," said Franklin, who thanked God, his team, and supporters like Red Line Oil, Jerry Bickel Race Cars, and Pat Musi Racing Engines. "We're not doing anything other than letting it hang out and racing the racetrack we get. The racetrack has been great. Qualifying No. 1 is step one. We've got a couple more steps to make tomorrow. Battling with Halsey, they're a great team over there. It's not going to be easy. We're going to go out there and just race our lane, try to go as fast as we can, and try to turn on win lights. Our goal is to one, win the race, and two, win the championship. Or maybe in the opposite order."
Halsey, who's seeking an unprecedented fifth consecutive season title, qualified second in his Fulton-powered "Daddy Shark" '68 Camaro with a 3.645 at 206.39. Jay Cox, who's stepping away from driving duties after this season, ran a nearly identical 3.645 at 206.32 in his Musi-powered Butner Construction "Pumpkin" '69 Camaro to qualify third.
PRO BOOST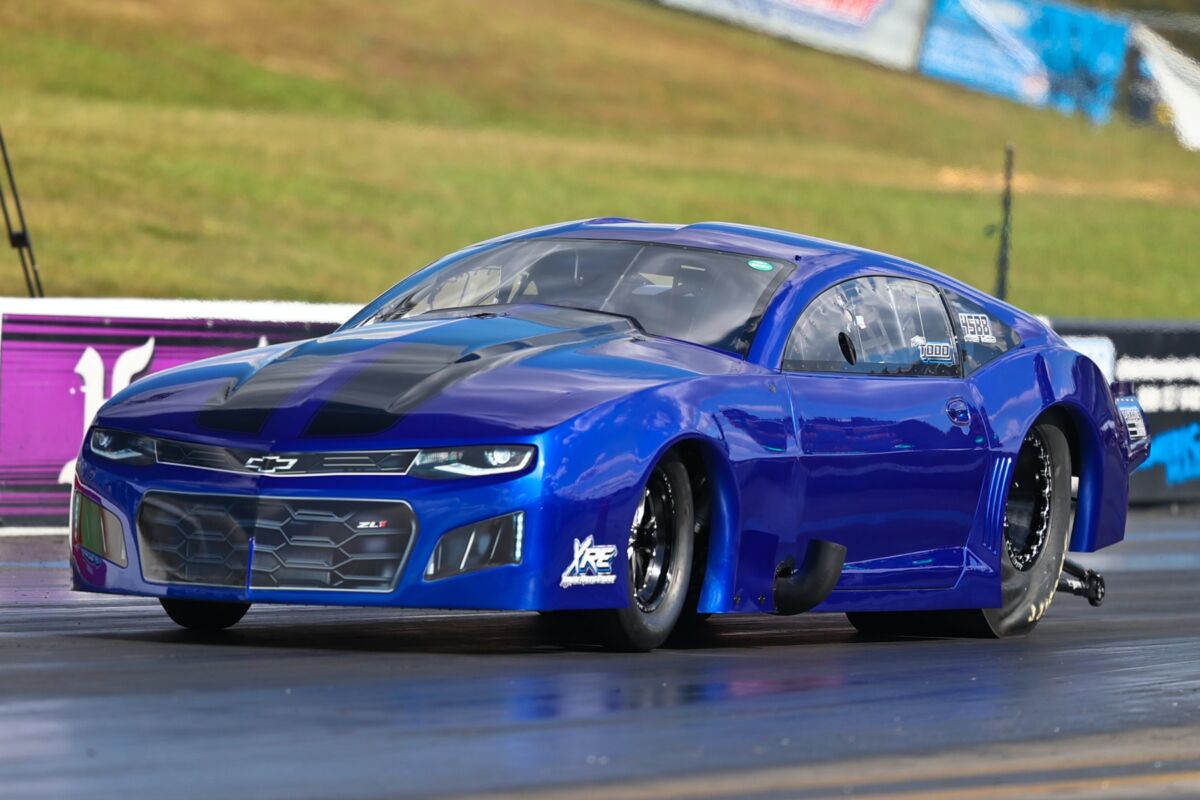 "Turbo" Todd Moyer was the provisional No. 1 qualifier in Pro Boost after Friday's lone qualifying session. He improved on his performance in the second session on Saturday, recording a 3.584 at 225.97 in his twin-turbocharged '16 Camaro. With engine builder Carl Stevens Jr. of Xtreme Racing Engines calling the shots, Moyer set a new class speed record and took the No. 1 spot by over 15 MPH over Joel Wensley Sr. and his identical 3.584.
"This has been the wildest three weeks in racing I think I've been through," said Moyer, who thanked his wife, Kathaleen. "Carl and his dad [Carl Stevens Sr.] took this car from a 'barely get in' car to a top one car. This is unbelievable. It's incredible. It's been one heck of a weekend for us. We're gonna try to go some rounds and take it to the end. The last race [a Northeast Outlaw Pro Mod event] was ours and we had a coil go bad and just bad luck, but it's got eight new coils on it."
Wensley, who set new career-best numbers with his 3.584 at 210.77, qualified second in his ProCharged Liberty's Gears '17 Camaro. Elapsed-time record holder Melanie Salemi posted a 3.591 at 209.10 in Eddie Whelan's screw-blown Steady Eddie's '19 Camaro to qualify third.
The Pro Boost field was the second-quickest field in the 10-year history of the class, with Chuck Ulsch's 3.647 at 206.13 sitting on the bump spot. Seven of the nine drivers who didn't qualify for the 16-car field ran in the 3.60s.
EXTREME PRO STOCK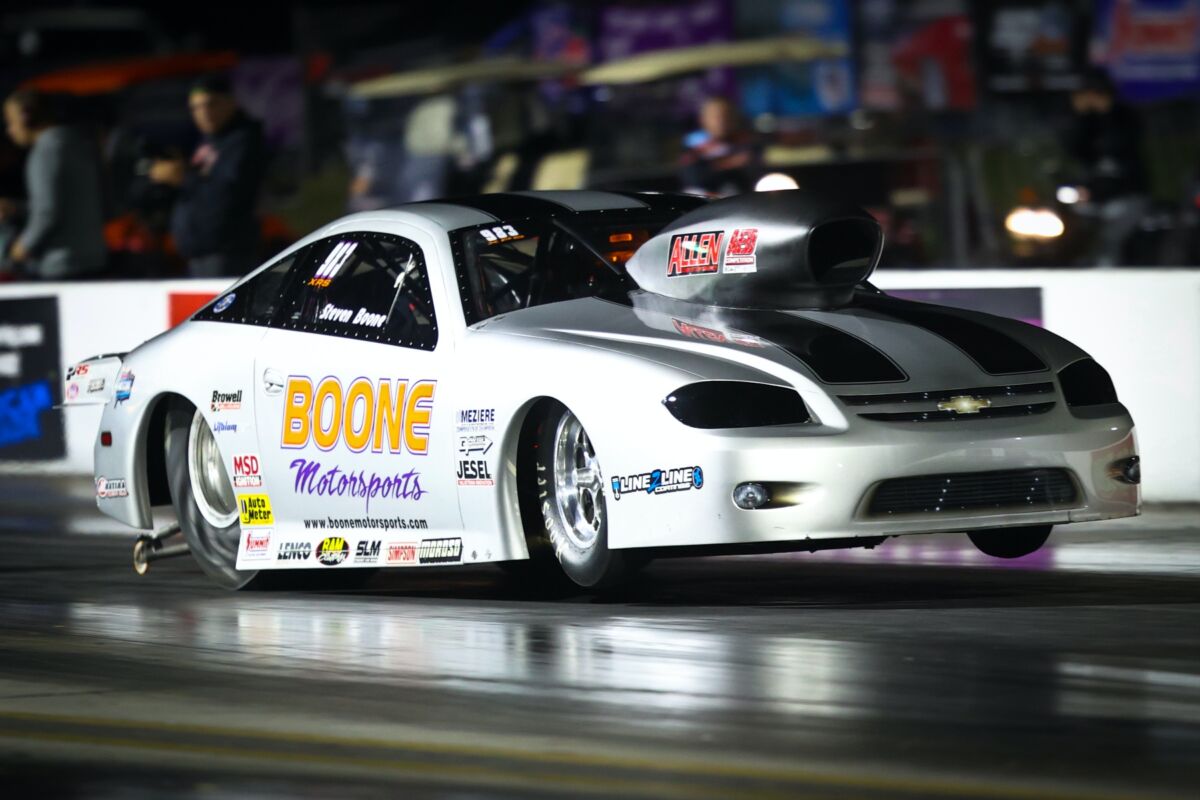 Steven Boone has competed in Mountain Motor Pro Stock for more than 10 years, including several seasons in Extreme Pro Stock. He's won races and the 2018 world championship, but he'd never qualified No. 1 in PDRA competition before Saturday night. The Weaverville, North Carolina-based driver took his Allen-powered Boone Motorsports '07 Cobalt to the top spot in the second of three sessions when he lit up the scoreboard with a 4.029 at 179.68.
"We had some trouble at the last race and thought we'd found it, but we didn't," said Boone, who thanked Allen Competition Engines, AED Competition Fuel Systems, Maxima Racing Oil, Line-2-Line Coatings, and Adam Lambert at PRS. "After testing I was very disgusted. Friday morning, we started on this thing at 7 o'clock in the morning and we tore this thing apart from front to rear. We got out there for the first run today and just guessed at it. We made a good pass to give us something to work off of and everything just seems like it's fell in line."
Boone was one of 20 drivers who attempted to qualify for the 16-car field while also attempting to break the 4-second barrier. Though he didn't accomplish that goal, he'll take his first PDRA low qualifier award and his second-quickest pass ever as a consolation.
"This is what we love to do and we strive to do this," Boone said. "We would love to have seen the 3.99, but it will come. It will come. I think we're ending the season on a good note and I hope tomorrow goes well. I'm happy for my whole team – myself too. It's just too bad that we found everything here at the end of the season, but at least we got something to carry us through the winter."
Class E.T. record holder John DeFlorian qualified second in his Kaase-powered Allegheny Metallurgical '15 Camaro with a 4.037 at 179.25. North Carolina's Elijah Morton rounded out the top 3 with a 4.04 at 177.28 in his Allen-powered Morton Brothers Motorsports '19 Mustang.
PRO 632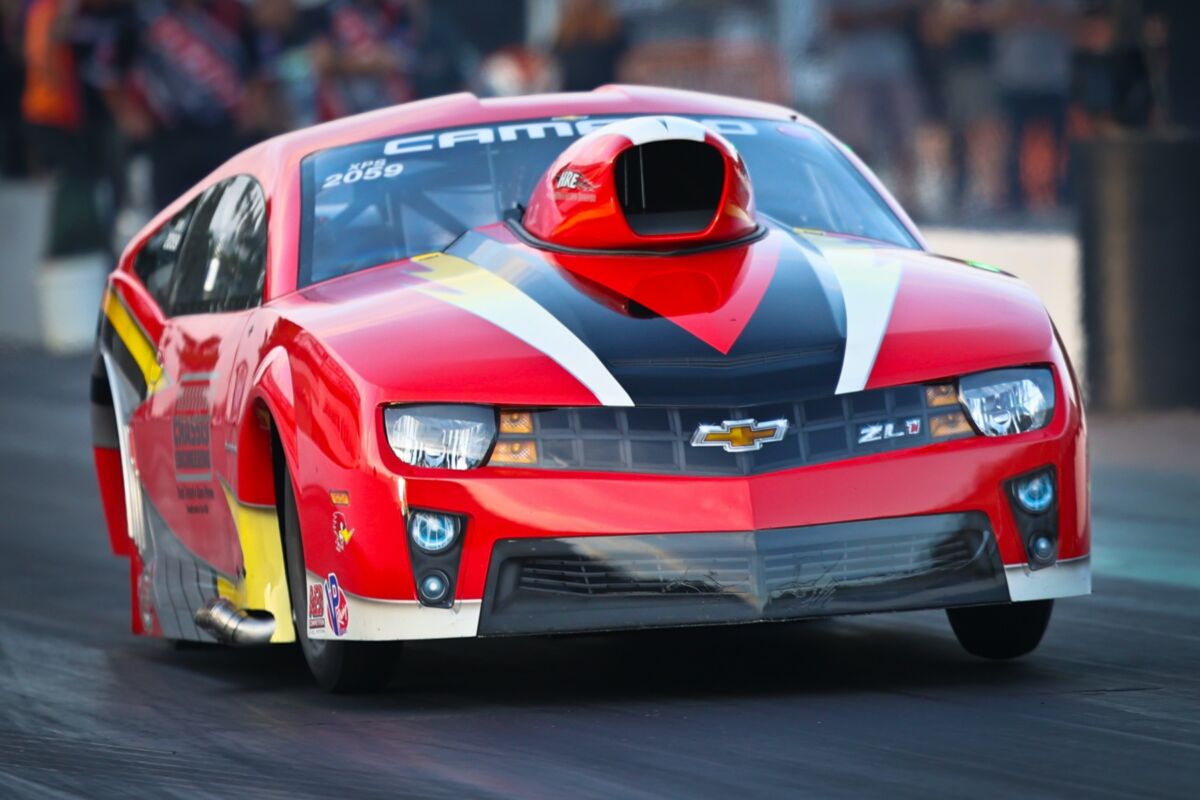 With less than 16 Pro 632 entries on the property, the class was one of multiple pro classes that lost a final third qualifying session due to time constraints on Saturday night. That was actually a relief for Daryl Stewart, who qualified No. 1 for the third consecutive race. He posted a 4.121 at 172.67 in his nitrous-fed Chassis Engineering '12 Camaro in the second session to lead four other drivers who dipped into the 4.10-second range. Stewart is competing in just his third Pro 632 race of the season after switching to Extreme Pro Stock earlier in the season.
"That was the best thing that could have happened for us because now we can get the bye tomorrow first round, so hopefully that works to our favor," said Stewart, who thanked tuner Clayton Murphy and team, as well as engine builder Daryl Hameetman. "Plus, we didn't have to work on this thing. It's so much work with this clutch in here now versus the automatic, which was so much nicer, so much easier to drive and cut a light and everything, but we're getting there. Clayton and the guys did an unbelievable job with everything. We were very surprised – we thought everybody was going to fly, but we got lucky. Made it A to B and made a perfect run."
Points leader Jeff Melnick fired off a 4.15 at 169.87 to qualify No. 2 in Alan O'Brien's nitrous-fed, AMC small-block-powered Greenbrier Excavating & Paving '20 Camaro. Reigning world champion Amber Franklin's 4.174 at 170.19 in her Musi-powered "OG Jungle Rat" '69 Camaro put her third.
PRO NITROUS MOTORCYCLE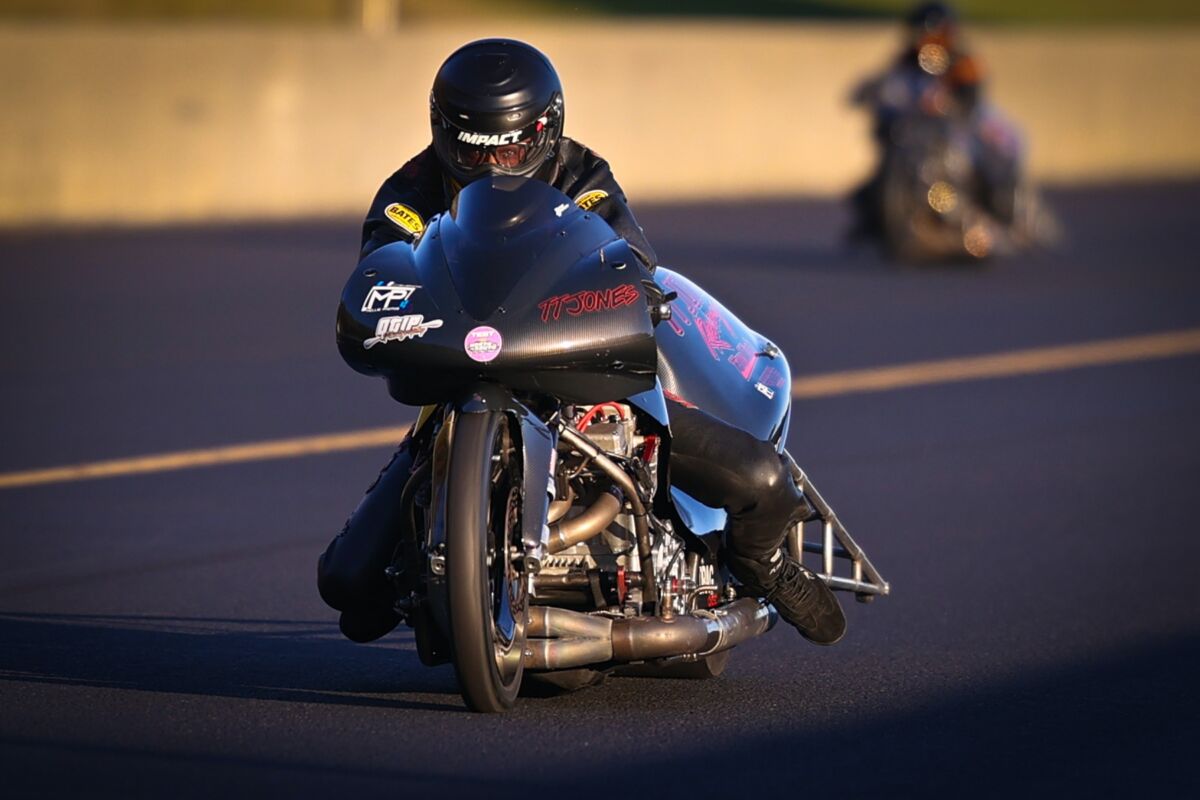 Past Pro Nitrous Motorcycle world champion Chris Garner-Jones went into the World Finals as the points leader in a three-way championship battle with rookie Brayden Davis and Meshal Al-Saber. The second-generation rider added another few points to his lead by qualifying No. 1 aboard his T.T. Jones Racing Hayabusa thanks to a 3.967 at 175.82 in the second session. The third and final session was cut due to time constraints.
"We need the points," said Garner-Jones, who credited his tuner and younger brother, William, as well as partners like Red Line Motorsports Media. "We need to increase the point lead in order to keep it because these guys are not slow. They're the best of the best out here – pretty fast. Anybody can knock down anybody. I'm glad it turned out like this because I didn't want to go out there, honestly, but I felt like one of the guys would have at least gotten close to knocking us back. But we held on to it. We're just going to take it one round at a time [on Sunday]. That's pretty much it. One pass at a time. Try to turn on some win lights – more win lights than them. That's the mindset."
Motorcycle drag racing veteran Paul Gast also dipped into the 3.90s with his 3.994 at 175.18 on his Fast By Gast Suzuki to qualify No. 2. Brayden Davis and his 4.019 at 173.85 were No. 1 after the first session, but slipped to third after the second and final session.
PRO STREET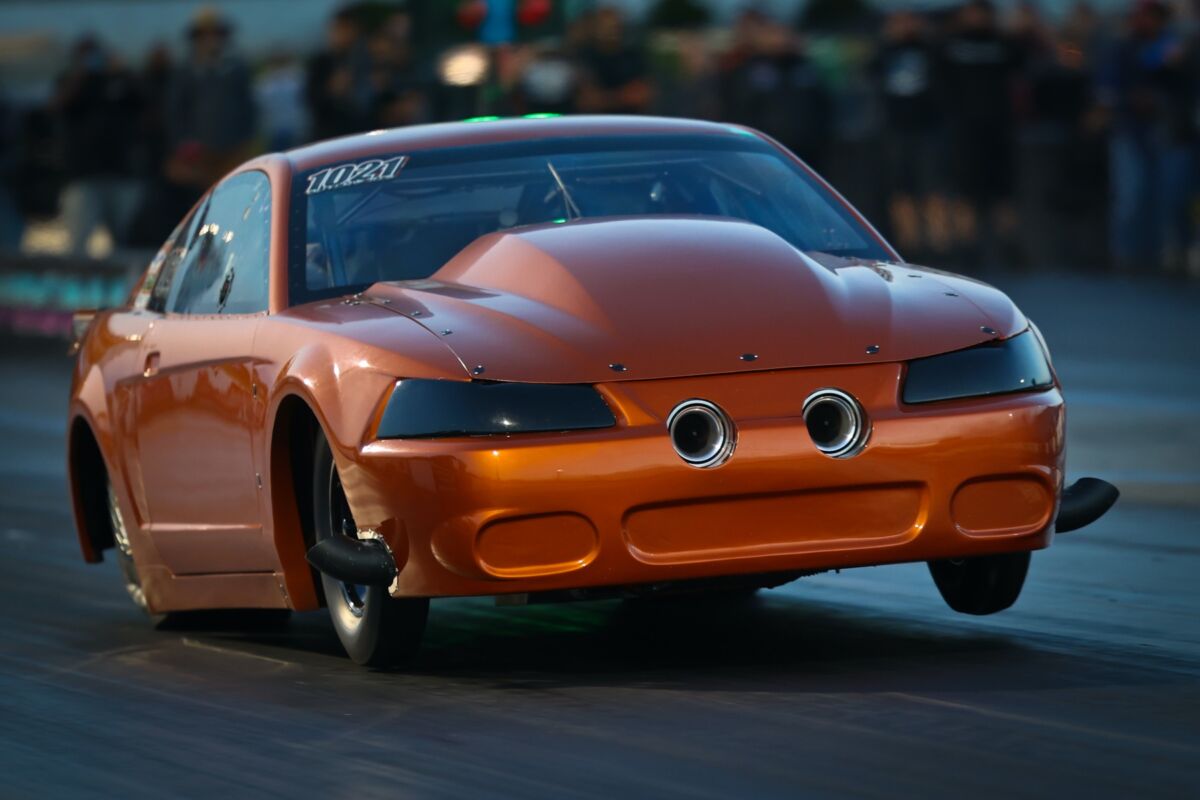 Longtime Outlaw 10.5 proponent Jerry Morgano scored his first-ever No. 1 qualifier award in Pro Street competition on the strength of his 3.934 at 207.62 in the first session. No driver surpassed his performance in the second session, then the third session was cut due to time constraints. Morgano will line up against points leader Bill Lutz in the opening round of eliminations. [Update: The ladder has been revised and Morgano will now have a bye run in the first round. Lutz will face Bill Riddle, who is No. 2 in points.]
"I feel lucky for one that we didn't get a Q3 in," said Morgano, who thanked Anthony DiSomma at DiSomma Racing Engines, Billet Atomizer, Bullseye Turbo, Bob Carroll from Carroll's Rod & Racecraft, and Hoosier Tire. "Not sure if [the 3.93] would have stood after Q3, but we would have gone after it too. It's been a struggle all year. We've had one problem after another, but we keep working through it all and hopefully it all pays off in the end. We've worked tremendously hard, and just to get to where we are right now is huge."
Morgano ran the full Pro Street season, but he isn't in championship contention. He's hoping to play the spoiler role on Sunday.
"I have a lot of good friends in this class, but Tim Essick [the two-time and reigning world champion] is my boy," Morgano said. "He helped me a bunch in the offseason fixing some things on the car. So, I'm going to do my best to take Lutz out first round and let him and [Bill] Riddle fight it out for the championship. We'll give him a run for the money and see how we can make out."
Chris Cadotto, who won the Michigan race in his screw-blown '97 Dodge Ram, ran a 3.95 at 192.96 to qualify second. Championship contender Bill Riddle posted a 3.952 at 187.31 in his roots-blown Corrigan Race Fuels '89 Camaro to end up third.
SUPER STREET
Derek Mota's dominant late-season run in Super Street continued Saturday when he charged to a 4.602 at 164.99 in his single-turbocharged Mustang to secure his third consecutive No. 1 qualifier award. Mota will go into eliminations just over three rounds behind points leader Blake Denton, who qualified No. 2. Mota will have a bye run in the first round.
"We were hoping to have one more [session] to maybe get [Denton] on the other side of the ladder, but this is the way the cards are going to fall," said Mota, a three-time winner this season. "We'll just go into eliminations tomorrow and just let God have it in his hands. I don't know what else to do. We're going to run it as hard as we can. I just gotta give it up to my team, Jamie Miller, my sponsors, Harts Turbo, and everybody that's involved in this program. We worked so hard to come back for this. We're going to run our race and hopefully come out with a third win and another record."
Denton posted a 4.741 at 154.99 in his nitrous-assisted '76 Camaro to hold off No. 3 qualifier Matt Schalow and his 4.748 at 150.40 in his Virginia Beach-based, nitrous-fed '00 Camaro.
TOP SPORTSMAN
Friday's provisional No. 1 qualifier in Elite Top Sportsman, Buddy Perkinson, held on to the No. 1 spot after Saturday's final qualifying session on the strength of his 3.721 at 201.55 in his Musi-powered LAT Racing Oils '69 Camaro. Tim Molnar maintained his No. 2 spot in his nitrous-assisted '68 Camaro, though he improved on his Q1 run with a 3.782 at 197.13. Glenn Butcher threw down a 3.786 at 195.65 in his Albert-powered '69 Camaro in the final session to move up to the No. 3 spot.
Barry Daniluk drove his naturally aspirated '68 Camaro to a 4.024 at 177.86 to pick up the No. 1 qualifier award in Top Sportsman 48.
TOP DRAGSTER
Robert Pickens, who was the provisional No. 1 qualifier in Elite Top Dragster, maintained his position after Saturday's final session with his 3.743 at 199.61 in his supercharged '07 Pickens dragster. Longtime racer Kathy Fisher, who is stepping away from competition after this race, laid down a 3.766 at 189.73 in her ProCharged Mobile Environmental Solutions '15 American dragster to qualify second. Brian Anderson's 3.772 at 191.78 from Friday slipped one spot to third on the final qualifying order.
Virginia-based driver Bruce Mullins missed out on the 16-car Elite field, but he took the No. 1 spot in Top Dragster 48 with a 3.881 at 188.04 in his supercharged '21 Precision dragster.
Championship Sunday at the PDRA Pro Line Racing Brian Olson Memorial World Finals presented by ProCharger at Virginia Motorsports Park will begin at 10 a.m. starting with first round of eliminations in the Jr. Dragster classes and Edelbrock Bracket Bash presented by COMP Cams, followed by the second round of eliminations in Top Dragster 48 and Top Sportsman 48. Pre-race ceremonies and pro eliminations will kick off at 12:30 p.m. Find the complete schedule and results at www.PDRA660.com.