Two-time Switzer Dynamics Pro Nitrous world champion Tommy Franklin raced to his second Professional Drag Racers Association (PDRA) victory of the 2023 season Saturday night at the Northern Nationals presented by Talbert Manufacturing. Racing as a part of U.S. 131 Motorsports Park's Northern Nationals thrill show, Franklin used a holeshot advantage to take out four-time and reigning world champion Jim Halsey in the final round.
Also victorious in the pro classes were Jason Harris in WS Construction Pro Boost presented by P2 Contracting and Ty-Drive, Johnny Pluchino in Liberty's Gears Extreme Pro Stock presented by AED Competition, Jeff Melnick in M&M Transmission Pro 632, and Chris Cadotto in Menscer Motorsports Pro Street presented by Afco Racing.
Sportsman class victories at the Northern Nationals went to Dan Ferguson in MagnaFuel Elite Top Sportsman presented by PAR Racing Engines, Ashley Johnson in Laris Motorsports Insurance Elite Top Dragster, Nick Meloni in MagnaFuel Top Sportsman presented by Corbin's RV, and Treyton Parker in Laris Motorsports Insurance Top Dragster.
Spencer McGee and Victoria Beaner earned wins in the Jr. Dragster categories. In the Coolshirt Systems Pro Jr. Dragster presented by PRP final round, Michaela Mattox had a slight starting line advantage, but McGee ran closer to the 7.90 index with his 7.919 to Mattox's 7.93. Fresh off a win at Maryland, Classic Graphix Top Jr. Dragster presented by PRP points leader Ayden Tilghman was one win light away from going back-to-back. Tilghman and Beaner both dialed an 8.90 in the final, and Beaner posted a winning 8.927 while Tilghman slowed to an 8.965.
PRO NITROUS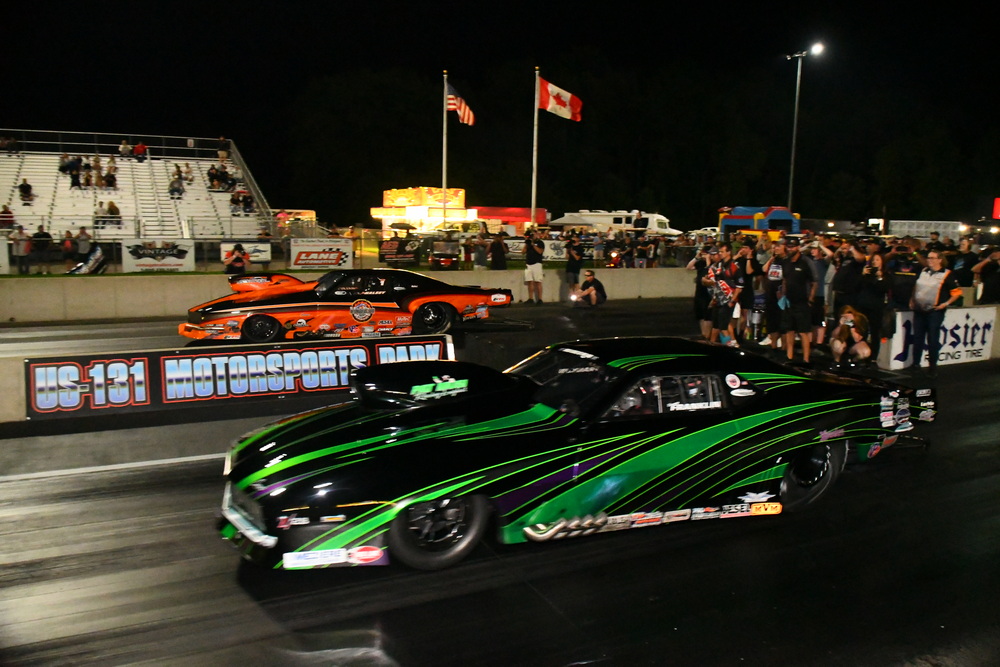 For the second time this season, Tommy Franklin parked his Musi-powered "Jungle Rat" '69 Camaro in the winner's circle. After winning the Summit Racing ProStars final round earlier in the weekend, Franklin raced past an all-star lineup before facing points leader Jim Halsey in the final round. Franklin grabbed a .020-second holeshot advantage, then laid down a 3.639-second pass at 204.64 MPH to defeat Halsey and his quicker 3.635 at 207.38.
"My team flat-out rocks. There's no doubt," Franklin said. "I said it up there on the FloRacing interview – thanks to Jerry Bickel Race Cars, Pat Musi, Mark Menscer, and my crew. Ty-Drive let me let go on time, so I was happy with all of it. We go out here, man, and just fight for it. Ed Burnley, Rickie Smith, Marcus Butner, Jim Halsey – to go through that ladder, it's just a stacked field, so it always feels good when you win. I say it all the time: the best racers, they live right here."
Franklin's win put him one round closer to Halsey, who's leading the points with two wins in his Fulton-powered "Daddy Shark" '68 Camaro.
"I think that puts us probably three rounds behind them," Franklin said. "We made up a little bit of ground [at Norwalk] and lost it back at the next race. Luckily, today we were able to get through and get to them in the final and gain one round. There's three races left, three rounds to get, so we've got to do our part. It takes a good team to go out there and put the laps down that they do. When you can beat them, you feel just better about it. I give them much respect for what they do – Halsey and [tuner] Brandon Switzer and [crew chief] Eric Davis and all of them over there. They're just a really good team, and that just makes it even better to know my team can go out there and pull off the win."
Franklin's race day started with a rematch of the Summit Racing ProStars final round against Ed "Iron Man" Burnley, with Franklin winning again on the strength of a 3.706 at 203.71 to Burnley's 3.765. He dipped into the 3.60s in the next round with a 3.665 at 204.17 to take out "Tricky" Rickie Smith, who slowed to a 4.239. A consistent 3.666 at 202.98 sent Franklin into the final round when Marcus Butner went .002 red on a 4.016 pass.
Halsey opened eliminations with a win over fellow Switzer-tuned driver Chris Rini, winning with a 3.674 at 205.76 to Rini's 3.719 at 203.71. A bye run followed in the second round, and Halsey used it to throw down a 3.649 at 206.14. The Maryland driver lowered the boom yet again in the semifinals when he left the line first and ran a 3.64 at 206.42 to beat Jim Widener's weekend-best 3.663 at 203.80.
PRO BOOST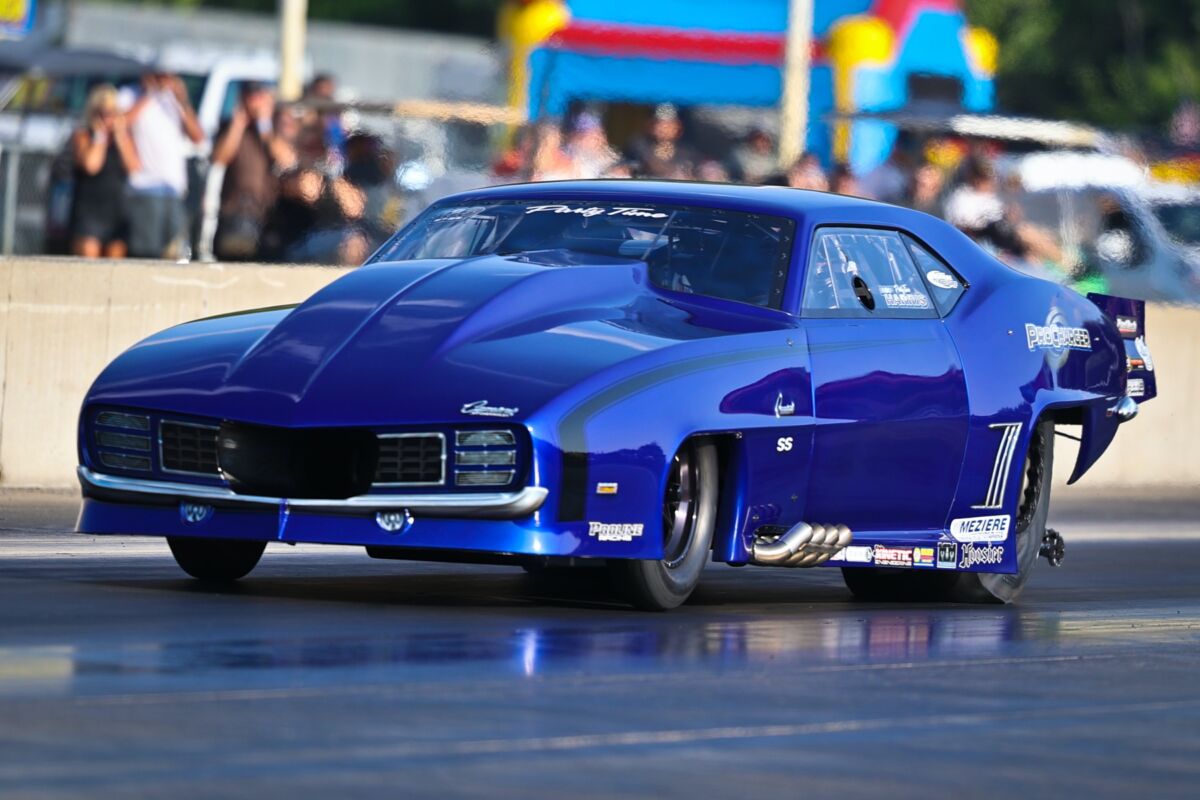 Two-time Pro Nitrous world champion Jason Harris's move to Pro Boost for the second time in his career has been paying off this season. He scored his first win in the class two races ago, then earned a second win when he beat Kurt Steding in the final round at Martin. Harris cut a perfect .000 reaction time in his ProCharged "Party Time" '69 Camaro before recording the quickest pass of the weekend, a winning 3.605 at 206.42. Steding was quick off the line too, but he had to lift to a 3.789 at 158.17 in his screw-blown P2 Contracting '20 Camaro.
"Being perfect is a good job of messing up," said Harris. "I had been good earlier today and I kind of went bad. I knew Kurt was going to be there, so I just needed to do the best I could. I knew that Brandon Stroud was gonna give me a good tuneup and Pro Line gave me the power. You can't ask for anything better than that. I've just got to thank everybody for staying behind me. Hoosier Race Tires kept me stuck. Pro Line took me to the finals. It was just up to me to screw up. I did a pretty good job of not doing that, but it was on a fine line. I can't thank everybody enough. It was an awesome crowd here in Michigan. It looks like I'm gonna have to stay up north because that's the place I can win."
Harris, who got his first win of the season at Norwalk, also mentioned longtime friend and Southeast racing legend Harold Denton, who is at home recovering from a recent surgery.
"He's the original 'Party Time' guy," Harris said. "He stands behind me and gave me the option to take this name and take it on. In the '80s, that was what I looked up to was him, and I just love that Jim Ruth car."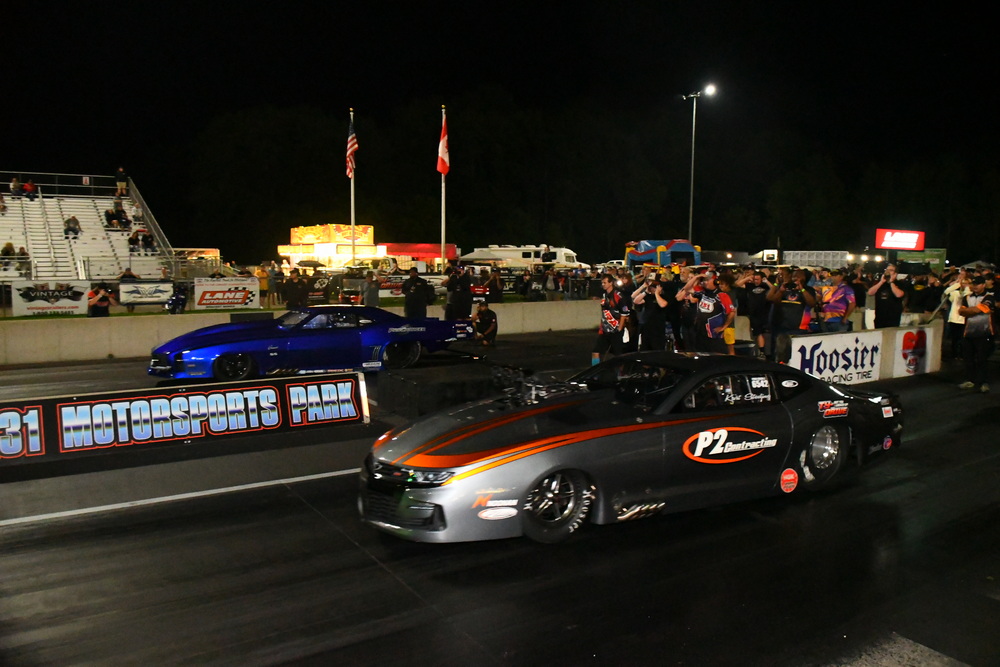 Harris won a close opening round match with James Beadling, leaving first and running a 3.685 at 203.44 to Beadling's 3.689. He then cut a .002 reaction time and stepped up to a 3.633 at 205.67 to beat Melanie Salemi and her 3.758. Another close race followed in the semifinals, with Dustin Nesloney leaving the line just two thousandths ahead of Harris, but Harris got to the finish line first with a 3.62 at 205.01 to Nesloney's 3.628 for a .006 margin of victory.
Racing from the No. 2 spot, Steding started with a 3.658 at 207.37 win over Joel Wensley Sr. and his 5.194. Second-round opponent Scott Wildgust went red by .002, while Steding fired off a 3.628 at 207.18. He improved slightly to a 3.622 at 207.66 to knock out Pro Boost newcomer Scott Lang and his 3.632 in the semis.
EXTREME PRO STOCK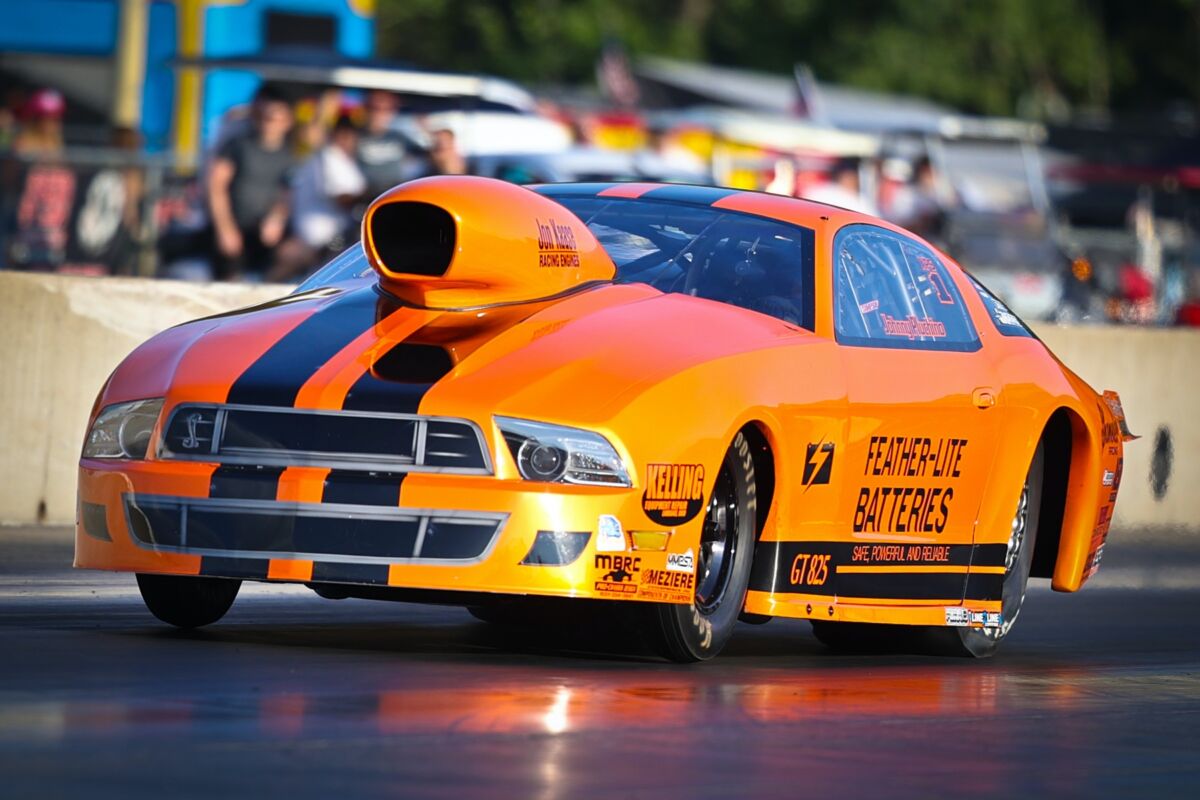 Teammates Johnny Pluchino and Alan Drinkwater raced through the Extreme Pro Stock field to meet up in the final round for the first time. Pluchino, the two-time and reigning world champion, was appearing in the final round for the first time this season, while Drinkwater was chasing the second win of his rookie season. Both drivers pushed the tree too hard, with Drinkwater going .023 red on a 4.096 at 175.85 in his Kaase-powered IronListing.com '08 Mustang. Pluchino was just .004 red and ran a 4.08 at 177.30 in his Kaase-powered Feather-Lite Batteries/Kelling Equipment Repair '13 Mustang to earn his first win of the season on his birthday.
"Both cars were running great all day long," said Pluchino, who thanked partners like $hameless Racing, Ram Clutches, Hoosier Racing Tire, Maxima Oils, and Jon Kaase Racing Engines. "Alan is a hell of a driver. We were both out there pushing the tree and we made two pretty good runs. For the two of us to come in here and take all the other cars out, it's pretty special. There's a lot of good competition, so to come out there with your team car and go one and two is a feat. It's a pretty good birthday present. It feels even better because it's been a while. I don't know if I love winning more or hate losing more, but I'll tell you what, right now, winning feels really good. Especially with all these people that are here with me. These are my people and I love them and I hope they're as happy as I am."
Pluchino's father, John, who won the PDRA Martin race in 2016, noted the personal involvement of the team's sponsors in their success.
"There's two good things about this win – I don't have to buy him nothing for his birthday now, and the names on this car, Feather-Lite Batteries and Kelling Equipment Repair, are here with us," the elder Pluchino said. "Not only are they our sponsors and help us, but they're here working on the car with us. You don't see too much of that too often. It's really, really nice."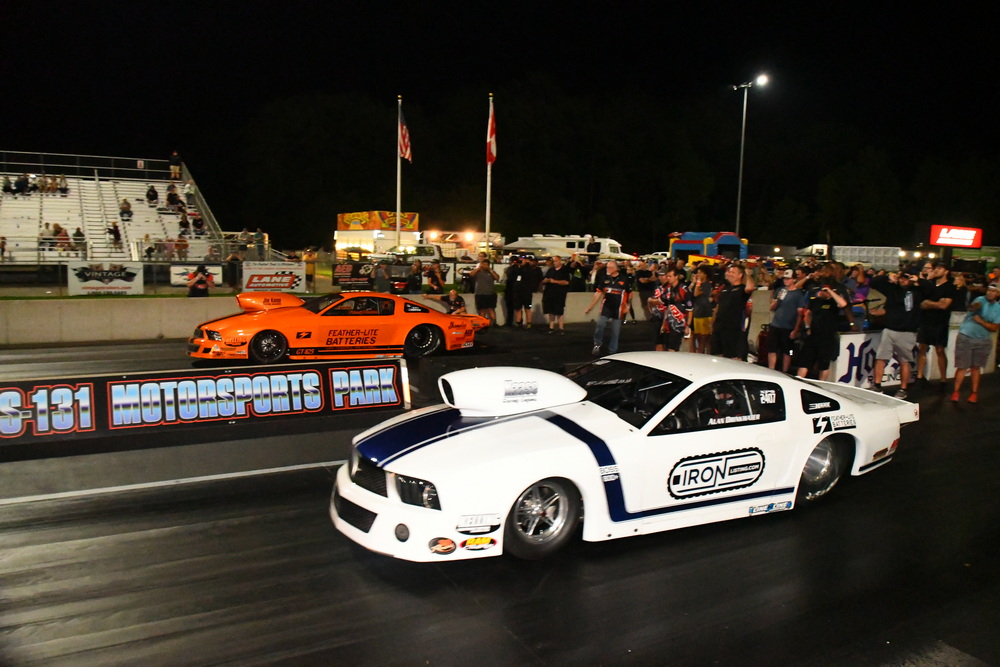 Pluchino won the first three rounds on the starting line, beginning with a 4.154 at 175.10 over Dwayne Rice, who went red by .008 on a 4.168 pass. He used a holeshot advantage to knock out No. 1 qualifier Elijah Morton and his 4.081 with a 4.108 at 176.61 in the second round. The red-light bug bit semifinal opponent Tony Gillig, who went .006 red to throw away a 4.06. Meanwhile, Pluchino recorded a 4.10 at 176.82 to advance to the final round.
Drinkwater made the second-quickest pass of the opening round, a 4.097 at 176.40, to beat Kurt Neighbor's 4.288. He recorded a 4.084 at 176.47 to get the second-round win over Dennis Firkus and his 4.134. A .005 reaction time and a 4.101 at 175.51 put Drinkwater ahead of past world champion Chris Powers and his quicker 4.089 for a holeshot win into the final round.
PRO 632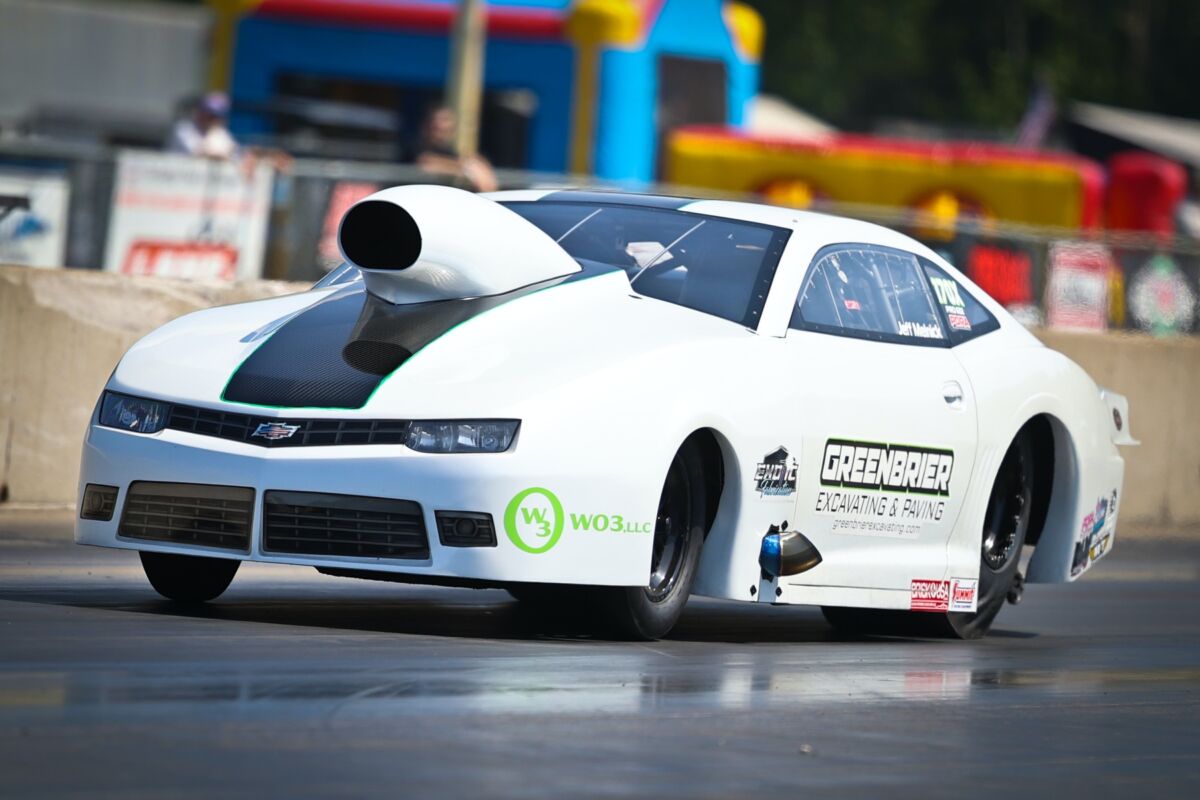 Pro 632 points leader Jeff Melnick hasn't let a Stage 4 non-Hodgkin's lymphoma slow down his pursuit of a PDRA world championship in Alan O'Brien's nitrous-assisted, AMC small-block-powered Greenbrier Excavating & Paving '20 Camaro. He picked up his third win in five races by laying down a 4.159 at 156.20 to finish ahead of Jason Ventura and his 4.435 at 166.24 in the final round.
"Well, it's just been a heck of a week," Melnick said. "The whole rule change stuff that came about was a big step to get over, and then I haven't been feeling good all week. The chemo has got me drained pretty good. Plus, I've got some sort of head cold – and it's not COVID, I tested. It's been a struggle with my health. So, lots of stuff to overcome this week. But the team just kept pushing and it motivated me to keep pushing and just get in the car. No matter how bad you feel, you give it 100% effort for like 30 seconds. That's all you need. Just focus for 30 seconds, get your stuff together, quit coughing in the car, try not puke in your helmet, and get the job done. That's how it's been all week."
It was a banner weekend for Melnick and O'Brien. Melnick won the ProStars final round on Thursday, then qualified No. 1 on Friday. O'Brien got the ProStars runner-up and No. 1 qualifier award in his unique quad-turbocharged Elite Top Dragster entry. Plus, Melnick was surrounded by family, including his wife and kids.
"It's great when everyone's together, and the team effort, I can't say enough about [engine builder] Barry Allen, [tuner] Patrick Barnhill, Alan O'Brien, Greenbrier Excavating & Paving, and the whole group. They're just bad to the bone."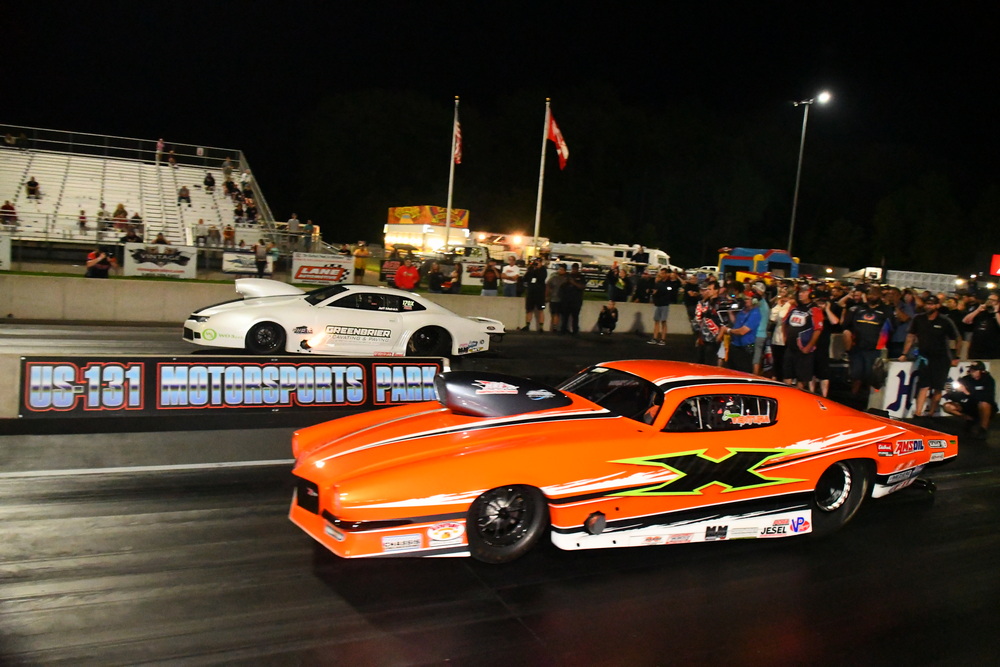 Melnick took advantage of his first-round bye as the No. 1 qualifier, as he rolled to the starting line, took the tree, and backed out of the beams. Melnick and semifinal opponent Lexi Tanner left the starting line together, then Melnick pulled ahead to win with a 4.143 at 170.97 over Tanner's 4.222.
Ventura had a career-best day in his Brand X Marine '70 Camaro, winning first round with a 4.164 at 171.82 over Doug Nicholl's 4.208. He improved to a 4.153 at 171.76 to move on to the finals, while reigning world champion Amber Franklin went red by .004 seconds on a 4.182 pass.
PRO STREET
Pro Street was guaranteed a first-time winner when Westland, Michigan's Chris Cadotto and central Ohio's Bill Lutz raced into the final round. Lutz was experiencing a Cinderella story after his team worked through the night to make repairs after a massive mechanical failure on his No. 1 qualifying effort on Friday night. On the other side of the ladder, Cadotto made a string of 3-second passes in his screw-blown '97 Dodge Ram known as "The Brick." That string continued in the final, as he set low E.T. of the event with his winning 3.962 at 182.70. Lutz lifted to a 4.723 at 114.18 in his screw-blown "Big Boost" '68 Camaro to claim runner-up honors.
"It took us a long time to get everything sorted out on this long wheelbase vehicle to do what it does," said Cadotto, who had to rebuild completely after a major on-track fire in late 2022. "To make an unorthodox platform like this perform the way we do, it takes a lot of hard work, a good team, a lot of dedication, and a lot of money. Of course, my wife helps with everything too. We've been running 3s for a couple of years now. With a good air day, I think we can get it into the 3.80s, believe it or not. I think Pro Street next year is going to be starting to look like Pro Mod. We're all going to be separated by a few hundredths. It's going to be really exciting."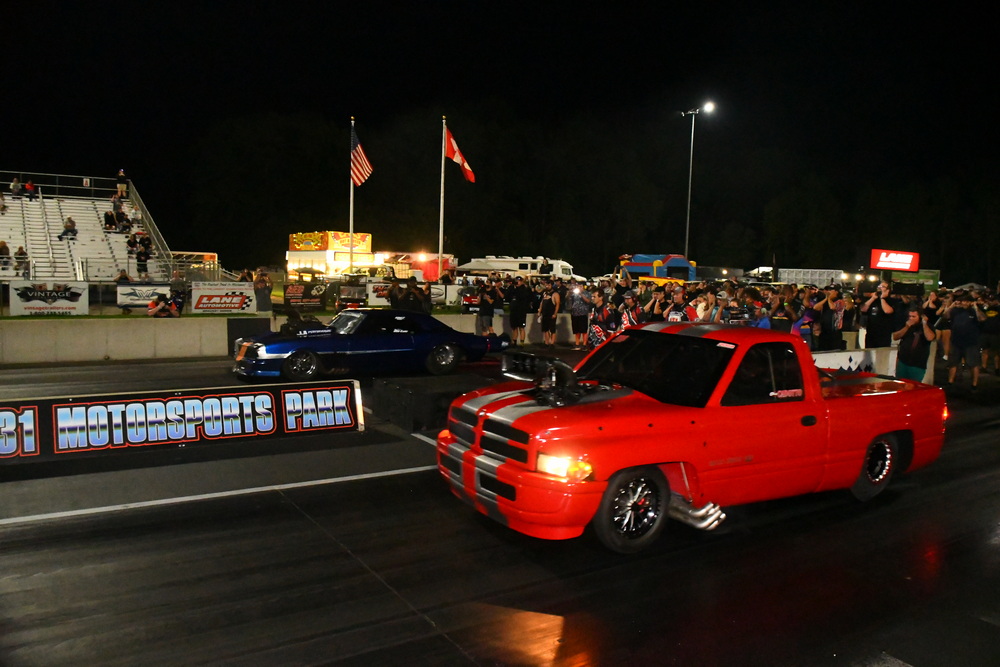 Cadotto qualified No. 3 before scoring a huge first-round win over points leader Bill Riddle, whose struggles in qualifying continued in the opening round. Cadotto ran a 4.029 at 190.52 to Riddle's 4.658, then threw down a 3.964 at 191.25 to set low E.T. of the round and beat Joel Wensley Jr. and his 4.145. He was slightly off pace in the semifinals with a 4.044 at 185.72, but it was enough to beat reigning world champion Tim Essick and his 4.207.
Lutz had a torque converter come apart on his final qualifying pass on Friday night, which caused his screw-blown engine to free-rev, leading to a fireball and significant damage. Numerous other teams and friends came together to help rebuild, and Lutz took advantage of a first-round bye by lifting to a 5.094. He caught another break in the second round when Ron Green went red on a 4.009 pass, while Lutz coasted to a 5.182 at 97.28. Semifinal opponent Nick Agostino dealt with his own mechanical issues in the prior round and ended up rolling through the beams before the tree activated. Lutz was ready, though, as he fired off a 3.977 at 192.72, nearly matching his No. 1 qualifying pass.
TOP SPORTSMAN
Past world champion Dan Ferguson raced to his second consecutive win in Elite Top Sportsman competition after getting his first win in several years at the last race in Maryland. Driving Dean Young's nitrous-fed '68 Camaro, Ferguson left the starting line first and ran a 3.813 on a 3.81 dial-in in the final round to defeat No. 1 qualifier Bryan LaFlam. LaFlam ran a 3.797 on a 3.77 dial-in in his supercharged '67 Mustang.
The two most recent Top Sportsman world champions, Nick Meloni (2021) and Joe Roubicek (2022), squared off in the Top Sportsman 32 final round. Meloni was first off the line in his Nesbitt-powered TT Motorsports '69 Camaro and ran a 4.275 on a 4.26 dial-in to win over Roubicek, who broke out with a 4.246 on a 4.25 dial-in in his Sonny's-powered '68 Camaro.
TOP DRAGSTER
Ohio's Tom Martino was on the verge of a double-up after winning the delayed Summit Racing ProStars final round earlier in the weekend, but Ashley Johnson put a stop to that in the Elite Top Dragster final round. Johnson used a .006 starting line advantage and a 3.842 on a 3.83 dial-in in her supercharged '13 Spitzer dragster to beat Martino. Wheeling his ProCharged Lucas '22 Maddox dragster, Martino ran a 3.885 on a 3.87 dial-in.
Kalamazoo, Michigan's own Treyton Parker knocked out touring PDRA regular Dickie Smith in the Top Dragster 16 final round to score a special home-track win. Parker was quicker off the starting line, winning with a 4.528 on a 4.50 dial-in in his '20 American dragster to Smith's 4.40 on a 4.39 dial-in in his '18 Race Tech dragster.
The next stop on the PDRA's 2023 schedule is the Red Line Oil Carolina Nationals, Sept. 14-16, at Darlington Dragway in Hartsville, South Carolina.