Two-time Switzer Dynamics Pro Nitrous world champion Tommy Franklin earned his first No. 1 qualifier award of the season Friday night at the PDRA ProFabrication DragWars at GALOT Motorsports Park. Driving his Musi-powered "Jungle Rat" '69 Camaro, Franklin recorded a 3.644-second pass at 205.63 MPH to claim the top spot as he chases a third season title.
In Menscer Motorsports Pro Street presented by Afco Racing, No. 1 qualifier Nick Agostino walked away from a crash that saw his twin-turbocharged '69 Camaro impact both walls in the third and final qualifying session. Agostino was sore, but uninjured in the incident. The crash occurred less than 20 minutes before the 11 p.m. noise curfew, so series officials set the fields in most classes. Liberty's Gears Extreme Pro Stock presented by AED Competition and the Jr. Dragster classes will run a final third session on Saturday morning.
The low qualifiers in the rest of the professional classes are Jason Harris in WS Construction Pro Boost presented by P2 Contracting and Ty-Drive, Daryl Stewart in M&M Transmission Pro 632, Meshal Al-Saber in Drag 965 Pro Nitrous Motorcycle, and Derek Mota in Afco Racing Super Street presented by Menscer Motorsports. Elijah Morton is the provisional No. 1 qualifier in Extreme Pro Stock.
The sportsman classes completed all three planned qualifying sessions, with No. 1 qualifier awards going to Bryan LaFlam in MagnaFuel Elite Top Sportsman presented by PAR Racing Engines, Frank Falter IV in Laris Motorsports Insurance Elite Top Dragster, Tim Lawrence in MagnaFuel Top Sportsman presented by Corbin's RV, and Brian Maine in Laris Motorsports Insurance Top Dragster.
The young racers who compete in the PDRA's Jr. Dragster classes continue to impress. In Coolshirt Systems Pro Jr. Dragster presented by PRP, which qualifies based on a 7.90 index, Spencer McGee recorded a 7.900 to take the provisional No. 1 spot. Reaction times set the field in Classic Graphix Top Jr. Dragster presented by PRP, and McKenna Halas went perfect with a .000 light to hold the No. 1 position going into Saturday's final session.
PRO NITROUS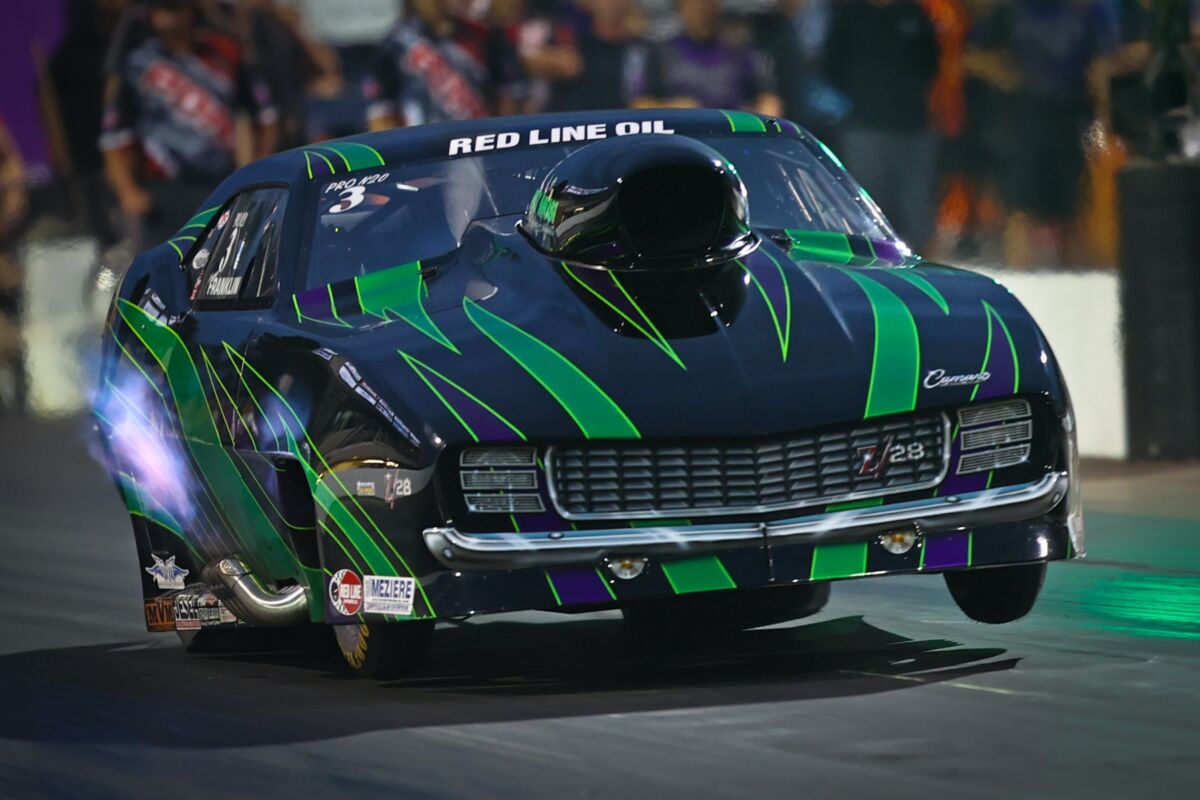 Throughout the season, two-time Pro Nitrous world champion Tommy Franklin and four-time and reigning world champion Jim Halsey have battled back and forth for No. 1 qualifier awards and race wins. Franklin won the latest battle, using a 3.644 at 205.63 to qualify No. 1 over Halsey's 3.647 at 207.15. The two drivers are on opposite sides of the ladder, creating the potential for a final round fight for the points lead going into the World Finals at Virginia Motorsports Park. Franklin in his Musi-powered "Jungle Rat" '69 Camaro is motivated to do his part to make that happen.
"All we've got to do is worry about our lane and turn on win lights," Franklin said. "But [Halsey] is a tough team, so they're going to be good. We know they're going to be there. But some way between here and Virginia, we've got to win one more round than them. We came in here with the idea that to go No. 1 would be good, but we didn't want to cost a bunch of parts to do it. We're a little bit conservative, but wanted to make good laps when we did."
Halsey's 3.647 in his Fulton-powered "Daddy Shark" '68 Camaro was good for the No. 2 spot. Local star Jay Cox, who plans to step back from driving duties after the season concludes, qualified third with a 3.667 at 205.63 in his Musi-powered Butner Construction "Pumpkin" '69 Camaro.
PRO BOOST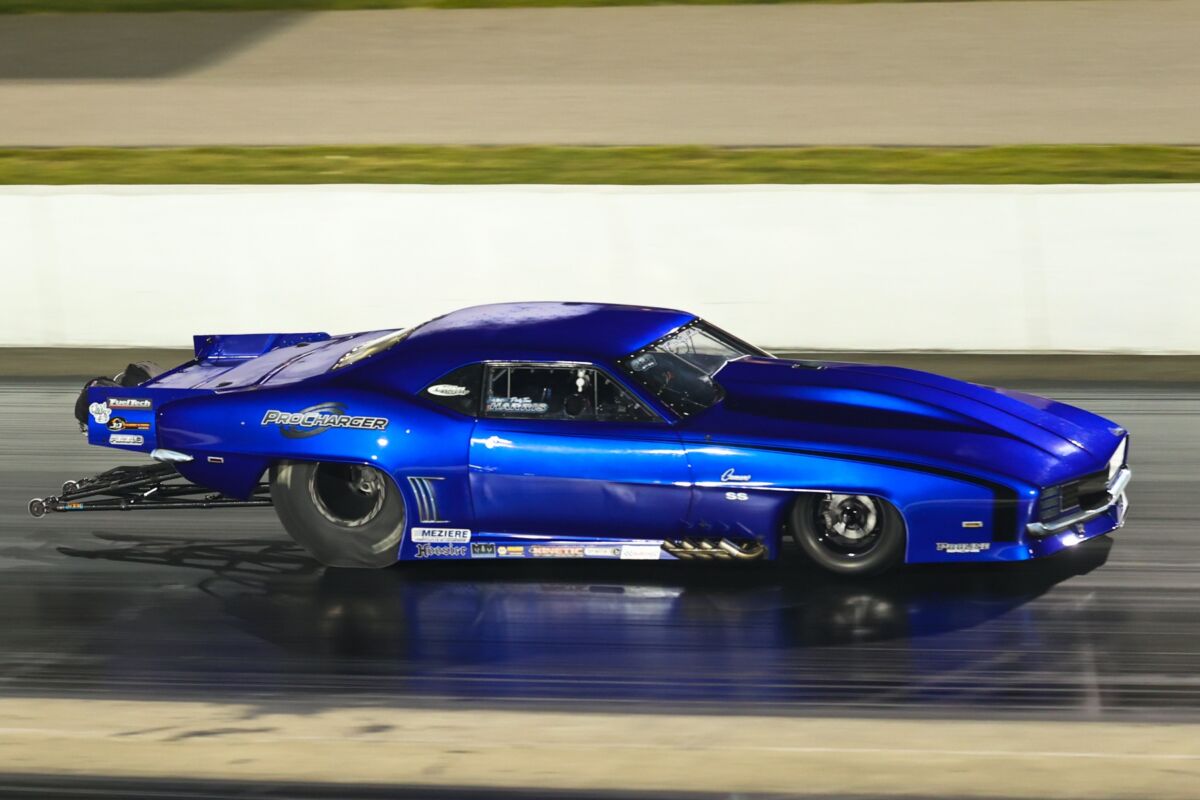 A slew of Pro Boost drivers fired off 3.60-second passes in the final qualifying session, but it was points leader Jason Harris' 3.616 at 204.82 that topped them all. It was a rebound for the two-time Pro Nitrous world champion, who dropped a valve in Thursday testing and had to swap in new cylinder heads on his ProCharged "Party Time" '69 Camaro. He made solid passes in the first two qualifying sessions, then went for it in the final session.
"Truthfully, it's a killer game out here," said Harris, who thanked partners like Hoosier Racing Tires, M&M Transmissions, and Pro Line Racing. "You gotta do what you gotta do to win, and I knew that we didn't really have anything to lose. We were already in the field. We weren't gonna get bumped out. It was either go or blow for it and just try to get No. 1. Me and Brandon [Stroud, tuner] talked about it. We put in there what we thought we could run and it ran a little bit quicker than what we thought. We were hoping for a low .62 to high .61. Everything's been killer all week, all year, and all weekend right now. Let's hope I can keep it up for tomorrow."
Kurt Steding laid down a 3.621 at 208.46 in his Todd Tutterow-tuned, screw-blown P2 Contracting '20 Camaro to qualify No. 2. Melanie Salemi, who won the season opener at GALOT in Eddie Whelan's screw-blown '19 Camaro, qualified third with a 3.622 at 206.10.
EXTREME PRO STOCK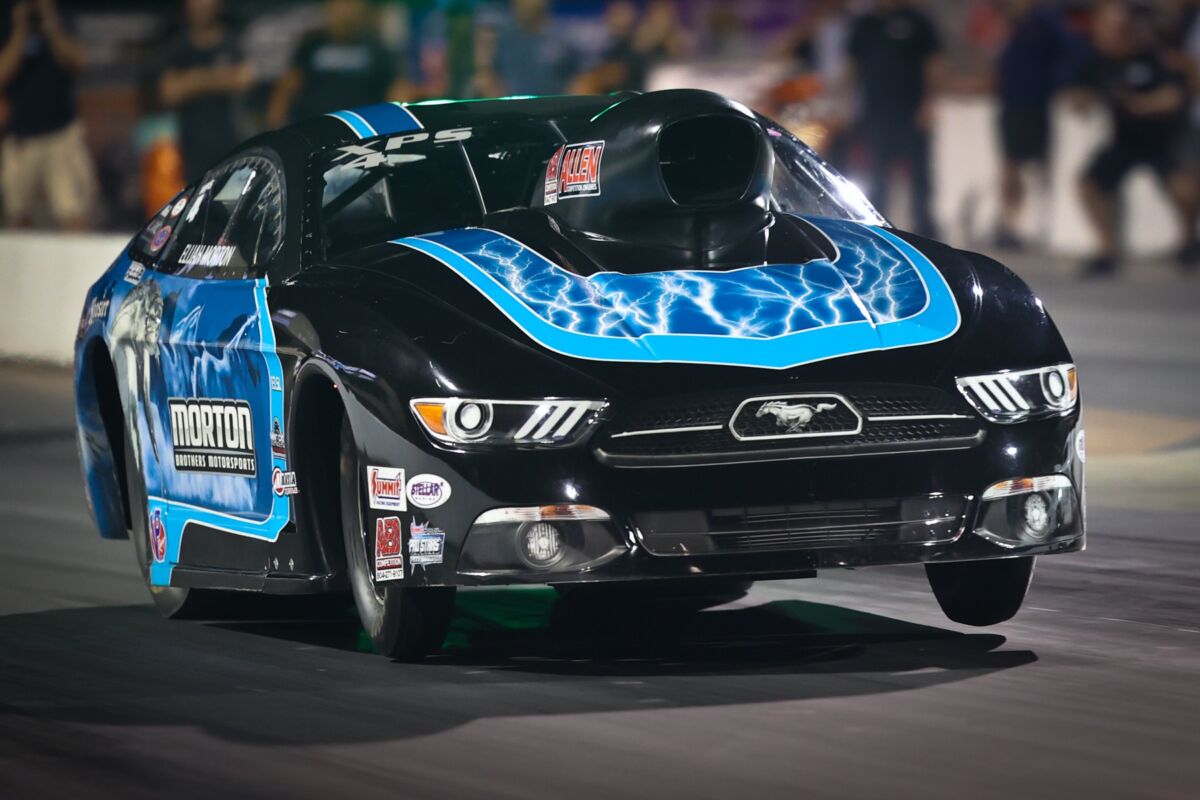 North Carolina's own Elijah Morton jumped straight to the top of the qualifying sheet in the first session when he recorded a 4.068 at 176.93 in his Allen-powered Morton Brothers Motorsports '19 Mustang. He followed that up with a 4.08 in the second session. Morton and the rest of the Extreme Pro Stock racers were in the staging lanes for their final session when racing was halted for the night. With a season-high 18 cars on the property, the class will get to run the final session on Saturday morning to solidify the 16-car field.
Rookie Alan Drinkwater, who's less than one round behind points leader and 2021 world champion Chris Powers, is second with a 4.082 at 176.79 in his Kaase-powered IronListing.com '08 Mustang. JR Carr took the Elite Motorsports-fielded Johnson's Horsepowered Garage '21 Camaro to the provisional third spot with a 4.085 at 176.86.
PRO 632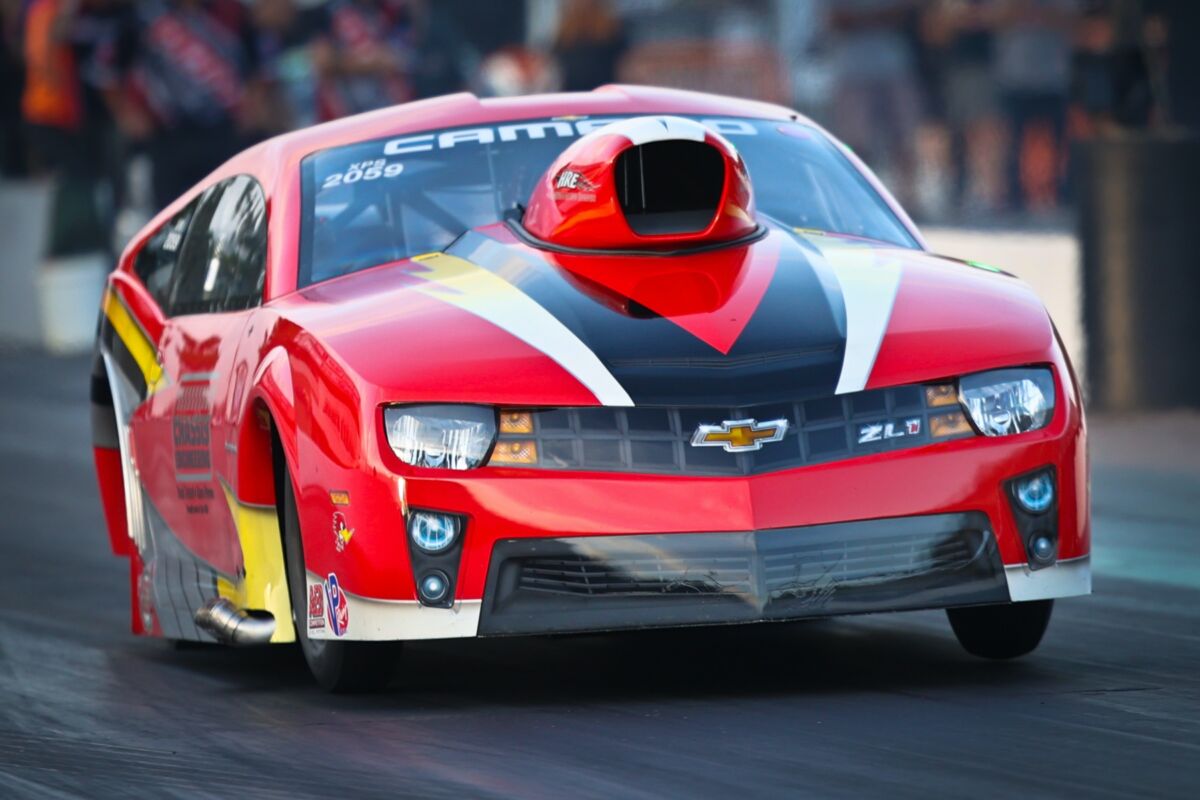 In just his second race back in Pro 632 after starting the season in Extreme Pro Stock, Daryl Stewart claimed his second consecutive No. 1 qualifier award in his nitrous-fed Chassis Engineering '12 Camaro. With Clayton Murphy calling the shots on the HRE-powered entry, Stewart recorded a 4.15 at 171.05 in the second session to take the top spot.
Reigning world champion Amber Franklin laid down a 4.17 at 169.81 in her Musi-powered "OG Jungle Rat" '69 Camaro to qualify No. 2. Points leader Jeff Melnick took a close third in Alan O'Brien's AMC small-block-powered Greenbrier Excavating & Paving '20 Camaro with a 4.171 at 169.51.
PRO NITROUS MOTORCYCLE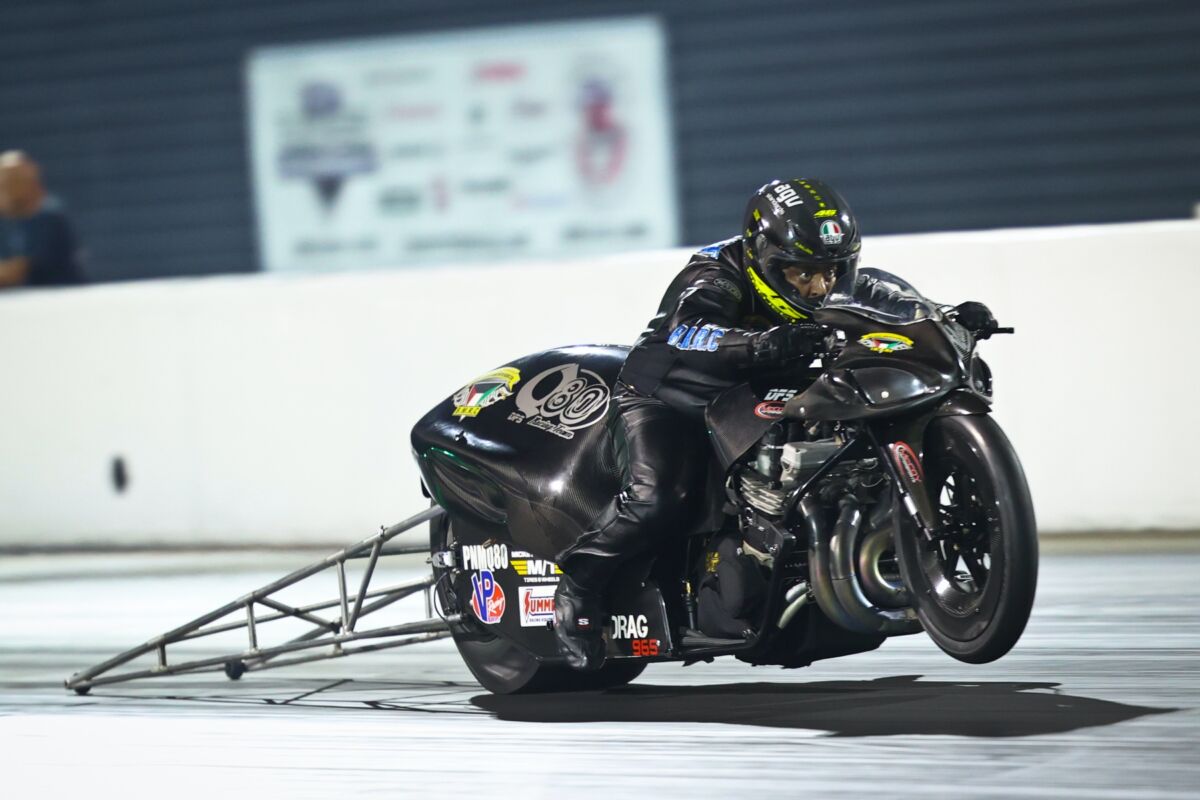 Kuwait's Meshal Al-Saber started his season as the No. 1 qualifier at the spring GALOT race. He repeated that feat on Friday night when he lit up the scoreboard with a 3.997 at 176.67 aboard the McCoy Motorsports-fielded Q80 Racing Hayabusa. Al-Saber can now turn his focus to securing his first event win of the season as he battles an eight-rider field that includes points leader and 2021 world champion Chris Garner-Jones and championship challenger Brayden Davis.
"The best guys in the world are racing here in the PDRA," said Al-Saber, who's third in points. "That's very important to me and very important for the team and my sponsors, Q80 Racing and the BMRC. I thank PDRA – they make a good race for everybody here. Everybody here is fast. I fly overseas from Kuwait 14 hours to come racing here all season. I am really, really happy about qualifying No. 1. Thank you, Brad McCoy. He makes me faster, then faster, then faster."
Garner-Jones nearly joined Al-Saber in the 3-second zone with his 4.005 at 177.98 on his T.T. Jones Racing Hayabusa to qualify second. Davis ended up third on his Timblin Chassis Hayabusa with a 4.022 at 174.82.
PRO STREET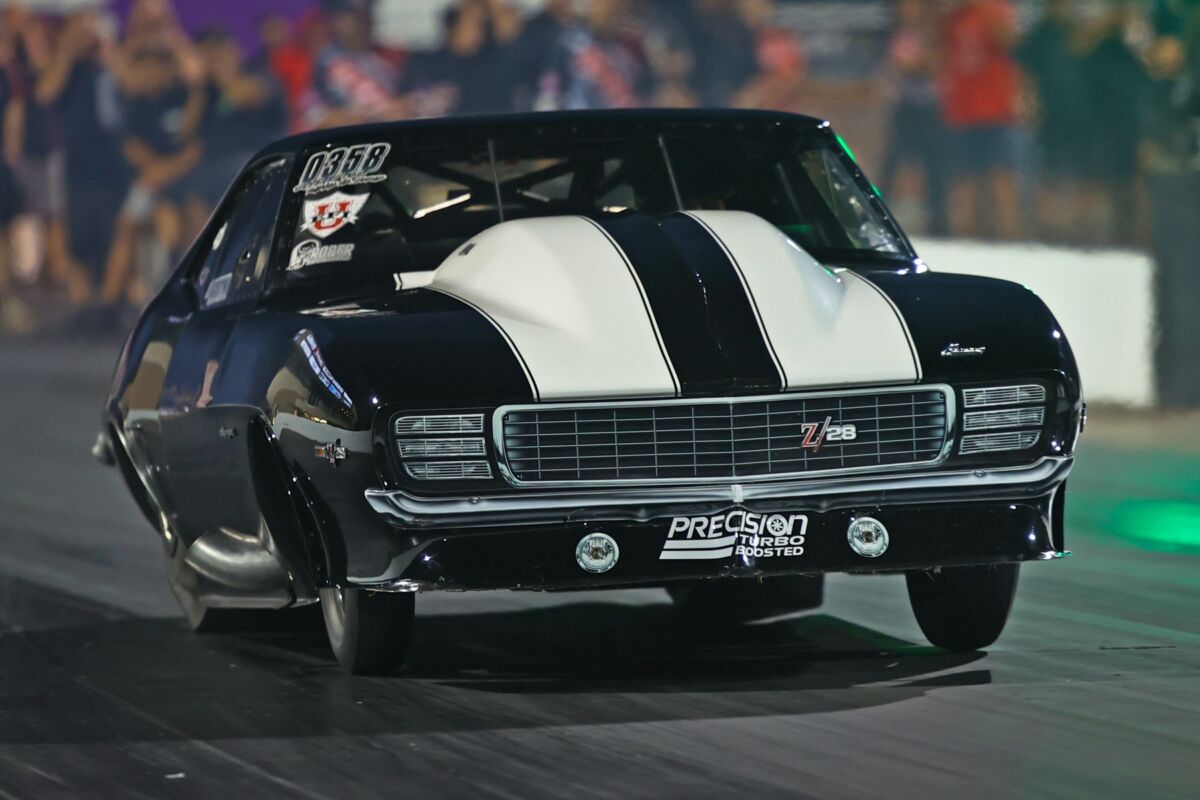 In the last pair of Pro Street's second qualifying session, Nick Agostino and Bill Lutz made what is likely the quickest side-by-side pass in the class's history, with Agostino's 3.911 topping Lutz's 3.919. Both drivers were eying record-setting passes in the 3.80s in the third session, but Agostino's tires broke loose around the 330-foot mark, sending him into the left retaining wall, then across the track into the right wall. Agostino has spent all season focusing on his early numbers, and the third session was one of his first attempts at applying more boost down-track to charge harder in the back half of the run. The result likely would've been a new class record.
"Earlier this season, we decided let's do the smart thing. Let's start the race instead of just going out and seeing how fast we can go," Agostino said. "We felt like we had a really good handle on it. That second run, we felt very comfortable. The third one, I was ready to go 3.85 or 3.86 with that."
While Agostino's twin-turbo '69 Camaro known as the "Cannoli Express" took a couple hard hits in the crash, the chassis itself wasn't too damaged. Agostino, though sore and disappointed to end a championship pursuit with a crash at the penultimate race of the season, was optimistic and already looking ahead at the rebuilding process.
"We thought we actually had a shot at it in the points race," said Agostino, who praised the PDRA's safety and tech teams, as well as his crew, fellow racers, and partners like M&M Transmission. "We had a chance to win the last two races. I had the car. We just needed to do our thing. But moving ahead, we'll take our time now, and we won't have to do anything until maybe January. We've got some time to get it apart, get it back on the jig, get it all sorted out, and come back out better than ever."
Lutz was set to make his final qualifying attempt on a single behind Agostino. His 3.919 in his screw-blown "Big Boost" '68 Camaro from the second session held up for the No. 2 spot. Points leader Bill Riddle extended his one-point lead over defending world champion Tim Essick by two points when he recorded a 3.947 at 187.78 next to Agostino, putting his roots-blown Corrigan Race Fuels '89 Camaro in the third spot.
SUPER STREET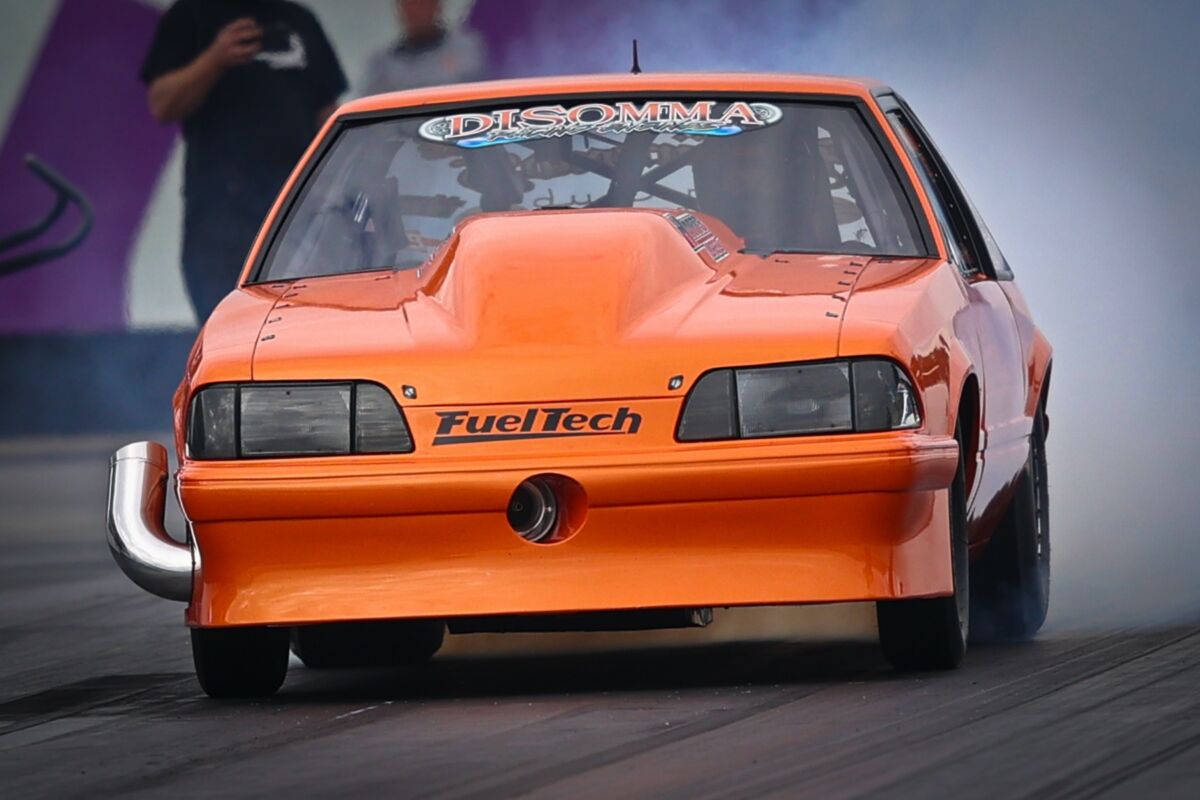 A dominant weekend at the last race on tour put season-opener winner Derek Mota back in championship contention. He went into DragWars needing another clean sweep to gain more ground on points leader Blake Denton, and he laid the groundwork for that with his first qualifying pass. He lowered his own class E.T. record with a 4.637 at 163.97, though he hurt his single-turbocharged engine and had to sit out the second session to make repairs. No one went quicker in that session, and the third session was cut, so Mota picked up his second consecutive No. 1 qualifier award.
"We're running the car hard and this is going to happen," Mota said, noting that his team had plenty of time to check over everything and make all necessary repairs for race day. "With the team I've got behind me – Jamie [Miller, tuner] and my crew guys and all the support I have from everybody here – we get it all done. We'll be out there and we're gonna give [Denton] a run for his money. Hopefully we'll make up some points this weekend. We did go No. 1 and we reset the record. We're going to claim this one as the .63. If we back it up tomorrow in eliminations, that'll be another 50 points for the championship, and hopefully we'll go into Virginia on his heels and try to come around him."
Denton qualified No. 2 in his nitrous-assisted '76 Camaro with a 4.773 at 153.46, putting him on the opposite side of the ladder from Mota. Fellow young gun Connor McGee used a 4.787 at 151.77 in his nitrous-fed '85 Mustang to reset his personal best in Super Street trim, qualifying third in the process.
TOP SPORTSMAN
Bryan LaFlam in his supercharged '67 Mustang led a pair of nitrous-assisted Camaros to pick up his second No. 1 qualifier award of the season in Elite Top Sportsman. LaFlam recorded a 3.733 in 196.56, holding off Buddy Perkinson and his 3.739 at 201.01 in his Musi-powered LAT Racing Oils '69 Camaro. Glenn Butcher took the No. 3 spot in his Albert-powered '69 Camaro with a 3.794 at 195.65.
Tim Lawrence just missed out on the 16-car Elite field, but he scored the No. 1 spot in the Top Sportsman field with a 3.979 at 184.98 in his Albert-powered '13 Camaro.
TOP DRAGSTER
Maryland's Frank Falter IV used a 3.747 at 199.26 in his supercharged "Candy Man" '20 Miller dragster to qualify on top of an Elite Top Dragster field that saw all but one of the 16 drivers post 3-second passes. Two North Carolina-based drivers, Asheville's Charles J. Careccia and Graham's Kellan Farmer, followed Falter in second and third. Careccia posted a 3.786 at 193.82 in his supercharged '96 Horton dragster, while Farmer ran a 3.826 at 189.84 in his ProCharged '20 Race Tech dragster.
Brian Maine, who was the Top Dragster No. 1 qualifier at the spring GALOT race, claimed the top spot yet again with a 4.012 at 178.71 in his '14 Miller dragster.
Qualifying at the PDRA ProFabrication DragWars at GALOT Motorsports Park will continue Saturday beginning with Jr. Dragster final qualifying at 9:30 a.m. and Edelbrock Bracket Bash presented by COMP Cams time trials at 10 a.m., followed by first round of eliminations in Top Dragster and Top Sportsman. Extreme Pro Stock will run its final qualifying session at 11:30. Pre-race ceremonies and pro eliminations will kick off at 2:45 p.m.