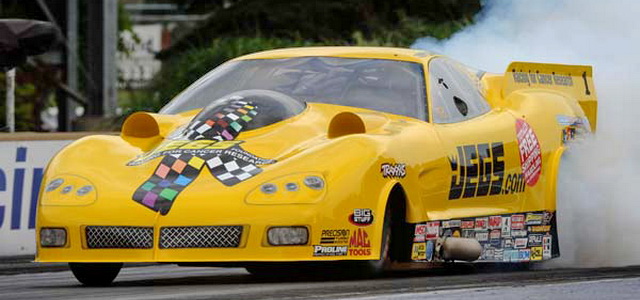 In preparation for next week's Chevrolet Performance U.S. Nationals and the remaining races on the NHRA Pro Mod schedule, defending class champion Troy Coughlin will race his JEGS.com Corvette in the NMCA Muscle Car Nationals this weekend in Norwalk, Ohio.
Coughlin sits second in the NHRA Pro Mod points standings with four races remaining this year. This weekend he hopes to perfect his tune-up in anticipation of a strong stretch run.
"It's an important time of the year," Coughlin said. "We've only got a few races left in the championship and the next race is the biggest one of them all so we wanted to make sure we had this JEGS.com Corvette ready to go."
Coughlin hasn't raced since the July 4 weekend, also at Norwalk, where he qualified third in the NHRA national event, but stumbled in the first round.
"It's been a long summer break for me," he said. "I'm anxious to drive again. We certainly haven't been sitting around. The guys at Pro Line have been hard at it trying to make us better. We've got a new suspension, and the motor has been worked on to try and make us more competitive."
Crew chief Steve Petty and the team have been working hard lately to improve the car's aerodynamics.
"We want the car to get through the air a little better," said Coughlin, who has one victory and two final-round appearances in six NHRA Pro Mod races this season,.
"The Camaro was so slick and we want the Vette to be as close to that as possible. It would be awesome to go to a wind tunnel, but since we don't have that resource the next best thing to do is test. They changed the air induction chutes on the hood to try and get more air in there, so we're also curious to see how that works out."
Coughlin is no stranger to the NMCA, having won the 2009 NMCA Pro Street world title. Winning this weekend's race would be nice, but Coughlin and the team have other priorities.
"I'm excited to see everyone up there," Coughlin said. "I haven't raced NMCA since I won the championship with them. Of course, the competitor in me wants to race this event and that's kind of the loose plan for the weekend, but if Steve says we need to change something up and test it, then that will take precedence."
(Photos courtesy JEGS; Click to enlarge)