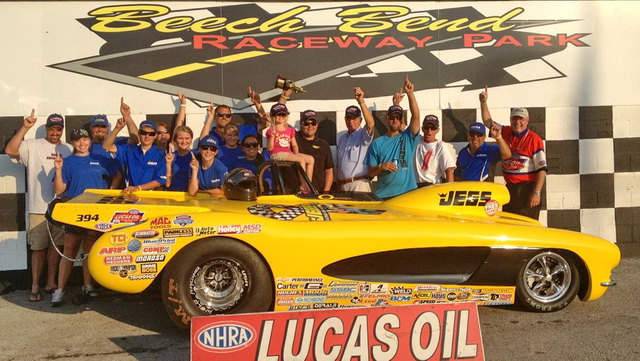 If there's a way to prepare for the rigors of racing at the U.S. Nationals, this past weekend's NHRA Division 3 race at Beech Bend Raceway Park isn't a bad choice.
After winning in Super Gas on Sunday (Aug. 25), Team JEGS driver Troy Coughlin Jr. is heading into drag racing's premier event at Indianapolis fully prepped and on a roll.
"This weekend was the marathon before the marathon," said Coughlin. "I compare this race and the divisional in Topeka to swimming in a shark tank. It's a pretty tough one."
He said with several rounds of racing it takes to reach the final, this divisional tests all of a driver's skills.
"Weekends like this become all mental," Coughlin said. "It gets real hot out. You get your first round Saturday evening then make it through six rounds until the final on Sunday evening. You just try to settle your focus on the round in front of you."
In the final, Coughlin and his JEGS.com Chevy Corvette roadster drove to a double-breakout win over Mia Tedesco. In that race, Coughlin had a .017-second reaction time, which was in the range of the lights he's been cutting all weekend. His best light was a .009, his worst was a .018.
"The car was absolutely flawless," Coughlin said. "It's a big reason why we got the Wally today. My lights were good and they could have been better. They were consistent and good when they needed to be. There's always room to improve everywhere.
"This race has a lot of history to it. Beech Bend has been hosting this race for a long time. I'm proud to win where my dad won in Super Comp in 1991."
Coughlin ran a 9.899-second lap at 166.60 mph on a 9.90-second index in the final to Tedesco's 9.875 at 172.74 mph. Although both drivers went under the target time, Coughlin won because he was closest to hitting the index.
Coughlin now has a solid lead in the division's Super Gas standings, but he's not quite ready to find space on his shelf for the championship trophy just yet.
"A couple of folks still have opportunities to get some points," he said. "Right now I've been to a couple more races than some of the guys right behind me. They'll just have to try and catch us. In this kind of racing, it's never really over until about November. If I still have a good lead after the Las Vegas points meet, I might sleep better.
"It's a neat spot to be in, and I've never been in these shoes before, but we're going to do our best to fill them."
Coughlin will now turn his attention to the NHRA U.S. Nationals where he's competing in both Super Gas and Super Comp.
"We've got a new dragster being delivered," Coughlin said. "We're going to test it here in Bowling Green on Monday and hopefully debut it in Indy."
Qualifying for the Super Comp and Super Gas classes gets under way Wednesday morning (Aug. 28) in Indianapolis.