The NHRA Pro Mod Drag Racing Series returns to Gainesville to kick off the 2013 season with the 44th annual Amalie Oil NHRA Gatornationals, Mar. 14-17, at Auto-Plus Raceway, near Gainesville, FL. This is the first of 10 races in the series and Troy Coughlin, a veteran of more than two decades of drag racing,  will experience something for the first time–pulling through the gates with a big No. 1 on his JEGS.com entry.
For the majority of the 2012 season, Coughlin drove a '68 Chevy Camaro and recorded his first series win in it at St. Louis, but when the JEGS team arrived for the final Pro Mod event of the year in Las Vegas, they made a dramatic decision to shelve that car and debut a turbocharged 2012 Corvette.
Coughlin went on to capture the Pro Mod crown in dramatic fashion, coming from third in the points , 42 markers behind Mike Castellana, to defeat Don Walsh in the final round and win the championship by a mere three points. Sunday at driver introductions in Gainesville, NHRA officials will present him with his championship ring and jacket.
"My wife Julie and the kids will all be there," Coughlin said. "My dad is coming over from his place in Boca Raton. It's his birthday weekend so that's another reason to celebrate. My brother Jeg and Samantha will be on hand. I'm sure it will be emotional. For me, it will be a very happy moment. I'm just having a blast and this is so much fun.
"I think it's really cool for the guys on the crew. They worked so hard for me last year and it's their hard work that made it happen. I tell you, these guys are special. They are so determined to defend this championship. It's all they've talked about. They're always pretty serious about our racing but they've found a way to kick it up another notch this year. They are so focused."
Coming from the back of the pack to win the championship was thrilling for the fans of the NHRA Pro Mod Drag Racing Series as they watched it shake out later in the season. And while the results came out in Coughlin's favor, the championship run was a whirlwind for him and his success wasn't truly realized until he returned to team headquarters.
"I think it really sunk in when we got back to JEGS and saw the banners and how excited everybody was," Coughlin said. "The articles and the pictures always help to bring back the emotions from that day. One of the cool things about the championship banners was that they were signed by all the people we work with at JEGS.com.
"This is an exciting moment in my career," he continued. "We won the NMCA Pro Street championship a few years back and that was very cool but to win a title in the NHRA in a category as tough as Pro Mod, well, it's special."
In the past, Coughlin has been the one taking aim at the top drivers. Now he knows the target has shifted to his back.
"I'm very familiar with the underdog role," Coughlin said with a laugh. "It will be neat to experience the other side of it. We know that everyone will be taking shots at us and that's great. We welcome the challenge.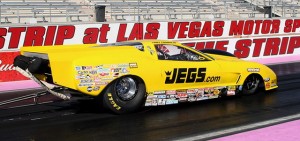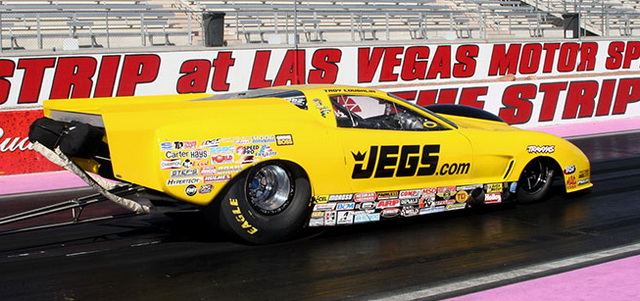 Regardless, Coughlin knows it will require a year-long effort to defend his series title.
"It's real important to get off to a great start at the season-opener in Gainesville to try and stay ahead of the game rather than trying to play catch-up for most of the season. We are as prepared as we can be; now just with a little bit of luck we can't wait until March 15 to see where we stand against one of the most competitive classes in NHRA drag racing.
"Every round is a dog-fight in this class regardless of what number is on your car. I don't know that we'll change anything that we do. We'll just line up and race. The competition should be tough from top to bottom. I think the NHRA has done a great job making the playing field as equal as possible between the turbo, nitrous and blown cars. We'll certainly find out who did their homework over the off season this weekend."
The 2013 Pro Mod Drag Racing Series will feature the quickest doorslammers from across the country as they battle for a win in one of the wildest classes in the NHRA. A mix of Camaros, Mustangs, Corvettes and Barracudas will take to the track during the course of the event. At the Amalie Oil NHRA Gatornationals fans will see past national event winners such as Mike Castellana, Danny Rowe and Brad Personett in competition on the track.
Pro Mod qualifying sessions for this year's Gatornationals are scheduled for 1:45 p.m. and 4 p.m. on Friday, Mar. 15, and at 11:30 a.m. on Mar. 16. The first round of Pro Mod eliminations begins Mar. 16, at 1:45 p.m. Pro Mod eliminations will continue and conclude on Sunday, Mar. 17.
(Photos courtesy JEGS; Click to enlarge)