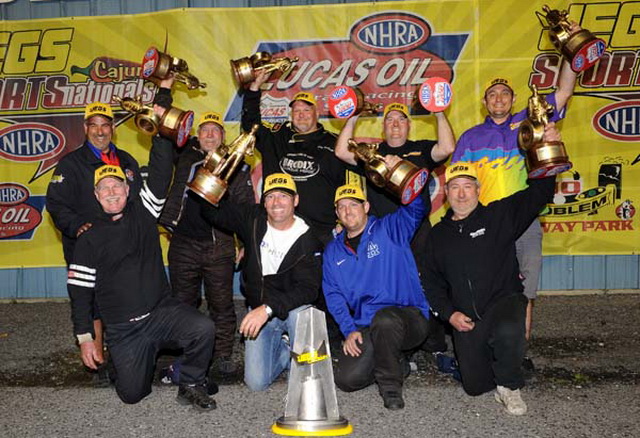 Steve Szupka (2nd from right, back row) won not once but twice Mar. 24, at the JEGS Cajun SPORTSnationals at No Problem Raceway and the NHRA Lucas Oil Drag Racing Series and Jody Simoneaux took home the trophy in the NHRA Moser Sportsman Shootout.
Szupka, of Willow Grove, Pa., became just the 15th driver in history to win in two different classes during the same NHRA national event.
Szupka beat Jim Kimbrough in the final of Comp eliminator with a pass of 8.729 seconds after Kimbrough left early with a red-light start then came back around to face Austin Williams in Stock eliminator. Szupka, driving an '85 Camaro, got the starting-line advantage and held on for the win and the double running 11.300 at 114.66 mph. Williams, of Burleson, Texas, went 10.923, 118.06 in his '72 Duster.
Simoneaux, of Napoleonville, La., worked his way through the field in the Moser Sportsman Shootout (a race with-in a race) in his '99 Firebird before meeting up with John Salter, of Katy, Texas. Simoneaux clocked in at 6.168, 106.46 mph for the win as Salter went red on the starting line.
P J Vicari joined Simoneaux as home state winners grabbing the trophy in the division's Sunset Racecraft Top Dragster class at 195.51 mph in 6.611 seconds beating No. 1 qualifier Michael Kile, of Westlake, La. Kile went 6.361 at 202 mph in his losing effort.
Ryan Herem made his trip out from California worth the haul winning in Super Gas over Jim Perry. The pair had identical reaction times with Herem, Quartz Hill, Calif., running 9.932 seconds in his '63 Corvette to win by 0. 
006 of a second.
Former JEGS Cajun SPORTSnationals winner Anthony Bertozzi, Ashland, Va., repeated his performance from a year ago when he won in Top Dragster to win in Super Stock against Gilbert Johnson, Lecompte, La. Bertozzi went 8.742 seconds at 147.92 for the win.
Other racers visiting the winner's circle this weekend were Greg Brotherton, Mena, Ark., over Dan Foley in Super Comp; Ray Dew, League City, Texas, beat Bart Nelson in Super Street; Allen Firestone won in Top Sportsman against Chris Arnold; and Mike Voss from Maplewood, Minn., downed former Pro Stock Motorcycle racer Craig Treble in Sportsman Motorcycle presented by Harley Davidson.
Photo courtesy JEGS/Dave Kommel)
Final results from the JEGS NHRA Cajun SPORTSnationals at No Problem Raceway:
COMP ELIMINATOR
Steve Szupka, Willow Grove, Pa., 8.729 seconds, 116.38 def.
Jim Kimbrough, Pace, Fla.,21.016, 52.46
SUPER STOCK
Anthony Bertozzi, Ashland, Va., 8.742, 147.92 def.
Gilbert Johnson, Lecompte, La., 10.102, 120.97
STOCK ELIMINATOR
Steve Szupka, Willow Grove, Pa., 11.300, 114.66 def.
Austin Williams, Burleson, Texas, 10.923, 118.06
SUPER COMP
Greg Brotherton, Mena, Ark., 8.926, 176.01 def.
Dan Foley, McKinney, Texas, 8.959, 159.42
SUPER GAS
Ryan Herem, Quartz Hill, Calif., 9.932, 160.04 def.
Jim Perry, Niota, Tenn., 9.938, 158.00
SUPER STREET
Ray Dew, League City, Texas, 10.908, 139.92 def.
Bart Nelson, La Porte, Texas, 10.917, 131.68
TOP DRAGSTER
PJ Vicari, Marrero, La., 6.611, 198.09 def.
Michael Kile, Westlake, La., 6.361, 202.00
TOP SPORTSMAN
Allen Firestone, Velma, Okla., 6.839, 198.09 def.
Chris Arnold, Mont Belview, Texas, 7.172, 185.43
SPORTSMAN MOTORCYCLE
Mike Voss, Maplewood, Minn., 8.900, 144.24 def.
Craig Treble, Harvey, La., 8.512, 154.39
MOSER SPORTSMAN SHOOTOUT
Jody Simoneaux, Napoleonville, La., 6.268, 106.46 def.
John Salter, Katy, Texas, 7.208, 95.07