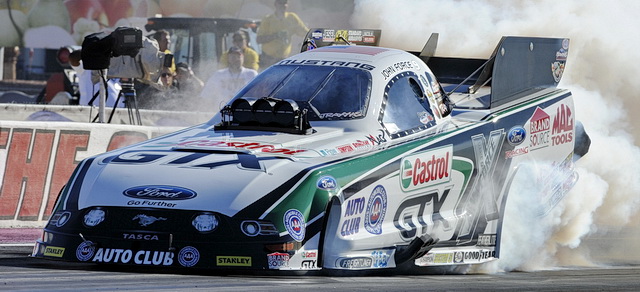 John Force secured an unprecedented 16th NHRA Funny Car championship Oct. 27, by winning the 13th annual Toyota NHRA Nationals at The Strip at Las Vegas Motor Speedway.
The winningest driver in NHRA history is also the only driver to have won NHRA championships with every major series sponsor from Winston to POWERade to Full Throttle and now Mello Yello, capping his championship day with career win number 138 by defeating his daughter Courtney for the first time in a final round to clinch the 2013 Mello Yello Funny Car championship.
It was Force's third win in a row and fourth final in a row. The last time Force won three in row was 2005 and it was the 15th time Force has achieved this feat. As the No. 1 qualifier Force had to outrun Gary Densham, Del Worsham, Alexis DeJoria and Courtney Force in the final.
The semi-final race had the most drama for Force as DeJoria's Patron Tequila Toyota Funny Car smoked the tires and then Force's Castrol GTX Ford Mustang lost traction. Force pedaled his 10,000 hp Funny Car numerous times sashaying down the right lane, but getting the win light with a time of 5.865 seconds.
"I didn't see her run. She must have gone up in smoke early. As much trouble as I was in only running five seconds. I almost hit the wall twice. It was like me and Cruz (Pedregon) in 1992, except then I hit the wall three times.
"There I was going sideways. I was hitting it (the throttle) again and then I was off it and then I would hit is again. I am thinking she is out there. You don't want to think about it. If you look over you might drive over and she will run over you. She must have gone up on smoke bad and it took too much time to recover it."
Regardless, Force praised DeJoria for her effort and what she means to the future of the sport.
"The biggest thing is she is just a great kid. What is cool is she is the future with my daughter and these young drivers," said Force, who lost lane choice to Courtney for the final round. Once there, Force and his Jimmy Prock-tuned Mustang blasted straight down their lane with a winning elapsed time of 4.062 seconds to Courtney's 4.085-seconds effort.
"Jimmy Prock is unbelievable. The team he has around him is awesome. I used to race against his dad, Tom, who ran the Tom and Jerry Funny Car and the Detroit Tiger. He and Danny DeGennaro got the job done. Look at how those cars run side by side. If there is anything I have done right is putting together this team effort. We pulled together when it looked like we were falling apart," Force said. "I read an article this morning about being humble, but after a day like today I would like to say it was me," Force joked in the track's media center.
"I have great companies with me and they allow me do this. We won them a championship. We got a Mello Yello championship but next year I am going to try and win again. We are strong with Auto Club with Robert (Hight) and Traxxas with Courtney," he continued.
"My luck just turned around in a year when I needed it to sell corporate America. I remember Dale Earnhardt used to say 'I'll do the winning and you marketing guys sell me.' I never had the nerve to say that but that guy was a winner so he could do it. I have had luck on my side the last three races."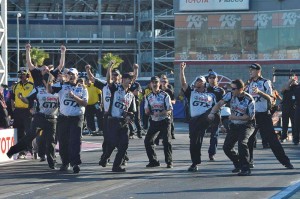 Force was led to victory by an outstanding team effort with crew chiefs Prock and DeGennaro. Prock became the third Funny Car crew chief to win NHRA Funny Car championships with two different drivers (Robert Hight and Force). He joins Austin Coil (Frank Hawley and Force) along with Mike Neff (Gary Scelzi and Force) as a multiple winner. The unassuming Prock was thrilled with the outcome, but deferred credit to his entire team.
"It felt great to see that win light come on and know we had clinched the championship. It was an awesome feeling to be able to get John another championship. He is the greatest drag racer ever. It is just a great feeling. We were down for a while but we worked hard and we stuck together. We got rewarded for it," Prock said.
"Most of these guys that are working on this Funny Car have been here since 2005. We have been through the ups and downs. Everybody hung in there and we worked together. They work really hard at what they do. This is a tough gig working on one of these race cars. Your heart and soul goes into them to be good at it. When you can win it is a great feeling."
(Photos courtesy NHRA/National Dragster; JFR/Lewis; Click to enlarge)