It's a warm, summer day at Chicago's O'Hare International Airport. NHRA Top Alcohol Funny Car star Jonnie Lindberg is fresh off of a nine-hour direct flight from Stockholm, Sweden, yet his journey to the next race has only just begun. Lindberg, 26, will drive three hours to pick up his race rig in Brownsburg, Indiana, before continuing on to Kansas for an NHRA regional event at Heartland Park Topeka. This might seem like a ridiculously grueling travel schedule just to attend a points race—and it is—but it's just another day in the life of the quickest and fastest alcohol Funny Car driver in the world.
"It's a lot of traveling, of course," Lindberg says. "It's a lot of expenses, too. All of our crew guys, they have regular jobs, so they take off from work to come over with us to race. We do it as a hobby. We don't have any paid crew, so I'm really thankful for them. It's a lot of planning because my brother is also racing in Europe."
Jonnie and his brother, Johan, are still somewhat new to the NHRA scene, but they're no strangers to the world of blown alcohol drag racing. The Swedish brothers competed in FIA's Pro Mod and Top Methanol Funny Car classes with considerable success, including back-to-back TM/FC championships in 2013-2014, first with Jonnie behind the wheel, then with Johan driving and Jonnie turning the wrenches. It was during Jonnie's championship season that he recorded a 5.425 elapsed time, a European record just .015 away from the NHRA record, held at the time by Frank Manzo.
The car was running in NHRA-legal trim, but the legitimacy of Lindberg's run was questioned by some stateside critics. That prompted the strong-willed driver/tuner to bring his talents to the United States, not just to prove the critics wrong, but also to compete against the best drivers and teams in the world.
"It's so much fun over here," Lindberg exclaimed. "There are a lot of fast cars and fast competition. Back at home right now there are only five cars entered to race at Sweden. There were only three cars at the Germany race. We skipped Germany with my brother's car because there's no competition in Europe anymore. We go 5.5s and the rest of the field goes 5.8s and 5.9s. It's more fun to race in the U.S. You always need to be on your A-game to win rounds."
After using 2014 to get accustomed to the nuances of America's race tracks, it's safe to say Jonnie is definitely on his A-game this year. Though he reached the finals at the Four-Wide Nationals and semifinals at the U.S. Nationals last year, 2015 is Jonnie's year. He fired off mid- to low-5.4-second runs in three of the four elimination rounds to win the season-opening Winternationals, his first NHRA event win. He nabbed the speed world record from Manzo at the Gatornationals, screaming through the traps at 268.71 mph during qualifying.
That mark was blown out of the water at the Four-Wide race in Charlotte just a couple weeks later. In the first qualifying session, Lindberg pedaled to a 5.473 at 270.10, and then stunned his fans and critics alike with a flawless 5.361 ET at 272.01 mph on the next pass. A 5.381 at 270.64 mph in the second round of eliminations was more than enough to back up the 5.36 for a new national record. He concluded with a 5.406 at 269.94-mph lap to win the final round against defending world champion Steve Harker.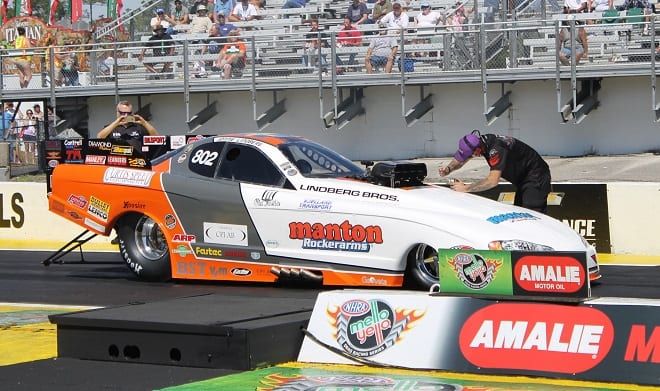 "It felt really good in Charlotte, and even in Pomona when I won there. It took a while for me to get used to the tracks over here; they're different than the tracks in Europe. They're prepped differently," Lindberg said.
"We started doing better at the end of last year; then it really started to pay off at Pomona this year. I did my homework and did a lot of thinking during the off-season. When we ran the thirty-six in Charlotte, that was the best feeling in the world. Now everybody knows how well we can actually run. I ran a 5.42 in Europe and a lot of guys didn't believe it, so it was nice to prove myself over here."
Less than two years into his American racing venture, Lindberg has already accomplished most of the goals he set when he came to the States and purchased a rolling chassis and body from Manzo. There is one title left to add to his résumé, though, and it's one held by just six drivers over the last 20 years: NHRA Top Alcohol Funny Car World Champion. Based on past performance, it's not too difficult to picture Lindberg as the lucky seventh.
This story originally appeared in DI 101 – The Sportsman Issue.