Each Monday, millions of people around the world tune in to watch Street Outlaw's Justin "Big Chief" Shearer dominate the streets of Oklahoma City. On the show, he's depicted as a super cool, super confident street racing god. In real life, though, Shearer's actually pretty humble and even a little nervous as he gears up to make his first on-track radial tire racing debut at Tyler Crossnoe's Outlaw Street Car Reunion II event at Memphis International Raceway in Millington, TN on March 27-28, 2015.
Making the switch from the dimly lit, rural roads he frequents with his street racing crew to the bright lights and packed grandstands of a high-profile, sanctioned drag race is quite a daunting change for Shearer. "I'm excited, but I'm super nervous, too," confides Shearer, whose ascension to fame hasn't been all glory and admiration. "Millions of people all have their fingers crossed for me to trip on my dick. They all want me to face plant and fail, and that's really tough. It sucks to have so many people who want me to f*#& up."
Not one to let the negativity stop him, Shearer plans to paste a smile on his face and go into the race with a positive attitude. He doesn't expect to win, but he definitely expects to have fun. "I've always loved racing, and I can't win if my name's not in the hat. I just want to prove that, for every idiot who has posted on Facebook 'put 275s on' or 'put radials on' or 'your car is slow', that I can run on any tire on any surface – I'm a racer just like anyone else," he adds.
In preparation for the big event, and to ensure The Crow is running well, Shearer put almost a dozen test passes on the car. Surprisingly, he doesn't have any big-name radial tire racers helping him out – just Shawn "Murder Nova" Ellington and his buddies from Midwest Street Cars. "We get some support from the guys at FuelTech when we have software issues or whatever," he says, and jokes about how Keith Berry gave him all the oral support he needed. "He laughed at us every time we screwed up and helped keep things light. When I would only make it ten feet down the track and get mad, he'd say 'Man, that was a great pass!' He didn't give us one technical idea, but he was a hell of a good time."
Truthfully, Shearer admits that "everything you could imagine went wrong with the car in the past two days." He happily admits, though, he was finally able to make a solid hit to about 500-feet without burning up any parts which resulted in a 4.702 at 164 mph time slip. "We're pretty excited, considering it's just my old car. If we can make some changes, I think we'll qualify mid-pack or in the top-half at Memphis," he states of his expectations for his Outlaw 275 competition. "Once I'm in the waterbox I should be okay, unless something goes wrong and I have to get out… then everyone will laugh at me," he says, noting that nerves are a big concern.
It lives! And is burning the stinky stuff. Chief was crying in the cockpit. He said the M5 fuel didn't bother him, they were tears of joy!

Posted by Rodney Butler on Monday, March 16, 2015
Sporting a fresh white paintjob, Shearer's sleek '72 Pontiac Lemans (known to fans as "The Crow") houses a no-nonsense, traditional 482 CI Pontiac engine with machine work compliments of Butler Performance. Shearer usually builds his own motors, but the busy TV star simply didn't have time to get things done before the upcoming race and therefore asked Rodney Butler do the honors this time around. On its last trip to the chassis dyno, The Crow produced 1,900+ wheel horsepower thanks to a pair of Precision PT8891 CEA® turbochargers running at 30 psi. "When we push it to 44-50 psi on the track, it's going to be full retard," Shearer says with a laugh as he quotes the movie Tropic Thunder.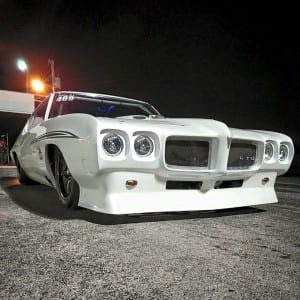 Switching from the big, slick tires he's so comfortable with running on the street to the smaller tire used for radial racing has also been a little tricky for Shearer to get used to. "Oh my God! There are so many challenges! On the street, the big tire is super easy because it's not about every little detail in the power management and tune up and all that, it's more about suspension setup and everything else. Now, going to the track with the 275s on, we have to completely relearn everything we've ever done before. Everything on my car is wrong for running on radials, I shouldn't even be trying this!" he laughs, well aware that things may not go exactly as planned at the upcoming race.
For Shearer, perhaps an even bigger challenge than swapping to radial tires is the overwhelming task of not letting his fans and supporters down. "I'm scared to death of that," he reveals. "That's the one part I didn't think through enough for this race, because in one way or another, I'm going to disappoint so many people. I know there will be people who want to see me do good, and if I don't, that'll disappoint them. Or, I'll be busy working on the car, and they'll have to wait in a super long line for pictures, and that'll disappoint them, too. Or if I'm dirty and smell like gear oil and trans fluid, that might let them down. I'm not the kind of guy who wants to rope off my pit and hide in the trailer – I don't even have a trailer to hide in!" says Shearer, who faces the problem of being damned if he does, and damned if he doesn't.
"When there are drunk guys setting beer cans down on your car, and people trying to get in your computer and look at what you're doing, you really want to get mad, but you can't because they think they know you… I just have to stand there and be nice, and it's hard," states Shearer. Unfortunately and unintentionally, he often winds up having to be the bad guy when he has no choice but to ask attention-seeking fans for a little space and privacy so that he can focus on getting The Crow ready for its next hit.
It will undoubtedly be a balancing act of making sure he can focus on his car and racing performance, as well as making time to be available to fans. Seeing children waiting on him is especially hard on Shearer. "My kids can't stand anywhere for more than five minutes, but these guys are waiting on me. I feel like Santa Claus. It's crazy!"
No matter what happens at the Outlaw Street Car Reunion II race, Shearer's already hooked on small tire racing and is hoping to add a few more high-level events to his crazy busy schedule this season. "I've always been a small tire guy at heart," he admits. "On the street, I just want to win and will do whatever it takes which is why I run the big tires, but on the track, the challenges and the rollercoaster ride of the small tire is what keeps me there. They say a gambler isn't addicted to gambling, he's addicted to the thought of losing it all. Small tire racing is kind of the same. If everything goes well, it gets boring. But when you let off that button, if the car smokes the tires, you'll lose." If the timing works out right, fans can expect to see Shearer and The Crow run Outlaw 275 at the Outlaw Radial Shootout II event at Shadyside Dragway in North Carolina, Donald "Duck" Long's No Mercy 6 race at South Georgia Motorsports Park in September, and a few others.
Regarding the tuning differences between big tires on the street and radial tires on the track, Shearer's says he's learned more in the past two days than in the last seventeen years with The Crow and is looking forward to translating that newfound knowledge to get ahead when he gets back to the street.
Once he does make it back to the street, though, Shearer's not worried in the least about being able to get races lined up once his car's performance capabilities and ET numbers are publicly available. "Two years ago, it may have made it tough to get races. But now, everyone wants to race us and I don't think this will change things," he candidly says of how so many people will be looking to defeat the Goliath. "It may hurt some of the radial guys feelings a little, though, since some dumbass Oklahoma rednecks can do decent on radials their first time out!"
The one thing Shearer is most looking forward to about making his radial tire racing debut in Memphis at the Outlaw Street Car Reunion II race isn't the fanfare, or the possibility of winning – it's simply racing with and against the guys he's grown to respect over the years. "To get my car on Free Life Films' YouTube channel would be so cool. My son is a YouTube fanatic for drag radial and loves guys like Little Evil [David Pearson] and the Golden Gorilla [DeWayne Mills]. For my son to see me racing with those guys on YouTube, well, he'd just freak out. Hell, I'll probably draw Pearson in the first round anyway and my son will have to root for him against his old man. I asked him what he'd do if that happened and he said, 'sorry dad, you'll probably get beat.' Well, at least he's honest!"
From the street to the strip, Shearer's larger than life yet down to earth personality has made him a likeable figure in racing. Both his fans and his fellow racers will surely be there to cheer him on – and welcome him with open arms – as he steps into the world of radial tire racing.