When Justin Keith and Chase Lautenbach started Street Car Takeover ten years ago, they filled a large void among racers and fans – relatable cars that could be driven around town during the week, while tearing up the drag strip on the weekend. That original vision is still on display, perhaps now more than ever.
"We're trying to give them a big stage to play on," says Keith. "A good track, good surface, good payout – but just keeping it street car stuff. In my opinion, Street Car Takeover is the future of where drag racing is going. It's the racers that will be racing for years down the road."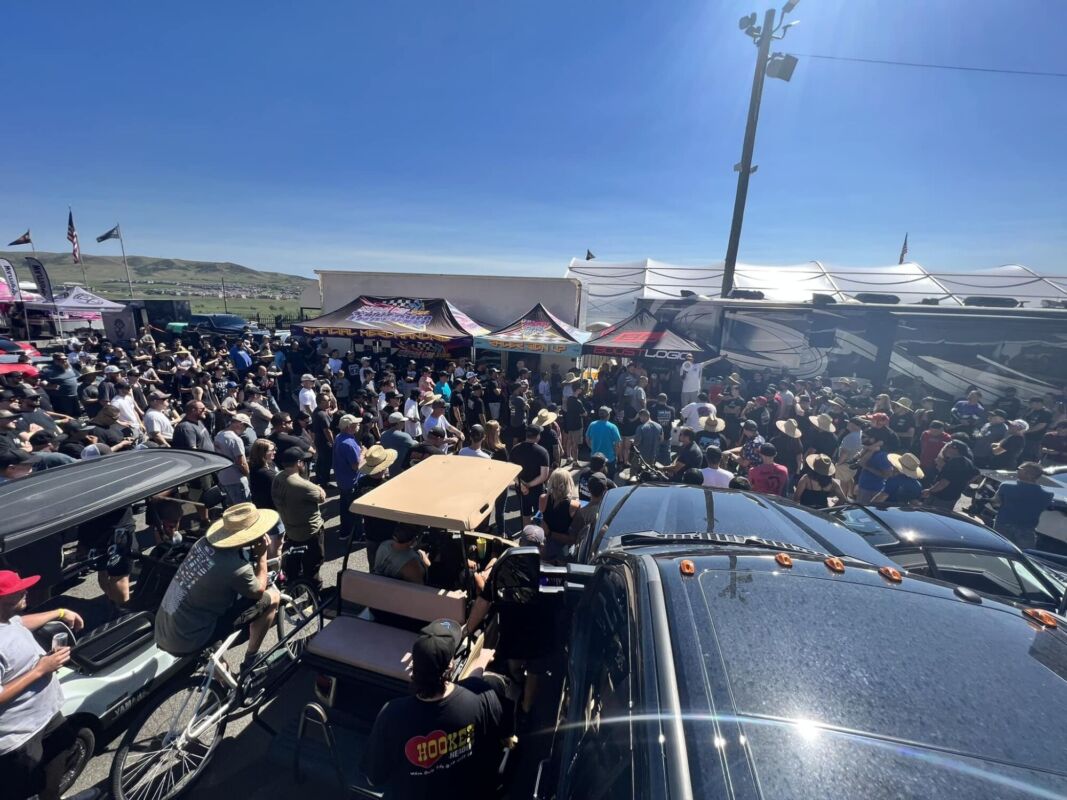 Packed drivers' meeting at Street Car Takeover Denver
Much of the appeal can be attributed to the fact that nearly everyone can participate at SCT. Keith and Lautenbach have set up an inclusive variety of classes, allowing both seasoned veterans and newcomers to the sport an equal opportunity to race for cash and trophies.
"You can go to the dealership and buy a brand new Mustang GT and come out and race one of our classes without doing a damn thing to the car," Keith says. "The slowest class we have is a 12.00 index, which is super popular. Pretty much every late-model car you can buy right now will run low to mid-12s. You got freakin' Raptor trucks running 12.40's out of the box."
Another key aspect of SCT is its ability to give everyone unique opportunities that don't exist in other sanctioning bodies. One of the biggest of these is roll racing, which Keith says has really taken off in recent years. Not only have they experienced great racer participation, but also an influx of new fans that might not ordinarily come out to the track.
"In Denver, we were sold out of roll racing," says Keith. "We almost had racers oozing out of the pits because we couldn't fit anymore. The roll racing really brings in a lot of those cars you see on YouTube racing down the highway, and you can actually see them in person racing down the track."
The duo shows no sign of slowing down, either, with even more big plans on the horizon. SCT will host its first-ever event at Atlanta Motor Speedway September 22-23, featuring pit road drag racing, a burnout pit, and a huge car show. Keith even hints that there's potential for roll racing on the backstretch in the future.
"We're basically wanting to make it an automotive festival," Keith says. "We want to build our brand to where it's not just drag racing. We want to expand it. We're just trying to figure out what would we want to do? What sounds cool to us? And that's been our formula that's worked the last ten years."
Keith and Lautenbach aren't afraid to walk the walk, either, as both routinely compete at their own events. Keith drives his 2019 Chevy Camaro, which he says is the "fastest 6th gen in the world." Weighing 3900 lbs. and sporting twin turbos, the car runs 7.50's at 180 mph in the quarter-mile. But the key for him is what happens when he's not at the track.
"I could hop in my car right now and drive it around all day," Keith says. "I'll run my errands in it. There'll be weeks where I drive it to and from work, 30 minutes each way. I don't have to worry about it overheating. It's got factory seats, stereo, heat, everything."
But Keith also defends racers trailering their cars to SCT. He hears the naysayers and sees the comments online, arguing that true street cars should be driven to and from events. However, he believes that using the tools at his disposal doesn't negate his car's "street" status but is simply common sense.
"There's nothing wrong with the guy that wants to drive his car to the track," says Keith. "But am I going to trailer my car seven hours to go race? You bet your ass I am. Because if something does break, you don't want to be stuck seven hours away with no way to get it back home. If I can put it on a trailer and take it to a race, that doesn't mean it's not a street car. The whole trailer thing is a dumb argument."
Regardless of how they get there, however, it's clear that SCT isn't slowing down any time soon. With 600 racers and 5,000 spectators on hand at their most recent event in Denver, it's clear there is a high demand for relatable, fast street cars. And Keith and Lautenbach plan to continue feeding that demand well into the future.
"It all comes back to what people like to see," says Keith. "People like to see no prep racing, they like to watch street car racing, and they like to watch small tire stuff. At the end of the day, you've got to cater to your spectators. We are street cars. That's what we do. That is our brand. We are Street Car Takeover."