The first thing I noticed upon entering the premises of Carolina Dragway for Street Car Braggin Rights was the amount of detail Nate Prater and the Braggin Rights crew put into holding this event. Braggin Rights is just starting, with 2023 being its second year, but Ron Mowen, owner of Vengeance Racing, saw potential in the event and came on board as a partner. The most impressive thing was the trophies given to the winners; essentially, they were Wallys, just like in a sanctioned NHRA event. Aside from that, all-access VIP passes were available for purchase; these gave guests access to the trackside hospitality tent, which had free refreshments and two excellent food truck meals with various menu options.
Braggin Rights offered many classes plus test and tune. The classes included the Drag Illustrated Small Tire Shootout, a Street Car Shootout, Sophie Fox's class of Women & Wheels, Front Wheel Drive Shootout, All Motor, Stick Shift, Wild Street, Battle of The Heavy Weights, and Run What You Brung. On top of all that, there was some golf cart racing and a full car show display.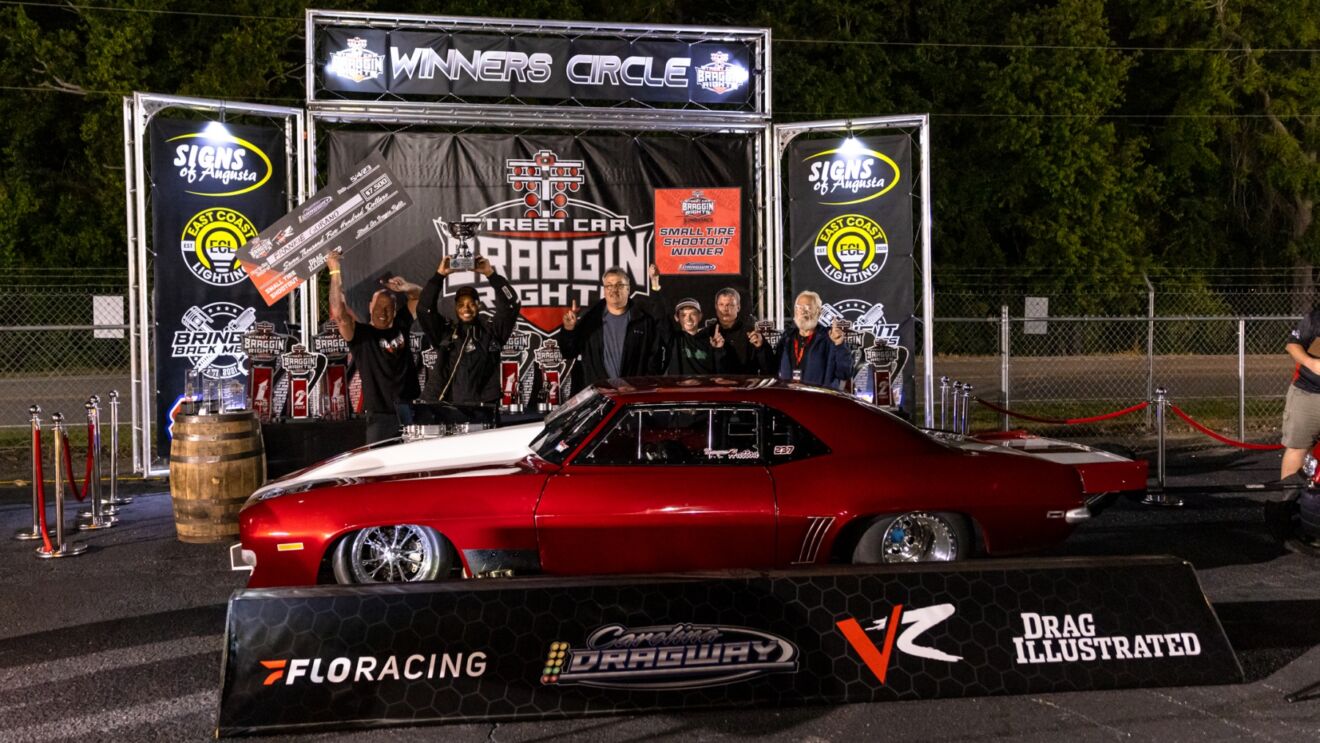 The Drag Illustrated Small Tire Shootout went off without a hitch Thursday night and had some time allowed for test-and-tune in between rounds. Fourteen of the baddest small-tire no-time cars came out to support the event to battle it out for the $10,000 and Wally. Carolina Dragway is known as "The House Of Hook" for good reason; track prep guru Jerry Hall had the track on kill for these guys all night. Of course, the locals have their favorites, such as Jamie "Triggaman" Hawes. Still, ultimately the man of the night was Marques Hatton piloting the nitrous-fed first-gen Camaro owned by Frankie Gurano, taking the victory over Phillip Usry by red light.
Friday brought more test-and-tune as well as round one of qualifying. The schedule had planned for two rounds and to have the Street Car Shootout almost completed, but Mother Nature had other plans, putting us on a rain day for the evening.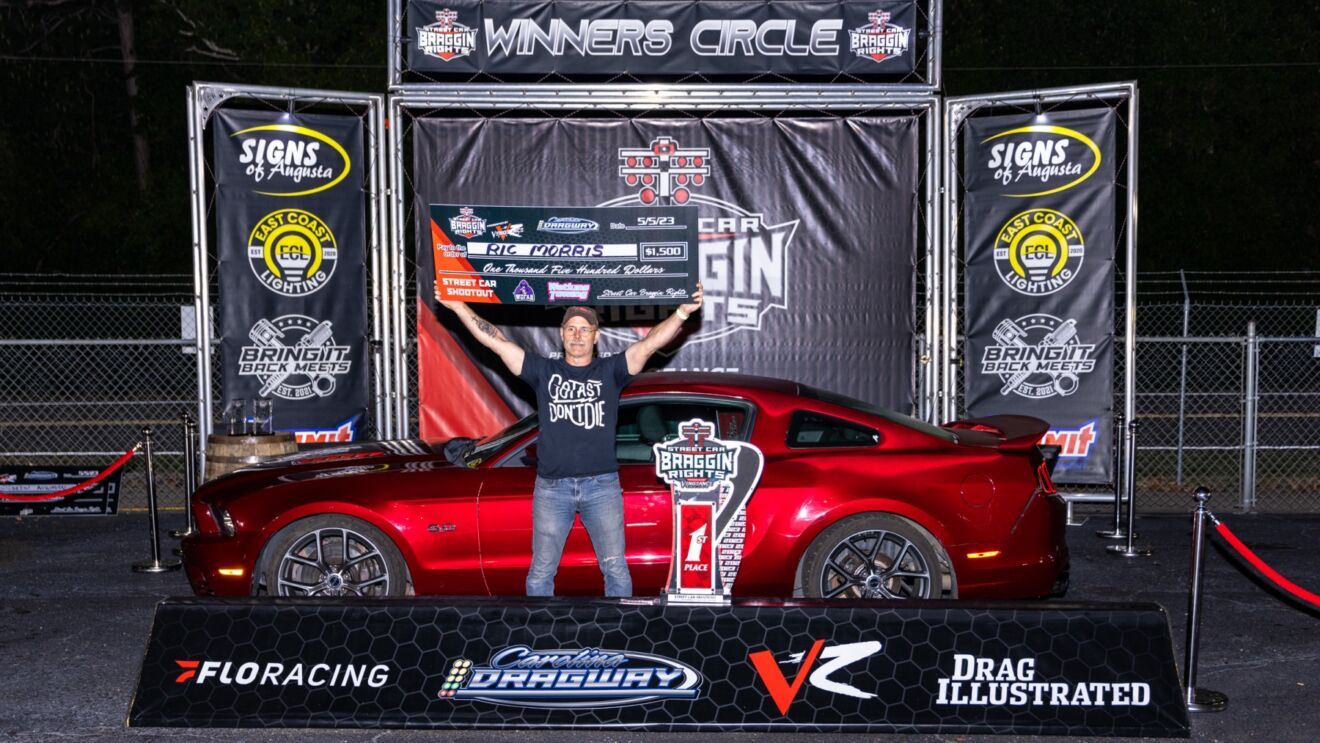 Saturday's plan cut out test-and-tune so that we could get the Street Car Shootout finished. Ric Morris's stick-shifted 2014 Mustang proved victorious over Chris Parisi in his '20 Mustang. Doing so allowed the remaining class racers time to get two more qualifying rounds before eliminations Saturday evening. Even with a few oildowns, the crew got the show back on schedule with the help of Carolina Dragway's staff.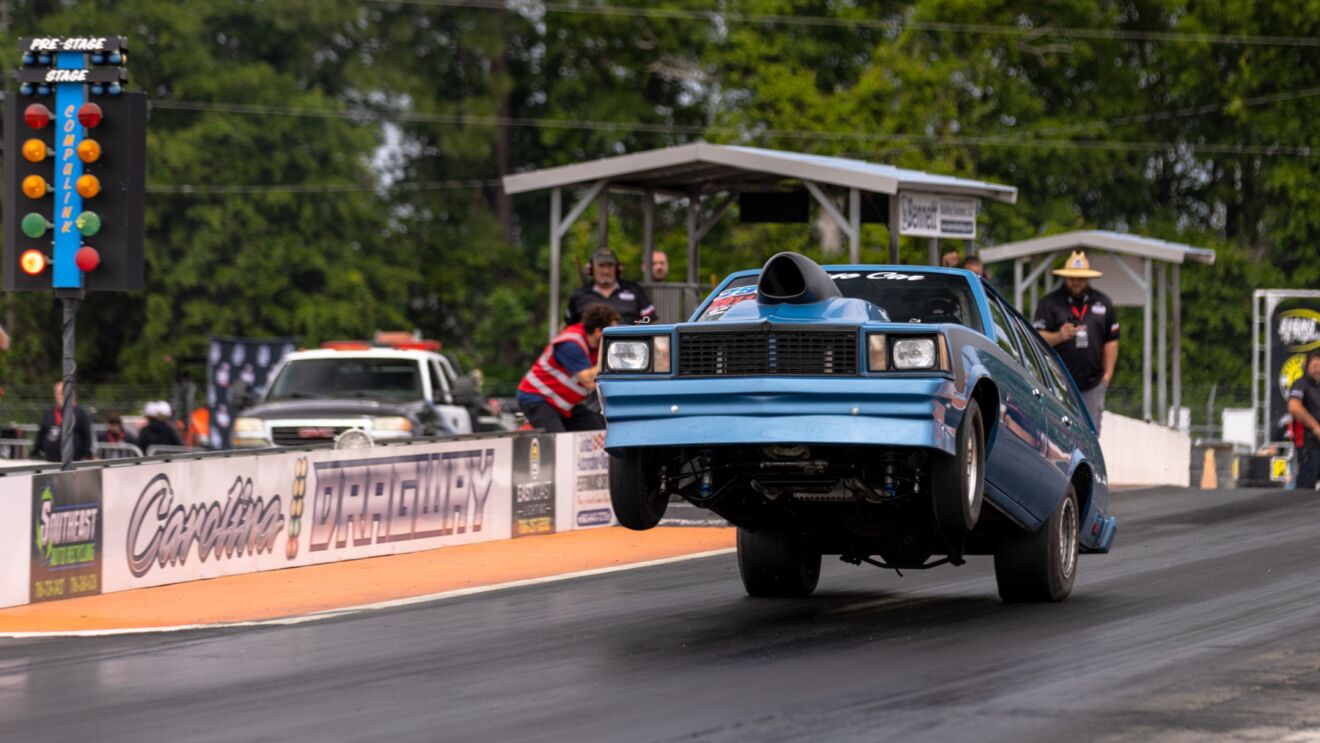 Women and Wheels came out strong with a class count of 21 ladies. Morgan Miles was the woman to watch, though, wheel-standing her '78 Malibu Wagon every round and straight into the finals for the $2,000 plus $500 No. 1 qualifier bonus and a Wally. Sasha Holley did put up a hard fight in her 2014 Chevy SS. Miles bested Holley with her 9.629 at 130.86 over an 11.855 at 112.68.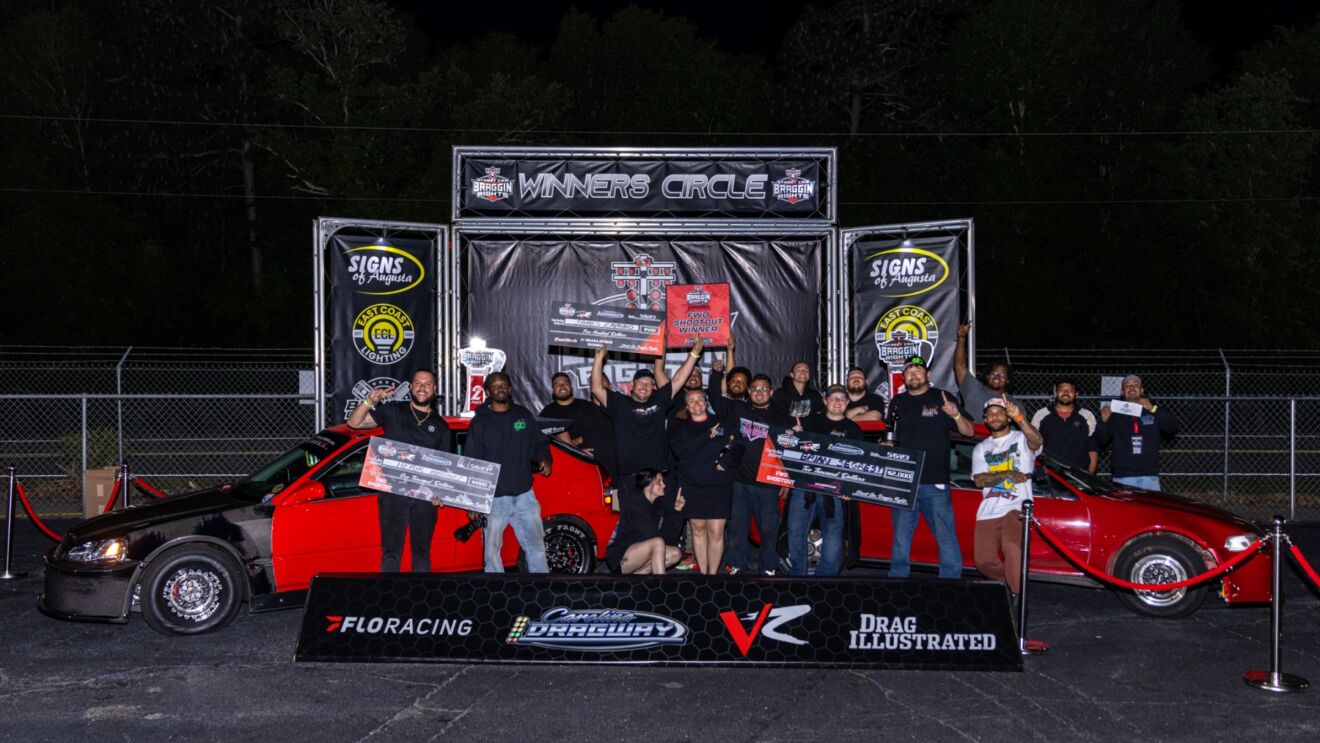 A street car event wouldn't be the same without a front-wheel drive class. The battle came down to a duel between friends. Brian Segrest got the win in his '94 Civic going 9.448 at 150.77 over Herik Martinez's 10.037 at 131.13 in his '00 Civic, winning the $2,000 pot and Wally.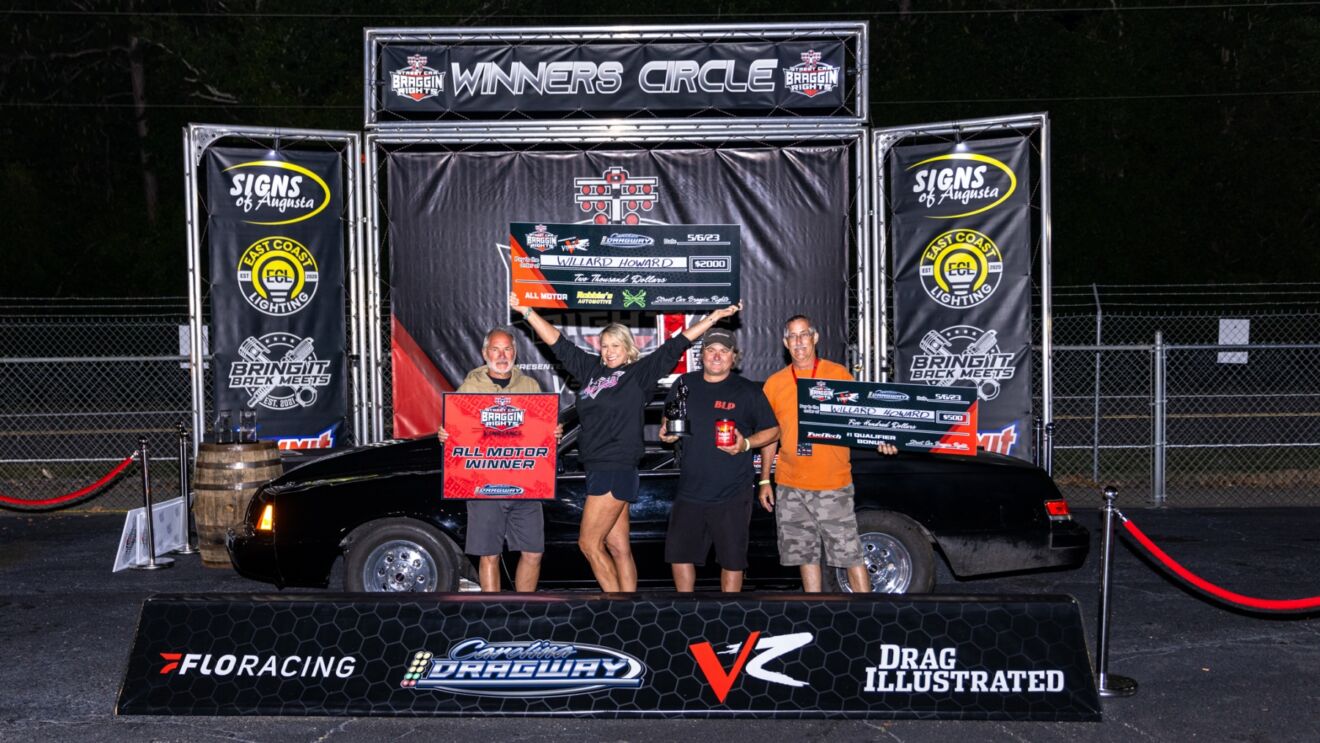 The all-motor guys like to have fun, too, although they take the road less traveled. The final round ended with a clash of two brands, Ford vs. Chevy. Willard Howard took the win in his 1986 Thunderbird with a blistering 8.928 at 144.03 to Cory Mccain's 9.662 138.24 taking the $2,000 and a Wally home with him.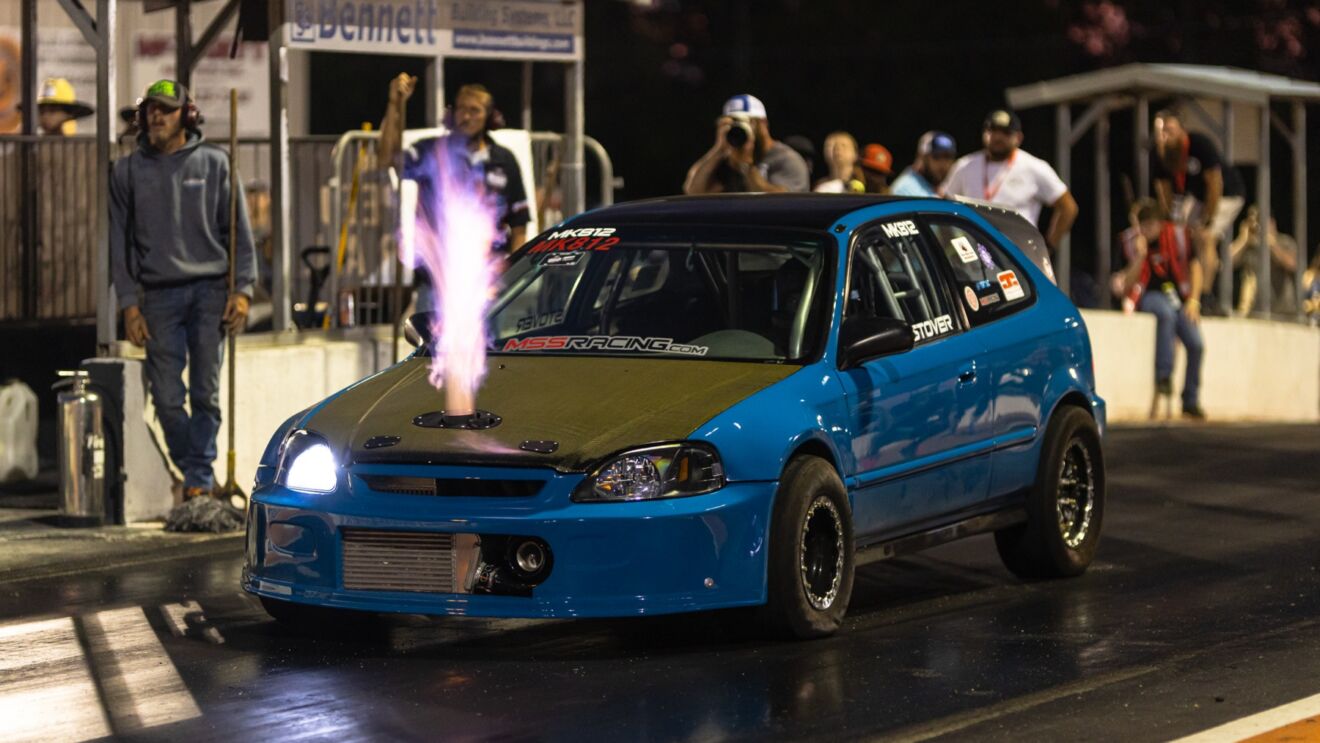 Stick Shift had guys going in the deep 8-second range, impressive for a street-driven stick car. However, the final of the stick was scary; Thomas West had issues with his 2002 turbo LSX-powered Honda S2000 all weekend between the clutch and then blowing out a diff. They came back strong, though, repairing the car and coming out on top for having the lowest ET of 8.009 and the highest top speed at 177.77. They made it to the finals with a winning car when the car got squirrely; West pedaled the car, which landed him in the wall, totaling the car, thankfully with little injury. Matt Stover took the win in his all-wheel-drive converted '00 Civic going 8.347 at 172.61, taking the $2,000 in prize money and a Wally home.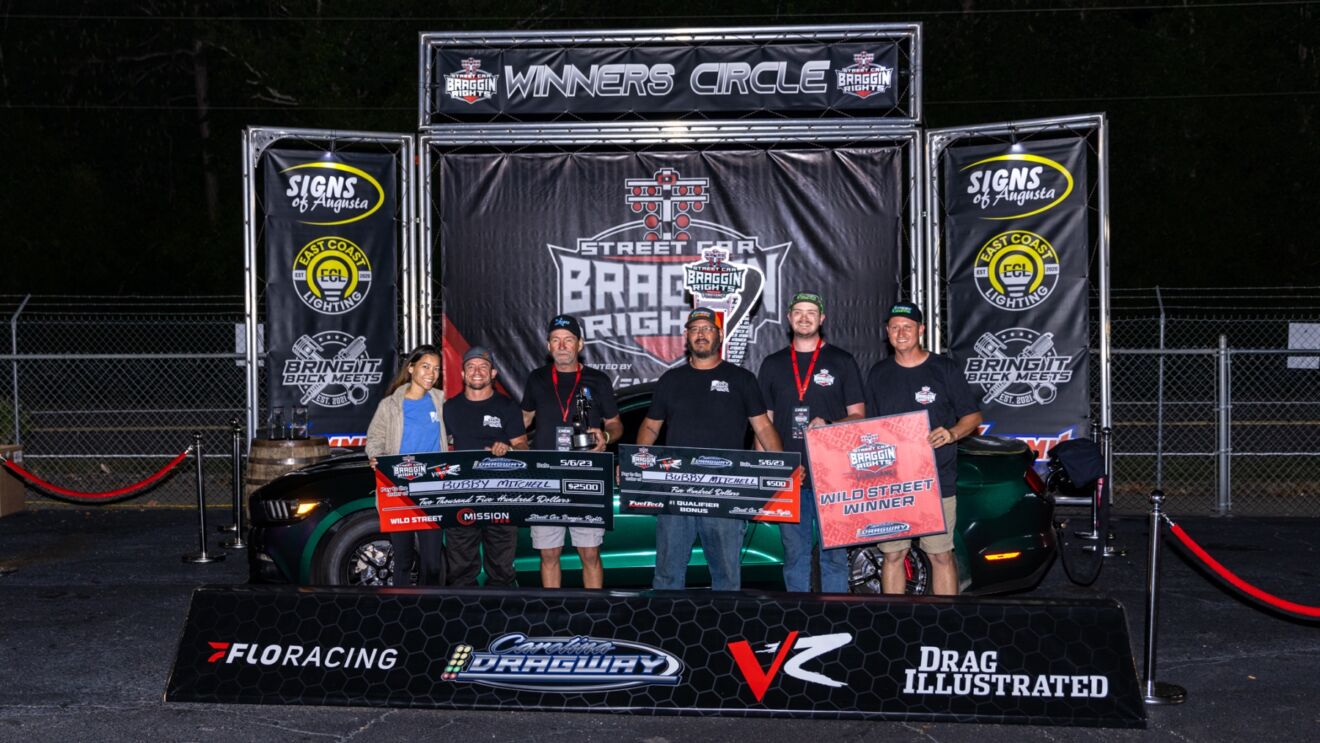 Wild Street brought some impressive street/strip cars, most hovering around the mid-8-second mark. Bubby Mitchell drove his '15 Mustang into the finals with an 8.679 at 158.54, taking out Jonathan Chanice in his '19 Corvette that spun off the hit, going 8.994 at 157.34.
Drag racing is all about saving weight and adding power. Well, to a point. The Battle Of The Heavyweights allows you to do that, but you do have to meet the 4,200-lb. weight requirement. One car set a record for the platform and the class. Colby Davis ran a personal best of 7.536 at 181.25 in his '19 Charger, not only a personal best but a new record for the platform. Colby also did it in the finals against George Benson in his '09 CTS-V, who also has a record for the platform going 7.699 at 160.63. Davis walked away happy with a record, $2,500 richer, and a Wally.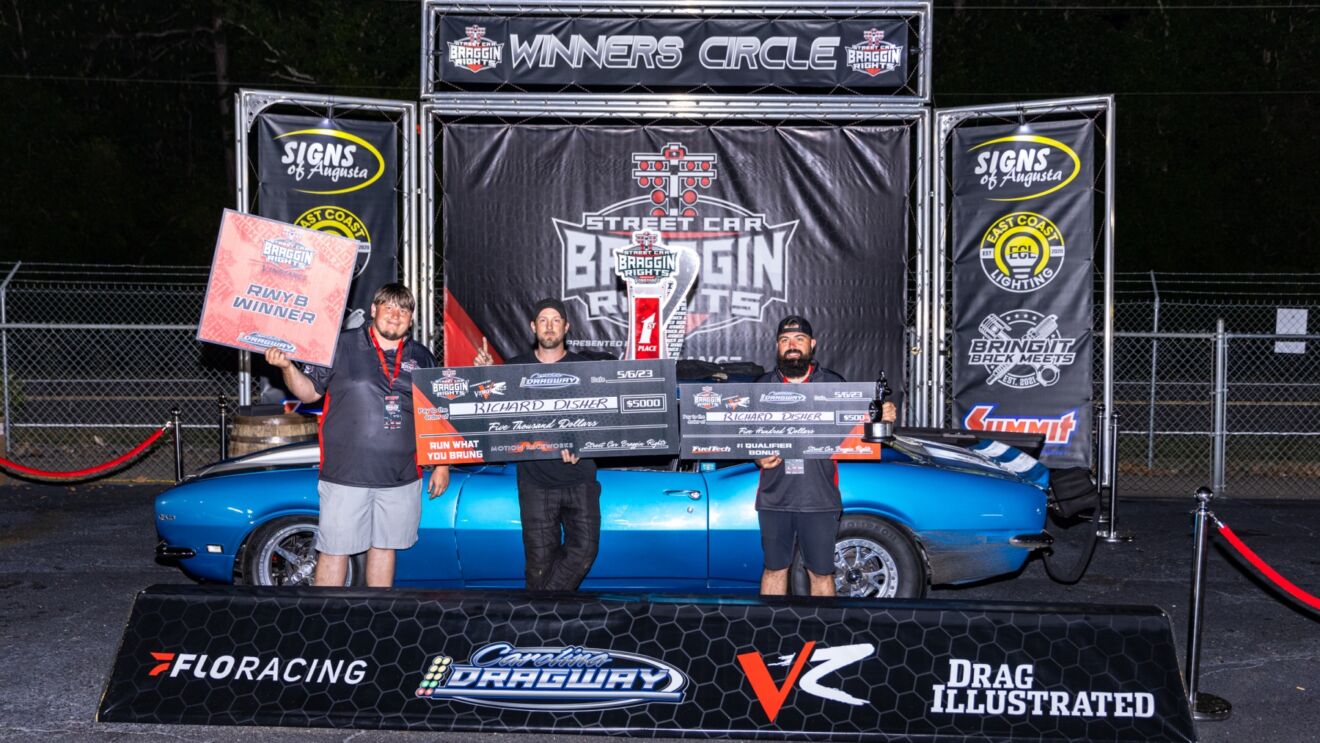 Aside from the Small Tire Shootout, Run What You Brung would be the next fastest. They also only ran eighth-mile hits, unlike the other class cars. One of my favorite cars came out to play and entered the Small Tire Shootout Thursday. Richard Disher drove his street-driven '68 Camaro past Travis Magnum's S2000 running 4.682 at 158.28, besting Magnum's time of 4.782 at 149.53. Disher is now the two-time Run What You Brung champ, taking home an additional $5,000 and a Wally.
Braggin Rights brought out 195 racers. Plus, there were vendors, a bouncy house for the kids, and of course, that fantastic VIP section. The event will only grow; Prater and Mowen are already working on more, so look for updates on the Braggin Right social media outlets.