With a 3.69-seconds pass at 201.07 miles per hour, Pat Stoken not only secured the provisional top spot in Switzer Dynamics Pro Nitrous qualifying for the 2nd annual Professional Drag Racers Association (PDRA) Summer Drags at U.S. 131 Motorsports Park; he wrote his name into the record books as the first nitrous-boosted doorslammer driver ever to cover an eighth mile in less than 3.70 seconds.
"When I saw that .69 come up on the scoreboard I couldn't believe it," said Stoken, who immediately thanked sons Corey and Casey, engine builder Reher-Morrison, crew chief Brandon Switzer and car builder Rick Jones for their help in achieving the milestone. "This is a big deal. It'll be a long time before anyone goes into the 3.50s, so this is going to last. It's really something for us to have accomplished."
Also qualified number one in the PDRA pro classes with one more session to go on Saturday were Randell Reid in NAS Racing Pro Extreme, Todd Moyer in Precision Turbo Pro Boost, Chris Garner-Jones in Drag 965 Pro Extreme Motorcycle and Jody Stroud in Toefco Pro Open Outlaw.
In the PDRA sportsman classes, Tricia Musi placed first in MagnaFuel Top Sportsman with a new official record 3.94-seconds pass at 191.16 mph in the Bankston Boyz '09 Stratus. Meanwhile, Craig Sullivan paced the Dart Top Dragster field with a 3.90 at 181.74 mph, and after two rounds of qualifying, Andrew Green led the way in Huddleston Performance Pro Jr. Dragster and C. Russell held the tentative top spot in Huddleston Top Jr. Dragster.
PRO NITROUS
Defending Pro Nitrous champion Jason Harris was quickest in the opening round of qualifying, but his 3.79 at 195.65 turned out to be his best of the day and slipped down to 11th place by the time 26 cars made three attempts at getting into the 16-car raceday field. Stoken posted a 3.80 that placed him third behind Harris and "Stevie Fast" Jackson after the opening salvo of qualifying, but took over the top spot after round two with a 3.76 that was almost matched by Jackson, who ran just one ten-thousandth of a second behind.
With a PDRA trophy and $5,000 bonus from Bryant Industrial Crane and Rigging on the line for making the first 3.60-something pass, all the top Pro Nitrous competitors were gunning for the glory Friday night, but it was the logging company owner from Eureka, MT, that got the job done. Stoken's 2014 Camaro posted a .922 60-foot time, then reached 2.473 at half track before crossing the finish line 660 feet later in 3.694 seconds.
"You know, we really weren't trying to run a .60," Stoken insisted. "We really thought it could go a low .70, maybe a .72 or .73, but as soon as it left I knew it was on a good run. It pulled as hard as I've ever felt it to the 330 (foot marker)."
Jackson also stepped up in round three with a 3.70 at 201.70 immediately after Stoken. In third with one more qualifying round to go on Saturday was Rickie Smith at 3.74 seconds, followed by John Hall, Mike Castellana, Tommy Franklin and Jay Cox, who all ran 3.75 seconds, separated only by a few thousandths.
PRO EXTREME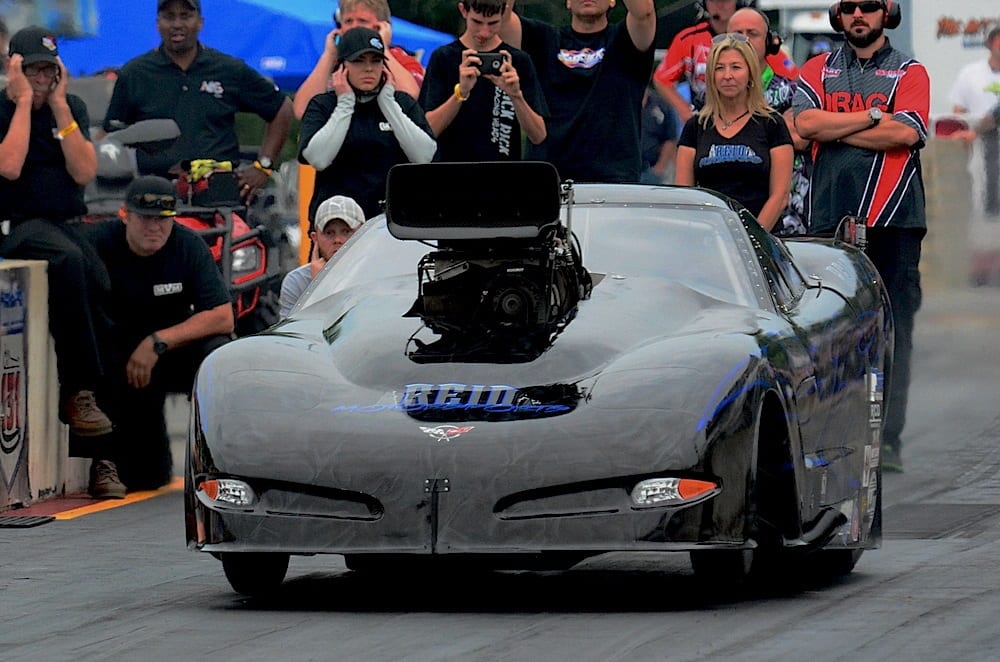 Rendell Reid of Iowa Park, TX, entered Friday's third and last Pro Extreme qualifying round for the PDRA Summer Drags in fourth place, but left as the provisional top qualifier after ousting Jason Scruggs from the position with a career-best 3.51 pass at 214.39 in his '07 Corvette that was just four-thousandths of a second quicker than Scruggs and his '69 Camaro.
"That felt good, especially considering the way our day started," Reid said, referring to knocking the blower off the top of his 526 Hemi in the opening round. "We found some electrical gremlins and whatever we did worked and we made a good run in the second round. So we just swung for the fence this last time because we knew we were in good and we were ready to take our chances."
As the 2014 event champion, Reid also said he was happy with getting a head start on defending the race win at U.S. 131 Motorsports Park. "We had a good run here last year. I really like this track, this facility, and it seems like the car likes it here, too. Hopefully that'll continue tomorrow when we're racing."
Following Scruggs on the list with one more qualifying round planned before eliminations begin Saturday afternoon, were Brandon Snider and Bader Ahli, who both posted 3.52 passes in the Friday-night session. Frankie Taylor's 3.56 from round two held down the fifth position for the 16-car field after 21 cars made qualifying attempts.
In the opening session, the Q80 Racing '69 Camaro of Turky al Zafari caught fire at the end of his qualifying run. Al Zafari suffered singed eyebrows but otherwise was uninjured by the blaze that destroyed the car's front body work and damaged several underhood parts to end his weekend. Then, in the late-night session, current Pro Extreme points leader Mustafa Buhumaid sideswiped the right guardwall with his NAS Racing '69 Camaro. Though the car is done for the weekend, Buhumaid's team was working hard through the night to prepare a spare car for him to drive in Saturday's lone qualifying opportunity before eliminations begin.
PRO BOOST
After two rounds of Pro Boost qualifying, Todd Moyer was still on the outside looking in, 17th of 24 entries for the PDRA Summer Drags. When round three was over on Friday night, however, he was on top of the class with a 3.83 run at 205.10 mph in his twin-turbocharged 2015 Camaro.
"It's nice to finally get some good luck," the San Leon, TX-based driver said. "I've had nothing but bad luck all year long, with this car and my X275 (drag radial) car. This is a nice change of pace; I just hope it lasts a little."
Following Moyer on the list with one more qualifying session to go before eliminations start on Saturday were teammates Kevin Fiscus and Jim Bell, both at 3.84 seconds, with Steve Summers fourth (3.84) and Gerry Capano fifth (3.85) in the first non-twin-turbocharged entry with his roots-blown '63 Corvette.
PRO EXTREME MOTORCYCLE

Building on his race-winning success at the previous PDRA event in St. Louis, Chris Garner-Jones placed on top of the Pro Extreme Motorcycle list with a 4.04 pass at 174.28 mph aboard his 2014 Suzuki. Four-thousandths of a second behind was reigning class champ Eric McKinney, with Canada's Terry Schweigert third at 4.11 and McKinney's teammate and tuner, Ashley Owens, currently fourth after going 4.13 at 172.88 mph.
PRO OPEN OUTLAW
In just its second appearance of the year after debuting at the Rockingham, NC, event in April, the Pro Open Outlaw class attracted 11 entries to the PDRA Summer Drags. Featuring heads-up supercharged or turbocharged dragsters, Pro Open Outlaw was led by Jody Stroud with a 3.66 pass at 198.50 mph in his "Zombie" dragster. At 3.68 and 200.53 mph, Phil Esz placed second and E. Lykins was third with a fourth and final opportunity to improve available on Friday.
The all-eighth-mile PDRA event at U.S. 131 Motorsports Park, located almost exactly halfway between Grand Rapids and Kalamazoo in Western Michigan, will resume with one more qualifying session for all classes starting 11 a.m. on Saturday, followed by elimination rounds at 4 p.m.