One of outlaw racing's most beloved characters, yet feared competitors, is about to jump into the high-profile world of legal Pro Mod racing. Steve "Stevie Fast" Jackson, known for his ability to trash-talk and back it up in just about any race car he can find, has signed on to race all 12 races on the 2017 NHRA J&A Service Pro Mod Series schedule. He's teamed up with past NHRA Pro Mod champion Khalid al Balooshi to field a two-car team that will utilize two different power adders.
"KA Balooshi, my longtime buddy and teammate, he's taking over the nitrous side of the world and I'm gonna' try to take over the blower side of the world," Jackson said. "He speaks his mind like I do, and he's a great guy to hang out with, so I'm fired up and ready to go."
Jackson will drive a 2017 Camaro built by Jerry Bickel Race Cars. He's opted for a roots-blown Brad Anderson engine to sit between the frame rails, while Balooshi will stick with a nitrous-assisted powerplant as he has for the past several seasons. Two different power adders in the same camp might go against the traditional team car system, but Jackson believes it will work out for the best.
"I've always been a blower guy. I just got stuck in a nitrous car a couple years ago because I'm good at it. Blowers are loud and cool, and nitrous is dumb. Balooshi likes nitrous and I like blowers. I think it'll give us a two-tiered approach when everyone starts crying and tries to throw the rulebook at us. It'll help one car when they throw the rulebook at one of 'em and help the other car when they throw the rulebook at the other one."
The move up to what has become one of the most popular classes in the NHRA has a multitude of benefits for Jackson. He cites the ability to showcase his sponsors in the national spotlight as a major motivating factor behind the push to the quarter-mile series, but it's the personal satisfaction of racing on the sport's biggest stage with drivers who he's looked up to that truly gets "Stevie Fast" fired up.
"I've been trying to get into the 'big show' for a long time, since we started racing," Jackson pointed out, referencing his longstanding desire to drive a nitro car. "I told [racing partner and Top Fuel crew chief] Phil Shuler the other day, 'There's going to be Top Fuel cars there. You better not leave the keys to one of those things lying around because I'll jump in it, figure out how to start it and make a lap.' I'm excited to be over there racing where the hot rod cars are.
"What excites me about this the most is the opportunity to race against guys like Todd Tutterow and Rickie Smith. I want to race against the best people in the world, and I think [NHRA Pro Mod] is where they're at. A real racer wants to race against somebody who is as good or better than you because it makes you better. All those guys I've looked up to since I was a kid. To be over there racing against them has me excited. I want to go beat all their eyeballs out. At the same time, I'm expecting all those guys."
Jackson might sound like a kid who finally gets to play in the major leagues, but his racing resume would argue that he's certainly earned the opportunity to race at such a high level. He comes up short in years of experience compared to some of the competing Pro Mod crew chiefs, guys like Smith, Shannon Jenkins, Jimmy Rector, and Frank Manzo, but he makes up for it in the diversity of his background.
"I grew up racing in some junk. I've raced all over the world in different series with every different power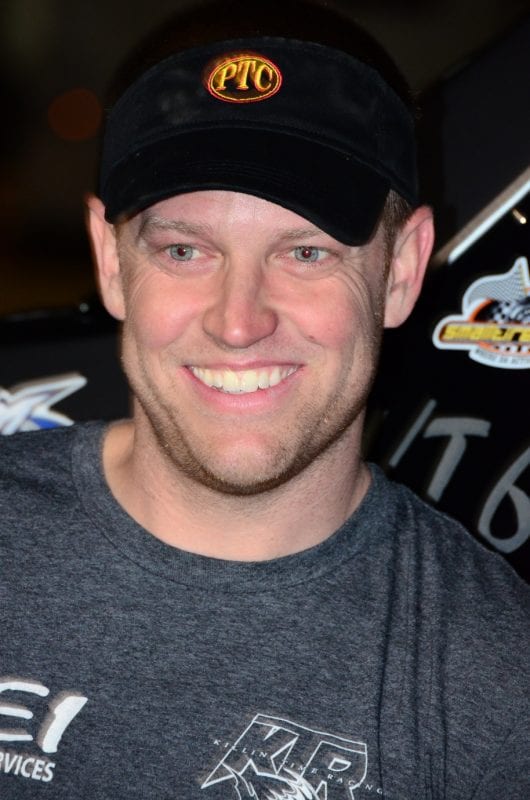 adder that they make besides nitro, and the experience level is my greatest asset. People ask all the time what it takes to run one of these cars. The first thing that everyone thinks of is money, but money can only get you 80 percent of the way there. The other 20 percent is experience. My skillset is based around common sense and running a bunch of diversified power combinations and tire sizes throughout the years. I plan on using that the best way that I can. There's no replacement for experience. You can have $20 million to run one of these cars and you can still get your eyeballs beat out by somebody who has some experience. That's my ace in the hole, so to speak," Jackson offered.
One area where Jackson doesn't have much experience, though, is racing to the quarter mile. He's made almost enough eighth-mile passes to circle the globe, but taking a 3,500-horsepower Pro Mod much further than 660 feet is unfamiliar territory. True to form, Jackson is ready to take on the challenge of adjusting his tuning mentality to make up for the extra section of race track.
"My main reserve is that I haven't tuned much on the quarter mile. I'm very much looking forward to the driving part. I've ran some stuff to a thousand feet. I've driven some alcohol dragsters to the quarter mile. I've done some quarter-mile radial races, but it's been a while since we've run down through there. No worries – I just get to hold it to the floor a little longer. I'd run it to the half mile if they'd let me."
The decision to race NHRA Pro Mod has added a load of work to the to-do list in Jackson's Evans, Georgia shop. He freshened his Pro Nitrous '69 Camaro for Jeff Sitton to race in Radial vs. The World trim at the U.S. Street Nationals in Bradenton, Florida as a warm-up for Lights Out 8 in February. That's in addition to assembling "Shadow 2.0", a new RJ Race Cars-built 2016 Camaro to replace his beloved "Shadow" '93 Mustang that perished in a crash at No Mercy 7 last October. Jackson is also participating in the Bahrain Drag Racing Championship, which is contested from November through March in Qatar and Bahrain, leaving Jackson just days at his shop to prepare for running three different race cars in a matter of weeks. He expects to take delivery of the new NHRA Pro Mod Camaro about four days before the season-opening NHRA Gatornationals in Gainesville, Florida, March 17-19.
"The thrashing doesn't shake me up one bit," Jackson asserted. "Drag racing is all about managing chaos. You're going to run into chaos no matter what, so the better prepared you are mentally to manage chaos, the better you'll be. Once we leave Bradenton, I'm going to be at the shop for a total of eight days before Gainesville. It's an uphill battle, but we know we're going to have a bad piece. We'll probably try to stop off at Valdosta or Orlando to burn it in before we get to Gainesville. But like I said, we have realistic expectations because of the timeframe. If we can get qualified and make a few solid laps, we'll be ready to have a good race car by Houston."