He'd been to a couple of PDRA events earlier this year, but a DNQ at St. Louis in May followed by a no-show for round one of racing after qualifying 13th at Martin, MI, the next month didn't exactly put the fear of Carl Stevens Jr. into the hearts of Pro Extreme frontrunners. But after Stevens showed up for the PDRA World Finals late in October at Virginia Motorsports Park and shattered the eighth-mile doorslammer, 230-mile-an-hour barrier in a quarter-final finish, there's no doubt his presence will be noted at all future events.
Driving a twin-turbocharged 2014 Camaro built from the ground up in his own race shop, Xtreme Race Cars, Stevens opened his assault on the record books with a solid 3.60 run at 227.57 mph, falling just short of the 227.84 official top speed mark set in April by Jose Gonzales at Rockingham Dragway. By the third and final qualifying session Stevens had his first run in the .50s, clocking in with a slightly quicker 3.59 to secure the number-eight position, but running "only" 219.47 at the top end.
Regardless, in the opening round of racing, Stevens not only beat Turky al-Zafari but ran a career-best 3.56 at exactly 229 mph to become the new, official speed king of the PDRA. Round two saw him repeat at 3.56, but Stevens raised the speed record to 230.10 mph in a holeshot loss to Brandon Snider, who went on to post a runner-up finish to Badir Ahli in the final.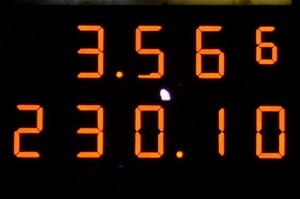 "My wife called me right after we ran, all confused because she thought she saw I'd lost (on the PDRA's live, online video feed), but my guys were all jumping around, hugging each other on the starting line," Stevens said. "We did lose, but to be honest, it's a win for us right now. We couldn't be happier. We'd run 229 earlier in the day, but 230 is a nice round number; it just sounds better."
Beyond the speed record, Stevens said he was just happy to have a car that was consistent and predictable after struggling to get it that way in earlier outings. "This time I was just confident in the car all weekend long," he said. "Every time I let go of the button I knew it was going A to B, so it was nice to actually be able to tune on it and give it the power it needs."
By the time he got back to his shop in Andover, New Jersey, on Monday, Stevens said he'd already received "tons of calls" from well wishers and current customers, congratulating him on the breakthrough performance. There was even a contingent of fans from Sweden who dropped by on their way home after coming to Richmond just to watch the 2015 PDRA finale.
"It's been interesting to see how many people take notice of what went on there; it's really cool," Stevens said. "By Wednesday we had already sold four new engines, so it's been pretty incredible that way, too. You go out there and run some numbers and they beat your door down. As an engine builder, when you reach a milestone like that it's pretty cool because mile per hour equals horsepower, everybody knows that, so that was huge for us being in the engine building business."
Stevens described the powerplant in his car as a 489 c.i. Hemi-based block fitted with a "private label" intake manifold and heads by Noonan Race Engineering in Australia. Providing the boost is a pair of 98-millimeter turbochargers from Precision Turbo, with the resulting horsepower fed through a two-speed Turbo 400 transmission by Mark Micke at M&M Transmission and a Strange modular rear end with Hoosier tires on all four corners.
For nearly a decade, Xtreme has been building only turbocharged Hemi-based engines, Stevens explained. "We're a little different that way," he said. "If someone came to us wanting to build an LS motor or something like that we just wouldn't do it."
However, he revealed Xtreme had recently branched out to build a screw-blown, electronic fuel injection-equipped Hemi specifically for parts supplier Jamie Noonan, who recently opened a machine shop in Utah. The blown motor, as well as his own record-setting engine from Richmond will be featured in the Xtreme Race Cars booth at the Performance Racing Industry (PRI) trade show at Indianapolis later this year.
"We won't even put the screw-blown EFI deal on a dyno until after PRI, but we're confident it's going to be strong. After that, Jamie has a Top Alcohol dragster that he's going to put it in," Stevens said. "Then there's this new EFI turbo engine that we had in our car at Richmond that's a slightly different platform than most guys are used to in the Hemi world."
For next season, Stevens said he expects to attend more PDRA events, perhaps as part of a two-car effort.
"I've actually had some guys want to put together a two-car turbo Pro Extreme team and have me crew chief on the cars, so I'm weighing my options right know and trying to figure out what makes the most sense for myself and the business and just kind of go from there," he said. "If I could work out a deal where I'm driving that would be best. I wouldn't mind at all tuning on a second team car but I've gotta' be able to drive, too. It's a pretty bad addiction."