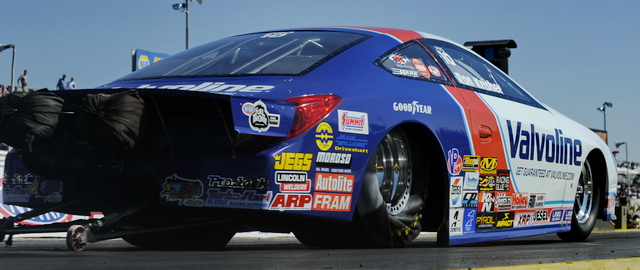 By Ian Tocher
Richie Stevens Jr. is a busy man these days. First there's his marriage to fellow Pro Stock pilot Erica Enders tomorrow (Dec. 7), followed by a week-long honeymoon in Hawaii, and then the Christmas and New Year's holiday season, and all the while he's working on putting together a new NHRA Pro Stock team with an eye on debuting with it at the 2013 season-opening NHRA Winternationals at Pomona, California, in February.
The first big step toward that goal came late in November when Stevens purchased the Jerry Haas-built 2010 Pontiac GXP (above) that Ron Krisher drove to a pair of semi-final appearances and an eighth-place finish in Pro Stock points this year.
"We pretty much purchased all of Ron's (racing) assets—truck, trailer, car, tools, spares, golf cart, everything—all he did was open up the back and remove his personal vehicle," Stevens said, confirming that Krisher has decided to get out of the sport.
"Our plans are to go run NHRA next year, but we're kind of in a holding pattern. We just wanted to take advantage of the deal while it was available and get everything turnkey, because that's the hardest part to put together. The engine program is a lot easier; you just need the money and that's what we're working on now.
"So the next job is to find a motor program," Stevens said. "Well, the next thing is really to find the funds for a motor program."
With Enders racing for Victor Cagnazzi it's a distinct possibility that Stevens could run Cagnazzi power; however, he stressed he's open to speaking with anyone offering a suitable engine program.
"It's a GM car, so it keeps a lot of doors open for a motor program," he pointed out. "There's a couple of things we're working on, so we're gonna' keep our fingers crossed and hopefully something will come about."
If additional funding cannot be secured in time for the Winternationals, Stevens said he will not be competing at Pomona and if necessary, he's prepared to resell the entire Krisher operation.
"It's still a pretty new car and the equipment is all in good shape, so I don't think that would be a problem," he said. "I hope we can get the money for a motor program, though. That's definitely the plan right now."
Stevens is the only driver ever to win Pro Stock events in the NHRA, IHRA and ADRL. Racing under the CarSafe banner for team owner Mark Eckman, he finished second overall in 2012 in the ADRL Extreme Pro Stock class.
"I've been with CarSafe for two years, so Mark, he's a part of it, too, but he's kind of in the same boat," Stevens said. "He's looking at his options and seeing what he wants to do, but I'm on his team, he's been behind me for two years, so hopefully he'll want to go NHRA racing, too, but if not, we'll figure it out."
(Photo courtesy NHRA/National Dragster; Photo by Ian Tocher; Click to enlarge)