Back racing with his dad on his home track in front of a partisan crowd, Texan Steve Torrence responded Friday by driving his CAPCO Contractors Top Fuel Toyota to its all-time best performance numbers, in the process setting a Texas Motorplex track record that will send him into Sunday's eliminations as the No. 1 qualifier in the 38th annual Texas Fall Nationals.
His dad, Billy, making his first Top Fuel appearance in more than a year, claimed the No. 3 position at 3.660 seconds.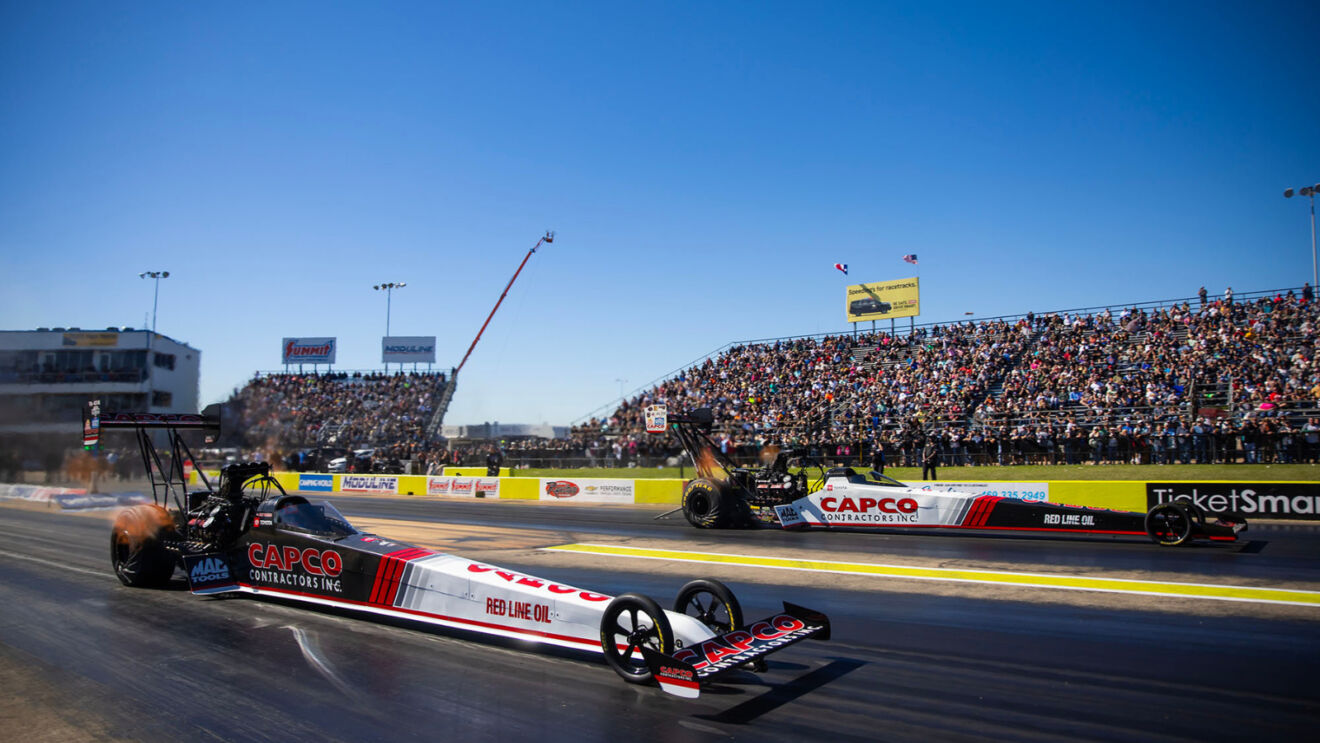 Seeking his third win in six years on the track on which he developed his driving skills, the younger Torrence stopped the timers in 3.636 seconds at 336.62 miles per hour in Friday night's featured Stampede of Speed qualifying session, earning a $15,000 bonus for his CAPCO crewmates.
"I have so much history at this track," said the 40-year-old cancer survivor. "I raced here in Super Comp, Super Gas and Top Alcohol before Top Fuel and the expectations always are really high."
Thus far, he has performed up to and beyond those expectations, adding a best-of-the-session 3.665 at 336.90 mph on Saturday.
Chasing his fifth World Championship in the last six years, he will start eliminations 49 points behind Doug Kalitta. He will oppose 16th qualifier Buddy Hull in the first round with a showdown with Kalitta not possible until the final round.
This was the 37th No. 1 of Torrence's pro career, his third this season and his third at the Motorplex where he won from the No. 1 position in 2020, beating his dad in an all-CAPCO final round.
"(Qualifying No. 1) is really special because I take great pride in being a Texan and this is the premier track in Texas," Torrence said. "I have to thank the Meyer family (developers and owners of the Motorplex) for all they have done with the Stampede of Speed and the Texas Fall Nationals. This is a critical time in the playoffs and this race is a great event, top-to-bottom."
"It's definitely morale boosting to go out and go low ET," Torrence said after doing so in two of the four sessions. It was great to do it during all the Friday hype with the bonus and everything but, more importantly, today we went out and ran .65 on the first lap and .67 in the second and when you can be disappointed with a .67, that's huge.
"At this point, I am more confident in my race car than at any time this season," said the 54-time tour winner. "It doesn't hurt that it's a hometown crowd but all the cars in the show are quick. The drivers are all good. There are no easy rounds any more and you cant be .080 on the Tree and expect to win every time.
"With this weather forecast, it's a strong possibility somebody may run low ET of the race first round tomorrow. I think you can expect just as many mid-60 runs in the morning as we had during qualifying.
"Being the No. 1 qualifier is an ego boost but, in the past, being No. 1 hasn't always been the best for me. It's about going out on race day and doing your job. (The championship is going to be won by) the team that makes the least mistakes in this time frame."