Steve Johnson strives to keeps his business philosophy simple and aims to help as many racers as possible by offering the best customer service in the industry. It's no surprise, then, that he's developed quite a loyal fan following over the years for being the go-to guy in the nitrous-oxide tuning world.
After being introduced to performance cars by his father, Johnson started out racing on the streets of Chicago as a teenager. When he began working he was drawn to the automotive industry and picked up a job in a local shop. As fate would have it, one of Johnson's customers took an interest in the young man's skill and got him into the driver's seat of a Pro Mod.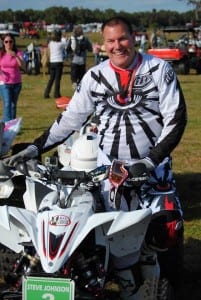 From there, Johnson raced professionally in the International Hot Rod Association (IHRA) for four years. In '93, he finished fifth in points behind the wheel of a nitrous-assisted Corvette before venturing out on his own two years later and placing seventh overall after switching to a nitrous-boosted '57 Chevy. Halfway through the '96 season, though, 5-inch bore spacing engines came out and Johnson says the cost of racing skyrocketed and he could no longer afford to continue independently.
While taking some time off from racing, Nitrous Oxide Systems (NOS) approached Johnson about coming to work for them. "I became their main guy at races for supporting the drivers," he recalls of his seven years with the company. In 2003, Edelbrock made Johnson an offer he couldn't refuse and he became their new director of marketing. He continued going to races and helped Edelbrock develop their nitrous product line, but eventually "the economy caught up and that position was no longer an option."
Johnson, who had a longstanding history of helping customers with technical support and a knack for plumbing intake manifolds, decided it was time to go out on his own. In January 2006, he and his wife, Marina, founded their own company to meet the demands of the racers he worked with. The result was Induction Solutions, a nitrous oxide-focused company based in Florida that supports countless customers all over the world and specializes in custom direct port installs, custom nitrous plates (many class specific), flowing and jet mapping of systems, as well as technical support.
"It was a long process. I'd been doing installs on the side for over a decade," Johnson explains, noting the business evolved rather quickly once he incorporated. As Induction Solutions grew, its parts inventory grew as well.
"Now we're a one-stop shop for all your nitrous needs," Johnson declares. "We're known for the racing stuff we do with the big installs and multiple stage stuff, and that's a big part of our business, but what people need to know is that we still do a lot of little single-stage, direct-port kits for the average street guys as well as polished and powder-coated show car installs." Johnson likes to think of his company as a big entity with a small, custom touch.
Unlike many other business owners, Johnson's personal cell phone number is readily available to customers, a fact he prides himself on and feels has helped make him successful. "Support is what we do better than everyone else," he says.
Although Johnson used to travel quite frequently for racing, those days are long gone. Now, instead of acting as a tuner and crew chief for just one or two primary drivers, he's available to practically anyone who needs him. "To some degree, I crew chief for hundreds of our customers because of the way I lend my tech support and phone service to them," he says with a laugh.
Johnson often receives texts and calls from first-time nitrous racers who are looking for a little guidance, and he tells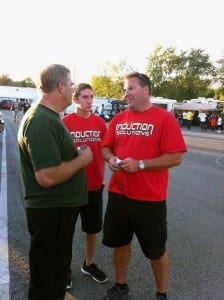 them "make a pass, text me a picture of your spark plugs, a screenshot of your Racepak, and a video of the car running." In essence, Johnson's a remote crew chief for his entire client base and actually prefers it that way. "I feel like I can do a better job for more people when I'm at the shop, because I have access to more data and flow information."
Still, though he's busy helping everyone he can, Johnson sets aside time for his special "big deal" radial tire racers: guys like Ron Rhodes, Scotty Guadagno and Artis Houston. Furthermore, Johnson has seen a big growth in the Top Sportsman and Top Dragster markets of the last few years, so he's constantly pitching in to support his teams on their quests to win NHRA Wally trophies as well.
The challenge of acting as crew chief for so many, he says, isn't actually tuning the nitrous systems. "When we flow the system, we know it's correct before it leaves the shop. A lot of these guys use single-stage systems with a progressive controller, and it's simple for us to set up," Johnson says. Instead, working out a car's chassis and controlling the power is the tricky part. "The chassis being right is key. I try to work closely with our customers to make sure their car is right from bumper to bumper and that they aren't just trying to flog the nitrous for everything."
Johnson can tell a car needs work when it runs big speeds on the top end but goes nowhere at the 60-foot or 330-foot marks. What shocks are being used, what suspension a particular class requires, whether or not a car is overweight, and how the car itself is built are all challenges that Johnson faces on a daily basis while he tries to help each and every driver achieve a new personal best. "Unfortunately, sometimes the only way to fix those problems is to throw money at it, and I know not everyone's in the position to do that. We just do the best we can with what we've got," he says.
As far as Johnson is concerned, the only downfall of using a nitrous-oxide system is the associated electronics and wiring, though he attests it's really not that bad. He jokes there are two types of people that don't drag race, "an accountant and an electrician," and explains that "nine times out of ten, when guys would hire me to come to the track, I'd work on their electrical or chassis—not the nitrous. It's kind of funny, actually, and I can find the humor in it."
Since he's got his hand in so many different nitrous racers' setups around the world, Johnson is constantly enjoying the excitement of his customers doing well. "The biggest reward for me or the company is when our guys win races or set records," he states. "I love knowing that we can help a guy take off his old system, put our stuff on, and with our recommendations he can run a new personal best right off the bat."
Whether it's the dedicated pro racer or the weekend-warrior type, Johnson says the pride he feels in seeing someone else achieve success never fades.
On the other hand, the saying goes that you're not making power unless you're breaking parts. Johnson finds it a little amusing that "so many guys call me totally excited and out of their minds happy that they blew up their transmission or rear end or whatever because they were making so much more power from switching over to one of our kits."
Over the years, Johnson's seen a lot of fads come and go in racing. Regarding the future of the radial tire racers, he thinks it won't be long before the buzz and hype settles down a little. "It's incredible to think how fast these cars are going on radials, though. It's normal now to see the 4.0 and 3.90-second eighth-mile runs. There's big tire cars and Pro Mods that can't even run that quick," he notes. "In the back of my mind, part of me thinks it may be good if we could back things up and slow it down a little, but I know that isn't part of the evolution of drag racing."
While he can't predict the future of racing itself, Johnson is very confident about the future of the nitrous market. "Every day I get calls from people telling me I need to help them because they're 'sticking with nitrous even though everyone else is switching to blowers or turbos', but I laugh and tell 'em that they're the tenth person to say that to me today!"
Johnson's foresight and forward thinking has helped him develop a successful business model, and one that has been growing every year over the past decade, despite the poor economy. He touts nitrous oxide as being a great fit for many people because of how cost effective it is, and jokes that it's a "cheap trick" to add 500 horsepower for $1,500. "You can't even buy a bare-bones turbocharger for that, let alone install it, dyno it, map it, and get the fuel injection right." Johnson believes with all his heart that "nitrous will always have a place in drag racing. When done properly, it's a great power adder."
His passion and commitment to nitrous-assisted setups is unparalleled, and Johnson eagerly works long days in order to share the love with his customers. He readily gives up his weekends, happily answers calls and questions at every hour of the day, and fights hard to give the "little guys" just as much opportunity as the big shot racers. For how closely he works with Induction Solutions' customers, and for his attention to detail, Johnson has made his mark as being one of the industry's finest.