Past Pro Extreme world champion Bubba Stanton leads the field at the inaugural Professional Drag Racers Association (PDRA) Mid-America Indy Showdown. Over 270 cars went down the Lucas Oil Raceway eighth mile, a season-high car count for the all-eighth-mile series.
Also leading in the other professional categories at the PDRA's fifth of eight events are Tommy Franklin in Switzer Dynamics Pro Nitrous presented by MoTeC, Todd Moyer in Andy McCoy Race Cars Pro Boost, Cary Goforth in Extreme Pro Stock and Chris Garner-Jones in Drag 965 Pro Extreme Motorcycle.
The provisional low qualifiers in the PDRA's sportsman classes are Dan Ferguson in Magnafuel Top Sportsman and Bryan Keller in Lucas Oil Top Dragster. Maryland's Cameron Gibson tops the Campers Inn RV Pro Junior Dragster field with a 7.903-second elapsed time, while Alex Kish used a .001-second reaction time to earn the top spot in MegaCorp Top Junior Dragster.
PRO EXTREME
Bubba Stanton didn't show any signs of "new-car blues" when he went to the Pro Extreme provisional No. 1 qualifying spot during the second session, posting a 3.546 at 214.21 mph. The 2014 world champion has made just a few passes on the screw-blown '69 Camaro he recently acquired with the help of Young Racing.
"It feels pretty good to come out here and go to the top spot," Stanton said. "I struggled in testing, then everything came together on that last run. Now we can work off of that and maybe be a little more consistent so we can win some rounds."
Jason Scruggs ended up second in Pro Extreme after recording a 3.562 at 215.10 in a special grudge race against Dave Hirata's nitro-injected A/Fuel dragster, which pedaled to a 4.454. Multi-time low qualifier Terry Leggett also ran a 3.562, though his 213.98 speed gave him the third spot. Wesley Jones and Mike Recchia are fourth and fifth with their 3.594 and 3.595, respectively.
PRO NITROUS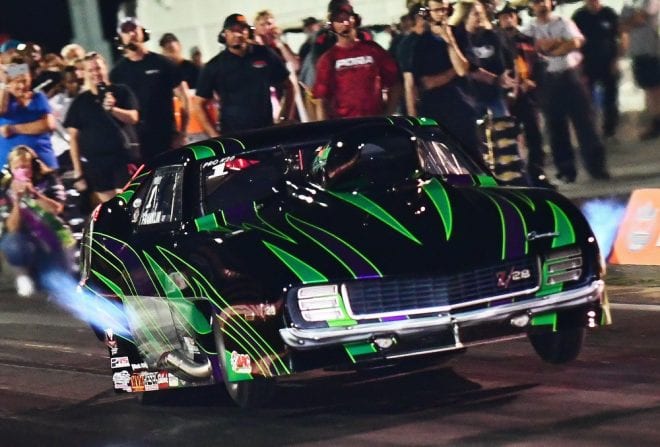 Defending Pro Nitrous world champion Tommy Franklin sat near the back of the staging lanes as he watched pair after pair of his competitors ripping off mid-to-low 3.7-second passes. Though he had his "Jungle Rat" '69 Camaro set up to qualify safely in the field, Franklin was ready for a chart-topping number – 3.692 at 202.82.
"I knew where Lizzy (Musi) was at and she went a .71, so I felt a little more confident after that," Franklin said. "We didn't get down the first session; I just made a bad tuning call. I was a little conservative on the second pass, but I wanted to take advantage of the night air. We might've left a few numbers on the table. But it went out there and made a nice run; the track was awesome and the Musi power was running good."
Pat Musi-powered entries claimed the top three spots, as fellow Virginian Randy Weatherford followed Franklin with a 3.693 at 201.34, then Lizzy Musi sits third with her 3.712 at 203.55. Jim Laurita's Reher-Morrison/Switzer Dynamics-equipped '69 Camaro is fourth with a 3.738, followed by past world champion Jason Harris' "Party Time" '69 Camaro at 3.743.
PRO BOOST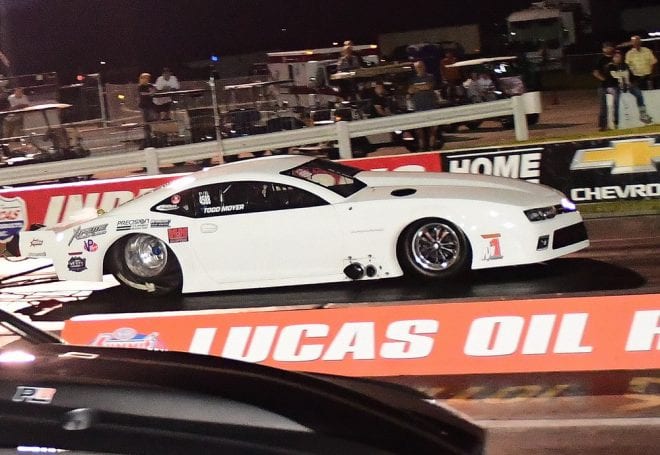 "Turbo Todd" Moyer recorded a career-best elapsed time and speed with his stunning 3.677 at 217.53 blast down the Indianapolis track during the second session. The numbers are also better than both ends of the Pro Boost national record, meaning Moyer and his turbocharged '15 Camaro can leave the Mid-America Indy Showdown as the new record holder if he can back up the performance on Saturday.
Darlington race winner Melanie Salemi was the second-quickest in Pro Boost and quickest supercharged car in the field with her 3.74 at 198.79 in the "Purple Reign" '68 Firebird. Points leader José Gonzales is third in the Pro Line-powered '67 Mustang at 3.753 at 213.00. Jeremy Ray and the "Carolina Kingpin" '63 Corvette sit fourth with a 3.759, followed by 2016 Pro Extreme world champion Brandon Snider's 3.761 in fifth.
EXTREME PRO STOCK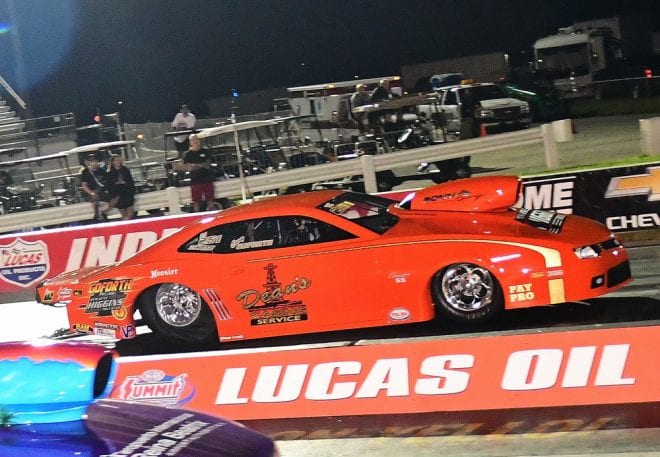 If Holdenville, Oklahoma's Cary Goforth can maintain his No. 1 qualifying spot through Saturday's final qualifying session, he will have claimed the top spot at over half of the races so far this season. Goforth drove the Dean's Casing Service/Dewayne Higgins Trucking '14 Camaro to a 4.068 at 176.30 in the night session.
"The air was terrible, so I was happy with a 4.06," Goforth said. "We were gunning for a 4.05. If we could go back and do it again, I think a 4.05 might be there. It's just exciting to run that well when the conditions aren't perfect."
Veteran mountain-motor Pro Stock driver John Montecalvo is second in his brand-new Sonny's-powered, Haas-built '17 Camaro with a 4.096 at 175.66. Jeff Dobbins and Trevor Eman both posted 4.097s, with Dobbins earning the third spot by speed. GALOT race winner Chris Powers is fifth with a 4.107.
PRO EXTREME MOTORCYCLE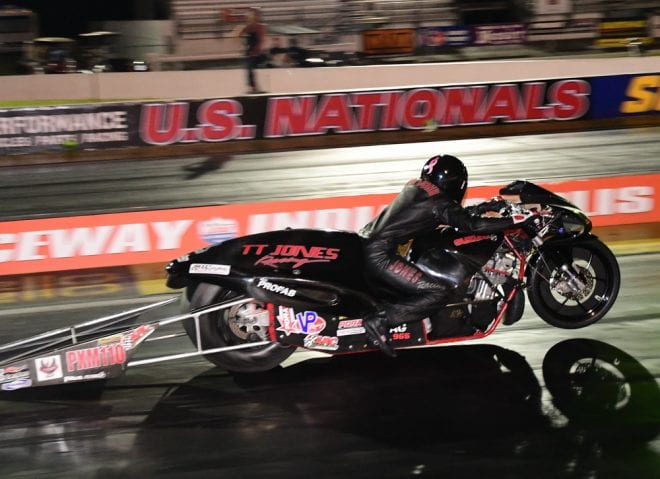 Chris Garner-Jones is chasing his first No. 1 qualifying position of the season. The Harvest, Alabama-rider took his '15 Hayabusa to the provisional top spot with a 4.022 at 172.72 after an engine change for the second session.
"It feels great to be No. 1 because our first qualifying pass didn't go as planned at all," Garner-Jones said. "We just put this motor in and the first pass on it was that 4.02. It's showing a lot of potential."
Travis Davis, winner of the last three races on tour, is second on his Timblin-built Suzuki at 4.064 at 171.16. Three-time and defending world champion Eric McKinney is in the third spot with a 4.078 at 173.87 on his McKinney Motorsports entry. Chuck Wilburn is fourth with a 4.09, followed by T.T. Jones' 4.098 in fifth.
TOP SPORTSMAN
A massive list of 46 Top Sportsman racers attempted to qualify for the PDRA Mid-America Indy Showdown. Defending world champion Dan Ferguson drove Henry Dogay's "Cajun Nightmare" '69 Camaro to the provisional No. 1 spot with the quickest and fastest pass in PDRA Top Sportsman history, a 3.799 at 196.53. Ferguson will need to back up the run during Saturday's final qualifying session or eliminations to claim the official records.
Engine builder Billy Albert is second in Stan Nance's '17 Camaro with his 3.85 at 194.60. Past Pro Extreme world champion Mick Snyder in his Powersource Transportation '63 Corvette are third with a 3.924. Lester Johnson and his ProCharged '55 Bel Air sit fourth after a 3.961, followed by the '16 Camaro of Randy Perkinson with a 3.976.
TOP DRAGSTER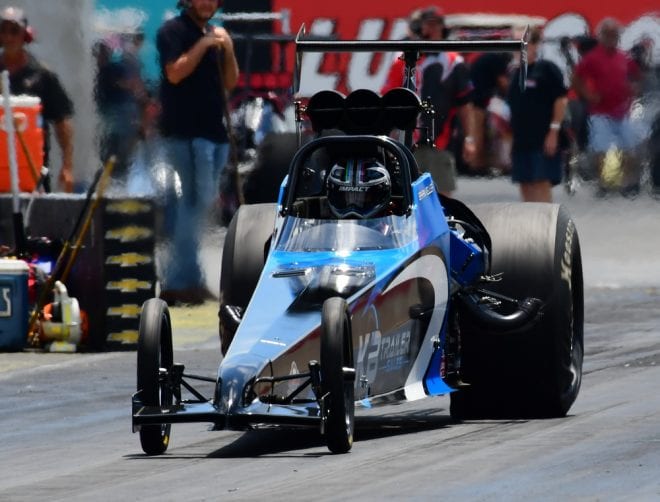 Outlaw dragster standout Bryan Keller topped the Friday Top Dragster qualifying order in his KB Trailer Sales '12 Spitzer dragster. The supercharged entry recorded a 3.736 at 195.62 during the evening session.
A strong list of 35 other drivers are chasing Keller. Top Fuel dragster crew member Matt Sackman in his Hangsterfer's Metalworking Lubricants supercharged Spitzer entry is second with a 3.824 at 186.82. Elyria, Ohio's Robert Pickens is in third with a 3.83 at 189.90, followed by fellow supercharged racer Chaz Silance in fourth after a 3.869. Kathy Fisher's ProCharged "Dragoness" American dragster is fifth with a 3.892.
The PDRA Mid-America Indy Showdown at Lucas Oil Raceway will continue Saturday with final qualifying at 11 a.m. Sportsman eliminations are scheduled to begin at 4 p.m., followed by pro eliminations at 6 p.m.