The entry lists for the 2018 SAM Tech NHRA Factory Stock Showdown events have been bulging with powerful hot rods and skillful drivers, and that means the competition has been wickedly fierce. Early in the season, the cars propelled by Stanfield Racing Engines established themselves as a threat. With three COPO Chevrolet Camaro entries in the first two final rounds and a snatching of both the first two trophies up for grabs, the team is fired up to continue their charge.
At the helm of the program is Greg Stanfield, an accomplished NHRA drag racer and engine builder who is steadily building a reputation as one of the best in the business amongst the growing field of Drag Pak Challengers, COPO Camaros, and Cobra Jet Mustangs.
"I like the Factory Stock Showdown [program]; it's something different," Stanfield, of Bossier City, Louisiana, says. "I'm all about learning, and I hate getting stagnant. I like to keep my brain turning, and this actually got me going again. Racing these cars, it's not just another day where you go up there with the same deal. These are factory cars that people can relate to with high power and a little tire. It's interesting to me to get it down the racetrack, and it's very much a challenge."
While Stanfield himself isn't piloting a Factory Stock Showdown entry, his son, three-time NHRA national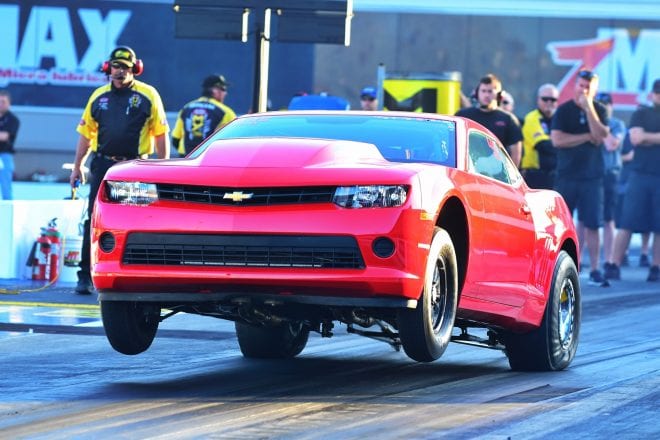 event winner Aaron, is. The younger Stanfield squared off with teammate and engine customer Stephen Bell in the Gainesville final round, and it was there that Bell earned his first NHRA national event trophy in an all-COPO Camaro battle. Bell threw down a string of consistent passes that culminated in an 8.176-second journey down the quarter-mile at 167.17 mph to Aaron's tire-spinning effort.
"Stephen Bell is a key ingredient in this shootout deal," Stanfield points out. "He's a car dealership owner and a very nice guy that I've known a long time; his dad and mine used to race together back in the day. Stephen really fell in love with this class when it first came out. He could run whatever class he wants, but he sure likes these factory cars."
The second Showdown yielded similarly pleasing results for Stanfield-powered Arthur Kohn. Appearing in his first final round at the Charlotte event, Kohn defeated 2017 series champion David Barton on a holeshot with a crisp .008-second reaction time and an 8.087 at 168.56 to an 8.036, 167.84.
Stanfield thoroughly enjoys the success of his customers and friends, and he has invested time and energy into grooming his son to be a dedicated and well-rounded racer. So far, so good for Aaron, who was just 19 years old when he dipped his toes into Pro Stock in 2014. The third-generation racer has honed his skills in Stock, Super Stock, Super Comp and Top Dragster.
Racing roots run deep in the Stanfield family, and it started with Stanfield's father, Howard, in the late 1950s. Both Howard and his brother, Allen, were part of the early days of drag racing, and their example struck a chord with young Greg Stanfield.
"I took an interest in what they were doing, and the rest is history," Stanfield says. "Stock is a class where you have to work within the rules and pay attention to details when you build your stuff so it will run good. It was a class a low-income family could afford to race, and my dad was in the military and then a teacher, so it worked for us. He really had a passion for it. I like to tinker on things, and I'm a numbers guy, so fell in love with it, too."
Stanfield's first race car was a 1969 Camaro that his dad built for him as incentive to stay out of trouble and do well in school. Howard was a "die-hard Chevy guy," according to Stanfield, but that hasn't prevented Stanfield from building and wrenching on other brands. The Stanfield Racing Engines shop was bursting at the seams over the winter with over two dozen bullets in process for racing customers.
Stanfield's personal achievements on the racetrack include four Super Stock national championships and a Pro Stock win at the prestigious NHRA U.S. Nationals in Indianapolis, but he says that one of his top moments in racing was last year when he and Aaron squared off for the Super Stock trophy in Chicago at the Route 66 Nationals.
"I never got to race my dad in the final, but racing Aaron was really cool," remembers Stanfield, who was defeated by his son that day but still celebrated mightily in the winner's circle. "I was racing just to have some fun, and he was out there competing really hard. We got to the quarterfinals, and I knew Aaron wasn't looking at the ladder sheet because he never does. I told my brother there was a shot we could race each other, but there's a pretty good chance I'll screw it up before we get there. It worked out, and that's one of my top racing memories, for sure.
"I'm more nervous watching him than I am racing, because it's a different deal. When you're driving, you're caught up in the moment, but nothing beats standing on the starting line. I think they should let people get closer, because there's electricity up there."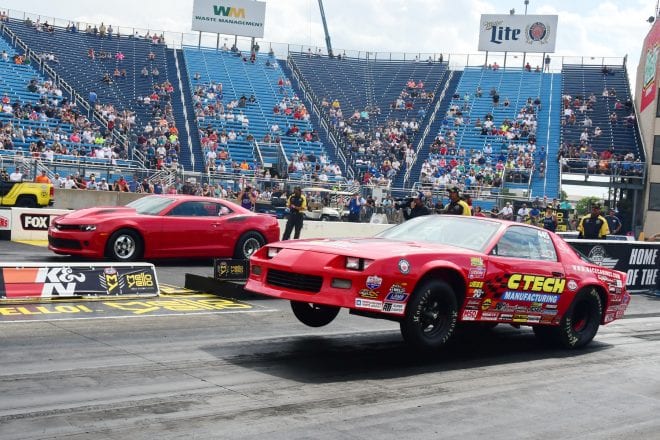 Standing on the starting line behind his son has become home for Stanfield. He started Aaron in a Stocker in order to teach him how to footbrake race and drive with no electronics. From there, the youngster moved into a dragster that he has bracket raced frequently. After stepping into a Pro Stock car but coming up short on funding that would allow them to run with the big dogs, Stanfield explained to his son that he could either run Pro Stock part time or be a full-time Sportsman racer. Aaron chose wisely.
"Driving multiple cars will teach him how to race," Stanfield explains. "We can always go back to Pro Stock, and we will someday, but I want him to understand how it all works and not be a driver who just shows up and drives. I want him to know how to build and tune a motor, how to set the car up, and how to race it. I believe that if a person owns a business, they should know how to run that business from top to bottom – and that's what I want to teach him. He's growing fast, and he's getting there."
Though he certainly sees a future for Aaron in the Professional ranks, possibly even Top Fuel, Stanfield believes that Factory Stock isn't going anywhere, and he enjoys being part of it. He also sees potential for 32-car fields and plenty of new blood. For now, Stanfield and his crew are happy with their achievements and more than willing to shift and grow with the class.
"I think it comes down to all of us working together," Stanfield says. "Aaron does the tuning, I build the motors, and my brother [Mike] does the cars. It's a family deal, and we're eaten up with it. We haven't worked as hard as we did in Pro Stock yet, but I see it coming to that at some point. It has to if you want to be competitive, and I love the class.
"Right now, we're just having fun and trying to enjoy it. Life is short, man."
Story by Kelly Wade
Photos by Rick Belden, Roger Richards
This story originally appeared in DI #133, the Sportsman Special Issue, in June of 2018.