During the 2014 offseason the National Muscle Car Association Flowmaster Drag Racing Series announced that they would add the wildly popular six second, 200+ MPH bracket race machines of Top Sportsman to its lineup of classes in 2015. The Southeastern Hose-backed Spradlin Motorsports team welcomed another opportunity to race at what is considered their home track to provide another opportunity to race in front of the home town crowd! "When NMCA made the announcement about running Top Sportsman, it gave us another chance to run close to our major sponsor Southeastern Hose's headquarters in Bremen, Georgia," Casey Spradlin, team driver explained. The Top Sportsman and Top Dragster team which is based in Ranburne, Alabama considers Atlanta Dragway its home track, even though it is in Georgia, because it is the closest NHRA sanctioned facility. "I was also excited to see our class growing. Now the four biggest racing series offer championships in Top Sportsman which means more places to race and more championships to win," says Spradlin, a three-time NHRA/IHRA division Top Dragster class champion.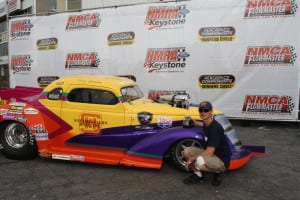 The team entered the 7th annual Borla Exhaust NMRA/NMCA All-Star Nationals at Atlanta Dragway this past weekend. Spradlin was optimistic about his chances going into a new series as the team has seemed to find success when entering different racing series for the first time. Spradlin appeared in the Top Dragster final at his first IHRA division race in 1997. In 2002, at his first NHRA Top Sportsman race, he found the winner's circle. Then just last year when the NOPI Nationals circuit ran a Top Sportsman and Top Dragster series for the first time, Spradlin raced to his first double-up weekend, winning in both Top Dragster and Top Sportsman. "Even though we had been having a terrible season so far in both Top Sportsman and Top Dragster with a lot of uncharacteristic engine problems, I kind of felt we were going to turn our season around going into this race. I just happen to think about how God has blessed us when new opportunities arise. That's a pretty neat stat I guess."
The first qualifying session of Friday provided a gloomy start to the weekend, while the rest of the weekend provided absolutely gorgeous weather. The team skipped the first qualifying session, opting for better weather. Once qualifying ended on Saturday, Spradlin Motorsports had secured its second career pole position. Spradlin ran a best of 7.06 seconds at 195 MPH to claim the top spot! Sunday's cooler air enabled the supercharged, 1600 horsepower, Steve Schmidt-powered  '37 Chevy Coupe to break into the 6-second zone at almost 200 MPH, running a 6.99 at 199. In the final round, Spradlin raced a very tough fellow Renegade Racing Fuels by G.A.S Racing Inc.-sponsored James Noel in his equally crowd-appealing '69 Mustang. It was going to be a classic Ford vs Chevy battle, a fitting final round for the huge crowd on hand to see muscle and nostalgia cars on the track and in the show car area.
Once the dial-in's were set, the burnouts where complete and the handicapped tree counted down the green, the drivers left the starting line at the exact same time, forcing the race to be decided at the finish line. The Chevy chased down the Ford to score the win by an unbelievably close three thousands of a second! "I couldn't tell at the stripe who won, so when my little win light on the wall came on…the celebration in the helmet started. So much so, that I almost didn't get the chutes out and get stopped! It was a much needed boost for our team after the struggles so far this season. To top it off our close friend and neighbor, Greg Cole, who regularly runs NMRA Open Comp won too! So it was a good day for the Stateline boys!"