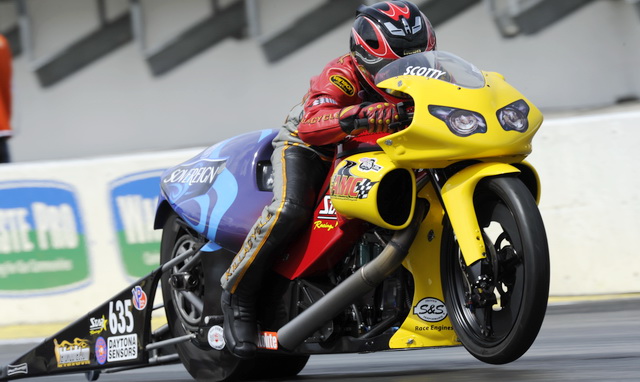 After a successful 2012 season as a newly assembled team, the Sovereign-Star Racing partnership has announced plans to expand its NHRA Pro Stock Motorcycle program to include a third racer and a Suzuki motorcycle in addition to the two Buells that it currently runs.
The team, which assembled for the first time only a few weeks before the start of the 2012 season, finished the year at No. 7 with rookie  Scotty Pollacheck (above) and claimed the No. 11 spot with its second rookie, John Hall. Both racers were nominated for the 2012 Automobile Club of Southern California Road to the Future Award and set new team records throughout the year.
The 2013 Sovereign-Star Racing team will again include Pollacheck and will welcome Michael Ray, who broke the Harley-Davidson Screamin' Eagle Vance & Hines team's 13-event winning streak with his first NHRA national event win at the AAA Texas NHRA Fall Nationals last year.
"Michael and I have been friends for 10 years," said Star Racing owner George Bryce. "I've worked with him a lot at NHRA races, AHDRA races, and test sessions in previous years. He ran three NHRA races with our team in 2011 at the Gainesville, Houston, and Atlanta races. Michael also has the quickest reaction-time average in our class in NHRA, and he was the only guy to win a race in 2012 that wasn't on a Harley. We are happy to welcome him as a new member of our team."
Ray's 2012 season was sponsored by Gottspeed Racing, with Viper Motorcycle Co. also contributing as an associate sponsor during his last six races in the Countdown to the Championship. Ray also partnered with Matt Smith Racing for his engine program and tuning throughout 2012, which will now be provided by the Sovereign-Star Racing team.
"I met Jenõ [Rujp] when George and Sovereign teamed up two years ago when they made their European championship run. They knew that we were an option [for the future]," Ray said. "I'd done a pretty decent job of driving the bike last year. When Viper and some other associate sponsors didn't come back [for 2013], it made total sense to come back and team up with Star and Sovereign for this year."
In addition to Pollacheck and Ray, Sovereign-Star Racing will be developing a third driver as 18-year-old rookie Chaz Kennedy joins the team for several 2013 races. The crew has also brought back its PSM Suzuki engine program to fine-tune and experiment with this third bike during the season in addition to the two Buells that it currently runs.
"Chaz is a student of ours and has been to [Bryce's drag racing] school a couple times. We've decided to bring him in as a developmental driver for 2013 and have him practice and train on our new Suzuki to get him ready for NHRA Professional competition," Bryce said.
"Chaz may not run until September. It just depends on how fast the Suzuki is, when it is fast, and how soon Chaz is fast. We decided to bring back the Suzuki because we haven't run one in a while, and we were going fast when we stopped running one in 2003.
"Because the V-Twins are going to weigh more in 2013 than they did and the Harley team is going to have less valves and long pushrods, it seems like the Suzuki program will be a viable option for competitiveness. And we will only know if we try it," Bryce said.
In 2011, Kennedy, who has been racing motorcycles since age 5, claimed three All Harley Drag Racing Association national championships and was named AHDRA Racer of the Year. He was also named as the 2010 AHDRA Rookie of the Year.
Kennedy's 2012 season ended before it even began when he suffered a severe leg injury at Auto-Plus Raceway at Gainesville that required several surgeries and months of physical therapy. The son of Chuck Kennedy, the Sovereign-Star Racing crew chief for Pollacheck's Buell, Chaz assisted the team at three races during the 2012 season.
"I'm honored to have George offer me a ride. … You know he's the best, and you can see after his success with Angelle [Sampey] that a lot of people would give anything to ride with him. So, it's an honor. I'm very proud to be able to say I've had the chance to come out and compete in the NHRA," Kennedy said.
"We picked Chaz because he's a current student of mine, he's 18 years old, he's a featherweight, he's a good racer, and his success in AHDRA has been outstanding. He has a lot to learn, a great attitude, and a lot of respect for our team," Bryce said.
"We expect him to take however long it takes for him to get up to speed and learn the ropes. We will be patient and give him a chance to learn as he goes. And when he's ready, we'll unleash him on the Pro Stock Motorcycle category in NHRA."
Although the Sovereign-Star Racing crew is sad to see friend and fellow teammate Hall go this season, it is very hopeful about the possibilities from this new combination of racers.
"I'm sorry to see that John is not coming back, but I really like Chaz and Michael Ray, so I'm looking forward to working with those guys. I really like John, and working with him was great, but I'm also excited about this year. I'm really looking forward to coming out at the first race and being ahead compared to last year," Pollacheck said.
"We have a lot of equity in Scotty. We've already been through the rookie phase and startup phase where you're constantly learning from each other, so now we get to hit the ground running with all that behind us! We know what to expect of each other; we know what each other is capable of. Scotty knows what Star Racing is capable of. Plus, he qualified third at the last race, and we know that there's even more potential there," Bryce said.
"John is still on our team, but he's not racing with us this year," Bryce continued. "He may come to some races and work with us, and we may race with him again in the future. John said that he's too busy with family and work to go to 16 races this year, but he said that last year was a dream come true for him."
Ray and Pollacheck will compete at their first national event as Sovereign-Star Racing teammates during the March 14-17 NHRA Gatornationals in Gainesville.
The Sovereign-Star Racing team is a partnership between Georgia-based Star Racing and the Hungarian-based Sovereign Racing team, the 2011 UEM European Pro Stock Bike championship team, owned by sugar distributor Rujp. Additional backing for the team comes from Americus Motorsports Complex, S&S Cycle, Daytona Sensors, Worldwide Bearings, CP Pistons, Permatex, Cometic Gaskets, and Quality Tire.
(Photos courtesy NHRA.com/National Dragster)