Sonny's Racing Engines helped two customers win their first Professional Drag Racers Association event. James Hancock took home top honors of the ultra-competitive Pro Nitrous category and Chris Powers was triumphant in Extreme Pro Stock at the East Coast Nationals. While both racers have years of experience, the PDRA is a new challenge for them, but their Sonny's power was up to the task.
Hancock qualified in the middle of the pack and used consistent low 3.70 runs to weave through the competition. In the final, he met reigning world champ, Tommy Franklin. Hancock and team owner Brian Shaw knew they would need their best run of the day to take down Franklin. At the stripe, Hancock and Franklin laid down nearly identical elapsed times (3.701 and 3.700), but Hancock crossed the line first thanks to his better reaction time.
"The Sonny's power is absolutely working great for us," said Shaw. The team also won the U.S. Street Nationals earlier this year. Their accomplishments so far are that much more impressive because the car and engine combination are all new to the team this year. "Sonny's just a great guy. Anything I need he's there; he's got it for me. They stand behind their product really well. They're just great people to deal with. Sonny's engines are making just as much power as anybody's."
Shaw, Hancock and Louise Ornfelt from FuelTech have a unique approach to their team. "Everything we do is majority rules," Shaw explained. "We all look at the graphs. We all make the decisions on what we're going to do next. We work as a cohesive team. Everybody has a lot of experience and we combine that. We have two other guys, Matt and Steve, who come on their own dime to travel with us. They do a great job."
Fellow Sonny's customer, Chris Powers, was not expecting to find himself in the winner's circle just yet. The PS team had only been together for one test session before heading to the PDRA East Coast Nationals.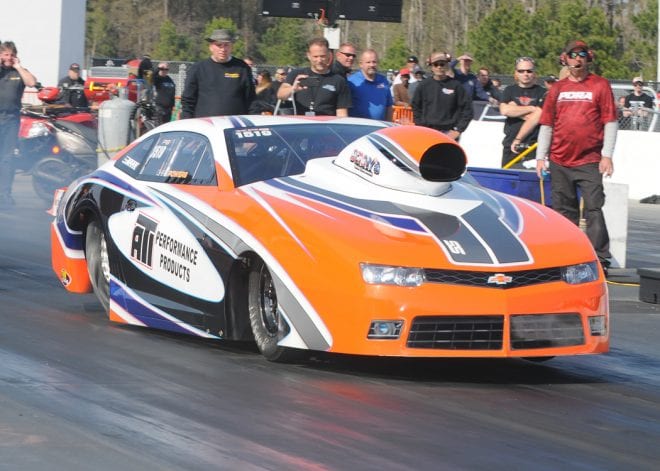 "The first passes in the Pro Stock were at GALOT Motorsports Mad Mule race a few weeks back," Powers explained. "We made two runs there and couldn't get off the starting line. The shift light wouldn't work. The two-step wouldn't work. So we threw in the towel and headed back to Pennsylvania. So then we didn't run again until testing at the PDRA race. It was a struggle. I couldn't see and couldn't get a feel to leave. We just kept making adjustments and changing weights to try to keep the front end down to help me out. We made that 4.10 pass Friday night and that pretty much changed everything. That was a huge boost in confidence. Right now I have 11 passes in the car, total. Nine of those are from the PDRA race."
Powers qualified his ATI-backed Camaro solidly in the middle of the pack with that 4.10 run, and while the team was celebrating simply finding a good baseline for the car, they were soon to have much more to celebrate. Powers, who also competes in Top Dragster, won first round in both categories, but decided to focus only on the Pro Stock moving into second round. It paid off. In the final round he met up with multi-time champ, Cary Goforth. It was door-to-door from start to finish, a race that truly exhibited what Pro Stock is all about. They left within two thousandths of each other (.028 for Goforth, .030 for Powers) and Powers crossed the finish line one thousandth of a second ahead of Goforth (4.097 to 4.100).
"It was very surprising, to say the least," the former VW racer expressed. "It's exciting. I definitely didn't expect anything like that. I figured it would take six or seven races before we could get that far. But we just gelled. Everybody on the crew meshed. Everybody was about going racing and having fun. We didn't have any pressure on us. Big thanks to the crew, and crew chief Rob Bealko. I could have never done it without them. And a big thanks to my wife Dianne for participating it and allowing me to do it.
"We started buying motors from Sonny back in 2009. We started out with smaller engines and progressed up. They've been really good with communication, being able to call them anytime I needed help. They've been a big help. They're like a big family. They bring you in and make you a part of it. It's definitely great to feel like you really mean something to them."