A record crowd was on hand at GALOT Motorsports Park Friday night to see the stars of the Professional Drag Racers Association (PDRA) compete at PDRA Dragstock XIII, the seventh of nine races on the PDRA 2016 tour. After three qualifying sessions, Brandon Snider leads the NAS Racing Pro Extreme field with a 3.596-second pass at 215.07 mph. Part-time competitor Randy Weatherford jumped to the top of the qualifying order in Switzer Dynamics Pro Nitrous presented by MoTeC. Hometown hero John Strickland topped the GALOT Motorsports Park Pro Boost field, and Eric McKinney snagged the number one spot in Drag 965 Pro Stock Motorcycle. Richard Penland is the provisional number one qualifier in PDRA Extreme Pro Stock.
In the PDRA's sportsman classes, Randy Perkinson raced to the top in Ronnie Davis Top Sportsman presented by MagnaFuel, Jody Stroud led in Lucas Oil Top Dragster, and Carson Brown and Coolidge Rivenbark qualified number one in Talbert Pro Junior Dragster and MegaCorp Top Junior Dragster, respectively.
PRO EXTREME
A last-minute shot at the number one spot proved successful for Atmore, Alabama's Brandon Snider, who laid down a 3.596 at 215.07 mph during the third qualifying session Friday night. Like many of the other teams who have never raced at GALOT before, Snider struggled to adjust to the track surface during the first two qualifying sessions. If he maintains the number one spot after Saturday's final qualifying round, it will be his fifth time on top this season.
"We had the car set up for the tracks we've been running on. This track here has kicked our butts. We've been picking away at the right tune-up. We tested some new stuff on Thursday that worked out pretty good, but I didn't want to run it for race day so we put the proven stuff back in. We're very pleased with that run. I hope it holds up tomorrow as well," Snider said.
Just behind Snider on the qualifying order is defending Pro Extreme world champion Jason Scruggs with his close 3.605 at 215.34 pass. Number three qualifier Frankie Taylor drove Jay Diedrich's new '69 Camaro to a 3.624 at 209.20 and beat reigning Top Alcohol Funny Car world champion Jonnie Lindberg in a special 3.71-to-3.77 grudge race.
PRO NITROUS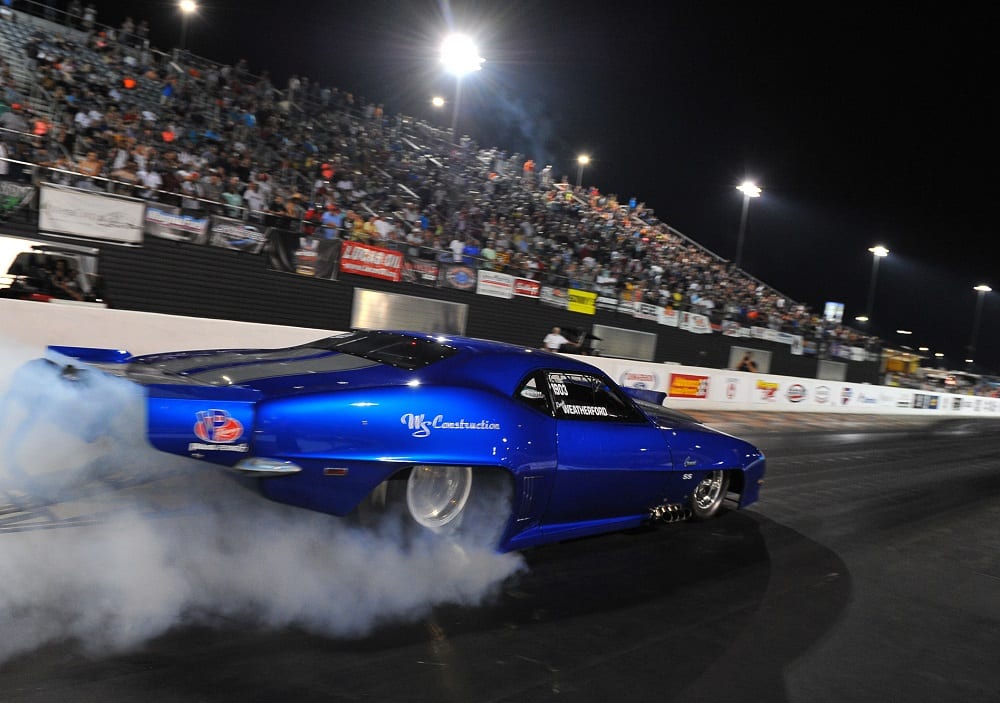 The cutthroat Pro Nitrous class saw a surprise number one qualifier on Friday as longtime nitrous Pro Mod racer Randy Weatherford took his Pat Musi-powered '69 Camaro to the top spot with a 3.765 at 196.27. The W.S. Construction-backed driver proved his point that a torque converter isn't necessary to perform well in the technologically advanced world of eighth-mile doorslammer racing.
"We were struggling with the automatic (transmission), so we went back to our old clutch set-up. This is my second race with it, and we put it on the pole. It feels good to be back on top. We came here to show that a clutch can run the numbers. This is not an automatic class; this is a class where a clutch can run at the front," Weatherford declared.
Steve "Stevie Fast" Jackson used a 3.779 at 201.40 to qualify second in his Reher-Morrison-powered Bahrain 1 Racing Camaro. The Pro Nitrous top five list is rounded out by the Musi-motored entries of Tommy Franklin, Lizzy Musi and Ray Schuler.
PRO BOOST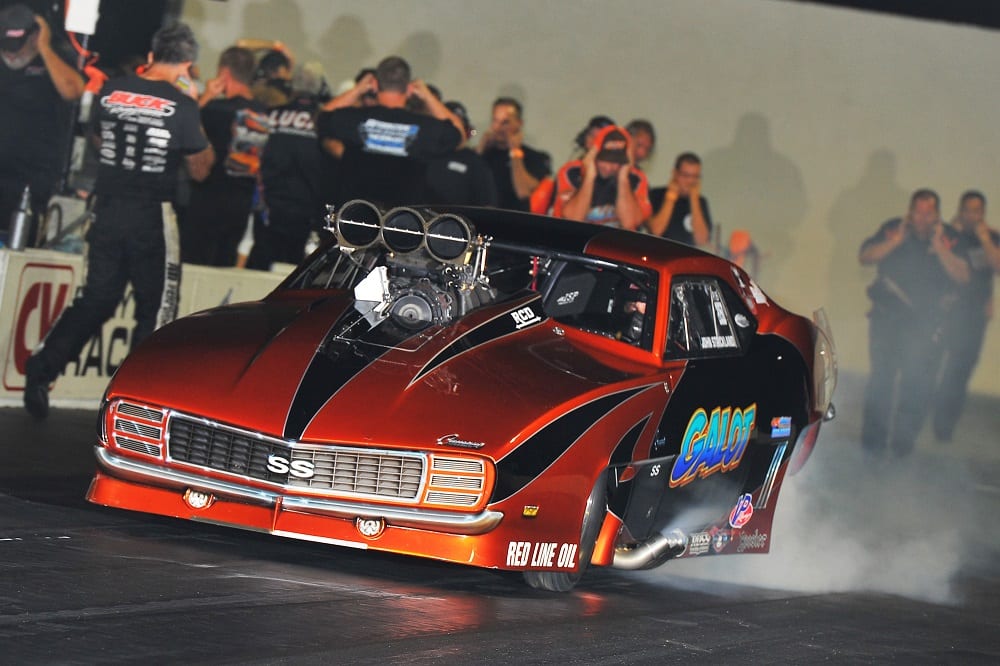 GALOT Motorsports driver John Strickland was celebrating a successful day on and off the track by the end of the night on Friday. He qualified number one, won $1,000 for charity in a grudge race, and did it all in front of packed grandstands at the home track that he recently helped build.
"I was pretty nervous going into this race," admitted Strickland, the winner of the last three PDRA races. "We've done so well this season, and I figured this would be the weekend where I would look like I've never driven a car before."
Strickland and his Todd Tutterow and Jeff Bohr-tuned '69 Camaro picked up the pace on all three qualifying attempts, eventually making a 3.815 pass at 194.80 mph in the third session. He had his hands full inside the car, but there was more on the line than just a qualifying position. Strickland was grudge racing against rival Tylor Miller, who he beat in the final round at the two most recent races.
"I considered lifting off the throttle when the car got real close to the wall, but then I thought, 'It doesn't feel too bad; let's go.' I knew I was ahead of Tylor the whole way down the track, so that helped too," added the Harrells, NC driver. Strickland donated his $1,000 prize to Make-A-Wish Eastern North Carolina, adding to the nearly $15,000 raised for the foundation during Thursday's trackside auction organized by Strickland's wife, Dana.
New Yorker Marc Caruso sits in second with his 3.837, followed by Tylor Miller's 3.843. GALOT Motorsports' Kevin Rivenbark is close behind with a 3.845, and Jeremy Ray is fifth at 3.87.
PRO EXTREME MOTORCYCLE
Two-time and defending PDRA Pro Extreme Motorcycle world champion Eric McKinney is regularly found at the top of the qualifying sheet. At PDRA Dragstock XIII, the Ohioan used a 4.07 at 175.41 to edge out Chris Garner-Jones' 4.076 for the number one spot.
"It doesn't really matter where you qualify," McKinney said of the tight competition in the PDRA's only two-wheeled class. "Everybody is so close. We're qualified number one right now, but everyone is chasing us. If the bike can repeat and I can cut some good lights, then we'll have a tough package going into eliminations."
EXTREME PRO STOCK
Rockingham race winner Richard Penland took the Extreme Pro Stock lead with a 4.116 at 174.87 in his consistent 2010 Ford Mustang. In second and third are the New York-based entries of John Bartunek and John Montecalvo at 4.137 and 4.161, respectively.
TOP SPORTSMAN/TOP DRAGSTER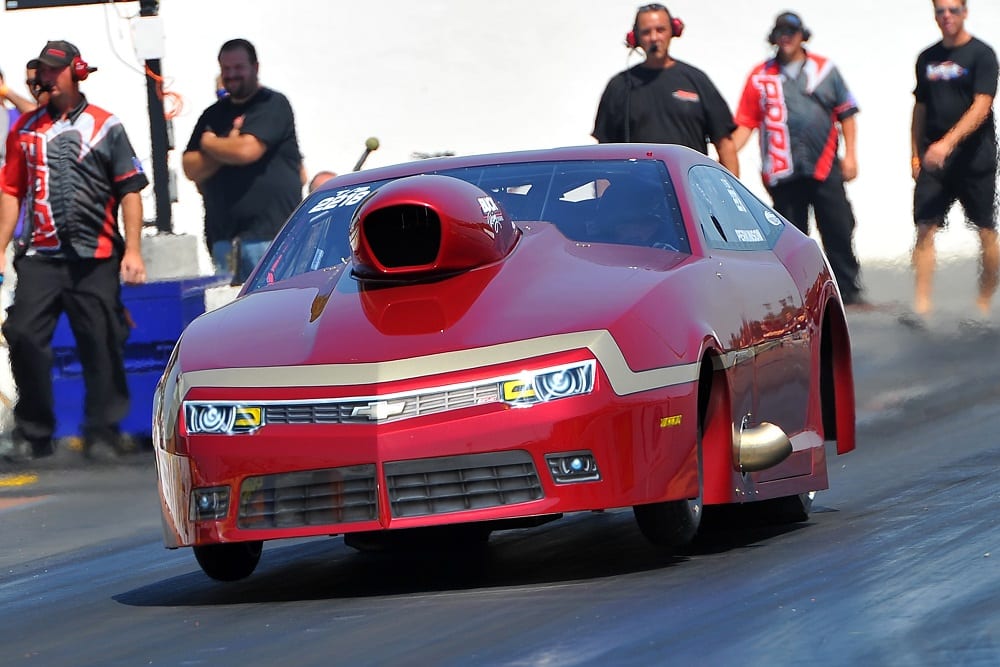 Cousins Randy (3.943) and Buddy Perkinson (3.985) qualified their Albert-powered Camaros in the number one and four positions, being separated by only engine builder Billy Albert (3.957) in second and 2014 Top Sportsman world champion Dan Ferguson (3.977) in third in his Musi-equipped '63 Corvette.
Top Dragster competitor Jody Stroud established his place at the top of the qualifying order early in the day. His "Zombie" blown alcohol dragster recorded a 3.741 pass at 195.05 mph in the first pair of cars down the track on Friday morning. Sportsman racing star Kevin Brannon is next closest at 3.905, and points leader David Brown is third with a 3.941.
The all-eighth-mile PDRA Dragstock XIII will continue with a fourth and final round of qualifying for all classes at 11 a.m. on Saturday, Sept. 10. Pre-race ceremonies will kick off at 3 p.m. followed by first round of sportsman eliminations at 4 p.m.