A long, hot day of qualifying at the Professional Drag Racers Association (PDRA) North-South Shootout ended Friday with Brandon Snider (pictured above) leading NAS Racing Pro Extreme, Lizzy Musi topping Switzer Dynamics Pro Nitrous presented by MoTec, John Strickland in GALOT Motorsports Park Pro Boost, and Travis Davis in Drag 965 Pro Extreme Motorcycle.
The Mickey Thompson Tires Outlaw 10.5 National Championship Series racers are also racing at the Maryland International Raceway event, with Maryland's own Mike Decker Jr. leading the field after three qualifying sessions. New Yorker John Montecalvo is the provisional number one qualifier in PDRA Extreme Pro Stock.
In the sportsman classes, John Benoit tops a long list of qualifiers in Ronnie Davis Top Sportsman presented by MagnaFuel. Top Fuel crew member Matt Sackman is the number one qualifier in Lucas Oil Top Dragster heading into Saturday's final qualifying session. Blake Denton and Mia Schultz lead Talbert Pro Junior Dragster and MegaCorp Top Junior Dragster, respectively.
PRO EXTREME
For the third time this season, Atmore, Alabama's Brandon Snider led the pack in Pro Extreme after Friday's three sessions, though Snider only made two attempts at the track. The Q80 Racing driver laid down an impressive 3.63-second blast at 212.16 to qualifying number one in the hot second session, then improved to a 3.52 at 216.83 during the night session.
"I needed to run in the heat today for eliminations tomorrow," said Snider. "We just don't have enough parts to run every session so we space them out as we need them. I knew what it run last night (in testing), a 3.57, and it was similar conditions. The water grains were a little higher. I stepped it up from last night. I knew about what we could run, but it's a lot of guessing. Fortunately it worked out for us."
Going into eliminations on Saturday afternoon, Snider will be every bit as aggressive despite having less data than most of his competition. After losing on a holeshot to Frankie Taylor in the final round at the last PDRA race in Michigan, Snider is seeking redemption.
"I hope we can go rounds tomorrow. We need a win. We're right behind Jason (Scruggs) in points, a couple hundred points behind. Last race, I kinda stuck myself in the side being late on the tree against Frankie. We feel like we should've had that win. We're out for blood. Not that we can catch up those 200 points, because Jason is going to be tough the next four races, but we're just waiting on him to slip up just a little bit. If we can get around him, we're shooting for this points championship. We have a lot of people behind us and they want to see us do it."
Scruggs is close behind with his 3.555 run at a screaming 218.02. Tommy D'Aprile and Turkey al-Zafari are the next closest at third and fourth with a 3.634 and 3.636. Terry Leggett and his unique 1971 Mustang round out the Pro Extreme top five with a 3.644.
PRO NITROUS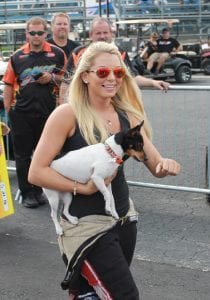 Pro Nitrous also saw a repeat number one qualifier as Lizzy Musi drove her Frank Brandao-owned Dodge Dart to a 3.758 at 204.48. With a powerplant from her father, Pat, and online tuning assistance from defending Pro Nitrous world champion Rickie Smith, Musi overcame traction issues to power the Drag 965/Lucas Oil machine to the top. "I was on the edge – is it gonna go or not? All we had been doing is shake, shake, shake, so it really felt good and I was relieved after that run," said the 25-year-old president of Musi Racing Engines.
Following Musi on the Pro Nitrous qualifying order are Tommy Franklin (3.769) and "Stevie Fast" Jackson (3.791), who qualified two and three while also winning the first round of the Pro Nitrous Wars Shootout. Franklin beat Travis "Carolina Kid" Harvey and Jackson defeated rival Jay Cox before Jackson used a huge holeshot to take the $5,000 win over Franklin in a 3.759-to-3.756 decision.
PRO BOOST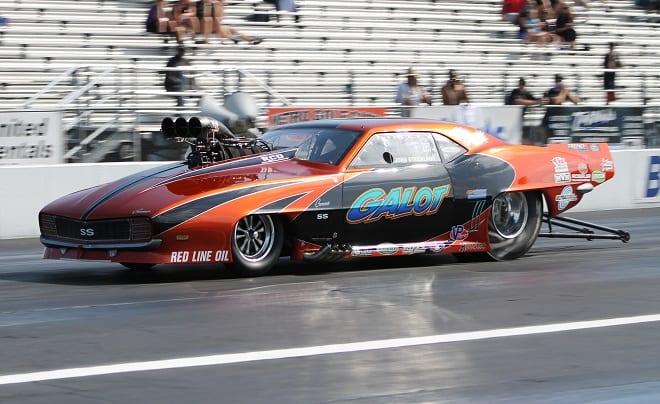 The powerhouse GALOT Motorsports team placed one of their drivers in the top spot in GALOT Motorsports Park Pro Boost for the fifth time in as many races this season. This time, John Strickland claimed the honors with his 3.815 at 196.44.
"I knew it was a good pass because the car pulled all the way through," claimed Strickland, who also competes on the national tractor pulling scene for GALOT owners Earl and Peggy Wells. "The first two runs in the heat the car was kinda lazy. It would take off hard then lay over. That last pass, I knew it was going to be a good run. I didn't have any idea it would be number one qualifier. At half-track it pulled the front end up again, and that's the first time it's done that all day."
Strickland has reason to comfortably believe his run will stay number one through the final qualifying session on Saturday morning, but he realizes the competition is close. Tylor Miller ran just a few thousandths of a second slower at 3.819 seconds. Strickland's tuner and teammate, Todd Tutterow, is third with a 3.839 in his return to Pro Boost.
"It's definitely doable," Strickland said of potentially being bumped from the top. "The Pee Dee Fleet guys, they went in the eighties in the heat today, so it's doable. All the stars need to align to make that happen. It should definitely hold up to be a top three run."
PRO EXTREME MOTORCYCLE
Maryland International Dragway is a hotbed for fast motorcycle racing, so it should be no surprise that 17 bikes attempted to make the Pro Extreme Motorcycle field during Friday qualifying. Three riders call Maryland home, but it was Georgia's Travis Davis claiming the top spot with his 4.069 at 173.76. Local rider Dave Norris is second at 4.078 and defending Pro Extreme Motorcycle world champion Eric McKinney is third at 4.087.
EXTREME PRO STOCK
Longtime mountain motor Pro Stock competitor John Montecalvo led the Extreme Pro Stock class after he motored down the MDIR eighth-mile to a 4.124 at 176.05. Richard Penland and John Pluchino, the winners of XPS's previous two stops on the PDRA tour, are in second and third with John Bartunek and Brian Gahm looking to improve in Saturday's final session.
OUTLAW 10.5
The small-tired Outlaw 10.5 racers struggled to put representative numbers on the board during Friday's first two sessions, but several of the DiSomma Racing Engines Outlaw 10.5 drivers found what they were looking for in the cool night session. Maryland's own Mike Decker Jr. laid down a 4.077 at 188.23, holding seven hundredths over number two qualifier Mo Hall's 4.156. Canadians Nick Agostino and Frank Pompilio are third and fourth.
TOP SPORTSMAN/TOP DRAGSTER
It was looking like former Pro Stock racer Buddy Perkinson would end Friday as the number one qualifier in Top Sportsman, but John Benoit drove his 1968 Camaro around him to dip into the three-second zone with a 3.993. Engine builder Billy Albert came second closest to grabbing the top spot with his 3.995, followed by Perkinson's 4.015.
In the PDRA's quickest and fastest dragster class, the top spot went to Matt Sackman, who works as the clutch assistant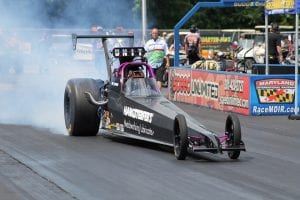 and tire specialist on Antron Brown's Top Fuel dragster. Sackman led the qualifying order for all three qualifying sessions, but stepped up to a 3.919 at 187.55 in the final session. North Carolinians Mat Cooke and David Brown are second and third with a pair of 3.96s.
The all-eighth-mile PDRA North-South Shootout at Maryland International Dragway will resume with one final qualifying session for all classes at 10:30 a.m. on Saturday. Pre-race ceremonies are scheduled to begin at 3:30 p.m., followed by first round of eliminations.