Intermittent rain showers might have pushed a portion of the 3rd annual Professional Drag Racers Association (PDRA) Memphis Drags to Sunday, but the weather didn't stop the PDRA from crowning winners in four Professional classes and four Sportsman categories. Brandon Snider scored his second win of the season in NAS Racing Pro Extreme, while Jay Cox and John Strickland earned their third 2016 victories in Switzer Dynamics Pro Nitrous presented by MoTeC and GALOT Motorsports Park Pro Boost, respectively. Brunson Grothus swept the event in his return to Drag 965 Pro Extreme Motorcycle competition, qualifying number one and winning the race.
Past world champion Dan Ferguson claimed his second win of the season in Ronnie Davis Top Sportsman presented by MagnaFuel. The win in Lucas Oil Top Dragster went to Darien Boesch. Courtney Howard won in Talbert Pro Junior Dragster, and Arellyn Garner-Jones earned the MegaCorp Top Junior Dragster trophy.
PRO EXTREME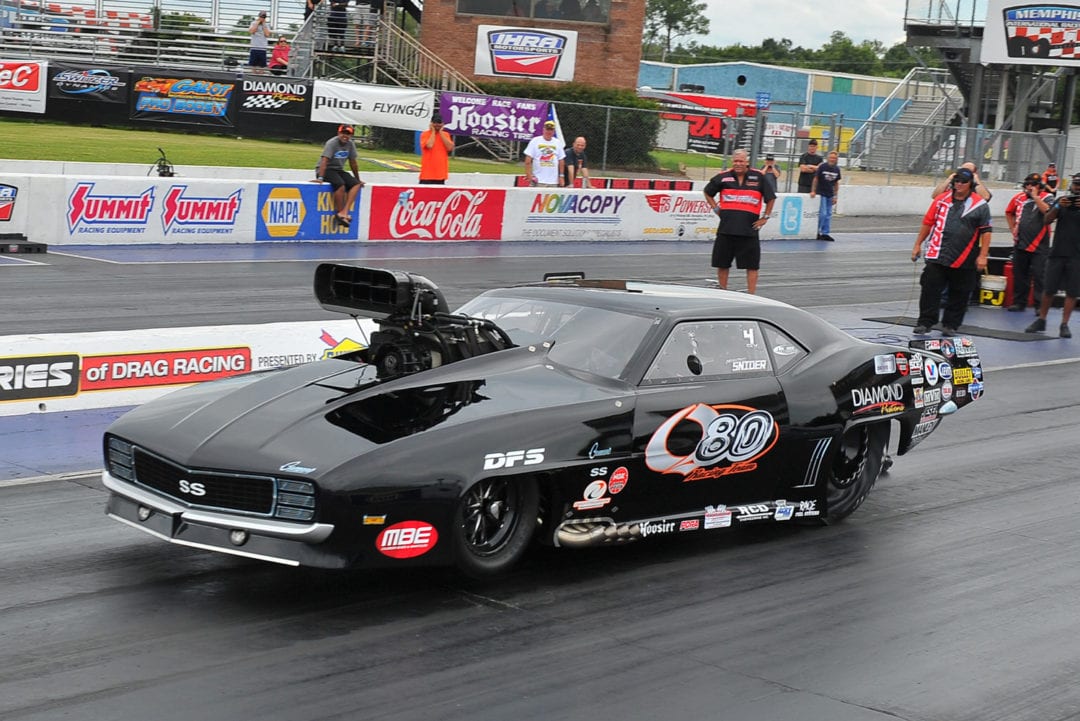 Two races ago, Brandon Snider thought his chances of moving around points leader Jason Scruggs were slim. The Atmore, Alabama-based driver went to work, though, and he moved within a 50-point striking distance of the defending PX world champion. After defeating Scruggs in the final round this weekend, Snider is the new points leader.
"We knew it would be tough to catch him," Snider admitted. "Jason went out first round in Maryland and that opened the door for us. We went to the finals but couldn't make the run due to engine problems. We got everything back together for Memphis and were fortunate enough to qualify number one and go to the finals against Jason. We were lucky to get the win and move ahead in points. Now we just need to stay consistent and stay in the lead. Three races left might not seem like a lot, but it's a lot and he can make it back quick."
Snider, whose primary crew is made up of just two crew members, qualified number one in his Q80 Racing-backed 1969 Camaro with a 3.577 at 214.42. He maintained the consistent 3.5-second performance throughout eliminations, running 3.569 against Brandon Pesz first round and 3.567 on a semifinal bye run. He could've taken it easy in the final round, as Scruggs' car wouldn't stay fired before staging.
"We come to race. We could've just taken the tree and idled down, but that's just not how we do it – plus I wanted to see how fast the car would run," Snider laughed. "There was no doubt I was going down. Jason ran a 3.57 in the semifinals and I knew he could step it up a few numbers, so I planned on running a low .55, and that's what we did – a 3.552. It was just unfortunate that Jason couldn't make it because we never want to take the win like that."
Snider and his two-man crew, Jimmy Crenshaw and Michael Elsberry, worked tirelessly in the weeks leading up to the Memphis Drags to repair engine damage from a victorious semifinal run at the PDRA North-South Shootout in July.
"After the engine problems in Maryland, a few guys stepped up and truly helped us out – Diamond Pistons, Craig Liberty with Liberty Gears, and Justin Carmack at CarSon Innovations. Those guys really stepped up to help us get back on track."
PRO NITROUS

Pro Nitrous standout Jay Cox spun together the ultimate comeback story on Sunday as he drove his recently repaired Bryant Industrial Crane & Rigging Camaro to the final round win over Lizzy Musi. Just a few weeks ago at the PDRA North-South Shootout in Maryland, Cox sustained a high-speed wreck that required extensive repairs to his Rick Jones-built race car.
"This win was so gratifying," Cox said. "We're beat up and tired from working three weeks straight, putting in 90-hour weeks just to get here. Being able to get the win just makes it all worthwhile."
Cox started eliminations from the fourth spot and ran a 3.814 to eliminate Jim Sackuvich's 3.849 first round. Sunday morning's cooler conditions allowed Cox to turn up the wick on his Charlie Buck-built powerplant to the tune of a 3.784 to beat "Stevie Fast" Jackson, who was in the race as an alternate. Cox lowered the boom again for the semifinals, where he fired off a 3.764 against Tommy Franklin's 3.814. The Smithfield, North Carolina driver ran a strong 3.787 in the final round against Lizzy Musi, but Cox won the race on the starting line as Musi ran a quicker 3.768 at 203.43.
"We weren't really having a staging battle," Cox said of the two drivers taking their time to stage. "I just go up to the starting line and do whatever I feel. It just happens that she didn't want to go in and I didn't really feel like going in either. It was nothing personal, we were just having a little fun."
Cox was quick to praise the PDRA, as well as his sponsors and crew for playing their part in his winning effort.
"I'm really happy with the way the PDRA ran the race. It was really nice of them to put in the extra effort into getting the race completed at Memphis.
"I want to thank Rick Jones and JJ at RJ Race Cars for everything they did to get me back out here, as well as Bryant (Marriner) for getting behind me when we tore the car up. My main crew guy, Dennis, took a whole week off from work and spent every minute of every day with me for the last two weeks getting everything sorted out. Charlie Buck also helps me out with the horsepower."
PRO BOOST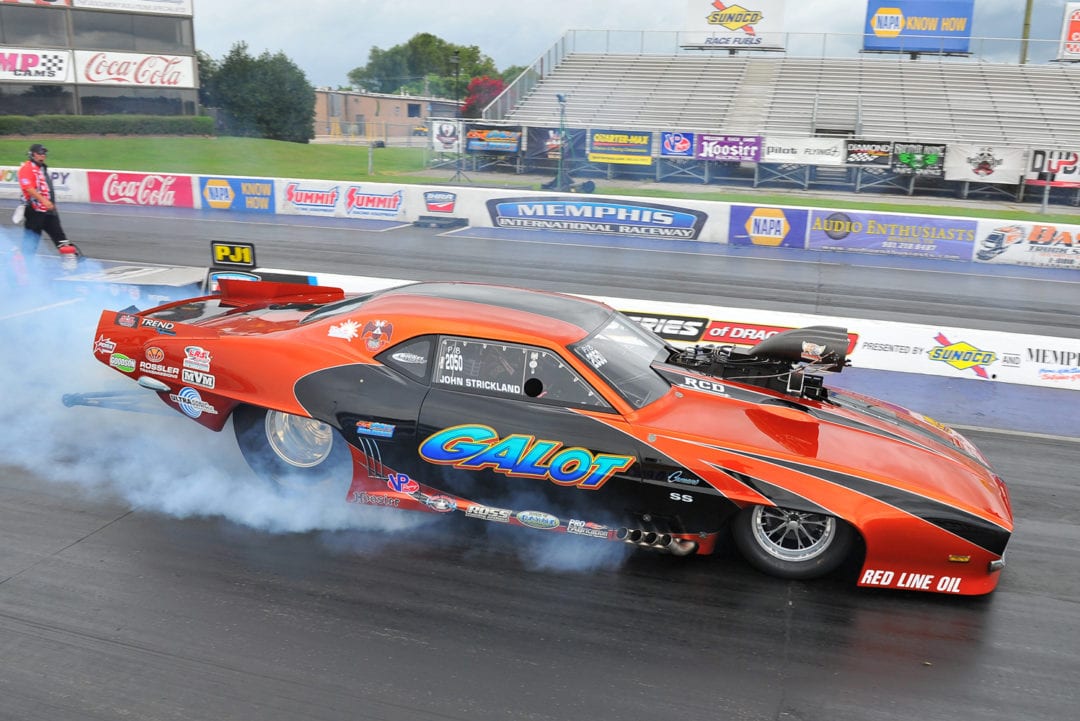 As a successful tractor puller who only recently began driving high-horsepower doorslammers on pavement, John Strickland won't make any boastful claims about his driving abilities. The GALOT Motorsports driver looked like every bit of a Pro Boost veteran this weekend, though. Strickland was dominant at the Memphis Drags, qualifying number two and firing off low elapsed time of all three rounds to win his third consecutive PDRA event. And to his credit, he also left the starting line first every round.
"I didn't realize that until Denise Tutterow told me before we left, 'Do you know that you were quicker on the light than anybody you ran?' That made me feel good. I also notice what's going on inside the car as I'm going down the track more. These last three races have definitely helped my confidence as a driver," Strickland said.
Strickland had to face three of the most competitive drivers in Pro Boost, beginning with his GALOT teammates, Todd Tutterow and Kevin Rivenbark. He ran a 3.849 against Tutterow in the opening round, then fired ofs his PDRA-best elapsed time, 3.798, to dispatch Rivenbark in the semifinals.
"We know either way that there will be a success for the team when I look over and see a GALOT car in the other lane. That makes me feel good for (team owner) Mr. Earl Wells that one of his cars is moving on. That was the first time I'd ever raced Todd. I was excited and nervous because he has so much experience. I've raced Kevin so many times that it's just fun whenever we race because we beat each other up prior to the run. I think he beat me the last time we raced, so that was payback."
The closest race of the day came in the final round when Strickland faced Tylor Miller, who qualified number one with a 3.834. Strickland's 1969 Camaro left the line first and held the lead through the eighth-mile cones, recording a 3.829 at 195.65 to Miller's 3.835 at 195.45.
PRO EXTREME MOTORCYCLE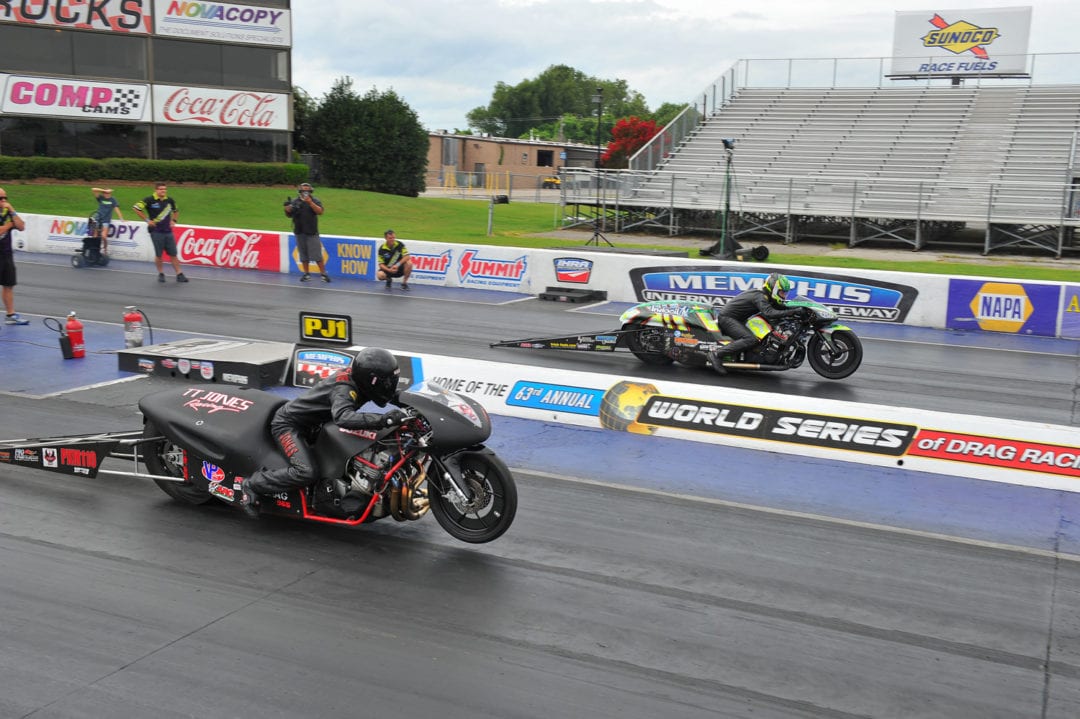 Drag bike rider Brunson Grothus is no stranger to the winner's circle, but his Memphis Drags victory was his first win in PDRA competition. He raced around a collection of series regulars to earn the win in just his third PDRA appearance.
Grothus showed off the potential of his family-built Suzuki with his 4.069 effort to qualify number one. With 13 bikes on hand for a 16-bike field, Grothus earned a first-round bye run. His 4.076 defeated Michigan race winner Meshal al-Saber in the second round. Grothus clicked off low et of the event, 4.052, against Terry Schweigert's 4.122 in the semifinals. Finally, a .003 reaction time and 4.058 were enough to take down Chris Garner-Jones' 4.069 in the PXM final.
TOP SPORTSMAN/TOP DRAGSTER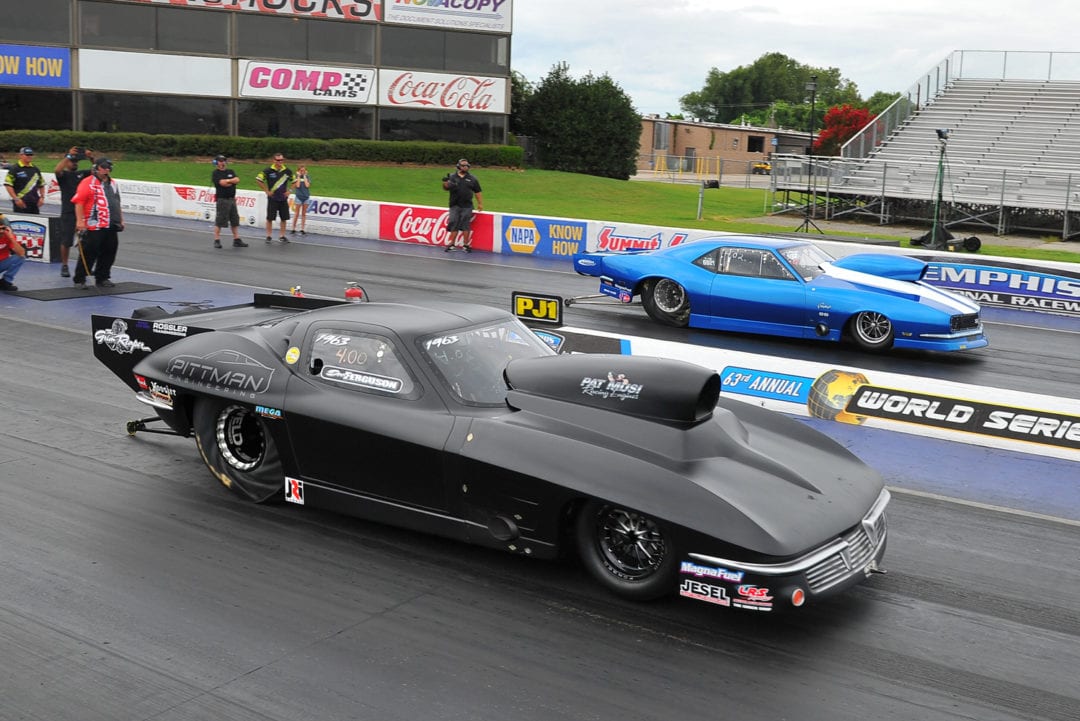 Now a two-time winner in 2016, Dan Ferguson made his way through a series of strong Top Sportsman competitors at Memphis. He eliminated Earl Folse, number one qualifier Mick Snyder, and Billy Albert before using a reaction time advantage to defeat Barry Daniluk in the final round. Ferguson ran 4.044 on a 4.00 dial-in, while Daniluk's 4.031 on a 4.02 dial was negated by his .131 reaction time.
Top Dragster number two qualifier Darien Boesch used a string of superior reaction times to earn his Memphis Drags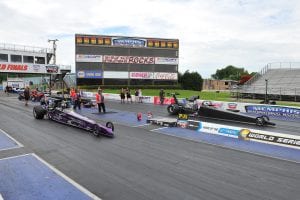 trophy. He defeated Mallori Rodgers, Justin Kirk, Cody Moore, and finally, Tennesee's Mike Roberts. Boesch ran 3.946 on a 3.93 dial to Roberts' 4.551 on a 4.54 dial-in.
Courtney Howard, daughter of Pro Nitrous driver Todd Howard, earned the Pro Junior Dragster win over Regan Jordan, who turned on the red light in the final round. The Top Junior Dragster winner was also decided on the starting line as points leader Mia Schultz left too soon, giving the win to Arellyn Garner-Jones.
The all-eighth-mile PDRA will return to action next month at PDRA Dragstock XIII, Sept. 8-10, held for the first time at GALOT Motorsports Park in Benson, North Carolina.