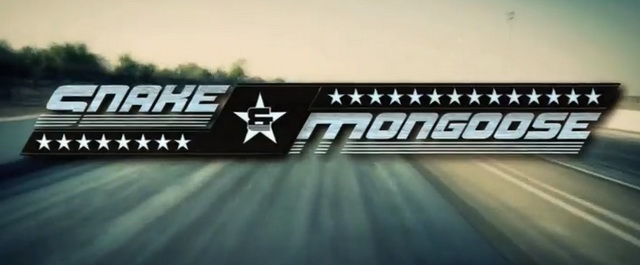 Entertainment Universe announced today that it has closed a deal with Film Star Partners II for prints and advertising funds for the much anticipated feature film entitled "Snake & Mongoo$e" about one of the greatest rivalries in racing history.
The film will open Friday, September 6th in 25 cities, just a few days after the close of the National Hot Rod Association's U.S. Nationals in Indianapolis on Labor Day weekend.  The 25-city release coincides with the areas where the NHRA holds its national events and heritage/nostalgia races. These cities include Los Angeles, New York, Dallas and Indianapolis.
"Snake & Mongoo$e" tells the story of the groundbreaking accomplishments of drivers Don "the Snake" Prudhomme and Tom "the Mongoo$e" McEwen in the world of drag racing as well as how the two unlikely figures revolutionized entertainment sports marketing when they attracted Mattel's Hot Wheels Division to sponsor them.
"We are thrilled that the film excited Film Star Partners chair, David Williams, who has more than 30 years experience in the industry and has provided over a billion dollars of P&A to both independents and the studios during his illustrious career," says Robin Broidy,  Chair of Entertainment Universe and "Snake & Mongoo$e" producer.
Because the 'Snake and Mongoose' brand has been around for over 40-years, there's great anticipation for the movie," says Williams.  "UTA, ICM, WME, as well as so many dedicated agents brought a wealth of fresh faces and industry veterans to this powerful film."
The film stars Jesse Williams (Grey's Anatomy) as "the Snake" and Richard Blake (Dragonball: Evolution) as "the Mongoo$e." Both actors studied their namesakes for weeks in order to bring them to life on screen.  The film also features Noah Wyle, Tim Blake Nelson, Fred Dryer, John Heard, Ashley Hinshaw, Ian Ziering, Leonardo Nam, Kim Shaw, and Julie Mond.
The film was fully financed by Entertainment Universe and was produced in cooperation with the NHRA.
CAA is representing the film and the P&A financier with regard to negotiations with the distributors.
"Top distributors including several studios are competing to distribute the film because it has action, humor and heart, which is a wonderful combination that plays well to a broad audience," Broidy said.
A 60-second teaser trailer is being released today and will be shown on the Jumbotron at all NHRA Mello Yello Events between now and the release date.  Wal-Mart, JC Penney, Nordstrom's, Lord & Taylor and several other retailers have already begun selling merchandise.
Broidy was a senior executive at 20th Century Fox and Cannon Films before making her transition to producing indie films with her company, Entertainment Universe. Writer and Executive Producer, Alan Paradise, a former journalist for Hot Rod Magazine and founder of Sport Compact Magazine, commented on the production and post-production experience: "We were humbled to have "ROCKY'"s Oscar Winning Editor, Richard Halsey work on our film and John Bailey who's famously known for "Ordinary People" which won an Oscar for Best Picture as Cinematographer. We feel very fortunate to have such a remarkable cast and crew."
The film highlights the formative, dangerous and glory years of drag racing during the '60s and '70s.  Prudhomme, a seven-time NHRA U.S. Nationals winner and four-time NHRA World Champion, and Tom McEwen, an NHRA U.S. Nationals winner who also held many prestigious titles in other national events, figured out how to set aside their often bitter rivalry on the track to promote the sport.  Prudhomme and McEwen raced each other at speeds in excess of 200mph for over 30 years. "These guys regularly threw caution to the wind as they strapped themselves into untested racecars powered by volatile, explosive, 2,000 horsepower engines – and they did it week after week.  It took a huge amount of guts to do that," said Paradise.   Their efforts lead to an extraordinarily lucrative sponsorship by Mattel's "Hot Wheel" brand – a partnership that resulted in bringing the sport of drag racing into the mainstream.
"It was a complicated film to produce, not only because we had to source and integrate archival race footage, but also because we wanted original, museum quality funny cars and dragsters from private collections to appear in the film," says Broidy.
Included in this group of amazing vehicles is the original Greer-Black-Prudhomme dragster from car collector Bruce Meyer, the English Leather Corvette owned by Don Trasin, and the phenomenal collection of dragsters, funny cars and iconic haulers owned by Don Prudhomme – who oversaw their restoration to their original glory.
The film was directed by Wayne Holloway.  Stephen Nemeth of Rhino Films brought the script to Entertainment Universe and is also a producer of the film.
Visit the official 'Snake & Mongoo$e' movie homepage.